Wayne Pumps' WWB WaterBUG Submersible Pump
The EHT staff recently tested the WaterBUG Submersible Water Removal Pump from Wayne Water Systems. Wayne Pumps' Multi-Flo Technology allows the WaterBUG's user to easily select the appropriate discharge for the water removal application from either the top or side of the pump. Excellent for removing water in confined spaces, the top discharge of the WaterBUG may be selected for eliminating water in window wells, baths and hot tubs, as well as five-gallon buckets.
We found an ideal location to test this product. An annoying low spot in the driveway that has been a constant issue. This area holds water due to poor drainage. The low spot tends to become an unsightly mud puddle ripe for mosquito infestation and other problems. As you can see in our video, The Water BUG performed beautifully.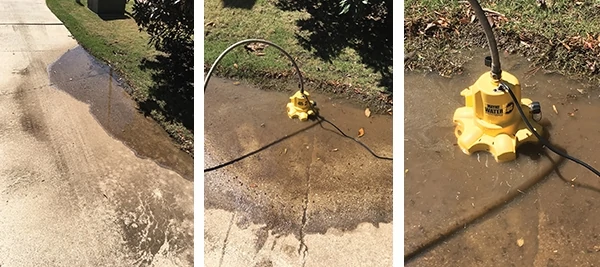 We were able to drain off the standing water and then clean the area with a hose and drain off the excess.
For water removal in open areas, the WaterBUG's side discharge may be used on flat roofs, in flooded basements, shower stalls, or outdoors in a flooded yard and even for draining a child's swimming pool in the summer months. "The WWB WaterBUG Submersible Water Removal Pump is a high-quality, easy-to-use tool for anyone seeking to eliminate unwanted water, and is especially practical for consumers to protect their homes as the spring rains and winter melt-off begins," says Jeremy Cantor, V.P. Sales and Marketing, Wayne Water Systems. "Wayne is proud to be featured on Amazon.com where it will be accessible to all."
Capable of pumping up to an impressive 1,257 gallons per hour, the WaterBUG simply connects to a standard garden hose and can remove water to 1/16th inch on the surface, making a given area virtually dry. Assembled in the United States, the WaterBUG also features a multi-ring suction strainer that filters debris, ensuring the suction intake remains clear to minimize clogging. Visit Wayne Pumps at www.waynepumps.com.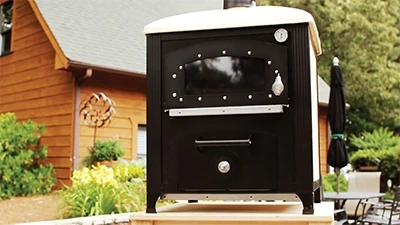 New American Oven
Former director of Research and Development for Big Green Egg, John Creel struck out on his own in 2011 and created the New American Oven, an alternative to the expensive, permanent structure outdoor brick ovens on the market. Fueled by lump hardwood charcoal or wood logs, the Oven produces chemical-free, flavorful food without propane or gas. All aspects of production are made in America: With metals from Wisconsin, glass from California, and ceramics from Ohio, every Oven is assembled by hand in the home base of Acworth, Georgia. With the best in ceramic convection and airflow technology, sleek lines and precision temperature control, flavors don't disappear and food doesn't dry out—meat stays juicy and full of flavor.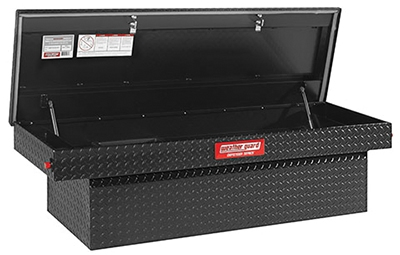 Weather Guard Defender Series Truck Boxes
Compatible with virtually any storage need, the Weather Guard Defender Series is now available with more than 20 products across five categories, including Saddle and Cross Boxes, All-Purpose Chests, Lo-Side and Hi-Side boxes. With four-piece welded construction and a C-channel reinforced lid for professional durability, the Defender Series provides professional features at the right price. The new products offer heavy-duty security including push-button locks, a reinforced front panel and two dual-stage rotary latches with looped strikers. Additional product highlights include multiple styles and colors and a D-shaped ribbed weather-stripping for protection from the elements. Most of the Defender Series products come with an included plastic storage tray to organize smaller tools and accessories, and the mounting kit requires no drilling during installation, making the process quick and stress-free. Visit www.weatherguard.com.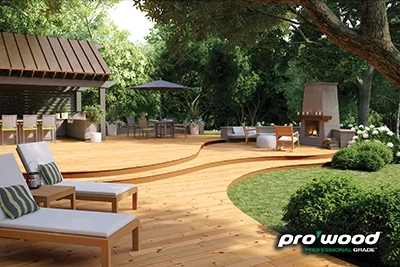 ProWood Treated Lumber
ProWood is embracing the recent ground contact standard changes set forth by the American Wood Protection Association (AWPA) in February of 2016. The new standards released by the AWPA recommend that current above-ground treated lumber applications must now adhere to (UC4A) "ground contact" requirements when critical components are difficult to difficult to maintain, repair or replace (such as deck joists or ledger boards). The new standards also apply if the lumber is installed less than 6 inches from the ground, at risk for poor air circulation, likely to have prolonged contact with vegetation or leaf litter, exposed to frequent moisture or used in tropical climates
Previously, deck components such as deck boards, joists and ledger boards were not required to be treated to ground-contact retention. Now, ProWood treated lumber is available to customers with a full line of products treated to the ground contact (UC4A) standards including 5/4-in decking, dimensional lumber, plywood, and appearance-grade boards. The new standards will eventually dictate building codes, so the transition to the new ground contact recommendations for ProWood treated lumber is imperative for code compliance, product reliability and, above all, safety. For more information, visit www.prowoodlumber.com.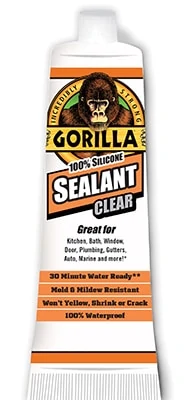 Gorilla Sealant
The new Gorilla Sealant is tough, clear 100-percent silicone available in an easy-to-use squeeze tube for DIY'ers. Suitable for both indoor and outdoor applications, the sealant is water-ready thirty minutes after application, won't yellow, shrink or crack, and it's mold and mildew resistant. Visit www.gorillatough.com.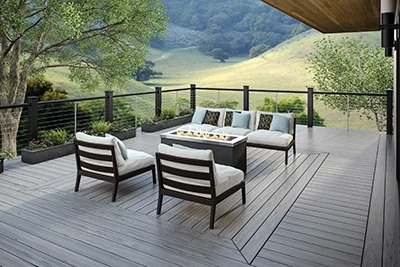 Deckorators Vault Composite Decking
Deckorators Vault enhances the experience of installing a beautiful, ultra-low maintenance deck. Vault uniquely benefits deck builders because it is virtually unbreakable—twice as strong as PVC decking. A lightweight composite that looks and works like wood, it is designed to withstand the rigors of the job site. Vault cuts, drills, shapes and fastens as easily as wood, due to a fibrous structure. Yet Vault boards—7/8 inch thick by 5-1/2 inches wide—are 35 percent lighter than most wood-plastic composite decking and similar in weight to PVC, making Vault easy to handle on the job site. Vault also stays put when installed. It contains no organic material, helping keep thermal expansion to a minimum. Plus, the product is backed by a 25-year structural, 25-year stain-and-fade and 25-year removal-and-replacement limited warranty. Visit www.deckorators.com/Vault.