RTA12 & RTR12 Rotary Tillers
The RTA12 & RTR12 Series Rotary Tillers from Land Pride till soil for seedbed and planting preparation with applications in landscaping, gardens and residential areas. They're adapted for 15- to 50-horsepower tractors with Category I three-point hitch mounting, 540-rpm PTO speed and are Quick-Hitch adaptable. The offset capabilities allow the tiller to work closer to objects such as fence lines, buildings or trees. Operators can control the tilling depth with the adjustable skid shoes. A 15-in. rotor swing turns the soil over faster, and enables deep tilling action. The reverse rotation tillers (RTR12 Series) tend to achieve greater depth penetration, resulting in moving and pulverizing more soil as well as burying more of the residue in the soil.
The RTA12 and RTR12 are most popular for compact tractors. Visit landpride.com.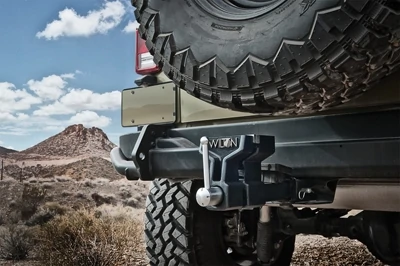 Wilton Road-Ready All Terrain Vise
Not every job presents ideal work conditions, which is why Wilton developed the ATV (All Terrain Vise). When work has to get done, the go-anywhere ATV helps transform pickup trucks, utility trucks and SUVs with 2-in. hitches into instant workstations. At the jobsite or in the shop, the innovative Wilton ATV is a combination vise and sleeve that slides into a standard 2-in. receiver without interfering with the tailgate. A patented mounting bracket (provided) also converts the ATV into a bench vise when attached to a workbench, trailer or other stable work surface. The ATV is ideal for vehicles used in construction, farm and ranch, automotive, marine or those dedicated to outdoor and off-road activities. The mobile vise is great for most bending and cutting operations. It's also handy for fence, building and parts repairs, and other work-holding projects. The 33-lb. portable, multi-use vise is constructed of high-strength, ductile cast iron, powder-coated steel rated to 60,000 psi. The ATV also features a patented 360-deg. locking handle. When driving, a spring-loaded hub secures the handle and keeps it in an upright position. Visit www.wiltontools.com.

Westbury Aluminum Drink Rail
The new Westbury Aluminum Drink Rail from Digger Specialties, Inc. comes individually sleeved as a kit, with one rail and screws included, so it's easier to stock and handle for Lumber Dealers. The Drink Rail is available in 74- and 98-in. lengths and a width of 3-1/4 inch. The pre-drilled rail has solid aluminum wall construction for strength and durability and can support wood or composite deck boards. It easily installs on the Westbury C-Series Crossover Post System. DSI offers the Drink Rail in their 12 standard colors: Satin Black, Black Fine Texture, Ninety Bronze, Bronze Fine Texture, White Fine Texture, Gloss Beige, Gloss White, Speckled Walnut, Sandy Shore, Clay, Chocolate and Silver. The colors are AAMA 2604 as standard, or you can upgrade to AAMA 2605 powder coating. Visit www.westburyrailing.com

WORX AeroCart
Any weekend warrior who has used a conventional wheelbarrow knows they're heavy, bulky and hard to balance and maneuver, especially over uneven terrain. Not so with the new WORX AeroCart. When in wheelbarrow configuration, AeroCart's patented design concentrates the center of gravity over two oversized, flat-free tires for a load that's easier to lift and manage. In fact, tests have shown that AeroCart makes lifting 200 lbs. feel like 17 lbs. AeroCart's balanced, dual-wheel construction eliminates side-to-side tipping and weaving, which often leads to spilled loads and muscle strain. AeroCart lightens the load when moving loose topsoil, gravel, sand, rocks, firewood, debris and other heavy loads. But that's just the beginning of its versatility. Pull the release knob on the side of the cart and fold up the legs until they lock. Then fold down the front dolly plate, and AeroCart transforms into a hand truck. Use AeroCart in hand truck mode to move items up to 300 lbs. The narrow 22-inch width easily navigates standard doorways and fence gates.
Drop-down extension arms convert the cart into an extended dolly for transporting bags of mulch, fertilizer, potting soil or logs weighing up to 80 lbs. Visit www.worx.com.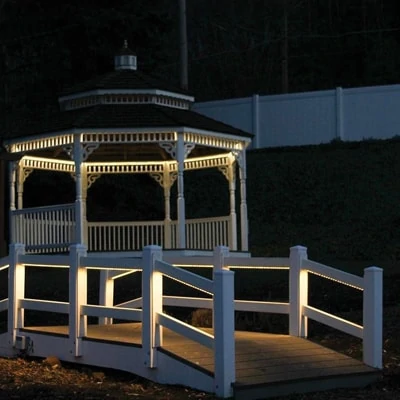 Fifthroom.com offers iluma Outdoor Structure Lighting from i-lighting
Fifthroom.com expands its online specialty marketplace for landscape structures with the addition of iluma Outdoor Structure Lighting from i-lighting, a leading manufacturer of easy-to-install, reliable and cost-effective LED lighting. The new iluma Outdoor Structure Lighting system features the company's proprietary Easy Plug connection technology and dimmer system that will combine with Fifthroom.com's extensive line of landscape structures, ranging from gazebos and pergolas to garden bridges and arbors. The new lighting option brightens the mood and adds ambiance to any exterior location. The iluma system can be used both indoors and outdoors, available with either clear white or warm yellow LEDs and in stock lengths or customized lengths to meet contractor requirements. It also works equally well with vinyl, aluminum, composite and wood railing, creating nearly invisible downlighting effects. The system's sleek 5mm design is also available for 4-, 6-, and 8-ft. kits and can be customized to meet user requests. Visit www.fifthroom.com.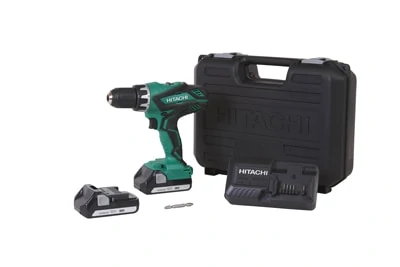 Hitachi DS18DGL Driver/Drill
Hitachi Power Tools' new 18V Lithium Ion model DS18DGL Driver/Drill features the company's signature ergonomic design to make it extremely well-balanced and comfortable for extended use. It's also covered by Hitachi's Lifetime Lithium Ion tool warranty and 2-year Lithium Ion battery warranty. The DS18DGL is powered by a Lithium Ion slide-type battery for fade-free preformance, less weight and three times the total battery life of traditional Ni-Cd batteries. The DS18DGL driver/drill delivers 400 in/lbs of torque to power through tough jobs. A 22+1 clutch delivers 22 torque settings, and a drill mode for ultimate precision and control. The two-speed gear setting allows the user to match the appropriate speed to the application, and the 1/2-in. keyless chuck is ideal for quick and simple bit replacements. Also, an LED light points upwards from the base of the tool to illuminate the bit, and a variable speed trigger helps to provide complete control during operation. Compact and lightweight at just 3.7 lbs., the DS18DGL reduces fatigue in extended or overhead use applications. Visit www.hitachipowertools.com.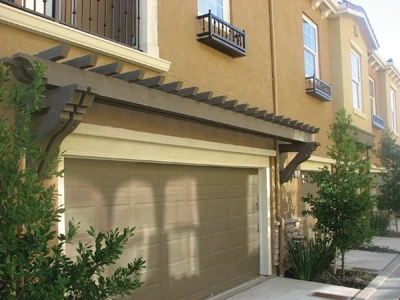 Fypon Garage Door Décor
To add pizzazz to the exterior of your garage door, the experts at Fypon recommend you install decorative urethane trim pieces, such as mouldings, crossheads, pediments and keystones to the garage door surround. The first basic element is to surround the entire garage door entry with weather-resistant urethane moulding or PVC trim. The pieces are easy to cut and install, plus they resist insect infestations, warping, splitting and humidity. Urethane products come with a pre-primed surface that is ready to paint or stain, so no sanding or additional priming is needed before installation. PVC trim pieces do not need to be painted. As an option to moulding and trim, more detailed pilasters, which stand vertically to frame out an entry door, add dimension and beauty to the sides of the garage entryway. After installing these, you can look at the top of the garage entrance. Crosshead trim comes in lengths up to 207 inches to accommodate large garage openings. Or, you can order two smaller pieces, install them side-by-side and cover the 'gap' with a keystone decorative element placed in the center. Visit www.fypon.com.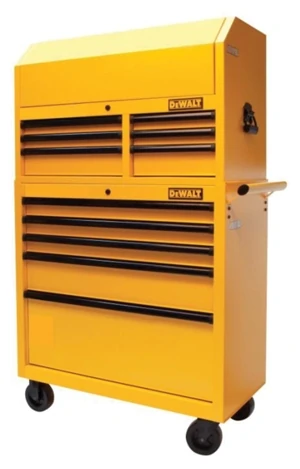 DeWalt Metal Storage Systems
The two new DeWalt products include a 36-in. 6-Drawer Top Chest (DWMT73678) and a 36-in. 5-Drawer Roller Cabinet (DWMT73679). Combined, the Top Chest and Roller Cabinet deliver up to 1,400-lb. load capacity. DeWalt has built the rolling storage systems to feature auto-return closing drawers, 100-lb. capacity ball bearing drawers, 200-lb. capacity extra deep bottom drawer, and fully extendable drawers. The pull-out drawers are deep and large enough to store and organize an array of large tools. The top lid design provides enough clearance to allow a 20-volt DeWalt drill to stand with the lid closed. Knockouts in the back of the top lid allow power cords to run inside for battery charging, with the lid closed and locked. Top and bottom keys are included for an internal locking mechanism with breakaway keys. Heavy-duty casters offer durability and easy movement. Visit www.dewalt.com.