C80 VertiCable Railing
Digger Specialties, Inc. announces tits latest line of Westbury Aluminum Railing—the C80 VertiCable. New to the industry, the 1/8-in. vertical 316 SS cables offer virtually unobstructed views, accompanied by 9/16-in. round balusters for durability. Cable tensioners are gone and no unsightly fasteners are required. The VertiCable sections are factory-assembled and shipped on pallets ready for quick installation. Level sections are offered in 36-in. and 42-in. heights including 4-, 5-, 6- and 8-ft. lengths. The full line of Westbury "C" Series standard posts, crossover posts, caps, flairs, and time-saving brackets complement C80 VertiCable. All 12 standard AAMA 2604/PCI A2 architectural-grade colors are offered with VertiCable. Visit www.diggerspecialties.com or call 1-800-446-7659.

Spyder 3X3 Double-Sided Blades
Spyder Tools expands its unique line of rounded tip, double-edged blades with a longer-lasting, cobalt-strengthened version. Spyder's 3X3 double-sided reciprocating saw blades allow uses to plunge cut and make multi-directional cuts with ease, even through metal. Spyder has taken its unique 3X3 design, with its double-sided cutting surface and rounded tip, and added 8-percent cobalt for longer-lasting, tougher cutting. With three cutting surfaces—the traditional bottom edge, the top and the rounded tip—these blades allow users to get the most productivity. The double-edge blade allows for multi-dimensional cuts without flipping the saw over. The rounded tip makes plunge cuts easier, eliminating the need for pilot holes. With two cutting edges, users also get double the cost effectiveness. These blades are designed to cut wood with nails, pipe, sheet metal, plastic, fiberglass and other common construction materials. Visit www.spyderproducts.com.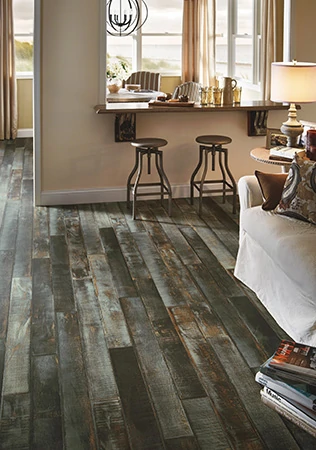 Architectural Remnants Laminate Flooring from Armstrong
The Architectural Remnants line of laminate flooring pairs the exquisite look of high-end, reclaimed hardwoods with various species and colors and realistic rustic textures. True reclaimed woods are usually not readily available and are often impractical (or unaffordable) to most homeowners, but Armstrong's new laminate floors offer truly unique, vintage-inspired designs. For high-traffic areas and active households, the durability of Armstrong laminate is hard to beat. The offering comes with Commercial VisionGuard, a commercially-rated wear layer, to protect it from staining, fading and wear-through. In addition, the line is also equipped with HydraCore Plus, a core that is built into the product in order to make it feel more lavish than your everyday laminate flooring. Visit www.armstrong.com.