RYOBI BACKPACK BLOWER
Homeowners with large lawns or multiple properties often turn to residential backpack blowers to avoid the costs that come with professional landscapers. Outdoor Power Equipment manufacturers look for ways to offer pro performance without the sticker shock, and there is no shortage of options. So how do you choose?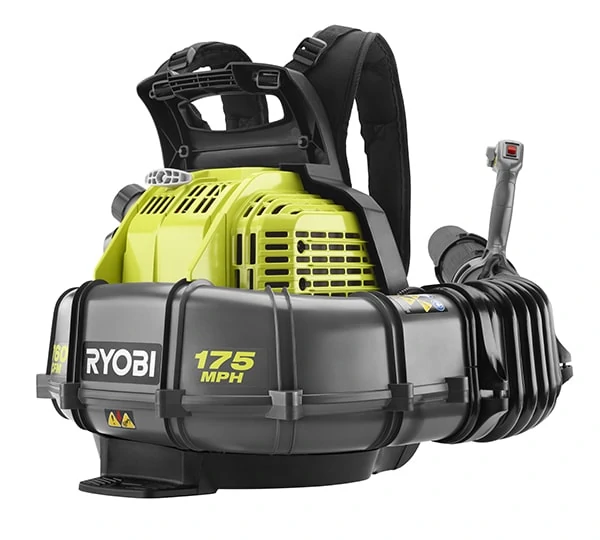 The new RYOBI 2-Cycle Backpack Blower has the impressive distinction of being the most powerful residential backpack blower on the market. This blower even outshines RYOBI's previous highly-rated and recommended backpack blower. The new and improved model offers 50% more clearing power thanks to the unique positioning of the large 38cc engine. Horizontal orientation increases airflow efficiency, and allows the blower to produce 175 MPH and 760 CFM of clearing force.
It includes a variable speed trigger for easy adjustment from low speed to full power, and the cruise control feature is ideal for large clearing jobs and heavy leaf litter.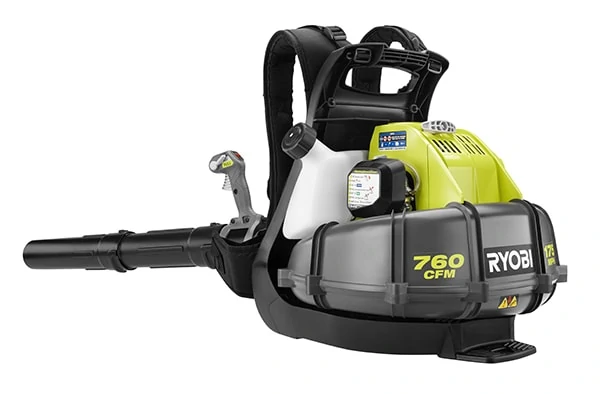 RYOBI designed this updated backpack blower for maximum user comfort, and thanks to the contoured back design and easy-adjust shoulder straps, a homeowner can operate this blower for extended periods of time with less fatigue at the end of the day.
The new RYOBI Backpack Blower is covered by a 3 year limited warranty. Look for it this Fall at Home Depot stores and online at homedepot.com.   Retail: $199
JACK OF ALL SPRAYS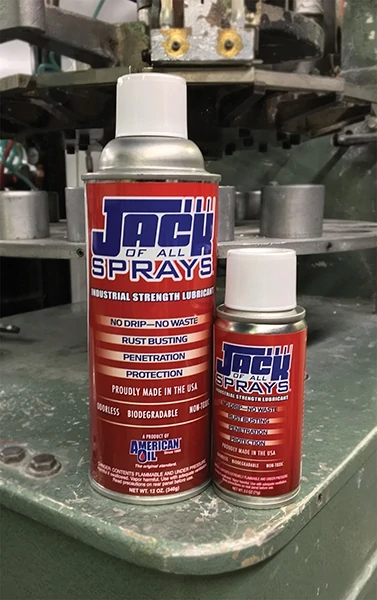 Jack of all Sprays is one product that does the job of many. When it comes to the toughest jobs, Jack acts quickly to loosen rusted and stuck parts, provide protection against rust and corrosion, and lubricate intricate moving parts. Jack of all Sprays is a foaming, non-drip, odorless, biodegradable and nontoxic product that is also NSF H2 food-grade and USDA approved. Jack will not crack rubber or damage plastic parts and is safe for seals and wire terminals. Jack was born from Vitalife wire rope lubricants, which was developed by American Oil in 1895 to protect the cables of the Brooklyn Bridge over 100 years ago. Jack combines the historic penetrating and protecting properties of Vitalife with new biodegradable technology to create superior performance that will not harm the environment. Visit www.jackofallsprays.com.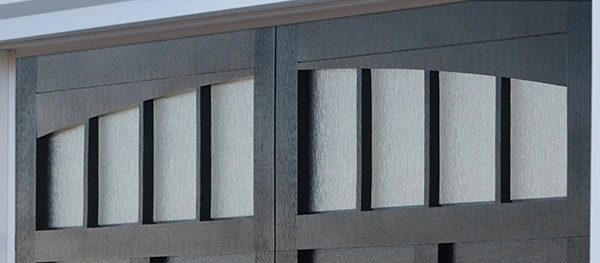 SPECIALTY GLASS STYLES FOR HAAS DOORS
Haas Door has expanded its specialty glass offering of insulated and non-insulated tempered glass for both commercial and residential garage doors in all of the company's product lines (except for the commercial 800 Series). Insulated glass combinations now available across all aluminum and steel product lines include Light Gray/Clear, Dark Gray/Clear, Bronze/Clear, Dark Gray/Dark Gray, Light Gray/Frost, Dark Gray/Frost and Bronze/Frost. Windows in garage doors with single-pane tempered glass are now available in Light Gray, Dark Gray, Bronze, Plexiglass, Clear Lexan/Polycarbonate, and Obscure. Additionally, the company expanded the aluminum full view products to include single-pane glass options of Frosted Safety Laminate, Wire, Clear Safety Laminate and Reflective Bronze glass in both commercial and residential garage doors. The new specialty glass choices from Haas Door join the company's existing decorative glass options, providing the public with dozens of ways to customize their garage doors. Visit www.haasdoor.com.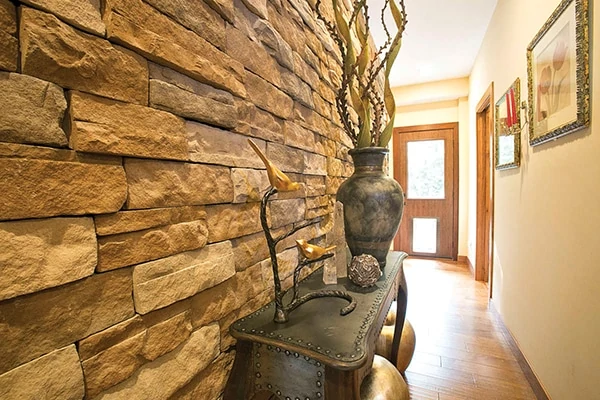 CLIPSTONE
ClipStone is mortarless stone veneer you can install yourself with simple, common tools (screwdriver, hand level). Each stone includes two metal eyelets. Simply screw the stones to the wall through the eyelets to install them. Bottom clips guide the stones into place for a tight fit between rows. Because the ClipStone system consists of individual stones of various sizes, you have added design flexibility just like traditional masons. ClipStone comes in two styles, LedgeStone and ProStack, and is available in six colors. Visit www.myclipstone.com.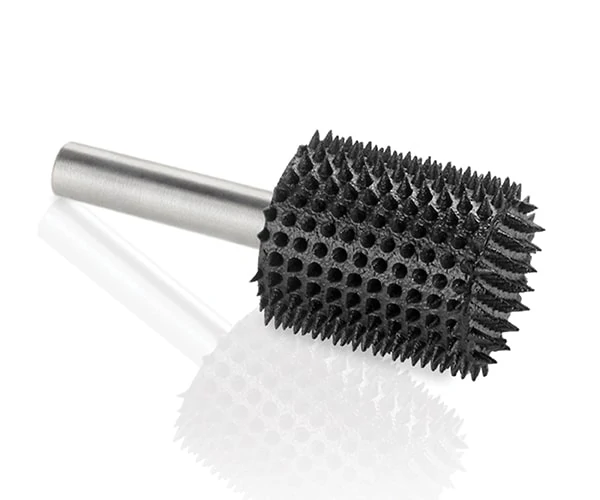 KUTZALL SHAPING & CARVING TOOLS
Kutzall offer s a wide range of shaping and carving tools, including the Kutzall burrs, which make perfect companions for rotar y carving tools. The burrs are available in a variety of coating and shape combinations, allowing you to select the perfect burr for the job. The shape palate includes ball nose, cylinder, dove tail, flame, rotor saw, sphere and taper. With 1/4-in. and 1/8-in. shaft options, they can be used in a wide range of power tools, depending on collet or chuck size. The 1/8-in. burrs work well in smaller rotar y tools like Dremels, while the larger 1/4-in. burrs will feel right at home in your die grinders or large flex-shaft hand-pieces. Recommended operating speed range is 5,000 – 25,000 RPM. For DIY applications, Kutzall Burrs will remove material at lower speeds (hand drills, drill presses) but both material-removal rate and control improve as speed increases. All Kutzall tools are handmade in America using durable materials, primarily tungsten-carbide, and are engineered to cut faster, last longer, and require less cleaning than other comparable rotary carving tools. Visit kutzall.com.
PROSLAT PVC SLATWALL
Put your walls to work with Proslat PVC Slatwall, the award-winning, patented modular storage system with a lifetime warranty that provides an infinite number of storage options. Proslat slatwall is made in North America, from 90-percent recycled PVC, which means it's impervious to moisture and humidity, and won't deteriorate over time like MDF slatwall or pegboard. Easy to install, each panel is individually fastened to studs yielding superior strength, with a load-bearing capacity of 75 lbs. per square foot. Everything required for installation is included in the box—screws, trims, even a drill bit. Proslat PVC slatwall is up to the challenge of organizing your garage and has multiple other options to conquer garage clutter. In addition to slatwall, Proslat offers heavyduty wall storage racks, high-quality steel cabinets and motorized ceiling storage lifts to create the storage space your family deserves. Visit proslat.com.