Vise-Grip Max Leverage Cutting Pliers
Vise-Grip Max Leverage Diagonal Cutting Pliers from Irwin feature exclusive PowerSlot Technology, for twice the cutting power with half the effort. All Irwin Vise-Grip cutting pliers feature induction-hardened cutting edges durable enough to cut ACSR, nails, screws and even piano wire. The pliers are specially coated for superior rust resistance and longer life and feature the Irwin Lifetime Guarantee. In addition to providing superior performance, all Vise-Grip cutting pliers feature industry-leading 3-Zone Comfort Grips, with three molded layers in the handle for enhanced comfort. Visit www.irwin.com.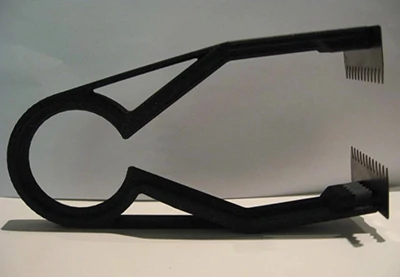 Paint Piranha
The Paint Piranha is a simple tool that utilizes curved jaws to scrape paint off the bristles of a paint brush. It removes both dry and wet paint from brushes and roller covers, making cleanup easier after paint projects and requiring less water and solvents. Save time and labor while preserving your equipment with the Paint Piranha.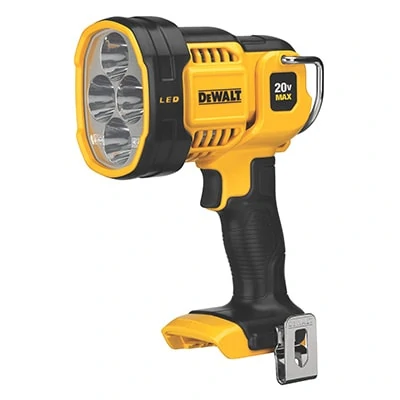 DeWalt Jobsite LED Spotlight
DeWalt introduces its new 20V MAX Cordless Jobsite LED Spotlight (model DCL043), offering three LED lights and one Red LED light to illuminate dark jobsite work areas. The spotlight is IP54 rated with a water- and dust-resistance seal to help protect it from water or weather damage. The LEDs are encased in an over-molded, non-marking lens cover, and the spotlight features two lumen settings. On the 1,000 light output setting, the spotlight provides maximum brightness for up to 508 yards or 1,525 feet. The 90-lumens red light setting preserves battery life even longer. The red LED light provides night vision when using the spotlight outside or in dark buildings. The pivoting head pivots 0 to 90 degrees for directing light where it is needed most, and a hanging hook and belt hook allow the spotlight to hang in multiple locations hands-free. Visit www.dewalt.com.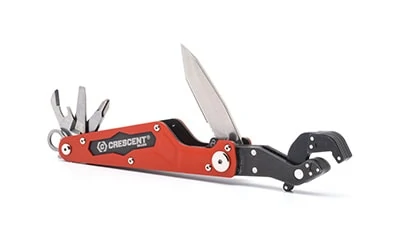 Crescent Flip and Grip Wrench MultiTool
Crescent's new Flip and Grip Wrench Multi-Tool consolidates multiple tools into one. The collection of six handy tools includes a ratcheting wrench with an adjustable jaw that fits over 40 fasteners from 3/8- to 5/8-in. capacity. The spring-loaded jaw design ratchets hex, square, eyebolt and wing-nut fasteners quickly without slipping. The ratcheting wrench's collapsible head folds neatly into the handle, allowing for compact storage and pocket portability. The collection of six useful tools also includes a No. 2 Phillips screwdriver and 3/16-in. slotted screwdriver, which means you don't have to carry a set of tools for simple tasks around the house. The Flip and Grip features a knife with both smooth and serrated blade edges. The combination bottle opener, can opener and wire stripper is also a handy addition. A lanyard ring is included to secure the tool for additional safety and convenience. These five components are made from rust-resistant stainless steel for added strength and durability. Visit www.crescenttool.com.