Superdeck Cleaning & Stain Products
Wood decks are a popular home addition and a great investment. According to Pro Deck Builder Magazine "Adding a basic pressure-treated wood deck cost an average of $9,539 nationally and returned more than 87% of that on the resale of the house, according to the 2014 Remodeling Cost vs. Value survey." To keep your wood deck looking its best and protected from the elements, you'll want to clean and stain every 2-5 years. Follow these easy instructions for success, and enjoy your improved outdoor living area! Get your tools ready; you'll need a large plastic bucket, push broom, garden hose or pressure washer, and a brush, roller or deck pad applicator.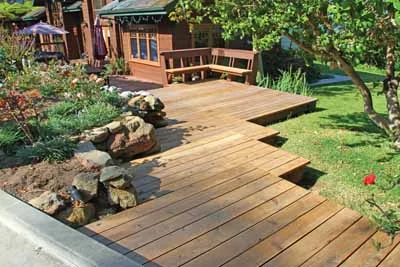 1.  Remove debris from in-between decking boards.
2.  Sweep deck clean from leaves and other loose debris.
3.  Secure loose nails.
4.  Pour Superdeck Wood Cleaner into a large bucket.
5.  Add water and mix solution.
6.  Pour contents over the deck.
7.  Spread solution evenly using a push broom.
8.  If temperatures are hot or you are working in direct sunlight, mist the surface lightly with   water, do not let the cleaning solution dry.
9.  Wait 20-30 minutes and scrub a small area, if dirt has loosened then proceed to scrub       deck with a push broom while moving solution off the deck.
10. Rinse with plenty of water. If using a pressure washer do not exceed 1000 psi or you       may damage the wood. Follow the same process using Superdeck Wood Brightener.
11. Allow surface to dry for 24 hours before applying stain for maximum product penetration and performance.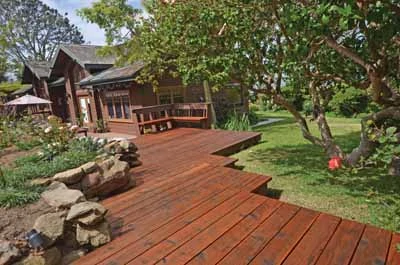 12. Stir Superdeck Wood Stain from bottom of container and apply using a brush, roller or     deck pad applicator. One coat of Superdeck Wood Stain is all you need, apply in smooth,       even strokes and do not pool or puddle the stain. Apply only at a rate the wood can             absorb.
13. Allow stain to dry for one day before walking on surface or placing furniture.
14. Now you are ready to enjoy your restored deck and live the outdoors!
15. For more information or to see a complete how to video visit www.Superdeck.com.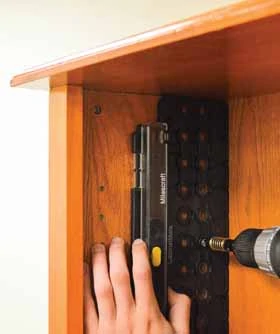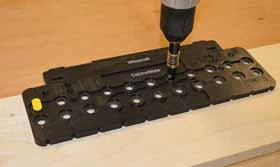 Milescraft CabinetMate
Ever wonder how to make level, wobble-free cabinets? The Milescraft 1316 CabinetMate is an easy-to-use, lightweight and durable jig with a rigid main body, an indexing pin and a self-centering drill bit. A custom spring-loaded-brad point bit allows the holes you drill to self-center with the holes on the main body. This bit is pre-set to bore a crisp hole with consistent depth for a perfect fitting shelf pin. The Cabinetmate also comes with a built-in storage compartment for your bits. No more moving a jig and trying to center the holes again after drilling only six holes. The CabinetMate allows you to accurately drill eleven holes at one time. Just use the indexing pin and self-centering bit to daisy-chain your shelf pin holes to whatever distance you need. This innovative tool can be used on cabinet sides before assembly, already assembled cabinets and face-frame or frameless cabinets. A stand-out feature of the CabinetMate is that it also allows you to mark the locations for euro-style hardware. Visit www.milescraft.com.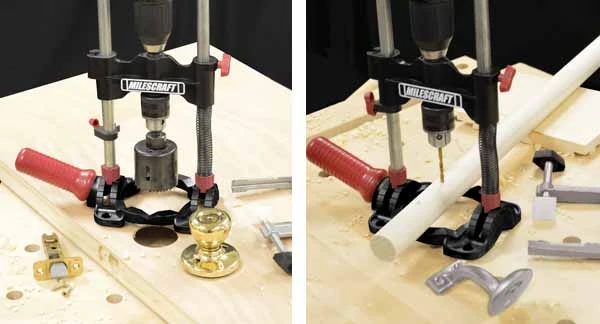 Milescraft AccuDrillMate
The 1318 AccuDrillMate by Milescraft gives you the precision of a drill press with the ease of a hand drill. The AccuDrillMate is perfect for straight or angled drilling, drilling on the edge of a board or on round stock. It works with standard or masonry drill bits, forstner and spade bits, hole saws and plug cutters. Attach the AccuDrillMate to all 3/8- and 1/2-in. power drills, and it also includes a 3/8-in. capacity chuck with key. A removable handle can be attached at the base or at the head of the tool, allowing you to hold the guide in place during use. The aluminum base has a built-in angular scale, so you can accurately adjust the angle of cut from 0 to 45 degrees. For drilling round stock, the AccuDrillMate has centering channels in the bottom of the base that accommodate drilling stock up to 3-in. diameter. The jig has four non-slip rubber feet, plus a built-in depth stop and spring action that controls the rate of the drill penetration and return. Visit www.milescraft.com.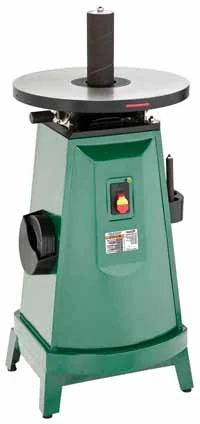 Grizzly T26418 Floor-Model Oscillating Sander
The Grizzly T26418 oscillating sander is powered by a 1-horsepower, 110V, single-phase motor. It offers spindle speed of 1725 rpm and oscillation stroke of 52 opm. The 19-11/16-in. diameter cast iron table tilts up to 45 degrees. The sander's table-to-floor height is 36-3/4 inches, and it comes with three rubber sanding drums and sleeves: 3/4-, 2-, and 3-in. sizes.
Six table inserts and a 2-in. dust port are included. The Model T26418 is available for $475.00 and is covered by a one-year warranty. Visit www.grizzly.com or call 1-800-523-4777.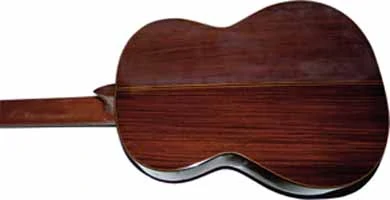 Restor-A-Shine Wood Polishing Compound
There are many polishing compounds out there, but most are only found in a store's automotive department. Howard Restor-A-Shine Wood Polishing Compound is specifically designed for wood finishes, using extremely fine micro-polishing powders, mineral oil, orange oil and select waxes. Restor-A-Shine safely polishes out fine scratches, oxidation and haze. It will revive dull areas and eliminate steel wool marks and other surface blemishes. It is the perfect product for completing the restoration of a high-shine wood finish after using Howard Products' Restor-A-Finish. You can also use Restor-A-Shine for the final buffing stage on a newly applied high-gloss finish. This unique polishing compound can safely be used on lacquer, varnish, shellac and especially polyurethane finishes. In fact, you can use it on any clear-coat wood finish. Visit www.howardproducts.com or call 1-800-266-9545.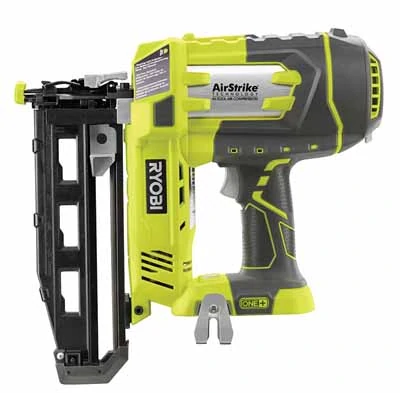 Ryobi One+ 18V AirStrike Cordless Finish Nailer
The newest addition to the Ryobi AirStrike family of tools is the 18V ONE+ Cordless Finish Nailer (P325). This 16-gauge finish nailer features AirStrike Technology, which eliminates the need for noisy compressors, bulky hoses or expensive gas cartridges. This means faster setup and easier maneuvering on the jobsite or at home. Common applications for this tool include installing crown and base, exterior trim such as fascia boards, decorative transition trim, as well as installing ornate pieces on mantels. The AirStrike finish nailer works with all Ryobi 18V ONE+ batteries. Other tools in the AirStrike lineup include the 18V ONE+ 18ga Cordless Brad Nailer (P320) and the 18V ONE+ 18ga Cordless Narrow Crown Stapler (P360). Visit www.ryobitools.com.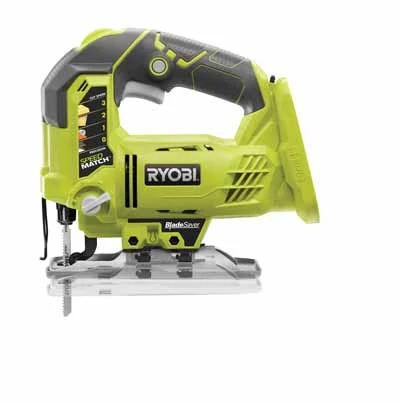 Ryobi 18V ONE+ Orbital Jig Saw
Ryobi's new 18V ONE+ Orbital Jig Saw (P523) features a new, more powerful motor that provides cutting performance equivalent to a corded jig saw, but with the portable convenience of a battery-operated tool. This new jig saw also features the patented BladeSaver innovation to get the most use from every saw blade. A first-to-market innovation, the BladeSaver features a drop-base design that allows users to adjust the base to utilize unused teeth, resulting in optimal blade use. This high-performance jig saw has a variable speed of 1,100–3,000 spm and allows for true flush cutting all the way to a vertical surface. The saw's SpeedMatch selector matches cut speed and type to any application correctly with orbital and non-orbital settings, and the toolless blade clamp makes blade changes quick and easy. Visit www.ryobitools.com.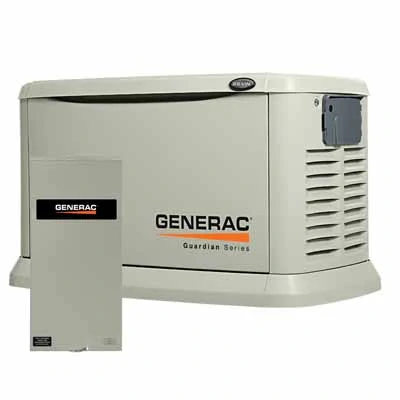 Generac 22 kW Guardian Series Generator
Generac Power Systems unveiled the new and unprecedented 22 kW Guardian Series air-cooled home standby generator. The 22 kW Guardian Series is the largest air-cooled home standby generator on the market. With an MSRP of $4699, it delivers the lowest cost per kilowatt of any air-cooled home standby generator. Air-cooled home standby generators are so called because they are cooled by air flowing through the generator's enclosure. They're popular because they are smaller and more cost-effective than their liquid-cooled cousins, which feature more expensive automotive-style engines with radiators for cooling. Previously limited to a maximum of 20 kilowatts by current powertrain technology, Generac engineers developed a breakthrough air-cooled engine and alternator combination to achieve this record-breaking 22 kW output level. Visit www.generac.com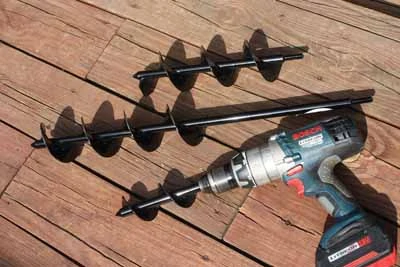 Power Planter Augers
Power Planter Augers will speed up the job, whether you're planting annuals, shrubs, bulbs, or you're mixing paint or small batches of concrete. For planting applications the augers loosen up the soil for outstanding soil-to-root contact. Available in a variety of sizes, the Power Planter Augers feature a 3/8-in. non-slip hex drive that fits any 3/8-in. or larger corded or cordless drill. Each tool is constructed with a heavy-duty 5/8-in. steel shaft and durable 10-gauge flighting. The Power Planters are hand-welded, hand-dipped in high-quality gloss black enamel paint, and ship in a hangable box for pegboard storage. Each auger is made in the USA and comes with an unconditional warranty on materials and workmanship, excluding normal wear and tear. Visit www.powerplanter.com.
Milwaukee's Shockwave Expand Accessories for Impact Drivers
To keep up with the growing popularity of impact drivers, Milwaukee Electric Tool grows its Shockwave family of accessories with the Expand line of products. The goal of Expand is to minimize user frustration with the sheer amount of accessories they often need to carry with them to complete a job. Users can do more and carry less by pairing the new extended length magnetic bit-holders and insert nut-drivers with the existing 30° Knuckle pivoting bit holder and 21 insert bits. The accessories cover more applications with fewer products. To match the breadth and flexibility available with Expand, users would typically need to carry over 130 unique accessories. As with all products in the Shockwave family, Expand accessories are built for extreme durability and up to 10X more life in impact drivers than standard bits. Visit www.milwaukeetool.com.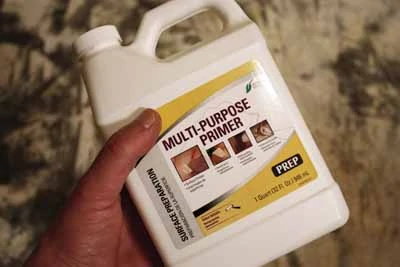 TEC Skill Set Multi-Purpose Primer
TEC Skill Set manufactures the Multi-Purpose Primer the EHT team used to prep the subfloor in this issue's article on vinyl floor tile. It provides an easy way to enhance the bond of peel-and-stick tile to porous substrates like concrete. It also works as a primer for the company's Ultimate Self Leveling Underlayment and Universal Skimcoat and Patch as an embossing leveler. Easy to apply with brush, roller, or push broom, the Multi-Purpose Primer enables installation of most floor coverings directly to metal, gypsum underlayment, glazed tile (without scarifying) and well bonded epoxy coatings. It covers up to 410 sq. ft. per gallon and dries to a clear finish in 30 minutes up to 3 hours. Visit www.tecskillset.com.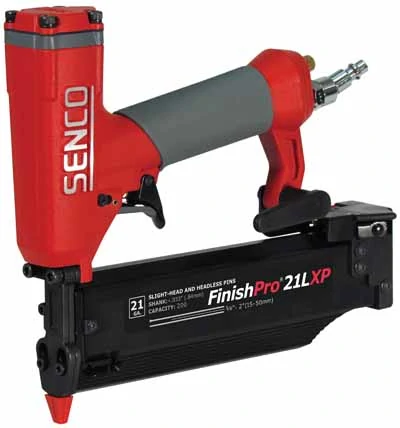 Senco FinishPro 21LXP Nailer
Senco has introduced a perfect solution for professional users looking for something in between the common 18-gauge and 23-gauge fasteners available today. The FinishPro 21LXP is a slight/medium head 21-gauge pinner that delivers the holding power of a brad nail while leaving a much smaller indent that requires little to no filling. Often, an 18-gauge brad nailer is too much for MDF and requires filling and sanding on trim. With the ability to use headless or slight/medium head fasteners, the 21LXP offers holding power without sacrificing finish quality. Weighing only 2.7 lbs., and measuring less than 9-in. high and and 8-in. long, this ultra-lightweight and compact tool can easily fit into tight spaces. With its ultra-narrow nose and non-marring pad, the 21LXP also delivers clean and exacting fastener placement. Visit www.senco.com.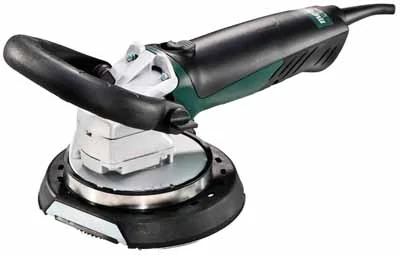 Metabo Heavy-Duty Dustless Grinders
Metabo Corporation introduces a new line of heavy-duty, dustless concrete/renovation grinders, which it hails as "the safest most powerful and durable grinders in their class." The new grinders feature a high-torque gear ratio and a unique new dustless shroud system designed specifically for tough concrete applications. The RF14-115 (4.5-in.) has a powerful 12.2-amp motor that drives a unique cutter head containing 15 replaceable carbide star cutters designed for heavy-duty renovation work. Additionally, its triple gear reduction results in a variable speed motor range of 800-2800 RPM for superior control of the tool and material removal rate. The RS14-125 (5-in.) concrete grinder features a 12.2-amp motor and a variable speed motor range of 2000-7000 RPM. Its counterpart, the RS17-125 (5-in.), features an extremely powerful high-torque 14.2-amp motor that produces the industry's highest removal rates.
Both the RS14 and RS17 incorporate an all new aluminum die-cast shroud that uses a patented airflow system to optimize dust extraction and features a spring hinge-mounted front flap for finishing flush to a wall. Combined with the ergonomically-designed, five-position D-Handle, the shroud also provides a counterbalance to the tool for exceptional handling. Visit www.metabo.com.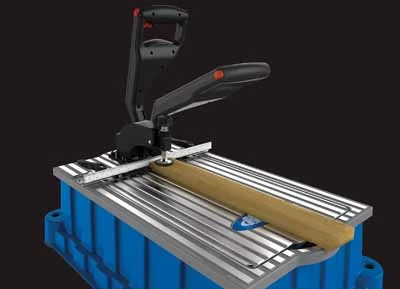 The Foreman from Kreg Tool
The all new Foreman from Kreg Tool Company makes high-speed pocket-hole production available to everyone by offering the features of a professional-grade pocket-hole machine at a consumer-friendly price. The Foreman Professional-Grade Pocket-Hole Machine (Item# DB210) allows users to create perfect pocket holes twice as fast as using a standard pocket-hole jig—with half the effort. The Foreman offers features previously available only on Kreg industrial pocket-hole machines, such as a built-in 110-volt electric motor, single-handle control, and an adjustable fence system. At a price of only $399.99 (U.S.), though, the Foreman sells for less than half the price of its predecessor, making it easy to afford for a wide range of users including woodworkers, cabinet shops, contractors and dedicated do-it-yourselfers. This dramatic increase in speed and reduction in effort is possible thanks to the Foreman's simple three-step operation:
1 Position the workpiece,
2 pull the handle to clamp it, and
3 drill your holes perfectly. Visit www.kregtool.com.