Driver Update
By Larry Walton
The modern world is held together with fasteners, and whether you're putting something together or taking it apart, the right tools make all the difference. Here's a roundup of some of the latest screwdriver designs to add to your toolbox.
Channellock Professional Screwdrivers
Channellock Inc., a family-owned and -operated hand tool manufacturer since 1886, introduces the new Professional Screwdrivers, a line of slotted, Phillips, Torx and nut drivers designed and manufactured in the U.S. to meet the needs of the professional trades and serious DIY'ers. The new screwdriver handles are solvent-resistant, impact-resistant and superior in strength to molded designs. The precision-machined shaft and chrome-coated alloy steel blades ensure full fastener engagement, chrome plating protects against corrosion, and blasted tips provide better grip for electronic applications. From shaft lengths of 1-1/2 to 16 inches and the broad array of bit types and sizes, including specialty bits, the Channellock Professional Screwdrivers offer a top-notch solution for whatever line of work you're in.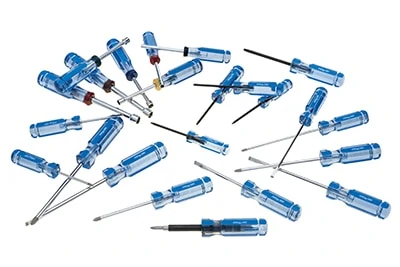 The new screwdrivers include 46 different tool offerings, including a six-in-one multi-bit driver designed with a four-sided, acetate handle that delivers greater torque than competing drivers with six- or eight-sided handles. Visit www.channellock.com.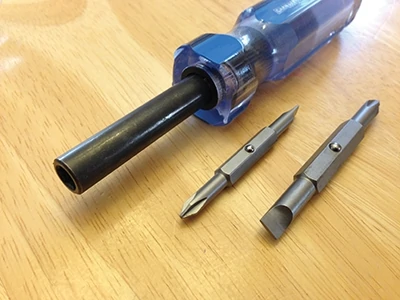 General's Multi-Pro Screwdrivers
General's new "Made in America" Multi-Pro Screwdrivers—the 15-in-1 Standard Driver, 15-in-1 Tamperproof Driver, and 14-in-1 HVAC Driver—offer several exceptional features. The retractable in-handle cartridge with built-in bit clips makes storing, selecting and changing bits quick and easy while saving toolbox space and reducing the risk of lost parts. The Palm Saver Cap remains stationary while turning the driver handle to provide comfort, prevent blisters and enable one-handed use. The EZ-Guide Collar delivers greater control by maintaining alignment between the screwdriver and the fastener. An alloy steel shaft and engineered nylon/ABS handle make these tools nearly impossible to break. And the 1/4-in. shaft opening also serves as a hex driver.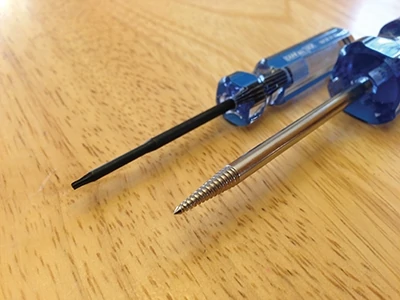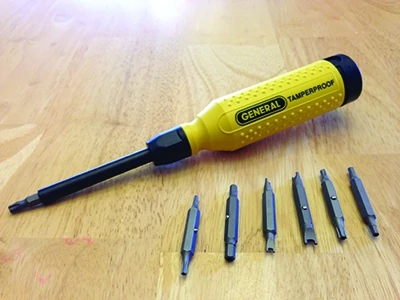 The Standard Driver (8140) is loaded with seven double-ended professional quality bits, providing the 14 most popular standard bits. The Tamperproof Driver (8141) contains seven double-ended tamperproof bits, including the most popular security bits—spanners, hex pins and torx pins. The HVAC Driver (8142) is loaded with six double-ended bits and one single-ended bit, including Shrader Valve Stem and Square Awl Reamer bits, to fit most HVACR applications. Visit generaltools.com.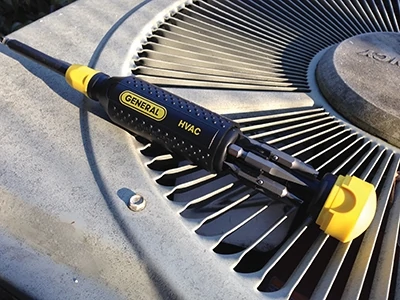 General Lighted Precision Screwdriver (75108)
General's Lighted Precision Screwdriver is a must-have for every DIY toolbox. It contains a convenient storage compartment for the included reversible bits, making it easy to keep all of the bits together in the handle at all times, reducing the risk of lost or misplaced parts. The precision engineered Versa-Grip handle provides maximum comfort and performance, while integral LEDs shed light directly on the screw-head work area in a 360-degree pattern. Visit www.generaltools.com.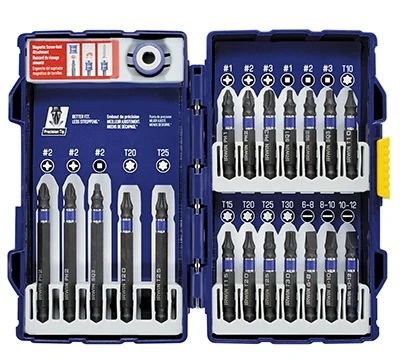 Irwin Impact Performance Series Accessories
The new Irwin Performance Series is a line of bits specifically engineered for use in impact tools and the higher torque they produce. The precision tip geometry is designed for a tighter fit with the screws to reduce stripping and cam-out and increase the life of the bit.
From the right length bit to the most commonly used diameters, tip types, bolt, socket and drive sizes, the new lineup ensures the right bit for a wide range of fasteners.
Irwin's 20-Piece Impact Performance Series Set (1903766) includes a magnetic screw-hold attachment with a low-profile collar that holds fasteners securely, reducing wobbling and slip. The 19 heavy-duty, cold-forged, high-grade steel bits all have a black oxide finish that resists corrosion. The kits comes in a molded ABS resin case with a metal hinge, and the two-step easy in/out storage holds bits securely in place until you need them.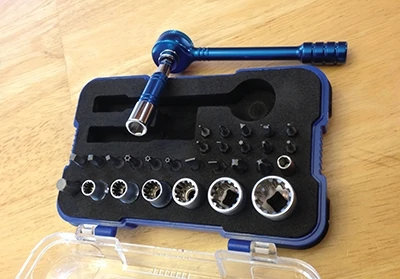 GRIP 30-pc. Mini Socket & Bit Set
The 30-pc. Mini Socket & Bit Set (#62403) from Grand Rapids Industrial Products is the perfect kit for intricate repairs on today's popular personal electronic devices, such as smartphones, iPods, computer tablets and other gadgets. The kit includes drop-forged, heat-treated, S2 steel bits, a high-torque aluminum ratchet handle and CRV steel spline sockets. Accessories include: 1-pc. 3-in. speed extension bar; 1-pc. 1/4-in. socket adapter; 1-pc. 4mm bit holder; 6-pc. 1/4-in. spline sockets (5, 6, 7, 8, 10, 12mm); 10-pc. ratcheting Phillips bits (#2, #3); flat bits (4mm, 5mm); tamper star bits (TH10, TH15, TH20); square bits (S1, S2, S3); 10-pc. 4mm ratchet bits; flat 2mm; Phillips #1; tri-wing #0; triangle; punch bit; spanner bit and star bits (T4,T5, T6, T8).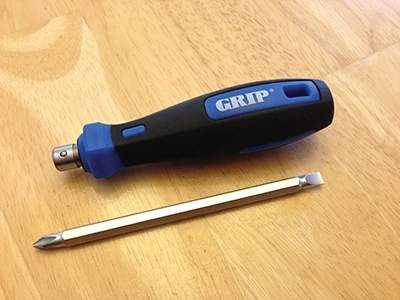 GRIP 8-in-1 Professional Screwdriver
Eliminate the need for eight different drivers with the GRIP 8-in-1 Professional Screwdriver (#65128). One unique design fits the following fasteners: flat, Phillips (#0, #1, #2, #3), Pozi (Pz1, Pz2, Pz3). The double injected TPR handle provides a comfortable and secure hold, and the chrome-plated S2 alloy steel shaft resists rust and corrosion. A magnetic tip holds fasteners and allows one-handed operation, and the long, narrow bits grant access to tight spaces where a hex-drive bit holder is too thick to pass.
Side Note
Skil 360 Quick-Select
Over the past year, the Skil 360 Quick-Select has floated to the top of the EHT tool pile when we need |a quick grab-and-go driver for simple repairs and assembly around the house, office or workshop. This dedicated screwdriver has an innovative twist: an integrated 12-bit cylinder that houses the most commonly used tips for a wide range of fastening tasks. This eliminates the need to carry a case of bits (which are always difficult for our crew to keep up with), and makes change-up quick and easy. Just spin the chamber like a revolver and click out your bit, stiletto style. This super-compact lithium-ion tool has a built-in battery that holds a charge up to 18 months.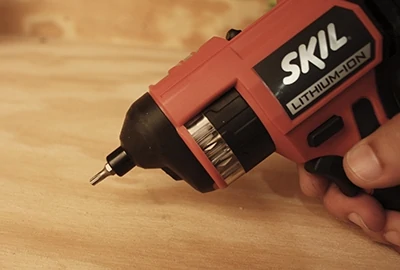 The 360 Quick-Select also comes equipped with the tool industry's first-ever USB charging capability, providing users with a more convenient way to charge the tool, whether they're plugging it into a computer or another USB port they have on-hand. The driver is lightweight, easy to use, comfort-able in the hand, and even includes a Site-Lite LED worklight to illuminate dimly lit areas. Delivering 210 RPM, The 360 Quick-Select is also one of the fastest cordless screwdrivers in its class. Visit https://www.skil.com/