By Matt Weber
Three Events. Two Days. One Location. That's what to expect at R|D|J—the combined convention of the Remodeling Show, DeckExpo, and JLC Live. To be held October 6-7 at the Baltimore Convention Center, the R|D|J trade show provides industry professionals with a vibrant exhibit hall with hundreds of the industry's top manufacturers, hands-on training, networking events, and a trove of construction products that steer trends in the remodeling industry. Expand your professional contact base as well as relax and kick-back with new and old friends. Here's a preview of the show.
Muro Auto Feed Screw Driving Systems
Muro is celebrating its 25th year specializing in Auto Feed Screw Driving Systems. Muro's easy-load coils have 150 screws, the highest payload in the industry, so users waste less time reloading. The Muro system is built to actually stay standing up when not in use, so there's no more bending over to pick-up your tool. It has a telescopic T-handle for easier handling that also adjusts to your height and drives a wide range of screws (1 to 3 inches). For professional consistency, Muro's easy-set hard stop guarantees repeatable countersinking each and every time, with no more guesswork. Plus, the company offers a full line of screws for a variety of construction applications. Visit booth 4701 or www.muro.com.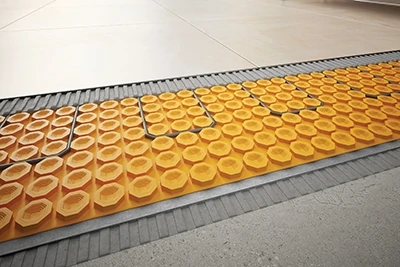 Schluter-DITRA-HEAT-TB
Schluter-DITRA-HEAT-TB enables heated tile floors to warm up 70 percent faster over concrete substrates. Other floor-warming systems installed over concrete can be slow to respond because of the mass of typically cool concrete immediately below the heating cables. Schluter-DITRA-HEAT-TB is the first electric floor warming system with an integrated thermal break to overcome this challenge. The thin thermal break on the underside of the membrane allows the system to warm tiled floors up to 70 percent faster over concrete substrates, by directing heat to the tile, not to the subfloor. The all-in-one system means faster and simpler installation as the membrane, heating cables, and thermal break are all combined in a single layer. This new system has all of the same attributes as DITRA-HEAT, and the total assembly is only 5/16-in. thick to minimize construction height. The heating cables are easily snapped into place on top of the uncoupling mat with no clips or fasteners, and the installer has complete flexibility on where the cables are placed. Because they are held securely within the DITRA-HEAT-TB mat, there is no need to use self-leveling compounds to encapsulate the heating cables. Tile installation can begin immediately, resulting in a much faster installation. Visit www.schluter.com or booth 1213.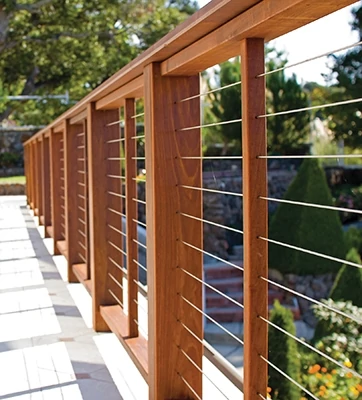 Feeney Railing Products
Since 1948, Feeney Inc. has been providing customers with durable, low-maintenance, and attractive residential and commercial construction products. Feeney's railing line includes the CableRail stainless steel cable assemblies, Quick-Connect cable fittings, and DesignRail aluminum railing systems to help homeowners liven up both indoor and outdoor living spaces while perfectly preserving the view beyond the railing. New for 2016, Feeney is offering CableRail for composite-wrapped wood posts, an expanded line of DesignRail Rail and Post Kits, as well as additional options for LED Lighting and DesignRail accessories. For more information or a product demonstration, stop by booth 3409 or visit www.feeneyinc.com.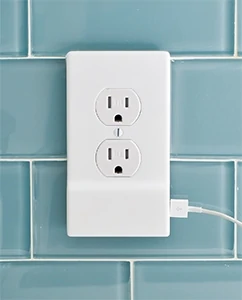 SnapPower Charger & Guidelight
The days of having to wire up a new outlet or use a bulky USB adapter to charge your devices are finally over. In just a couple of seconds, the new SnapPower Charger allows you to convert your current outlet to accept USB plugs. The Charger is an outlet cover plate with a built-in USB port on the side that allows you to charge your electronics via the cover plate and leave your outlets open for other uses. To get its power, the face plate has two metal prongs located on the back that automatically make connection with and draw power from the sides of the existing outlet. The only installation required is removing the old cover plate and replacing it with the new one—that's it.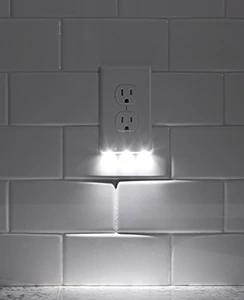 Like the Charger, the SnapPower Guidelight has all of its components built inside the cover plate so the only installation required is swapping out the old cover plate for a new one. It's disguised to look just like a standard cover plate during the day while illuminating floors and countertops at night. With a built-in automatic light sensor and three energy-efficient LEDs, the Guidelight only uses around 10 cents of energy for the entire year. Visit www.snappower.com or booth 2700.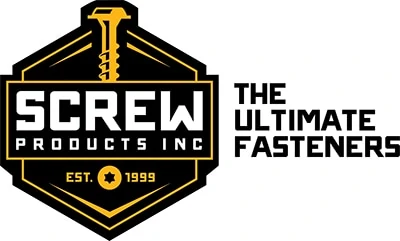 Screw Products
Screw Products, Inc. has been providing professional quality fasteners backed by exemplary customer service since 1999. The company offers a broad selection of products covering a majority of your fastener needs, including professional star-drive fasteners that boast twice the torque handling capability over Phillips or square-drive, reduced cam-out and end-load, longer bit life, reduced splitting, knurled shoulder and self-countersinking cutting nibs. Screw Products' fasteners, 3/4 to 16 inches in length, are conveniently packaged for the quantities needed for your project large or small, and even include a free bit so you're ready to go. For deck builds, see the DeckLok Advanced Lateral Anchor System for code compliant (ICC ESR-2114, IBC & IRC 2012, 2009, 2006) deck-to-ledger, rail-post and stair-stringer connections. Visit www.screw-products.com or booth 4713.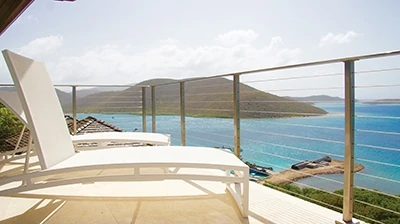 AGS Stainless Inc.
AGS Stainless manufactures the Clearview line of custom-made, prefabricated railing systems. For more than two decades AGS has built railing systems for some of the world's most distinctive homes. With their innovative component-based design and all stainless steel construction, Clearview railings eliminate the need for any on-site welding or cutting. AGS' design department generates CAD (computer-aided design) documents for each railing project, ensuring precise, project-specific fabrication. Each Clearview railing system is made to order to the highest quality standards, and delivered to you ready to be installed with a few simple hand tools. The company offers stainless steel components in either high-quality grade A304 or marine grade A316L, and the infill options are: stainless steel cable, stainless steel bar, tempered glass and specialty infill panels. Visit www.AGSstainless.com or booth 313.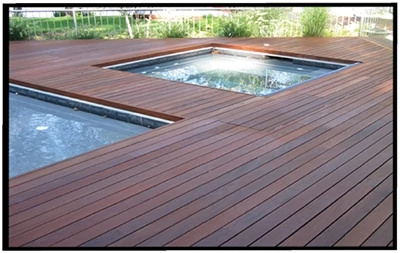 Ready Seal
Ready Seal is an oil-based, semitransparent wood stain and sealer in one, designed for easy application and professional results. Its Goof Proof™ formulation allows for deep penetration to moisturize wood with waterproofing oils. This creates a flexible barrier that keeps out moisture, mold and fungi, and offers better UV protection than surface coatings that will crack, chip, flake and peel. It contains no linseed or vegetable oils that promote algae and fungus growth in wood. Ready Seal can be applied with a sprayer, roller or brush. It will not lap, run or streak, and no back-brushing is necessary. It can be applied in any temperature, and no sanding or stripping is required for reapplication. It can also withstand rain within minutes of application. Ready Seal is effective on all types of wood and shows excellent results on premium-grade lumbers, including western red cedar, Douglas fir, cypress, spruce and redwoods. Visit ReadySeal.com or Deck Expo booth 4611.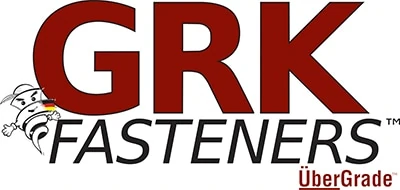 GRK Fasteners
GRK Fasteners manufactures an extensive line of premium quality, patented, ICC-approved fasteners for use in wood, metal and concrete. GRK star-drive screws are made to sink in fast without stripping, don't require pre-drilling and won't split expensive decking materials. The screws are approved for use in treated lumber and structurally code approved. Whether you need to fasten framing, decking, structural timbers, cabinets, trim or anchor to concrete, GRK offers it all. Drive with speed, quality and confidence. Visit www.grkfasteners.com to view the complete catalog or stop by booth 4806.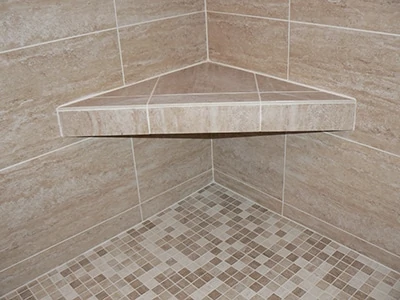 Goof Proof Showers
For shower floor drainage, the floor must be properly sloped. That's what Mark E. Industries' Goof Proof products do for you. They have a system of screeding guide sticks that will aid the user in getting the pitch right on all shower floors. No more puddles or kicking water to the drain. Capable of extending up to 6 feet out from the drain in any direction, you can achieve the most perfectly sloped floor imaginable. The system works with the existing plumbing, regardless of wherever the drain may be located in the floor. Pre-Pitch is for subfloor sloping using membranes to waterproof, and Quick-Pitch is for the thicker mud bed applications that get tiled. Kirb-Perfect is a cage that wraps the curb, easily filled with mud, that preserves the waterproofing liner integrity in addition to constructing a solid curb for attaching tile or stone. They also have another curb, Handi-Kirb for solving wheelchair accessibility obstacles. The Goof Proof Shower Seat is a ready-to-tile corner seat with the choice of two sizes in one. It includes all the hardware needed for installation in new construction as well as for retro-fitting in existing showers (and is able to support 400 lbs.). The Goof Proof Corner Shelf is also a ready-to-tile corner shelf that attaches to existing tiled walls and can be tiled before or after installation. It will support 100 lbs. All Mark E. Industries products come with thorough easy-to-follow instructions, and the website has instructional videos. Visit www.markeindustries.com or booth 2311.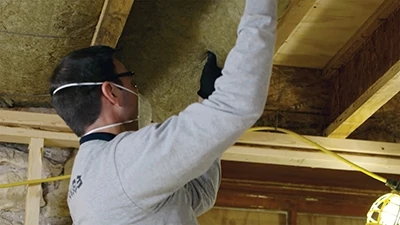 Roxul Safe 'n' Sound
Roxul Safe 'n' Sound is stone wool insulation for use in interior wall partitions of wood and steel stud construction where superior acoustical performance is required. This non-combustible, lightweight product is made from natural stone and recycled content. It's a green product that has excellent acous-tical dampening properties and is dimensionally stable, which makes it ideal for friction fit into walls, ceiling and floor applications. Properly insulating walls and ceilings with Roxul Safe 'n' Sound will make a home a more peaceful and quiet haven by reducing transmission of airborne noise from the outside, or to and from other rooms. Visit booth 4112 or www.rockwool.com.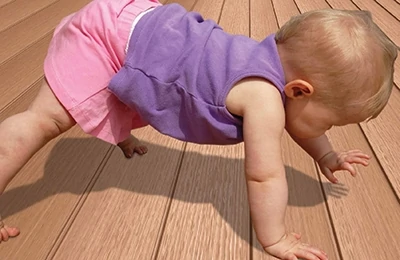 SpaceMaker Outdoor Flooring
SpaceMaker Outdoor Flooring is a new standard in composite decking. The patented interlock-ing and water-sealing design not only hides screws for aesthetic appearance, but provides a dry space underneath for extra living or storage without the extra step of a ceiling assembly. By sealing together and directing water to the outside edges of the floor, the space under your outdoor floor is dry, can be enclosed with an access door for secure storage. Visit booth 3201 or www.admiral-spacemaker.com.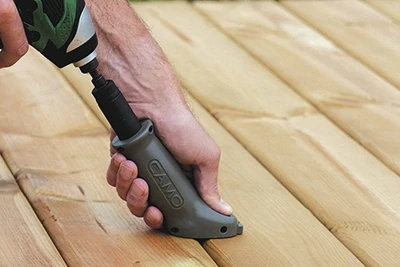 CAMO Edge Fastening
The CAMO Edge Fastening system from National Nail delivers a beautiful, fastener-free, Barefoot Approved™ surface with virtually any wood, composite or PVC decking. With the CAMO Marksman Pro, users can quickly and easily deliver CAMO Edge Deck Screws into the edge of solid or grooved deck boards for fast installations with automatic 3/16-in. spacing. The Marksman Pro-X1, designed for installing wood decks, provides minimal 1/16-in. spacing and can be used on radiused and square-edge boards. Both guides fit any nominal 6-in. deck board (5-1/4 to 5-3/4 in.). The Marksman PRO-NB is ideal for narrow boards measuring 3-1/4 to 5 in. and provides a 3/16-in. gap. CAMO Edge Fastening guides work specifically with CAMO Driver Bits and CAMO Edge Deck Screws. Visit booth 3701 or www.camofasteners.com.