Both professionals and DIY'ers love the reciprocating saw. These things are often used for dismantling or demolishing some sort of structure, and the primal thrill that comes with "tearing stuff up" speaks to a lot of people; recips are simply fun to use. Moreover, reciprocating saws are very versatile tools, designed for making cut-outs and cut-offs, disassembling wood framing, trimming branches, making tough cuts in tight quarters and much more. And the design of the reciprocating saw has improved across the board. Until just a few years ago, only a few companies made a really high-quality recip saw, while their competitors' saws paled in comparison. These days the playing field has leveled quite a bit, and a wide variety of manufacturers are producing quality saws suited for both homeowner and commercial use.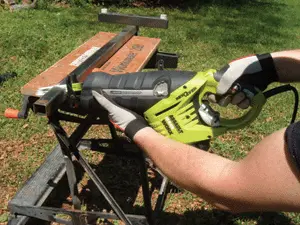 Modern Features
Today's saws offer a slew of handy features to make them easier to use for the operator. When selecting a new one, bear in mind what you'll use your saw to cut and how often you'll be using it. If you only use it occasionally, an 8- or 9-amp saw will do a fine job for a wide range of homeowner chores. If you plan to use your recip extensively or for tough, pro-grade projects, you might want to invest a little extra money in a saw with more motor muscle. You generally get what you pay for. Corded saws are rated in amps, while cordless saws are rated by voltage.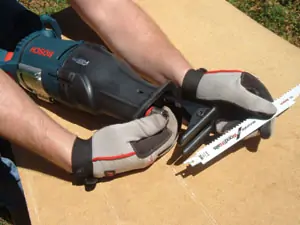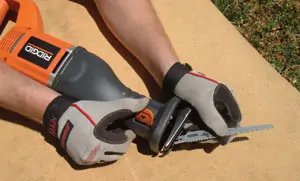 One nice modern feature is a quick-release, blade-change system. Users once had to fumble with an allen key to lock and unlock the chuck when changing blades. These days, you can change blades in a snap with either the flip of a switch, the press of a button, or the twist of a quick-release chuck. Make sure your new recip has a blade-change device you find easy to use.
Variable speed is another nice feature. Some saws, like the Milwaukee models, come with a variable-speed trigger. Others, like the Hitachi saws, come with a variable speed dial that the user adjusts to a numbered setting. Variable speed allows you to match the appropriate cutting speed to the material you're trying to cut.
Orbital action is a relatively new feather in the cap of today's recip saws. "Orbital action" means the saw swings as it cuts, in a pendulum-like manner. The orbital cutting action facilitates fast and aggressive cutting in wood.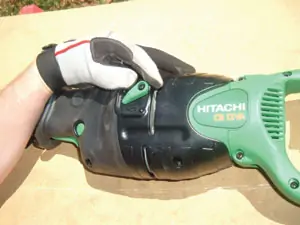 Recip saws are also available with different stroke lengths, from 3/4 to about 1-1/4 inch. Short strokes make more precise, smoother cuts, ideal for pipe and PVC. Long-stroke saws are designed for aggressive cutting, but are somewhat more difficult to handle when making plunge cuts.
An adjustable and/or pivoting footplate is another design aspect you might consider. Footplates are designed to contact the cutting surface for tool stability while you make the cut. Some saws feature an adjustable footplate that extends and retracts from the saw base, so the user can adjust the amount of blade that extends beyond the plate.
Other considerations include cord length (or battery charge time), carrying case, warranty, comfortable grips, and amenities such as rafter hooks and job lights. And last but certainly not least, check the ergonomics of any prospective new saw. How does it feel in your hands? Is it too heavy for extended use? Is it comfortable to hold? Recip saws are not all created equal, so get intimate with your saw before sinking money into a blind purchase.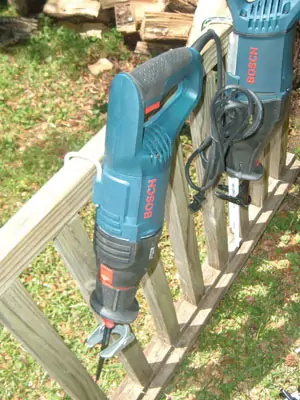 Using a Recip Saw
As with any tool, if you're cutting a loose workpiece, first clamp the piece securely. Mark the cutline and grip the saw securely with one hand around the "boot" of the saw that houses the front end. Position the footplate against the workpiece to stabilize the tool and minimize jumping. Squeeze the trigger to bring the blade to full speed and guide the blade steadily along the cutline. Don't force the cut; let the tool do the work. In some situations you may find it easiest to install the blade upside-down to make an upward cut.
Use an appropriate blade speed for the task at hand. Use slower cutting speeds for cutting hard materials like metals. Use faster speeds for cutting soft materials like wood and plastics, when quick cuts are more important than clean cuts.
If your saw features the option of orbital cutting action, use it for fast cutting in wood. But if you're cutting metal, switch the blade back to straight reciprocating mode for best results. When cutting metal, use a lubricant for a better cut and to prolong blade life. Use stick wax on the blade for non-ferrous metals (aluminum, brass, etc.). Use cutting oil on the material surface for ferrous metals like iron and steel.
Also remember that reciprocating blades make the cut on the backstroke, so for fine work, like fiberglass or paneling, place the good side of the workpiece face-down.
Recip saws can also be used to plunge-cut soft materials such as plywood and drywall. To plunge-cut, begin the cut with the footplate resting flush on top of the material, with the blade positioned above the cutline. Tilt the tool so the blade is just above the material surface (this may be easiest to do with the blade installed upside-down while holding the saw upside-down). Squeeze the trigger and carefully tilt the moving blade into the stock and continue along the cutline. For harder materials, like metal, either cut from the edge or make a cut-out using a pilot-hole for the blade—don't attempt to plunge-cut metal.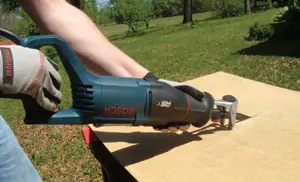 Blades and Accessories
Newcomers to the world of recip saws will quickly learn that blades make a tremendous difference in how their saws perform a variety of tasks. Blades vary in length, thickness and blade profile. For instance, blades designed explicitly for demolition will typically have a thicker blade body to withstand the abuse of the job and ensure stable, smoother cuts.
Blades also differ in number, size and configuration of the teeth. More teeth per inch (TPI) can create smoother cuts and better handle various materials. In general, use coarse blades for wood and fine blades for metal and plastic. TPI ranges from 3 to 24, depending on the blade's intended application. Many contractors buy assortment packs of blades so they'll have the right tool for every job they encounter.
When selecting blades, pay close attention to the packaging, which clearly indicates the applications the blade was designed for. Blades are available from a variety of manufacturers and for a wide array of uses—Bosch alone offers a line of 60 blades. (See sidebar for more on blade selection).
In addition to the traditional blades, I recently discovered a company called Paws Off Tools that offers some other interesting accessories for reciprocating saws. For example, the company's Flush-Cut Offset Adapters allow the user to make flush cuts in tight spots, such as    cutting beneath thresholds and behind trim. The attachment offsets the blade 1-1/2 inch to allow flush cutting without bending or breaking the blade. The Extend-A-Blade Extension is another Paws Off attachment that extends the reach of the saw, available in 12-, 18- or 22-inch versions. Other Paws Off accessories include rasps, sanding attachments and diamond carbide-coated blades for cutting through hard metals and concrete.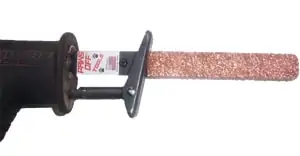 On Store Shelves
For this article, the EHT staff  tested a variety of corded recip saws, ranging from tough, professional-grade models to less expensive homeowner models. Here's what we thought.
Skil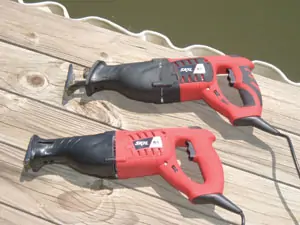 Skil introduces two new saws to the DIY market. The 8-1/2-amp 9215 and 9205 recip saws are targeted to the do-it-yourselfer who needs to remodel or build projects around the home. Features of the 9215 include a tool-less EZ lock blade-change system, variable speed dial, "power on" LED, adjustable footplate, on-tool blade storage and a comfortable, ergonomic design. The 9215 comes with a canvas tool bag and three blades, including the 9-inch Ugly Blade for fast branch trimming. The 9205 is a similar saw with a few less features, but it also sells for about 10 dollars less. I prefer the 9215, and at only $69.99 retail, you get plenty of bang for the buck. www.skil.com
Hitachi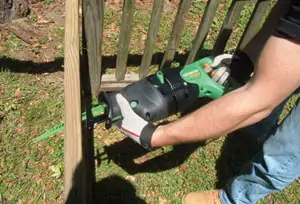 Hitachi Power Tools offers the CR 13VA recip saw with a powerful 11-amp motor. It features an oversized speed-control trigger as well as a variable speed dial. You can also adjust the amount of blade swing with an orbital action control switch. Other highlights include an adjustable footplate, a "one-handed" tool-less blade change device and hard plastic carrying case. This solidly built saw boasts plenty of power and   features for contractor-grade work, but the front end of the tool did feel a little bulky inmy hands. www.hitachipowertools.com
Milwaukee Electric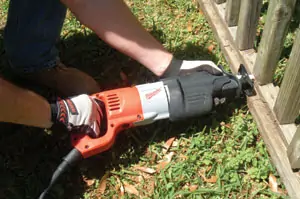 Milwaukee Electric started it all with the company's first Sawzall brand recip saw. Widely considered the industry-standard, many people refer to reciprocating saws in general as "Sawzalls" regardless of manufacturer. Today's 6519-22 Sawzall features a variable speed trigger, a removable Quik-Lok cord for easy replacement and storage, and a 10-amp Milwaukee motor designed for best power-to-weight ratio. The saw features a rugged, tool-free Quik-Lok blade clamp, but changing blades was still a bit of an awkward process. I also found the front end to be a bit bulky for my preference. However, that bulk is due to the exclusive gear-protecting clutch that guards against impacts for long-lasting durability. And it's in the durability department that the Sawzall really shines. This sturdy tool has all the hallmarks of Milwaukee's tradition of solidly built, dependable tools, and the company backs this with a 5-year warranty—the best of any of the saws we tested. The 6519-22 comes with two Milwaukee blades and plastic carrying case. Milwaukee also offers a 28-volt cordless version of the Sawzall. www.milwaukeetool.com
Bosch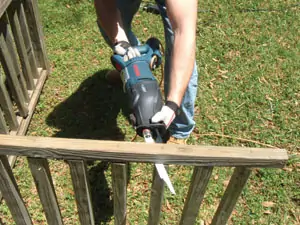 Bosch offers three new recip saws; 9 amps, 12 amps and 13 amps. The 9-amp saw features a variable speed trigger, tool-free blade change a comfortable grip and a 360-degree rotating scroll collar. The scroll collar is an innovative feature unique to the 9-amp Bosch saw and it allows the front grip to spin independently of the saw, giving the user versatile control of the cutting pathwhen working in tight spaces.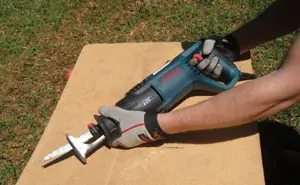 However, of all the saws we tested, my favorite was the muscular 13-amp RS20 model. The contractor-grade RS20 features   a comfortable front handle, a dual-speed switch, a blade light that illuminates the work area, push-button footplate adjustment, a variable speed trigger, the Lockjaw one-handed blade change clamp, the Bosch Brute drive system for long lifeand durability, as well as the company's Direct Connect cord system. As seen on some of the Bosch circ saws, this feature allows you to plug the tool directly into an extension cord, clamping the cord in place. This minimizes snagging and makes it easy to store the tool without hassling with a dedicated cord. All the Bosch saws feature soft rubber grips, blades, plastic carrying cases and saw hooks, so the user can hang the saw on a rafter or rail. www.boschtools.com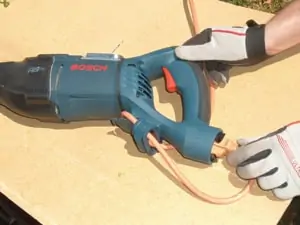 Worx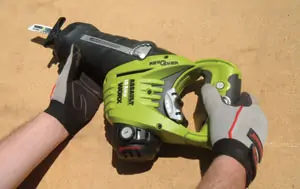 The 10-amp Worx Assault recip saw is loaded with nifty features. Highlights include an orbital action switch, variable speed, a keyless blade clamp system, a counter-balance mechanism, soft rubber grips, easy access to service the brushes, an adjustable footplate, a front-end work light, and an offset motor that significantly minimizes the typical back-and-forth vibration of the recip saw. It comes with a 10-foot cord and boasts a sturdy die-cast aluminum gearbox for long life. Unique to the Worx saw is the "Revolver" adjustable grip, which allows the rear handle 60 degrees of rotation. Simply release the locking lever, adjust the handle in a comfortable position to accommodate your cutting position, and then re-latch the switch to lock the handle in place. This is a really nice saw that I'm sure I'll be giving a lot of use. It comes with a hard plastic carrying case and a 6-inch metal-cutting blade. www.worxpowertools.com
DeWalt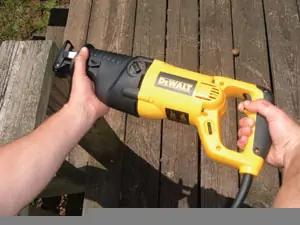 DeWalt has launched two new, heavy-duty reciprocating saws, available in a 13-amp orbital action model (DW311K) and 12-amp model (DW310K). The increased power, cutting speed and durability make the saws ideal for professional-duty framing, demolition and remodeling chores. Both saws feature a variable speed trigger, a keyless adjustable footplate and a keyless, steel blade clamp for quick blade changes. The DW311K is the first DeWalt recip saw to be equipped with orbital action for fast and aggressive wood cutting. Additionally, the DW311K has a variable speed control dial, which helps match the correct speed to the application. And although they're somewhat bulky in the front end, both saws are built for the long haul. A forged wobble plate mechanism makes the saws highly impact resistant, and the steel gears are hardened for increased durability. The drive shaft is constructed with a robust, one-piece design, and the reciprocating shaft is nitride coated for extended wear protection. Blades and carrying case are included. www.dewalt.com
Ryobi and Ridgid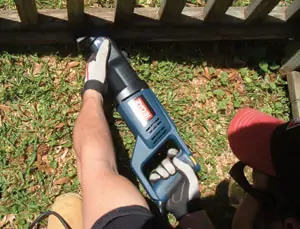 Ryobi and Ridgid both offer recip saws that touch each end of the performance spectrum. Ryobi's 6.5-amp variable speed saw doesn't offer quite enough muscle for heavy-duty tasks, but it should be adequate for sporadic homeowner use, such as trimming trees or fixing small projects. It also retails for only about 60 bucks, so the price is nice.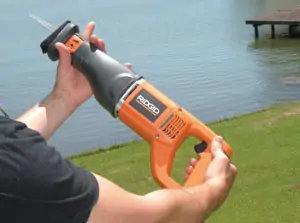 Ridgid's R3000 carries the tougher end of the tool line with a 9-amp motor, die-cast gear housing, variable speed trigger, 12-foot cord with cord wrap, pivoting footplate and Ridgid's trademark lighted plug. Both the Ryobi and Ridgid saws feature comfortable grips and  an easy-as-pie blade-change switch. The blade-change feature of these two affiliated brands was probably the easiest to use of the saws we tested; just flip the switch to lock or release the blade. Plus, this switch release is mounted on the front housing, covering the clamp. A bonus of this design is that it extends the front grip beyond the gears, so it becomes narrow toward the front of the tool. Both saws had this narrow front grip, which is comfortable to hold and maneuver for easy use and less fatigue. Both saws come with blades and plastic carrying cases. www.ryobitools.com, www.ridgid.com
Black & Decker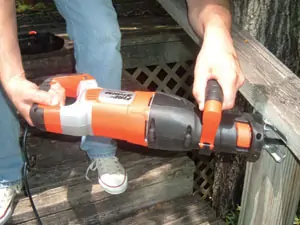 I've used some Black and Decker recips in the past and have not been very impressed. I'm pleased to say that the company's new FireStorm 9.5-amp saw is a big step in the right direction. Features include a three-position adjustable footplate and six different cutting speeds. One unique feature is an adjustable front handle that clamps around the housing. The handle can be positioned for comfortable side cutting, overhead cutting, or even removed for access to tight work spaces. The Firestorm comes with an easy switch-operated blade change clamp, a 12-foot cord and a plastic carrying case. There's a still a bit too much vibration in the body, but it's the sturdiest Black and Decker recip saw I've ever used. www.blackanddecker.com.
Cutting Edge of Blade Technology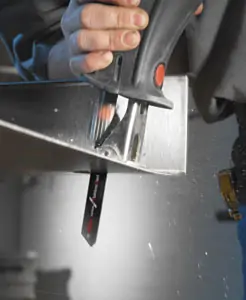 To get the scoop on the latest blade technology, EHT contacted Colleen Karpac, product manager for recip blades at Bosch Power Tools.  Here's what she had to say.
"There are basically four types of tooth designs in the market today," notes Karpac. "Two have existed for some time. The third and fourth are Bosch patented technologies."
Karpac explains that the industry standard tooth per inch (TPI) refers to teeth with the same distance from the tip of one tooth to the tip of the next tooth over the full length of the blade. The most common TPI are 6, 10, 14, 18 and 24. If you counted the tooth tips over one inch, you could count 6, 10, etc.—hence, tooth per inch.
Variable tooth technology is when the tooth size changes (also affecting gullet size) over the length of one inch of the blade. The distance between one tooth to the next increases, and that tooth pattern repeats every inch over the full length of the blade.
"The next technology to hit the market is Bosch Progressor," says Karpac. "The distance between teeth gets larger as you move from the shank of the blade to the tip of the blade. This allows you to cut materials that have more extreme differences in thicknesses.
"Bosch's newest technology is the 2X2 tooth technology. In this tooth pattern, the distance between teeth varies between two measurements only and alternates every other tooth over the full length of the blade." The alternating teeth consist of a reinforced tooth with a larger pitch combined with an aggressive tooth with a smaller pitch. Karpac explains that this technology provides both clean cuts and speed and substantially improves the life of the blade.