Slydr Sharp Gives Your Blades An Edge Wherever You Go

Keeping edges sharp no matter where you are has never been easier. Find out how the new pocket-sized Slydr Sharp sharpener by DMT helps you keep blades of all kinds in tip-top shape.
You're in the middle of your latest project. You're in the zone. All you need is to make a quick cut with your trusty utility knife, and you'll be close to stepping back and admiring your work.
Except that "quick cut" is becoming kind of a chore in itself, thanks to a dull knife blade.
You could stop what you're doing, go back to your workbench, go get your clunky sharpener and oils out, and start sharpening your knife. Or, you can quickly sharpen your knife right where you are using DMT's new, portable Slydr Sharp.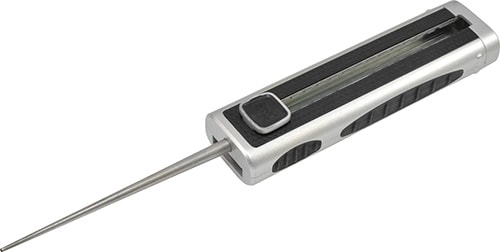 Slydr Sharp to the rescue
The all-new Slydr Sharp was designed by the experts at DMT for maximum portability and versatility.
The sharpener features an easy-slide release, and is housed in an enclosure that measures just 5 1/2″ x 1 1/2″ x 13/16″. That makes it perfect for stashing in your pocket, kitchen drawer, glove compartment – anywhere you might need to sharpen a blade or tool on the go.
The Slyder Sharp was designed to sharpen a variety of tools and blades, from everyday tools like scissors and shears, to blades meant for tougher jobs like machetes or router bits.
The sharpener, which comes in fine grit, includes a straight edge sharpener 4.33″ x 0.875″ surface, and serrated 4.44″ with 0.25″ to 0.0625″ diameter taper. That's what gives the Slydr Sharp its incredible range of use.
Here's just a sampling of blades that can be sharpened using this portable tool: scissors, shears, router bits, pocket knife, utility knife, kitchen knives, serrated knife, bread knife, cleaver, axe, hatchet, machete, chisel, food or blender processor blade, hoe, pruner, lopper.
That's most of the straight or curved edges you use around the house or in your workroom.
Designed by experts at DMT
The Slydr Sharp is one of the newest tools in a long line of quality products by DMT. Since 1976, DMT has been making innovative and effective sharpeners for a wide range of tools.
The signature polka-dot surface, along with the most diamonds per square inch in the industry, make DMT sharpeners a must-have for professionals and do-it-yourselfers.
The introduction of the Slydr Sharp brings a new level of portable performance to DMT's offerings. With its comfortable, easy handling, and sharpeners made in the U.S.A., the Slydr Sharp is perfect for anyone who depends on high performance edges to get their job done.
Learn more about Slydr Sharp and the full line of DMT products at DMTSharp.com.
Recommended Articles
---