Lexel is the James Bond of caulks and sealants!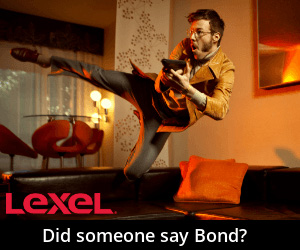 The name's Bond. James Bond. The ultimate "man's-man," Bond gets all the love, has the greatest gadgets, and drives the cars dreams are made of. There's no question, 007 is one cool dude.
We like to think of Lexel as the "James Bond" of caulks and sealants. Why? Because, like Bond, Lexel is smooth, tough, quick, resilient, and incredibly good looking.
Like any great Bond mission, there's a bad guy! Lexel's adversary may just be your nemesis too – silicone. We'll call silicone, Dr. No! Try as it may, "Dr. No" simply can't stand up against Lexel's strengths. Lexel has all the advantages silicone lacks. Lexel is the tough, elastic sealant perfect for every job! It sticks to almost anything. Lexel® synthetic rubber elastomeric sealant is the superior alternative to silicone caulk. It crushes silicone when it comes to clarity, adhesion, elasticity and paintability. Oh yeah, Lexel is one bad mamma jamma! Try Lexel once, and you'll say Dr. "No" to silicone!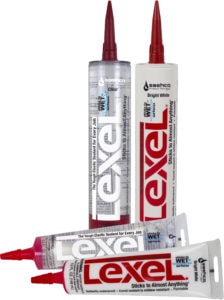 The 007 of caulks and sealants is:
Tough: Survives routine scrubbing with household cleaners, including abrasive cleaners.
Super elastic and flexible: When the surface moves, Lexel moves. No cracking, tearing, or pulling away for a lasting, permanent seal (ahem you may say, "Bond." We couldn't resist).
Fast! Instantly waterproof: No waiting and wondering necessary. Use the sink or shower right away.
Mold and mildew resistant: Talk about fighting bad guys! Keep unsightly and unhealthy growths where they belong – in a lab, not on your caulk.
Sticks to wet surfaces on contact: Dry weather may be days away. Lexel can be applied today.
Blends in! It's the ultra-clear sealant! In fact, it's 19x clearer than silicone. It won't yellow and won't go cloudy.
Paintable! Yep, you read that right. Lexel is paintable. Try that with silicone!
Resilient! It Won't freeze: Feel free to leave it in your truck or garage overnight. It'll be fine in the morning.
For more info: https://www.sashco.com/products/lexel/
---