By Matt Weber
Get more from your power tools by using the right accessories. Tools are crucial for the professional craftsman or the serious DIY'er, but what if you could optimize those tools for more versatility, making a good tool even better? With a wide variety of available accessories you can optimize, organize, power, or alter your tool applications. The following are a few highlights the EHT staff thought you might find interesting.
DeWalt Power Solutions
Use your corded tools where there's no power outlet. DeWalt has added the 1800 Watt Portable Power Station (DCB1800) to the company's wide range of battery and charging solutions. The new 1800 Watt Portable Power Station allows for AC power in remote locations. Able to run most corded tools, it provides 1800 watts (15 amps) continuous power and 3600 watts peak power. The DCB1800 runs on four DeWalt 20V MAX batteries. (For high-power applications, four 20V MAX 3.0Ah batteries or higher amp-hour are recommended to provide the best results.) Not only can the station power a corded tool remotely, but it also becomes a multi-port parallel charger for up to four batteries when plugged into a wall outlet via extension cord (sold separately). Visit www.dewalt.com

Milescraft Drill90 Attachments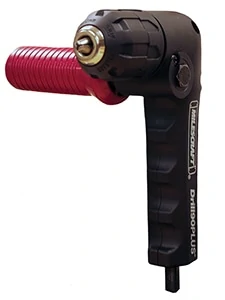 The 1303 Drive90PLUS is an impact-ready right angle drive/drill attachment from Milescraft. With this versatile tool, your existing power drill or impact driver can now access hard-to-reach spaces.
The newly engineered design of the Drive90PLUS has metal head construction and improved gears for enhanced durability and longer life. With a reach of 1-1/2 inches, the Drive90PLUS is an ideal right-angle tool for close quarters. The 1/4-in. magnetic hex socket accepts most standard hex accessories and can be used in conjunction with Milescraft StubbyBits for those really tight spots.
Milescraft's new 1304 Drill90PLUS is a new heavy-duty version of the original Milescraft Drill90. This design has an ergonomic body design with removable, dual position handle and an enhanced, all-metal drive with bearings providing longer life and durability. It comes with a 3/8-in. keyless chuck and is compatible with most drill accessories including spade bits and hole saws.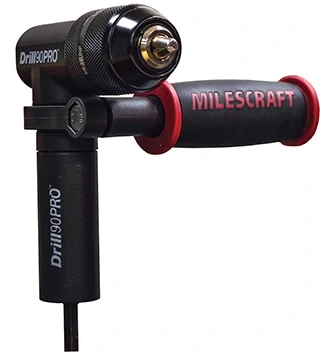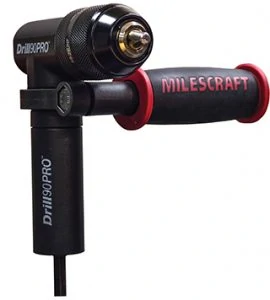 For professionals, The heavyweight 1305 Drill90PRO has all metal construction with industrial gears for longer life expectancy and a smoother drilling experience. Featuring an all metal drive with four ball bearings, it's built tough for heavy duty usage and has a 360-deg. removable, adjustable comfort grip handle that allows for complete control no matter what angle you are drilling. Visit www.milescraft.com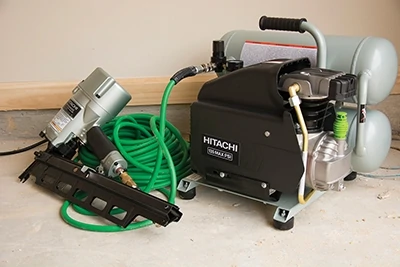 Hitachi EC99S Twin Stack Air Compressor
Power your pneumatic tools with Hitachi Power Tools' newest addition to the air compressor market, the EC99S. This 4-Gallon twin stack compressor weighs less than 53 lbs. and is easy to transport around any jobsite thanks to its ergonomic handle. The EC99S features a powerful 15-amp direct drive induction motor for efficient and reliable performance compared to universal motor products. The motor also incorporates thermal overload protection that stops the unit in a possible overheating situation. The twin stack delivers a cast iron, oil-lubricated pump for cooler operation during tough applications. It produces 3.1 cfm at 90 psi and 3.05 cfm at 100 psi. The locking regulator and 105 on/135 off pressure switch means no worries about pressure wander or pressure starved tools on the job. The industrial air-pressure gauges are encased in steel for higher durability. Additional features include an easy-to-use ball valve drain cock for quick and easy tank draining, a protected pressure switch, shock-absorbing feet, and a factory-installed universal quick coupler ready for plug-and-go functionality.
This contractor-grade compressor can run multiple nailers, depending on applications. Visit www.hitachipowertools.com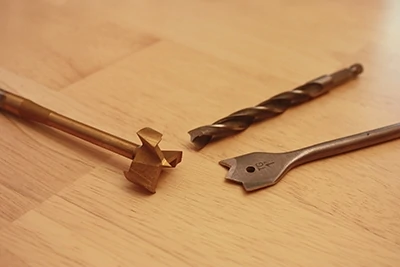 TG Tools Kik Bits
Favorites of the EHT staff, the TG Tools Kik drill bits offer something their competitors don't: more cutting edges. The Kik brad-point bits are tipped with six cutting edges to provide 20-percent more cutting surface when compared to standard brad-points. This means the Kik bits bore faster, cleaner and last longer due to decreased wear. In fact, the tip cuts so aggressively the bit requires an extraction ridge inside the flutes that removes material quickly to prevent heat buildup.
Kik Forstner bits are the best choice for drilling precise, flat-bottomed holes in wood. The radial cutting edges shear wood fibers at the edge and bottom of the hole, creating a smooth bore with an exact diameter. The Kik Forstner bits actually have nine cutting edges, which permit cutting curved paths, channels, routing and milling in wood and plastics.
Like the Kik Forstners, the Kik spade bits can also cut a curved path. The spade bits from TG Tools are engineered with 30 percent more cutting surface, resulting in faster boring and longer life. Plus, the Kik bits eliminate the spur commonly found on similar bits, which allows these spade bits to drill curved holes for plumbing and electrical installations. Visit www.mytgtools.com.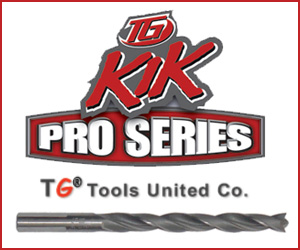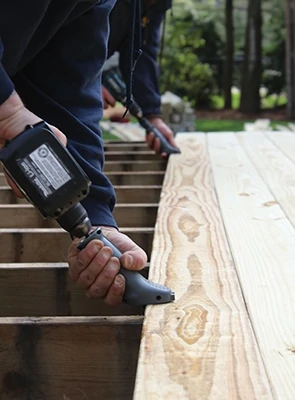 CAMO Marksman Edge
Designed for installing treated lumber with CAMO Hidden Fasteners, the CAMO Marksman Edge attaches to any power drill. Use it to install deck boards with no gap to allow for natural contraction, and the side-angle fastener entry leaves the surface fastener-free. CAMO edge-fastening guides work specifically with CAMO Driver Bits and CAMO Edge Deck Screws, available in ProTech coated carbon steel and 316 stainless steel—both ACQ compatible for treated wood. Their reduced trimhead provides a less visible point of entry, and a star drive offers more points of contact for better driving performance. Visit www.camofasteners.com.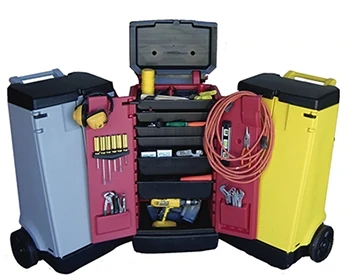 Tool Kaddies
The rolling Kaddies toolboxes are manufactured in the USA with durable double-wall polyethylene construction that will never rust, flake, peel, chip or corrode like metal boxes. Tool Kaddies can be loaded with job-specific tools, parts or supplies, and rolled right to the job, thus eliminating unnecessary trips back to the garage, truck or tool crib. Available completely assembled in a variety of colors, each Kaddie is lockable for security and very water-resistant. They're also easy to modify for the user's needs. Visit www.kaddies.com.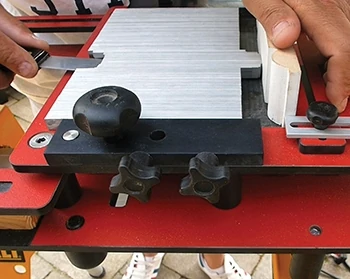 Scribe-Master Cope-Pro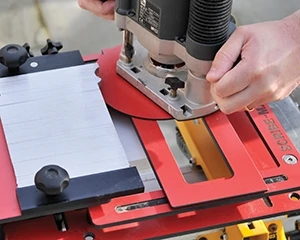 The Scribe-Master Cope-Pro is now available in the US and Canada. This router jig is designed for fast, efficient and accurate cutting of baseboard and chair rail profiles on every work piece, every time. It is up to 10 times faster than manual copes and is quick and easy to set up and use. The Cope-Pro has a series of stainless steel combs set out in series to form a profile copier (each 0.2 inches thick). With the included tool, the combs are individually pushed into a sample work piece and locked into place, giving a negative copy profile. The comb assembly is then turned over and, using a 1/4- or 1/2-in. router and a copy pin, the user follows the negative copy contour allowing the router to cut a perfect cope. It can cope any shape of baseboard or chair rail in just seconds, is adjustable for out-of-plumb walls, and cuts both left- and right-hand copes once set up. It also makes easy work of joints, such as tenon, dado, half and lap, to name a few, with an accessory sold separately. Made in the UK of high-pressure laminate and stainless steel, the Scribe-Master Cope-Pro comes preassembled and ready to use as a standalone unit or can be quickly mounted onto your miter saw stand with the optional mount kit, sold separately. Visit www.scribemaster.com.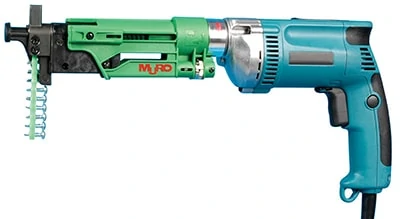 Muro EasyDriver
Attach a Muro Easydriver to an electric drywall screwdriver to convert it to a collated screw gun. The light-weight attachment has a rubber nosepiece that prevents surface damage. The adjustable depth control for repeatable counter-sinking ensures no more dropped or lost screws. It drives 3/4- to 1-5/8-in. screws with no adjustment required. Plus, the housing can be easily rotated for access into tight spaces. Visit www.muro.com.