Hands-down the most popular project among do-it-yourselfers, painting is a fundamental way to transform the look and feel of any room or object, indoors or out. With a little patience, diligent prep work, a coat of primer and the proper procedure, you can apply a new coat of paint with professional-looking results. Here's a roundup of new painting equipment to get you geared up for your next project.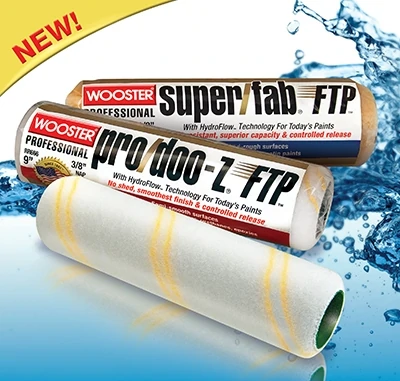 Wooster HydrFlow Roller Fabric Technology
HydroFlow is a Wooster-exclusive technology developed to ensure consistent release of paint from roller fabric, creating even mil thickness throughout the project. It makes painting easier and faster, because there's no need to go back and rework an area to get proper coverage. An added benefit is that the new rollers don't require painters to push as hard during application. The HydroFlow technology in the new shed-resistant Super/Fab FTP rollers offers more coverage per load with all flat, eggshell and satin paints. Pro/Doo-Z FTP rollers with no-shed fabric utilize HydroFlow technology to achieve the finest finishes faster for all paints (flat to gloss), enamels, primers, urethanes and epoxies. Wooster has released new Super/Fab FTP and Pro/Doo-Z FTP brands in 9-, Canadian 9-1/2-, 14- and 18-in. rollers as well as 4-1/2- and 6-1/2-in. miniroller sizes. Visit woosterbrush.com.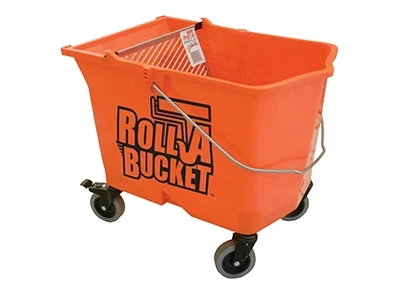 Roll A Bucket
With the award-winning new Roll A Bucket, you won't have to lift and move any more paint buckets. Designed by a painter, the Roll A Bucket is maneuvered with a paint roller for steering, the same way that you would use a mop to steer a mop bucket. The caster wheels allow for easy maneuvering over tarps.
There is also a brake on one of the wheels. Each Roll A Bucket comes with a custom-designed grid, and is sloped on the bottom so your roller can reach every last bit of paint.
Work smarter, not harder, with the Roll A Bucket, available now in 4,000 stores. Visit Rollabucket.com.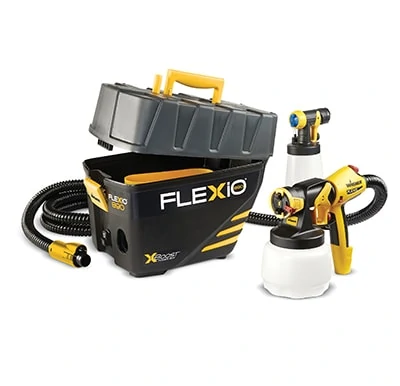 FLEXiO 890 Sprayer
The FLEXiO 890 is a portable spray system that is the most flexible and powerful painting solution in the Wagner lineup. With integrated storage for indoor/outdoor spraying, it combines the iSpray nozzle, detail finish nozzle and the X-Boost turbine. The iSpray nozzle sprays unthinned residential paints for broad surfaces both indoors and out. The detail finish nozzle is ideal for small projects and fine finishing. An 11-1/2-ft. air hose provides 23 feet of working area. The FLEXiO 890 produces a slightly stippled, roller-like finish, perfect for interior walls.
The new sprayer is also 50-percent quieter and 20-percent lighter than traditional airless sprayers. Visit wagnersrpaytech.com.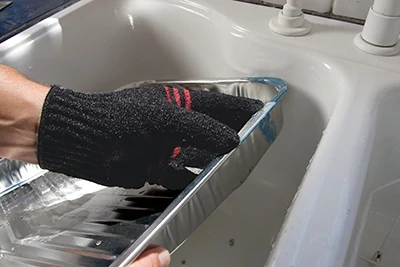 Hyde Quickly Clean Glove
Here's the best $5 you'll ever spend. A patented weave turns this "miracle glove" into an all-purpose scrubber that takes oil paint, dirt, grease and grime off just about anything in seconds – without using chemicals! Slip one on and dip it in mild soapy water to clean everything from your camper and ATV to your oven, shower, painting tools and more. Grease on your hands? Clean them fast – no harsh cleansers or chemicals are required. Visit www.hydetools.com.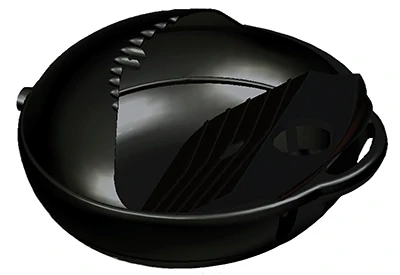 Paint Glider
A new alternative to traditional paint trays, the Paint Glider is an innovative way to hold paint while rolling without making a mess. The patented round design holds more paint yet resists spills. With Paint Glider moving paint is simple and easy. The circular design allows you to rotate it 360 degrees using your paint roller, which eliminates bending down to reposition the tray. By rotating, the paint always faces the direction that allows easiest reloading. The slick, rounded bottom allows the Paint Glider to easily slide over bundled drop cloths without spilling or splashing. Pick up the Glider by the handle, and the paint collects in the bottom reservoir, allowing you to easily move from room to room without spilling. When the job is done, a drain stop allows the paint to easily drain out the Glider for easy cleanup with minimal waste. Visit www.paintglider.com.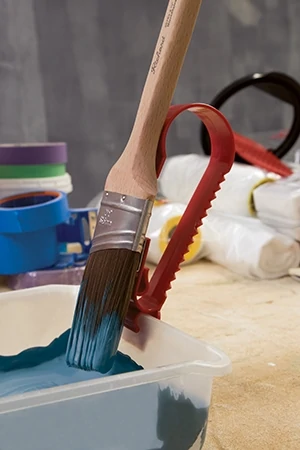 Hyde Painter's Assistant
Hyde's Painter's Assistant is a simple multi-tool that saves time and hassle on painting projects. For both professionals and do-it-yourselfers, the Painter's Assistant works as a carrying handle for 1- and 2-quart containers, turning even simple plastic buckets into a handy carrier when you're painting trim or windows with a brush. It also clips to your roller tray, providing a magnetic brush holder right where you need it.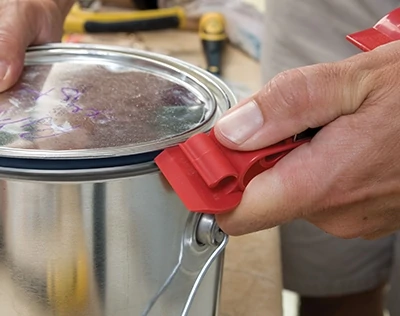 The Painter's Assistant's built-in features include a paint can opener, a brush and roller cleaner, belt hook, putty knife/scraper, a paint-can hook for when climbing ladders, plus a garage tool hanger. Visit www.hydetools.com.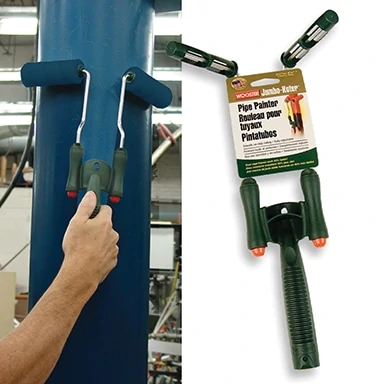 Jumbo-Koter Pipe Painter
Most painting tools are used for applying coatings to flat surfaces like walls and ceilings.  When the time comes to paint round areas such as pipes, railings, posts and more, the new Jumbo-Koter Pipe Painter from Wooster is the right tool for the job. The Pipe Painter features twin cages that coat two sides of a pipe simultaneously to increase production by 50 percent. These dual, smooth-spinning cage frames adjust separately in 30-degree increments to paint pipes of all sizes (the smallest being 1-in. diameter). Made of strong copolymer polypropylene, the Wooster Jumbo-Koter Pipe Painter has a thumb rest for comfort and also attaches to threaded or Sherlock GT extension poles for added reach. The Pipe Painter works with all 4-1/2- and 6-1/2-in. Wooster Jumbo-Koter covers. Visit woosterbrush.com.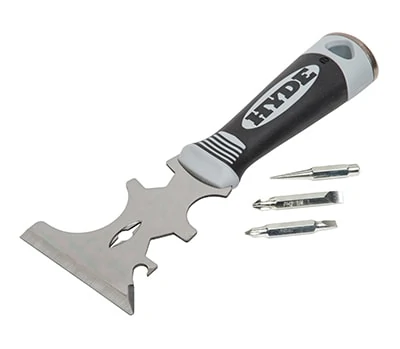 Hyde 17-in-1 Painter's Tool
Carrying tools around the house—or worse yet, struggling to find tools on a work site—can really slow things down. Eliminate the hassle with the new Hyde 17-in-1 Painter's Tool. Made from durable .075 thick carbon steel, Hyde's newest tool combines the company's trademark high-quality, lightweight design with with features that are especially helpful for painting, from the wrenches you need to connect an airless spray hose to regular and mini-roller cleaners. The 17 uses:
1. scrape paint, 2. spread compound, 3. open cracks, 4. pull nails, 5. set nails, 6. open cans, 7. open bottles, 8. clean regular rollers, and 9. clean mini rollers. The 10th and 11th use are the 3/4- and 11/16-in. wrenches you need to connect your whip hose to your both your spray gun and your main airless hose. For the other 6 uses, just look to the handle and underneath the Hammer Head end. Numbers 11-14 consists of four different screwdriver bits that are securely stored within the handle and insert into the handle end for quick, easy use. Also hidden beneath the Hammer Head end is a tool that can be used as either a scribe or a nail set. Visit www.hydetools.com.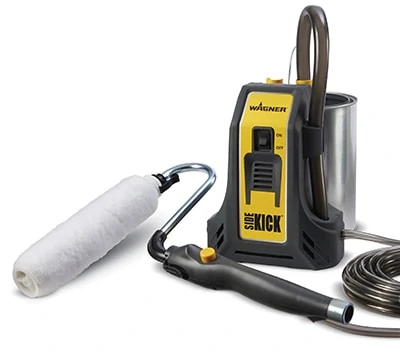 SMART SideKick Roller
The Wagner SMART SideKick is a powered roller that allows for continuous painting, making it extremely suitable for large or multi-room painting projects. The SideKick draws from any size container from 1 to 5 gallons, and directly feeds the roller cover for consistent application of paint to the surface for professional results. Paint is conveyed through a 16-ft. hose, enabling a 32-ft. working area. The powered roller provides everything needed to paint large projects in less time without reloading. Visit wagnerspraytech.com.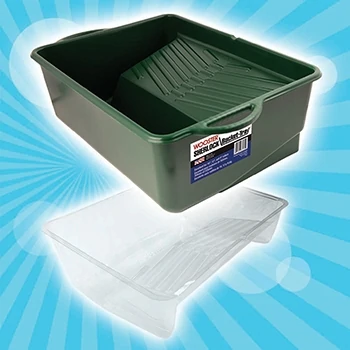 Sherlock Bucket-Tray
A standard paint tray isn't quite big enough for some jobs, and a multi-gallon bucket can be too big for others. Those looking for the perfect paint vessel "middle ground" will find it with the new Sherlock Bucket-Tray from Wooster. Its aggressive roll-off grid is excellent for use with 9-, 12-, or 14-inch roller frames. The Sherlock Bucket-Tray has a 1-gallon capacity—four times the amount of standard trays—saving painters time on refills. Built-in handles on both sides make transporting the Bucket-Tray easy and offer a great way to hang it for storage when not in use. An included frame rest prevents unwanted messes when it's time to switch to using a brush or take a quick break. Molded from sturdy polypropylene, the Bucket-Tray is durable and features form-fitting liners. Made of clear, solvent-resistant PET (recycled plastic), the Bucket-Tray Liner is a great accessory purchase for instant cleanup. Visit woosterbrush.com.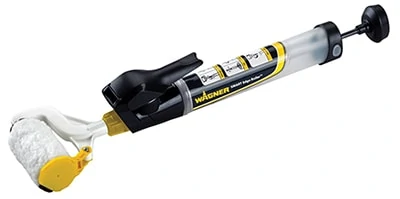 SMART Edge Roller
The SMART Edge Roller from Wagner is designed to make cutting-in around windows, doors, trim and corners fast and easy. It provides a controlled and continuous flow of paint from the handle to the roller, eliminating the need for messy, dripping brushes and paint trays. Plus, there is no more taping required. The key is the Twist and Trim Tool, which has a Trim Guard and three micro brushes for painting right up to the edge of the surface, giving you a consistent finish for your entire painting project. The guard prevents the roller from touching the trim, but quickly folds away for regular rolling in small spaces. The paint tube holds 6 fl. oz. and its 3-by-3/8-in. roller allows you to edge approximately 96 linear feet in a single fill. Trim a 12-by-12-ft. room in approximately two to three fills.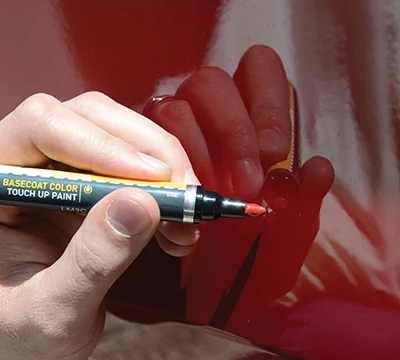 AutomotiveTouchup
Specialty touch-up paint manufacturer AutomotiveTouchup helps DIY'ers save money and achieve professional-looking results for vehicle paint repairs. The company custom-formulates exact-match touch-up paints for thousands of cars and trucks each year using a comprehensive library of OEM colors. The key to the perfect color match is contained in the vehicle's color code. (The trick is finding it, since it can be located in a number of places, the inside of the door being the most common.) AutomotiveTouchup formulates products to work together as part of a complete automotive paint system, and recommends using primer, basecoat and clear-coat from the same brand, providing a full range of products and detailed instructions to complete the job with success. Visit. AutomotiveTouchup.com.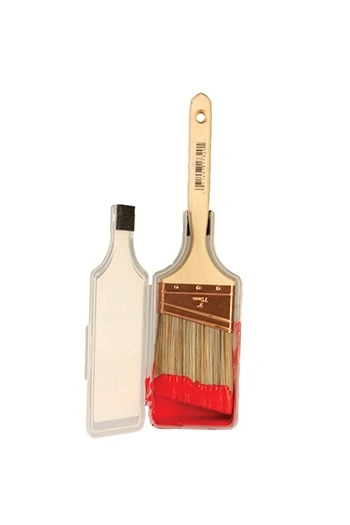 Paint Brush Cover
Save time and money during extended paint painting projects with the Paint Brush Cover. Instead of wasting time rinsing brushes, the Paint Brush Cover is a simple mess-free, eco-conscious way to store paint-soaked tools between sessions. It's a secure, leak-proof storage container for brushes of all sizes that allows painters to skip the cleanup stage.
It also reduces the amount of harmful chemicals that are washed down the drain with every home-improvement project. Each airtight container is crafted from a sturdy high-density plastic that can be stacked and stored with ease, eradicating the need to fiddle with Saran wrap, freezing or rinsing brushes mid-project. Visit www.thepaintbrushcover.com.
HANDY Paint Grid
The HANDy Paint Grid is marketed as the first new idea in painters' grid screens in more than a half-century. The new grid is made in the United States entirely out of recycled plastic from car batteries. It provides additional clearance to the bottom of the paint bucket for easy paint access and snaps in place on any 5-gal. paint bucket for a secure fit. Its ergonomic handle and patented design for superior roll-off make it easy to remove excess paint and ensures that paint is distributed evenly across the surface of the entire roller cover. The 9-1/2-in. wide HANDy Paint Grid is easy to clean and, because it's made of recycled plastic, will never rust, unlike its metal counterpart. Visit HandyPaintProducts.com.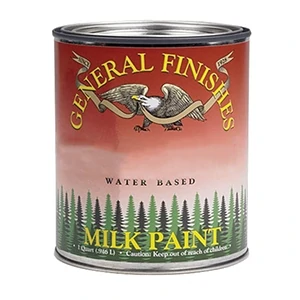 Rockler Milk Paint
Rockler Woodworking and Hardware introduces 18 new colors of General Finishes Milk Paint, nearly tripling the selection previously available. Milk paint is a traditional, casein-based paint that's been around for centuries and has enjoyed a remarkable resurgence in popularity in recent years. Over the last decade or so, the look has found its way into a multitude of furniture showrooms. DIY'ers use milk paints at home for many projects including cabinets, crafts and both indoor and outdoor furniture. The paint produces a special "milky" effect that is widely used on both vintage and modern furniture pieces. General Finishes Milk Paints are interior/exterior acrylic paints. Uniquely engineered with the latest in paint technology, they can be used directly from the can to produce a high-quality satin-sheen finish. Visit www.rockler.com.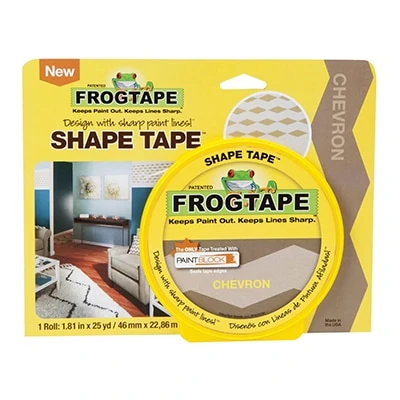 Shape Tape
The makers of Frog Tape now offer Shape Tape, which features a pre-cut repeating pattern ready for easy use, and provides end-less design capabilities on walls, furniture and more. Shape Tape comes in three patterns for a variety of design options: Chevron, Wave and Scallop. Go horizontal, vertical or diagonal. Align the tape and create sections with various widths. Shift the tape alignment and create unique effects. Shape Tape is treated with patented PaintBlock Technology, a super-absorbent polymer that reacts with the water in latex paint and instantly gels to form a micro-barrier that seals the edges of the tape, which helps prevent paint bleed. Visit frogtape.com.