By Matt Weber
There's no secret to the advantages of a sprayed paint finish. If applied correctly, spraying a coat of paint will result in a smooth uniform finish without runs or brush marks. And when it comes to selecting what tools to use to spray the paint, DIY'ers and pros alike now have more options than ever.
Touch-up In A Flash
Whereas cans of spray paint are limited in color choices, the Preval Sprayer system enables you to spray any color of latex paint you choose.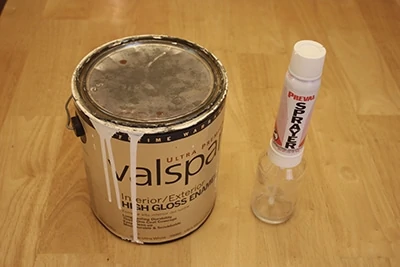 Here's how this unique system works: Choose your paint of preference and load it into the glass containers that come with the Preval kit. Thin the paint as necessary for spray application, then screw a can of Preval Sprayer propellant onto the paint jar.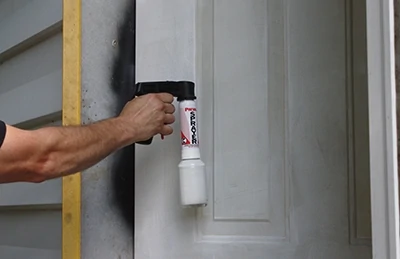 The sprayer draws paint from the container (via a plastic straw) and then sprays it in a fine mist onto the workpiece. This achieves a professional-grade finish on virtually any surface without mixing the paint and propellant, which ensures no color change to the paint. This handy, portable paint system is perfect for touch-ups on metal, concrete, wood, pottery, ceramic and glass, and it's compatible with any exterior paint, stain or dye.
Airbrush Application
Another Preval product to consider is the vFan Airbrush system. I've seen similar tools used to paint T-shirts at the beach, but I'd never used one until Preval sent the EHT staff a test kit. The advantage here is the vFan's precision paint and material dispensing. The stainless steel and brass-designed vFan Airbrush delivers a 1/16-in. detail to 3-in. fan spray pattern. That 1/16-in. bead pattern is practically a pen mark, and you won't achieve that with any other type of sprayer, making this system ideal for detail-oriented work.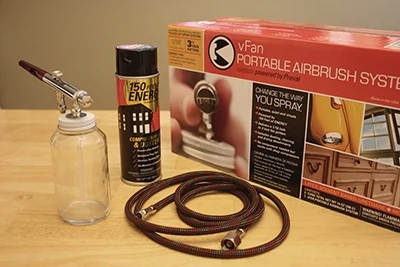 The vFan connects via hose to an air compressor or to Preval's cans of propellant, which the company calls "150 Feet of Energy." The propellant container will fit into a toolbelt for easy lightweight portability. Combined with the small airbrush tool, this system provides easy maneuverability and the ability to work in confined areas. The vFan works with lacquer, exterior/interior paints, wood stains, latex, clear coats, solvent-based paints and more.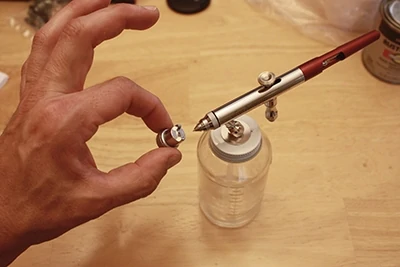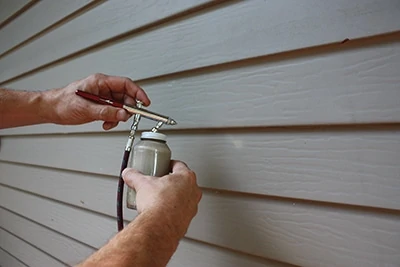 A detail airbrush isn't typically going to be your go-to tool for siding applications, but that's where I tested it because I had an unusual circumstance: A recent mishap during a wood-staining project involved a wind gust giving flight to my plastic drop-cloth, which slapped against the nearby house wall and left dozens of dime-and nickel-sized splotches of mahogany stain on the tan-colored paint. Luckily, I had some matching leftover paint and loaded it into the vFan's glass container. With a little practice on a scrap of cardboard, I quickly learned how to control the size of the paint bead, and used the sprayer to conceal those little stain spots until the entire wall looked uniform again. It turns out that for detail work, the Preval vFan is a very cool tool that does a handy job on tricky touchups.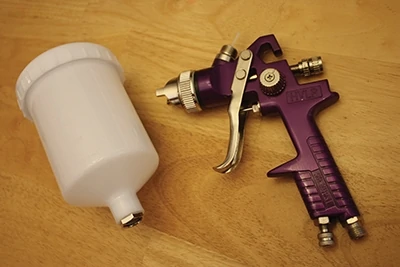 The HVLP Advantage
The next step up in size of sprayers will be an HVLP sprayer. This type of High Volume/Low Pressure sprayer creates a very fine finish, perfect for furniture, doors and other mid-size jobs.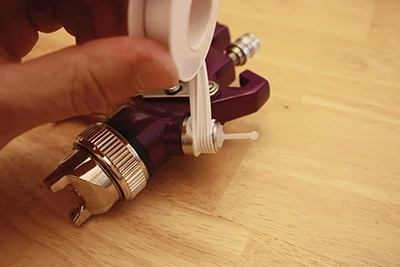 You can pick up an HVLP gun for as little as $30 and power it with a large-tank compressor that has an output regulator. The HVLP sprayers operate in the 40-70 PSI output range, but ideal results are usually achieved in the 35-40 PSI range. However, from my experience these inexpensive compressor-driven guns can cause frustration, because the air output ebbs and flows as the compressor tank runs low and the pump has to re-cycle to generate more air. The occasionally erratic air output leads to uneven spray performance, which can detract from the charm of the HVLP's ability to deliver a smooth, even, consistent coat of paint.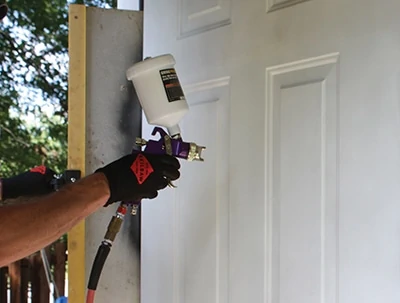 For more consistent performance, you'll likely have better results with an HVLP sprayer that has an integrated air turbine. This design keeps the airflow consistent and the pressure regulated for ideal spray performance. Wagner SprayTech offers a nice unit in the Control Spray Double Duty, which features a two-stage air turbine that's built right into the gun to deliver a continuous flow of material and air. It features a three-position cap to adjust the spray pattern, and material flow is easy to control with a variable trigger. I particularly like the fact that this sprayer is simple to disassemble for easy cleanup, which takes about 10 minutes.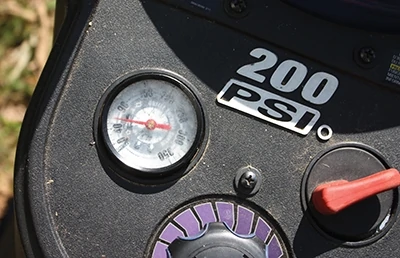 When preparing the paint for an HVLP sprayer, check the viscosity of the product to make sure it will spray effectively. Most HVLP sprayers include a small, plastic test cup that you fill with paint and then measure the time it takes to drain from the hole in the bottom (the product manual should provide drain times for specific products, i.e. latex, oil-based, shellac, etc.). Refer to the paint product's instructions for the recommended thinning agent.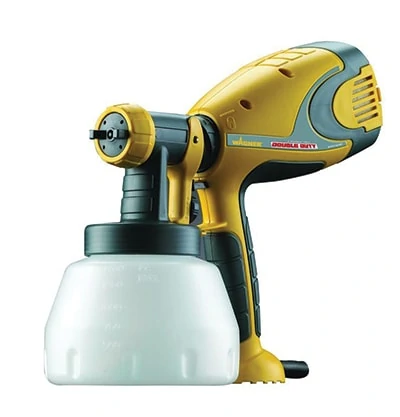 Airless Application
The easiest, most productive way to spray a very large project, like a fence or house siding, is to use an airless sprayer. An airless unit draws stain or paint directly from a paint canister and sprays at pressures up to 1,700 PSI.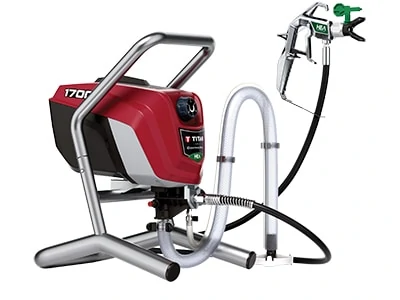 Whether you're purchasing, renting or borrowing one of these units, it's important to understand they require additional care to make sure they're in proper working order. Airless sprayers should be flushed and tested each time a new job is started to ensure no contaminants from previous jobs will mix with the product you intend to apply. Follow the sprayer manufacturer's instructions for circulating the solvent used to clean the equipment. For latex paints, many pros prefer to use clean water, but an oil-based stain requires mineral spirits.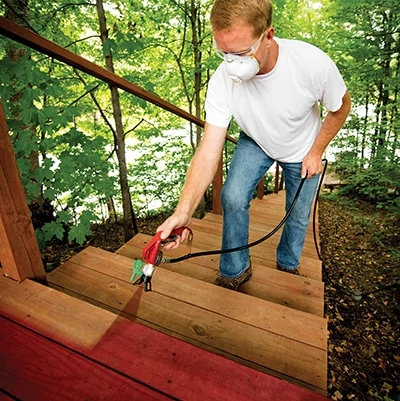 The new Titan ControlMax Series sprayers feature High Efficiency Airless (HEA) technology that provides better paint control with up to 55 percent less overspray. HEA Technology shortens the learning curve for new users while delivering the same quality and speed of conventional airless paint sprayers. ControlMax has the power to spray unthinned paints and stains and has a softer, more forgiving spray pattern that standard airless sprayers, resulting in a consistent, professional finish.
For more information on these paint tools, visit:
Preval, www.preval.com
Titan Tool Inc., www.TitanHEA.com
Wagner SprayTech, www.wagnerspraytech.com
Side Note 1
Pro Tips for Paint Sprayer Success
When using a paint sprayer, always strain the paint or stain/sealer through a paint screen to keep solid particles out of the system.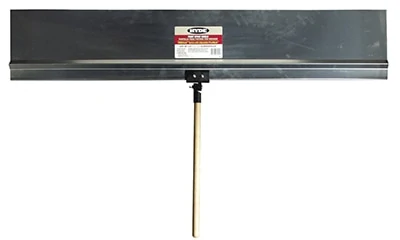 Avoid spraying in windy conditions, and use drop-cloths and handheld paint shields to protect surrounding areas.
The adjustable tip of a sprayer gun enables a choice of spray patterns for either vertical or horizontal application.
Adjust this according to your direction of motion to economize your paint and get the most from your coverage.
When using an HVLP sprayer, keep the nozzle about 7 inches from the work surface.
For airless sprayers, keep the nozzle 10-12 inches from the work surface.
For any type of spray application, always hold it perpendicular to the wall surface, moving in even, overlapping coats. Don't swing the nozzle back and forth over the surface, which will result in uneven application.
Be thorough and patient, keeping the coat consistent but still thin. Do not apply a thick coat. Thick coats result is sags and runs, which is a mess to clean—and if the drips harden, you'll have an ugly finish. For a thicker topcoat, apply successive thin coats after the undercoat has dried.
Once the job is over, follow the manufacturer's instructions for cleaning and flushing the machine using the appropriate solvent. This is an absolutely critical step and ensures the paint sprayer will be properly stored without contaminants that gunk up the system, so it will be ready for the next job.
Side Note 2
Warner Carbide Paint Scraper
Warner introduced the paint market to the advantages of the carbide blade in paint removal and surface preparation nearly 30 years ago. Achieving professional results for any painting job requires proper surface preparation and removal of old coatings. Warner improved the design and ergonomic features of the new carbide scraper to enhance ease of use and scraping efficiency during surface preparation.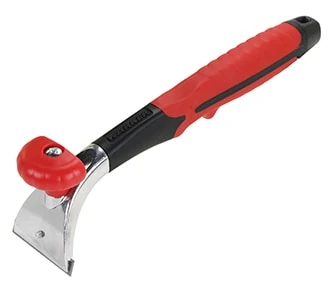 The handle provides a confident and controlled grip, and its new design aids in maintaining the proper angle for efficient and quick removal of surface coatings and imperfections. The unique carbide blade formulation also holds an edge longer for improved efficiency and reduced blade costs. Visit warnertool.com.