2000 Series Garage Doors from Haas Door
The energy-efficient 2000 Series garage doors from Haas Door are 2 inches thick and have an R-value of 17.66. The heavy-gauge galvanized steel doors include embossed wood grain and are filled with dense CFC-free polyurethane foam insulation to help give them superior energy efficiency. A full thermal break is used in the tongue-and-groove construction of the 2000 Series doors. This rigid vinyl extrusion seals the joints and eliminates metal-to-metal contact, which limits the transfer of temperature. Visit www.haasdoor.com.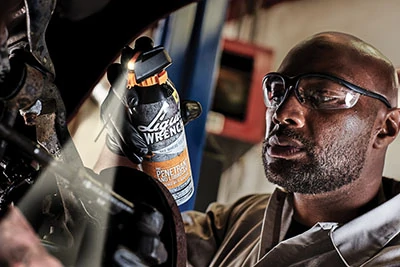 Liquid Wrench Pro Penetrant and Lubricant with FlashSight Technology
Whether you make a living working with tools or you are a weekend DIY'er, you know ideal conditions simply don't exist. More often than not, you're working in dark, dirty and hard-to-get-at places. Enter Liquid Wrench Pro Penetrant and Lubricant powered by FlashSight Technology. The innovative design features a built-in LED light right above the spray nozzle, so you can see and accurately spray in low light conditions. Ideal for working in cramped crawlspaces, under a car hood and especially around sensitive equipment where you can't afford to spray and miss. Pro Penetrant also offers a new fast-acting formula that combines penetrating, pro-grade power with a long-lasting lubricant to cut through the toughest rust, grease and corrosion, loosen stuck bolts and parts, reduce wear, and extend the life of tools and parts. Visit www.liquidwrench.com.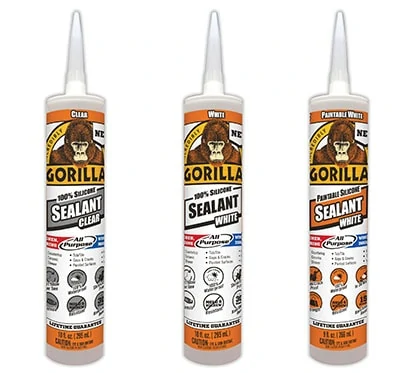 Gorilla All-Purpose Sealant
Gorilla's new All-Purpose Sealant Cartridge family includes formulations in clear, white and paintable. This gives users the ability to buy one tube for any kitchen and bath, or window and door project. The simple, versatile product replaces the over-specialized sealants without sacrificing an ounce of efficacy. The Gorilla 100% Silicone Sealant Cartridges simplify the job for any resourceful handyman and big-project DIY'ers. It's proven to be effective on siding, metal, porcelain, glass, granite, laminate, stone, vinyl, aluminum and more. Given the All-Weather seal, it can hold up against the freeze-thaw cycle for the cold environments and won't yellow from the UV on sunny days. Visit gorillatough.com.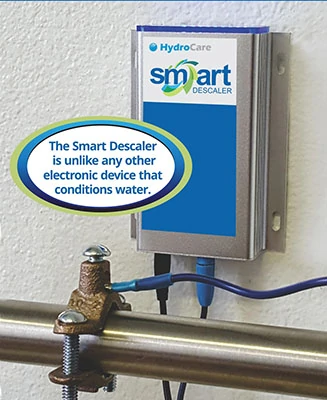 HydroCare Smart Descaler
HydroCare Smart Descaler is a technologically advanced electronic device to eliminate and prevent limescale buildup from the minerals in hard water. Limescale is a costly and troublesome issue that attaches to surfaces in the plumbing system, appliances and fixtures. It encrusts heating elements and components, which results in wasted energy and water, performance inefficiencies, damage, early replacement of appliances and is not covered by manufacturer warranties. Limescale will also clog pipes and fixtures, reducing water flow and pressure at faucets and showerheads. The Smart Descaler's proprietary technology transmits a powerful signal into the water that creates an electrochemical reaction and restructuring of the minerals in the water that will prevent them from developing into scale and will create carbonic acid to effectively remove limescale buildup. All the pipes, appliances and fixtures will be restored to pristine conditions. Unlike other electronic devices, this creates an unparalleled strong signal that has more frequency and capacity to work in all types of pipe, plumbing loops, hardness levels and pH. It constantly transmits its powerful signal 24/7 and does not require water flowing. A computer determines optimum operation and location of the unit. It's unbelievably easy—just clamp it on a pipe and plug it in. The savings are substantial from increased efficiency, educed maintenance, increased appliance life and less water wasted. Visit www.wavehomesolutions.com.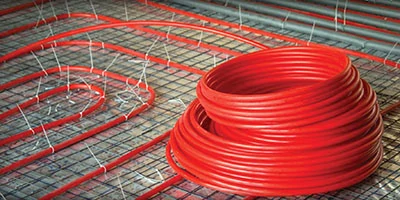 Complete Radiant Heating Systems for DIY'ers
Radiant Floor Company designs and supplies Complete Radiant Heating Systems for do-it-yourselfers and contractors. With radiant heat, every object in the room becomes warm and contributes to your overall comfort. Because you're heating more than just the room's air, your living space maintains an even, satisfying warmth with no air currents, blowing dust or cold spots. Unlike other heating methods, radiant heat doesn't dry out the air. The warmth starts at your feet where it is most desired. Radiant Floor Company heating systems utilize heated water that is circulated through PEX tubing in your floor.
Three heating designs are available: Open, Closed and Heat Exchanger systems. The systems are compatible with any fuel source; solar, propane, natural gas, electric, wood, geothermal, oil heat, electric pump etc. The Open Systems use one heat source for both floor heating and domestic hot water. The Closed System utilizes a dedicated heat source for your radiant floor in which fluid in a closed system is re-circulated in a completely separate system. In the Heat Exchanger system, one liquid heats the other, by way of an efficient heat exchanger, which separates the potable domestic water from the floor's anti-freeze mixture. Visit www.radiantcompany.com.