YARDMAX YU3066 Full-beam Gas Log Splitter
Looking for a great log splitter? The EHT staff tested the YU3066 YARDMAX full-beam gas log splitter when removing a fallen hickory tree. With 30-ton splitting force, the YARDMAX unit ripped through logs with brute strength, turning the hardwood tree trunk into fireplace-friendly fuel. With a pivoting hinge, it easily switches from horizontal to vertical position. The four-way wedge splits in four directions, and the spinner foot plate automatically adjusts for natural log rotation.

We used the splitter in its horizontal position, rolling the logs onto the cradle and then throwing the lever to put the machine to work. Operation couldn't be simpler with a single lever that operates both forward and reverse directions on the splitting head.

The unit has a sturdy patent-pending U-beam design and hydraulic reservoirs that house oil filters, features which protect both the equipment and operator from harm caused by split logs falling from the machine. It's powered by a Briggs & Stratton engine and has an oversized 17-gpm pump for high cycle speed. The table accommodates logs up to 26 inches long, and when we encountered a log a little too thick to split evenly, we simply flipped it over and split the other side to create easily manageable firewood sizes. We recommend this easy-to-tow, high-powered splitter for anyone who needs to turn a lot of large logs into small ones. It comes with the YARDMAX 3-2-1 Residential Warranty, which backs materials and workmanship for three years, motors for two years, and hydraulic parts for one year. Visit YARDMAX.com.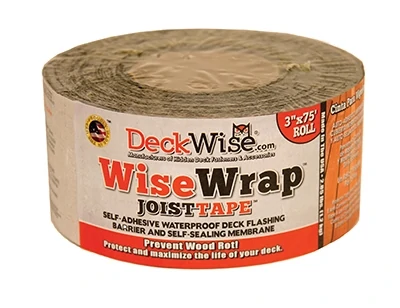 WiseWrap Flashing Tape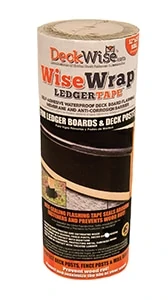 Preventing and stopping wood rot is one of the most important aspects to consider when building a long-lasting deck. DeckWise now offers two new solutions with the WiseWrap line of polyethylene waterproof flashing tape rolls. Both products are a self-sealing, rubberized peel-and-stick adhesive that prevents wood moisture damage and also self-seals around fasteners.
WiseWrap JoistTape creates a waterproof seal when applied to the top of deck joists, which stops wood rot. Use on pressure-treated joists or on metal joist framing to create a physical barrier that prevents the corrosion.
WiseWrap LedgerTape, available in a 25-ft. roll, is a flexible polyethylene waterproof ledger-board flashing made of the same self-sealing rubberized adhesive material—only wider (12 inches). Apply LedgerTape to protect against water damage on ledger boards from siding runoff and the elements. Wrap in-ground wooden deck posts to provide a barrier against fungi and soil moisture. Visit www.DeckWise.com.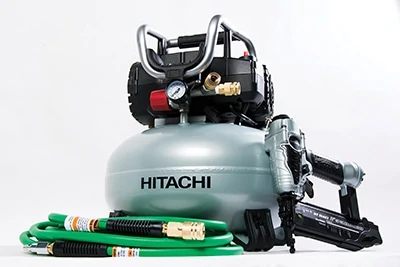 Hitachi Professional Finish Combo Kit KNT50AB
Hitachi Power Tools' newest addition to the Finish Combo Kit market, the KNT50AB, features a new 6-gallon 150 Max PSI pancake air compressor (model EC710S) and Hitachi's popular 18-Gauge 2-in. brad nailer (model NT50AE2) along with a 25-ft. hybrid hose, safety glasses and pneumatic oil. The EC710S compressor (sold exclusively as part of this kit) delivers portability with simplified operation. The pancake design is smaller and more compact to easily transport from job to job or around a home. The 1-hp oil-free high efficiency motor ensures reliable startups, even in the coldest temperatures. The brad nailer accepts 5/8- to 2-in. 18-Gauge fasteners to tackle almost any finish project.
A simple depth-of-drive dial can be easily adjusted to adapt to woods of varying density, and the selective actuation switch lets the user select between sequential mode or bump-fire mode. The 25-ft. hose is spiral-reinforced and includes heavy-duty bend restrictors for added durability. Its hybrid nature results in less weight (about 25 percent lighter than a rubber hose), and it remains flexible in extreme cold temperatures up to -40°, which is an advantage over traditional polyurethane or rubber hoses. Visit www.hitachipowertools.com.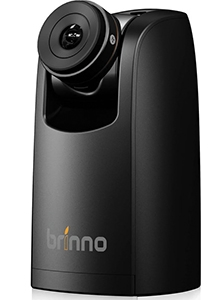 Brinno TLC200 Pro HDR Time Lapse Video Camera
The new Brinno TLC200 Pro makes it easy to capture HDR time-lapse videos with the push of a button. You can set your own image-capture intervals (0.3 sec. to 24 hr.) with no processing required. There's no stitching thousands of frames together in post-processing. The Brinno TLC200 PRO will record for months on its four AA batteries, while saving your time-lapse video at 1280×720 to the SD Card. The camera comes with a 19mm lens (35mm equivalent) and accepts interchangeable CS mount lenses. The lens rotates 120 degrees, and the rear features a 1.44-in. TFT LCD monitor. The EHT staff tested the TLC200 Pro on a recent deck remodel, and we were impressed with its simple operation and impressive image quality. Visit www.brinno.com.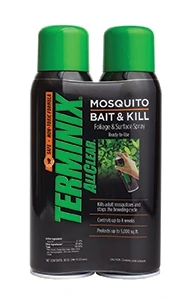 Terminix AllClear Bait & Kill
With Zika in the news, there's no better time to keep mosquitos away. Ready-to-use Terminix AllClear Bait & Kill is the first-ever spray that mimics a mosquito's natural food source—sugar from plants—to bait, kill and collapse populations by more than 90 percent in just 2 to 3 weeks. Perfected over 10 years, mosquitoes can't resist the sweet bait. After feeding, they stop biting you and die within 24-48 hours. And, while deadly to mosquitoes, this non-toxic formula is safe for people, pets and the environment. Simply spray on green foliage and/or non-porous surfaces. Two 15 oz. cans protect areas up to 5,000 sq. ft. Reapply every four weeks for lasting control. Visit Terminix.com.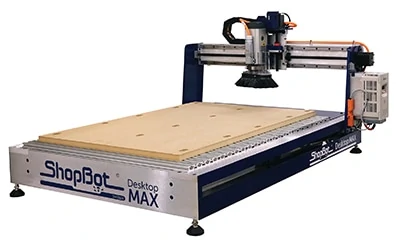 ShopBot Desktop MAX
ShopBot Tools, one of the largest makers of digital fabrication tools in the U.S., introduces the ShopBot Desktop MAX. The tool joins ShopBot's array of CNC tools used for cutting, carving, machining and milling. With a tool bed measuring 36 by 24 inches, the Desktop MAX is great for working in a variety of materials: wood, MDF, plastics, foams, vinyl and aluminum. Its power and precision will make it a favorite of luthiers, sign makers, furniture makers, and anyone interested in proto-typing or full production. It features a removable tool bed, which enables end-machining processes such as creating complex furniture joinery. The tool has two options for beds, an aluminum deck or a plenum with universal hold-down system, which eliminates the need for screws, adhesives or clamps for holding large sheet goods in place. The Desktop MAX features a dual-motor gantry design, providing impressive stability and precision. All ShopBot tools are designed, built in, and supported from ShopBot's Durham, NC headquarters. The full specs of the Desktop MAX can be found at ShopBotTools.com.