Milescraft 1312 DrillBlock
The DrillBlock from Milescraft guides your drill bit for straight holes every time. The two V-grooves allow for drilling on corners and even cylindrical surfaces, too. The inserted solid metal guide offers the six common drill diameters: 1/8, 3/16, 1/4, 5/16, 3/8 and 1/2 inch. The metal guide is held at a tight tolerance and allows you to drill a hole 90 degrees to any surface, centered on a round item or even directly into the corner of your project. Centerlines ensure accurate alignment when drilling into various surfaces. The non-slip padding holds the DrillBlock in place when drilling. The ergonomic design of DrillBlock fits into the hands easily for comfortable usage. Visit www.milescraft.com.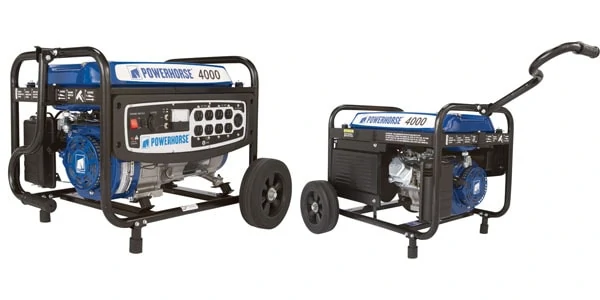 Northern Tool Powerhorse Generators
Northern Tool + Equipment expands its Powerhorse product line to offer portable 4,000- and 7,000-watt electric start generators. With a lifespan of up to eight times longer than other brands, the Powerhorse generators deliver reliability with an affordable price tag. Powerhorse generators are most commonly used to provide power for tools and air compressors at a jobsite, home appliances during a power outage, and items used during outdoor activities such as camping or tailgating. The electric start feature on the new generators allow users to simply press a button to get vital appliances and tools up and running in minutes, without the added exertion of manually starting the generator. From the industrial-strength cast iron cylinder sleeves to the dual bearing forged crankshafts, the Powerhorse OHV engines are built to last. Copper-wound heads allow the generators to run at full load continuously for weeks without overheating, and all units have a clean power output that is stable and consistent to ensure sensitive electronics such as your computer, TV or refrigerator are protected and function properly. Powerhorse generators are also equipped with a volt meter to maintain and monitor stable power, an extended-run fuel tank to reduce the fuel refilling, and a quiet muffler to keep noise levels down.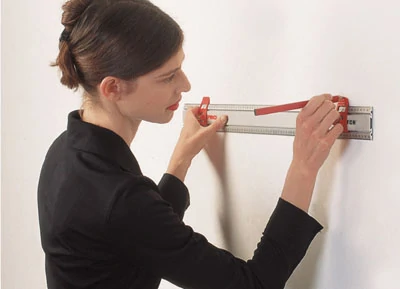 Kapro Set & Match
The Kapro Set & Match is a patented set-and-match ruler that features two easy-to-read slide and lock leveling vials, both horizontal and vertical. It's a great tool for DIY home-improvement measuring and marking projects, such as setting and aligning shelves, cabinets, mirrors, stencils and wallpaper. Use it to mark/cut longer lines on walls, wood, drywall and cardboard. The beveled edge of the ruler lies flush against the wall for exceptional visibility and accuracy when placing a pencil to mark the measurement, which is a huge help for precisely hanging framed photos and artwork. Choose from three lengths; 24, 32, 40 and 48 inches. Visit www.kapro.com.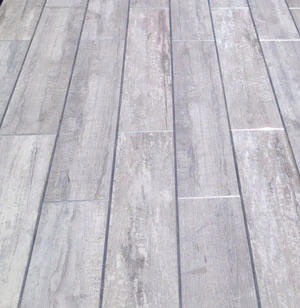 SigmaDek
SigmaDek Ltd. introduces its latest innovation, a stunning collection of aluminum framed deck boards inlayed with woodgrain porcelain. The stunning beauty and maintenance-free SigmaDek board surface will offer years of worry-free enjoyment, while the non-combustible surface will add a layer of protection to your family. The SigmaDek board is designed to cover the entire deck surface with no gaps between boards and the super hard porcelain surface stays cooler than most traditional deck boards. In addition to these many benefits the SigmaDek Board has a high resistance to staining or scratching. Available to the public in 2015, look for a sneak a peek at the 2014 Remodeling Show and Deck Expo in Baltimore Oct 23rd and 24th. Visit www.sigmadek.com.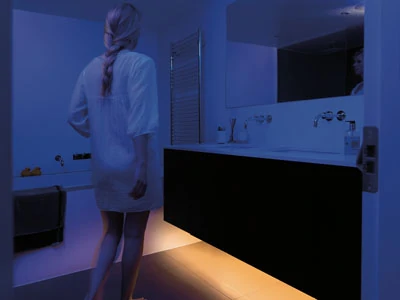 Mylight.me Motion-activated Accent Lighting
Motion-activated mylight.me detects movement and illuminates a strip of LEDs to provide soft, instant lighting wherever you need it.
In the bedroom, two 5-ft. light strips adhere to the undersides of your bed rails, to softly light your way the minute you get up. As a motion sensitive nightlight, it provides comfort and safety for anyone from young children to the elderly. In a closet, it provides multi-directional light that no single fixture can match. In a hallway or stairway, mylight.me provides safe passage when it detects your presence. Under a bathroom vanity or kitchen cabinets or in a nursery or laundry room, mylight.me provides welcoming light as you enter the room. It even works on a boat or in an RV.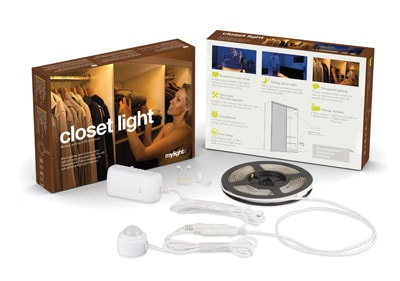 It comes in three versions, each including everything you need for fast, easy installation without any tools. Each kit includes 10 feet of self-adhesive lighting strip and 8 feet of electrical cord to connect it to an outlet. The closet light is one 10-foot light strip and a motion sensor, while the bed light consists of two 5-foot strips, one for each side of the bed, and a motion sensor. Both include built-in automatic shut-off timers that can be set to keep the light on for 30 seconds to 10 minutes after activation. Visit www.mylight.me.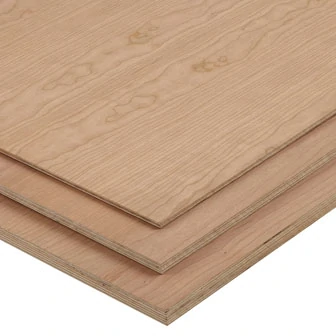 PureBond Project Panels
Ideal for use in DIY shelving, cabinetry and furniture projects, PureBond Project Panels from Columbia Forest Products are top-quality, American hardwood plywood products sold through an exclusive online program with Home Depot. PureBond panels are now offered in a choice of 12 different unfinished, prefinished and primed hardwood veneer species, including lustrous Cherry. They're available as "ship to home" or "ship to store" items from The Home Depot's website. PureBond Project Panels are available in a choice of popular smaller sizes: 2×2, 2×4, 2×8 and 4×4 feet. Choose from three thickness options: 1/4, 1/2, and 3/4 inch. Visit www.homedepot.com.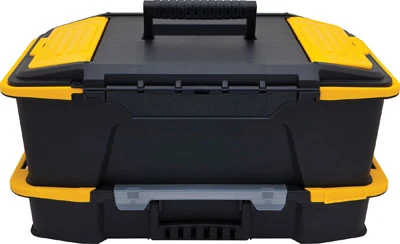 Stanley Click 'N' Connect
Ideal for homeowners and DIY'ers, the Stanley Click 'N' Connect 2-in-1 (model STST19900) is comprised of two separate units—models STST19950 and STST14440—a toolbox and an organizer unit, respectively. The Click 'N' Connect toolbox features a lid that can be opened from either side for convenience or removed completely. The unique shape and proportions allow storage for both power tools and hand tools combined. Removable dividers allow users to create their own configuration to address their storage needs, from one large compartment or up to nine sections, making it ideal to hold loose nails, bolts and more. Two lid organizers also create additional storage options. The Click 'N' Connect organizer also features removable dividers for customizable storage. A clear, durable plastic lid provides visibility and helps prevent the contents such as small hand tools, nails, and screws from shifting and mixing. Easy-to-use latches enable smooth, hassle-free connecting and detaching from the toolbox. Visit www.stanleytools.com.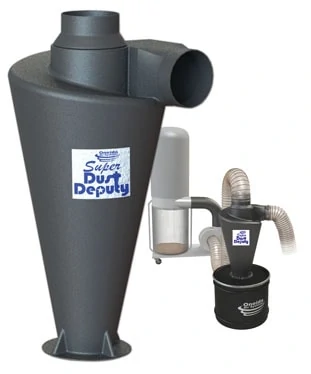 Super Dust Deputy XL
Single-stage dust collectors lose suction very quickly as the filter becomes clogged with dust. Using a cyclone separator in conjunction with your collector will separate over 99 percent of dust from the air-stream prior to reaching the filter. This prevents your vacuum's filter from clogging, allowing you to work safer and longer while saving valuable time and money on replacement filters and bags. Oneida Air Systems has a new addition to the Super Dust Deputy pre-separator family. The Super Dust Deputy XL is made to handle bigger 3- to 5-hp systems. The Super Dust Deputy XL captures over 99 percent of the waste before it reaches your single-stage collector, eliminating clogging and loss of airflow. Made of static conductive plastic, it is both lightweight and durable.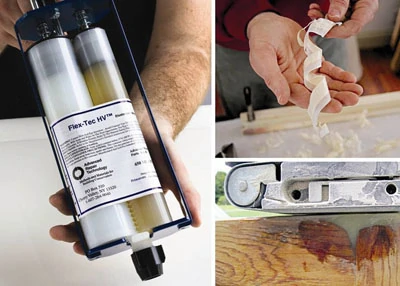 Flex-Tec HV Epoxy
Tired of using inferior repair compounds that don't last? Check out Advanced Repair Technology's Flex-Tec HV epoxy repair system. It's marketed as the strongest and most versatile repair compound available today. It cures hard to the touch yet will expand and contract with wood. It holds screws and can be drilled, routed, sanded, and otherwise tooled like wood. Flex-Tec HV has a compression strength of over 14,000 PSI. Videos on the product's website shows the repair holding the bond even when planed, with the epoxy curling up with the wood in thin shavings. Flex-Tec HV could be a good choice for drill and refill jobs such as resetting hinges, column repairs, window sills and doors. The system offers a unique dispensing system—no guess work—same result every time. This product is so trusted it is used by the Army Corps. Of Engineers. Pricing: $62 for 450 ml; $34 for 150 ml. Visit www.advancedrepair.com.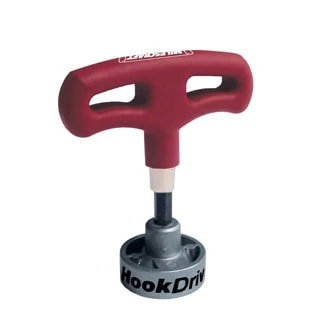 Milescraft 1315 HookDriver
Have you ever struggled with installing screw eyes or cup hooks? Ever used a screw-driver or pliers to try and make them easier to install, only to bend the hooks out of shape or scratch the surrounding surfaces? If you have, you no longer need to. The Milescraft HookDriver is the two-in-one tool that makes driving hooks easy. The HookDriver's standard 1/4-in. hex shaft allows it to be used with impact drivers or both corded and cordless drills. It will work on hooks with a wire diameter of up to 1/4-in., and comes with a removable T-Handle that can be used with the HookDriver itself or with any 1/4-in. hex accessory.
Now installing hooks takes no more effort than simply pulling the trigger on your impact driver or drill. Visit www.milescraft.com.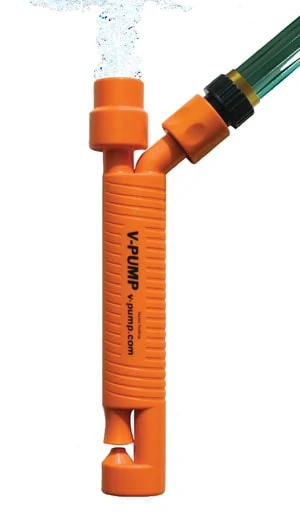 V-Pump
V-Pump is a simple and dynamic high-velocity water pump that requires no electricity and has no moving parts. It's inexpensive and easy to use. This totally submersible pump is great for draining swimming pools, hot tubs, ponds, aquariums, trenches, construction sites and flooded basements. Anywhere you need to remove water, the V-Pump is your answer. By using the pressure from your garden hose, this simple but effective submersible pump will drain up to 4,500 liters of water/h (1,200 gal./h) with optimal water pressure. The average output is between 3,025 to 3,400 litres of water/h (800-900 gal./h). With the high-velocity V-Pump, there's no motor oil to top-up or rotator to break. Just hook up the pump to your garden hose and turn it on. The vacuum created by the water swirling through the pump will remove the extra water from your pond, flooded boat or construction site in no time at all. You'll be amazed at how fast you can move water, mud and other debris. Visit www.v-pump.com.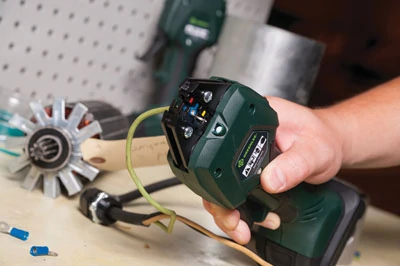 Greenlee's EK50ML Micro Crimping Tool
Greenlee offers the first battery-powered crimping tool with PowerSense Technology, the EK50ML Micro Crimping Tool. The new lightweight tool can deliver 3,400 lbs. of crimping force and crimps 65 percent faster with 90 percent less hand force compared to ratcheting tools. The EK50ML is designed to crimp 28-4 AWG wire, twisted pair and coaxial cable using PowerSense Technology, a patented trigger that allows the user to hold their work in the jaws of the tool before crimping. Powered by a compact 10.8-volt lithium-ion battery, the EK50ML can perform 250 crimps on 10 AWG wire. Greenlee also offers 42 die sets throughout the Kwik Cycle and CrimpALL lines to perform almost all small diameter crimping jobs. (The dies are sold separately.) Visit greenlee.com.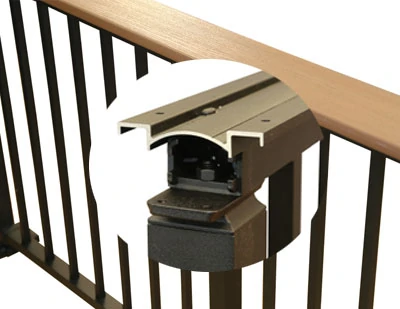 Westbury Aluminum Drink Rail
The new Westbury Aluminum Drink Rail from Digger Specialties, Inc. comes individually sleeved as a kit, with one rail and screws included, so it's easier to stock and handle for Lumber Dealers. The Drink Rail is available in 74- and 98-in. lengths and a width of 3-1/4 inch. The pre-drilled rail has solid aluminum wall construction for strength and durability and can support wood or composite deck boards. It easily installs on the Westbury C-Series Crossover Post System. DSI offers the Drink Rail in their 12 standard colors: Satin Black, Black Fine Texture, Ninety Bronze, Bronze Fine Texture, White Fine Texture, Gloss Beige, Gloss White, Speckled Walnut, Sandy Shore, Clay, Chocolate and Silver. The colors are AAMA 2604 as standard, or you can upgrade to AAMA 2605 powder coating. Visit www.westburyrailing.com.