Hardcore Survivalist Hatchet
Hardcore Hammer's pinnacle of hatchet design is the Hardcore Survivalist Hatchet. It's made from top quality 4140 tool steel (AKA "Ordnance steel" because it's commonly used for making breech and barrel parts for guns and cannons) for both toughness and edge retention, and ground to within a +/-.005-in. tolerance. The curved blade is designed for both optimal cutting and splitting wood. There's also a nail/tent-stake puller, and the hammer end (of course) has the company's patented recessed striking face. At 19 oz. on an 18-in. handle, it's perfectly balanced for any job, whether it's pounding nails, chopping and splitting firewood, or fending off the impending zombie apocalypse (now an official Kansas preparedness policy). This premium hatchet cuts like a full-size axe yet is small enough to fit in a backpack. It comes with a top quality custom fitted leather sheath. Visit www.hardcorehammers.com.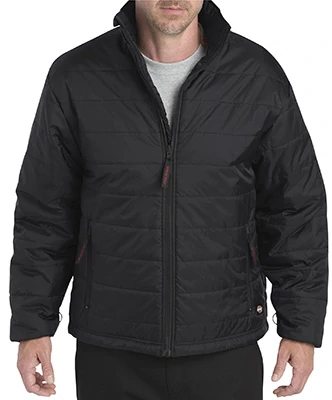 Dickies Pro Outerwear
The Dickies Pro integrated outerwear system provides customized protection for working in extreme weather conditions. The interior lining and outer shell can be worn separately or zipped together for the most thermal regulation.
The Dickies Pro Jasper Extreme Coat (#BJC01) is waterproof and breathable with 10k/10k lamination, including sealed and triple needle-reinforced seams.
It comes with a removable, adjustable hood and an interior fleece collar with chafe-resistant neck guard. The Dickies Pro Glacier Extreme Puffer (#BJJ03) is made of 100-percent nylon taffeta with 4 oz. Thinsulate insulation to provide exceptional warmth without the bulk—plus it has components for attaching to the Jasper Extreme Coat. The Dickies Pro Frost Extreme Fleece is also an available option.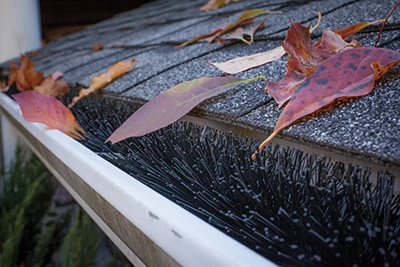 GutterBrush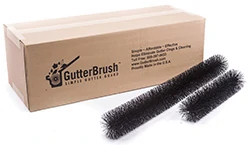 Each year clogged gutters cause thousands of dollars in damage, including wet basements, cracked foundations, rotting fascia boards, ice dams, mold, etc. In addition to home damage, more than 90,000 people per year are admitted to the Emergency Room after falling from a ladder. Keeping your gutters flowing and keeping you off that dangerous ladder is good for your wallet and your health. Made in the USA, GutterBrush a simple, effective solution you can install yourself. This simple DIY leaf guard is a large cylinder-shaped brush that fills rain gutters and protects them year-round. It prevents buildup of leaves and debris while allowing water to flow. No tools are needed; just slide the 3-ft. sections end to end into the gutter channel and leave them there. At approximately $3 per ft., GutterBrush costs much less than most gutter covers or screens and saves money vs. paying for regular gutter cleaning. Visit www.gutterbrush.com.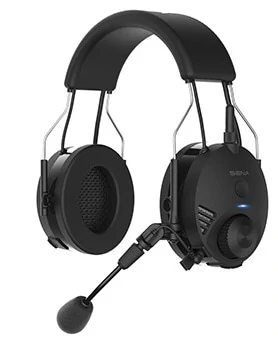 Tufftalk Earmuffs
For the pros, the new Tufftalk Earmuffs are engineered with Sena Technologies's almost two decades of industrial wireless Bluetooth expertise. Tufftalk is a Bluetooth communication and intercom headset designed to meet the communication and connectivity needs of industrial applications. It sports the furthest working Bluetooth range of any product on the market today (1.4 km). Sturdy design and tough manufacturing offers up to 15 hours of uninterrupted intercom communication between up to four headsets. Coupled with its seamless compatibility with other Bluetooth and two-way radio devices, including Sena SR10i which allows for wireless two-way radio communication, Tufftalk far outpaces the competition. In rough and loud environments, safety is key, and Tufftalk's secure earmuffs help protect users from harmful noise with an audio attenuation of 24dB. The ambient mode allows users to amplify external sounds, generating greater awareness of surroundings so important alarms or calls can be heard while still protecting hearing. And for more active applications, Tufftalk offers an optional hard hat mount package. Equipped with HD quality speakers, Tufftalk delivers crystal clear audio that mobile workers need to stay safe on busy and noisy worksites. Visit www.sena.com.
ZIP System Stretch Tape
ZIP System Stretch Tape easily stretches to fit sills, curves and corners with a single piece without having to piece together tape segments. This avoids seams or joints.
Made of a high-performance composite acrylic, the tape conforms to challenging applications and locks out moisture even over mismatched surfaces. And ZIP System Stretch Tape can be pulled up and reapplied for hassle-free installation, providing a tight, energy-efficient seal in no time. Use it to cover sills for window installation, close gaps around wall penetrations, seal sheathing joints, wrap around curved doors and windows. It stretches in any direction, and it can be applied in temperatures as low as 20 degrees F. Visit www.zipsystem.com.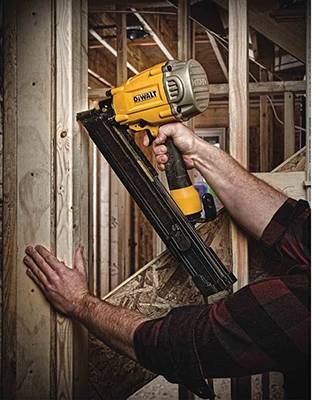 DeWalt DWF83PT Framing Nailer
DeWalt has a nice new 30-deg. pneumatic framing nailer that has a compact and lightweight (8.1 lbs.) design plus a new engine designed to dampen recoil for smoother operation. The low recoil helps increase user control, reduce fatigue and allow for more comfortable use. This paper tape-collated framer has an industrial-grade design to with-stand harsh jobsite conditions, offer better drive quality and prevent jams. Included are standard tool-free features such as an adjustable rafter hook, depth-adjustment and a selectable trigger for bump or sequential firing mode. Visit www.dewalt.com.