These times, they are changing, and so are building materials. Here are some of the latest options for roofing your home.
By Chris Lundahl
Our clothing style is not the only thing affected by trends. The TV industry brought attention to home-improvement trends with countless shows about exterior and interior design, the "tiny house movement," DIY tutorials and so on. After all, that is how pastel-colored interiors became big, and how small houses got famous. Roofing systems were not neglected; it is exactly the roofing industry where the most useful and long-lasting trends appear.
Some of the hottest trends in roofing focus on energy conservation, a movement that discovered an entirely new range of roofing products that possess eco-friendly properties and operate energy efficiently.
Solar Panels
Solar panels have existed in various forms for quite some time now. However, the green movement brought outstanding attention to panels as a roofing option. They were often seen as bulky and unattractive until manufacturers created sleek and elegant looking versions that sky-rocketed interest. Tesla, a leading company in the electric and solar development, launched solar tiles that look like conventional roofing tile. They save energy and cut utility bills.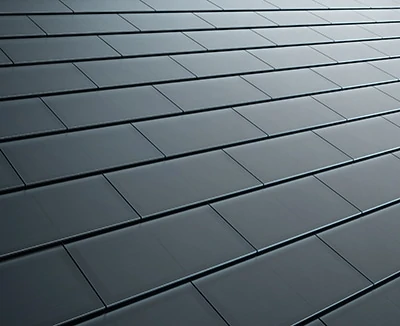 Cool Roofs
The idea of a cool roof came up while researching the reflective properties of specific materials and colors. We all know the "white and black T-shirt rule;" wear white when it sweltering hot and avoid dark colors, right? Well, manufacturers applied the same law on roofing systems and revealed a new market of cool roofs. Cool roofing systems reflect sunlight and therefore do not absorb heat, thanks to the light color and reflective paint, white glue and unique gravel mixture. The reflective surface will reduce the power consumption of your household due to less AC usage.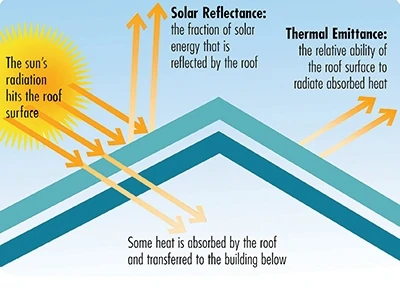 Green or Living Roofs
A few decades ago, claiming that you possess a living roof would've been serious evidence of your potential madness. However, technology has changed, trends change, and standards change. Today, your living roof reflects on you positively as an eco-friendly citizen. Green or living roofs are easy to distinguish thanks to a layer of vegetation on top of your property. These roofing systems have multiple layers such as engineered soil, protective fabric, waterproof membrane and, finally, green layer of plants. Green roofs have a beneficial influence on the environment by creating a natural habitat and reducing acid rains. At the same time, it saves you energy and money through its insulating properties and provides ultimate protection of your home.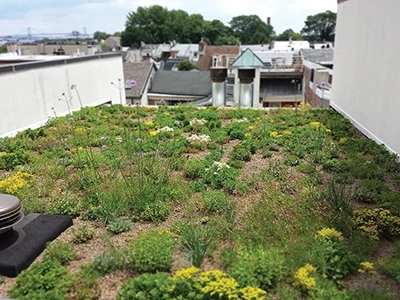 Back to Basics—Asphalt
Asphalt is one of the most traditional roofing materials. It has been in use for decades, continually experiencing ups and downs in popularity. In 2017, many homeowners went back to basics and decided to invest in this conventional roofing material. After all, asphalt as a roofing material is proven to be durable and reliable; it can handle extreme weather conditions such as high winds or fires. So, it is a valuable lesson for everyone; not to forget things that have been working for humans for ages.
Conventional three-tab asphalt shingles present the most economical option, but these days, architectural shingles have gained popularity. In roofing, the term "architectural" generally means the shingle has a three-dimensional design and construction. True architectural shingles (also called "designer" shingles) will have more than one thickness layer to create a shadow line that gives the roof the appearance of slate or wood shake.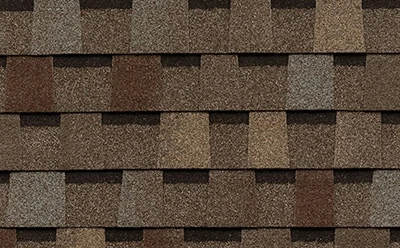 Metal All Around
For a long time, metal was considered unappealing in residential and used primarily for commercial purposes, found often on huge industrial buildings. Nowadays metal roofing is one of the most popular roofing solutions for homes. No wonder people finally recognized the value of this material; it is one of the longest lasting roofs; it withstands fires, winds, rain, snow (pretty much all weather conditions), and modern systems are offered in panels or shingles. One of metal's best attributes for roofing is its reflective properties, so it doesn't absorb heat and helps you save energy and money. Low-maintenance and strong protection are the reasons why metal roofing appears in construction magazines more and more.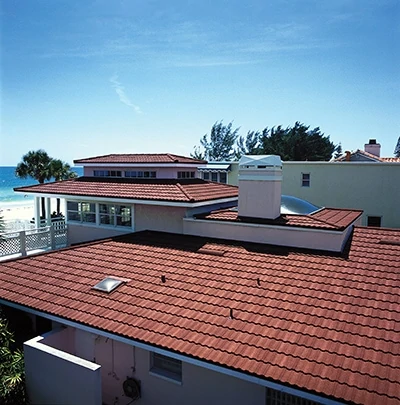 A metal roof can be manufactured in four different styles or profiles, including:
Standing Seam: The most commonly recognized metal roofing profile, this option has continuous panels that run from the ridge of the roof all the way down and seams connected by fasteners, which are raised between panels.
Metal Shingle/Slate: This style creates the distinctive look of slate tiles or even classic asphalt shingles with the added benefits of metal.
Metal Tile: Standard concrete tile roofs are heavy, yet fragile and costly to maintain. Metal Tile, however, has the graceful curves of classic tile, but the lightness and strength of steel.
Metal Shake: This offers an investment-grade alternative to traditional wood shake roofs, presenting an authentic look of wood, while gaining a variety of color choices with longer lasting, fireproof metal.
With the variety of looks and finishes available, it's possible that you've seen many metal roofs on homes, but didn't recognize them as they have the ability to "hide in plain sight."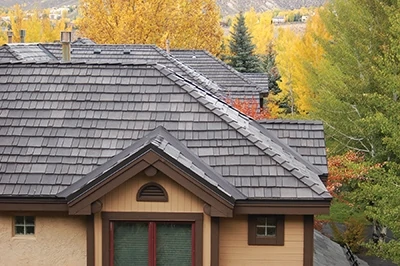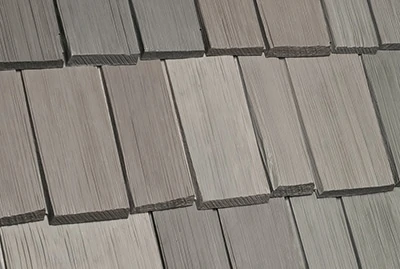 Composite Roofing
Composite or synthetic shingles that imitate wood shakes or shingles present a compromise when choosing between asphalt shingles and regular slate or shake. They have the beauty and quality of slate, but at lower cost. They are said to last two to three times longer than both wood and asphalt shakes. These shingles are polymer-based, which means they are made of plastic and rubber. They are lightweight, eco-friendly, recyclable and resistant to mold, fungus and rot. They do come at a higher price than asphalt shingles, for example, but the quality and energy efficiency make up for it, so it is well worth the money.
So, which roof product will you decide to give a shot?
Editor's Note: Chris Lundahl is an editor covering topics on construction, sustainability and roofing. He currently works for Arizona Roofing Systems.
Side Note 1
SELECTING A METAL ROOF
Today's residential metal roofing comes in a wide variety of styles and designs, from standing seam to shake, slate or tile. Some of today's metal roofs are coated with a granular texture to look like traditional asphalt shingles. The panels of metal roofs interlock with each other, providing stiff resistance to high winds.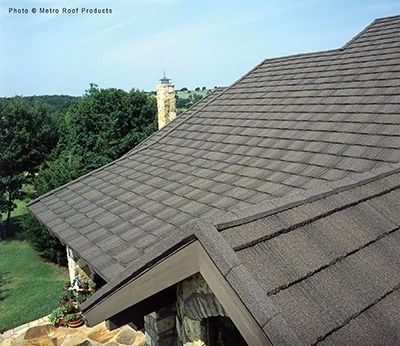 Metal roofing can be made of galvanized steel, galvalume steel, stainless steel, aluminum, copper or zinc alloy. The sturdiest option, steel roof systems have a metallic coating of zinc, or a combination of zinc and aluminum, that is bonded to the steel at the factory to prevent rust from forming. This is followed by a coating of epoxy primer and a baked-on acrylic topcoat that adds color and protection. Aluminum products are extremely lightweight and commonly used in residential roofing. Aluminum won't rust, but must still be coated for a finished appearance. The coatings are similar to those used on steel roofing. Copper and Zinc Alloys are both known for their low-maintenance durability, but they can also be very expensive options.
Ask about the roof system's flashings and accessories, and how the valleys are installed. If your area is prone to freezing temperatures, it might be smart to choose an "open" valley system that carries water on top of the roof rather than a "closed" valley, which carries water through channels beneath the panels. The hidden channels have been known to clog with ice and snow, causing accumulated water to infiltrate the roof system.
Light-colored metal roofing can help to reflect heat, which can lower energy bills. With steel, copper and zinc roofs, this works best when the metal is painted with a bright color or light metallic coating. Aluminum, however, inherently reflects radiant heat, even when painted in darker colors.
Choose a roof system in which all fasteners and roof components are made of a compatible metal. Specify a system with concealed fasteners. Any exposed fasteners or holes through the panels are areas where water can potentially enter the roof system. Many metal roofing systems use "clips" to fasten the panels rather than fasteners that attach the panels directly to the roof. The clips allow for expansion and contraction of the metal—very important to standing seam systems with long panels.
Metal roofing, especially steel, requires a good coating for long-term durability. Product warranty lengths are usually determined by a combination of the metal and the coating. Look for a finish that has proven the test of time. And make sure the finish is warranted against fading, chalking, chipping and detaching from the base metal.
Side Note 2
Advanced Architectural Asphalt Shingles
In roofing, the term "architectural" generally means an asphalt shingle has a three-dimensional design and construction that mimics the appearance of slate or wood shake. Also called "designer" shingles, not only does the three-dimensional design enhance the look of the roof, but the extra thickness of the shingles provides additional weather protection.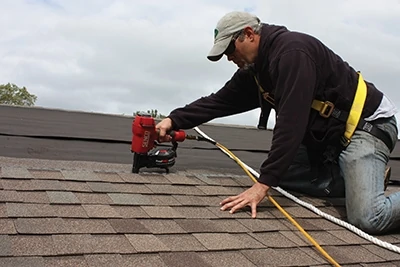 "Asphalt shingles are aesthetically diverse and come in a wide range of styles and colors that will enhance the look of your home," says Reed Hitchcock, executive vice president for the Asphalt Roofing Manufacturers Association (ARMA). "Designer shingles can display a more natural appearance, and can also match metal, cedar and slate materials that are more expensive. Meanwhile, you're still getting the durability and easy maintenance that comes with asphalt shingles."
Another recent advancement in architectural shingles from Atlas Roofing is the development of a Scotchgard Protector, which defends against those dark, dingy streaks that appear on roofs due to algae. With the algae threat removed, your home's roof keeps the original color.
Side Note 3
Suntuf Polycarbonate Roofing Panels
Suntuf Corrugated Polycarbonate Roofing Panels are a great choice to help make outdoor covered projects come to life. Suntuf Corrugated Polycarbonate is lightweight, super tough and easy to install. Use it to cover just about any type of outdoor structure for increased outdoor living area, storage or shelter. With 3 standard colors and 5 specialty colors, the selection allows you to pick the right combo of light transmission, diffusion and color. Virtually unbreakable, Suntuf is up to 20 times more impact-resistant than fiberglass, and offers the best hail protection available in transparent or translucent products. It easily withstands snow, ice and temperatures ranging from -40° to 212° F (40° to 100° C). And Suntuf has built in 99.9 percent UV protects you, your family and your pets from the sun's damaging rays. For more information, visit www.PalramAmericas.com/Suntuf.