Ever since the first caveman broke open a nut with a rock, we've used tools for anything and everything at work and at home. Lucky for us, mankind has come a long way and we now live in an age of advanced technology and pre-shelled peanuts. Here's a roundup of some of the latest and greatest hand tools to throw in your trusty toolbox.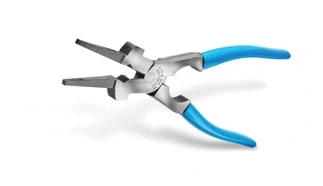 Channellock Professional Multi-Purpose Welder's Plier
Channellock now offers a high-quality, domestic plier for welders with its new Channellock 9" 360 Professional Multi-Purpose Welder's Plier. Designed as an ideal six-in-one plier, the 360 Welder's Plier is 12 ounces of drop-forged, high-carbon C1080 North American steel. Channellock improved the design of traditional welder's pliers by applying its high-leverage technology—positioning the rivet closer to the head. This design provides more cutting power to the laser heat-treated edges to slice through weld wire. Additional improved features of the spring-loaded plier include a groove-nose design for quick spatter removal, as well as a unique diamond-shape welder tip installation and removal tool that prevents stripping by gripping four sides of the welder tip. A precision-machined, laser heat-treated, knife-and-anvil cutting edge ensures superior long-term cutting performance. Plus, an elongated nose with cross-hatch grips is designed for secure drawing of wire or gripping of hot metal. Visit www.channellock.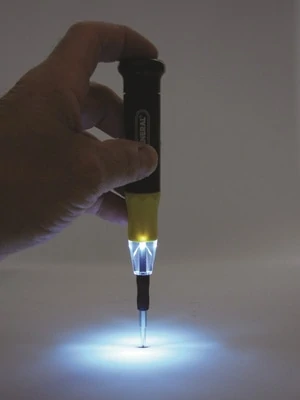 General 8-in-1 Lighted Precision Screwdriver
General Tools's new 8-in-1 Lighted Precision Screwdriver (75108) features two powerful, bright white LEDs combined with a transparent collar to provide 360-degree lighting. The tool also features a secondary removable mini screwdriver and an ergonomic cushioned grip with rotating cap. A convenient bit storage compartment in the precision engineered handle keeps all included bits together, reducing the risk of lost or misplaced parts. The screwdriver comes with four double-ended bits: Slotted: 1/8" and 5/64"; Phillips: #000 and #0; Torx: T5 and T8; and Torx: T6 and T10. Visit www.generaltools.com.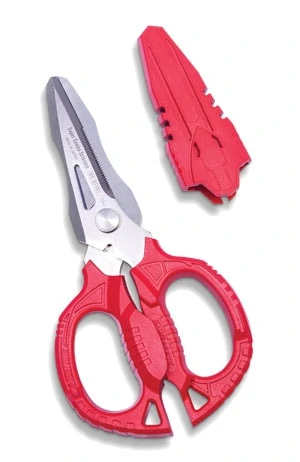 Super Combo Scissors
The Super Combo Scissors (VT-011R) from Vampire Tools are high-quality, 4-in-1 scissors for industrial and home use. The cutting edges are sharp, and micro-serrations provide a firm grip during cutting. Super Combo Scissors are a compact yet strong cutting instrument that incorporates four functions in one scissors: flat blade cutting, micro-serrated blade for cutting without slippage, wire cutting and box opener. The ergonomic handle is designed for comfortable non-slip grip and includes a special feature to prevent finger pinching (patent-pending). The S-shape grips are designed to convey maximum applied power to the blades.  Vampire Professional Tools also offers personalization of Super Combo Scissors for safekeeping or gifting purposes. Personalization implies marking the jaw of the pliers with up to 12 characters. Visit vampiretools.com.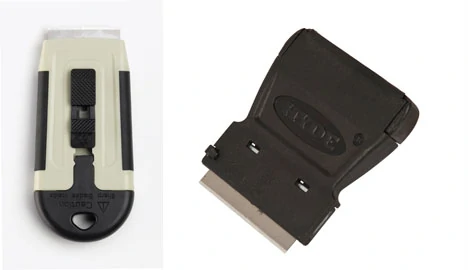 Hyde Glass Scrapers with Blades Stored in the Handle
Here's a handy, retractable glass scraper with built-in blade storage, so you'll never find yourself groping through rusty blades at the bottom of your toolbox. The Hyde Glass Scraper #13040 is ideal for removing coatings, paint and stickers from glass, mirrors or windshields. Its rubberized body provides a safe, sure grip—and it comes with five single-edge razor blades tucked into the handle.
It's very handy for a quick blade change right on the spot. For small applications like window mullions, choose the Hyde Mini Glass Scraper #13030, which also stores 5 razor blades in the handle. Visit www.hydetools.com.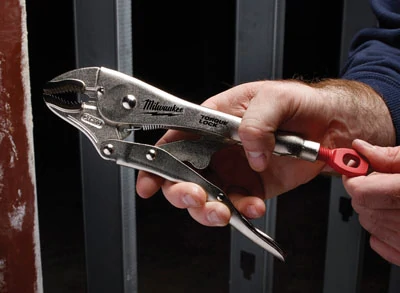 Milwaukee Locking Tools with Torque Lock
Milwaukee Tool's new locking tools dramatically increase productivity for the user. Featuring the patent-pending Torque Lock adjustment system, the new Milwaukee Locking Pliers and Locking C-Clamps deliver an innovative solution for adjusting the size of the gripping jaws while secured to material. This gives the user the ability to produce maximum lock-ing force with a much faster and controlled set up.
"As we spent time on the job-site investigating this category, we found that many users were modifying their locking tools by welding a loop on the back end of the thumb screw. This created a way to set up their tool faster and produce the necessary holding force with a screwdriver," says Ryan Schwoegler, product manager for Milwaukee Tool. "Inspired by this inventive user modification, our Torque Lock Locking Tools feature a thumb screw with a more con-venient geometry for hand force and a unique screwdriver through-hole design to produce maximum locking force." Visit www.milwaukeetool.com.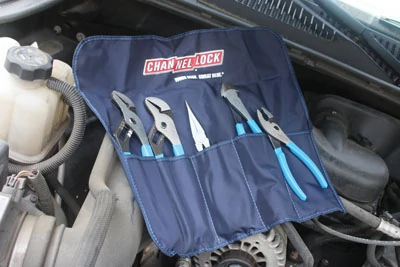 Channellock Professional Plier Tool Roll
Channellock has combined its most popular tools in a single gift set. The new tool rolls are 100-percent made in America and are a great starter set for Pros and DIY'ers of all levels. The Tool Roll-3 5-pc. Professional Plier Set includes: the 7" High Leverage Diagonal Lap Joint Cutting Plier (337); the 9.5" Straight Jaw Tongue & Groove Plier (420); the 10" Straight Jaw Tongue & Groove Plier (430); the 6.5" Slip Joint Plier (526); and the 8" Long Nose Plier (3017). Each tool is manufactured with high-carbon C1080 steel for superior performance on the job and specially coated for ultimate rust prevention. Laser heat-treated teeth and cutting edges ensure longer life, and the Channellock Blue grips are designed for comfortable extended use. Visit www.channellock.com.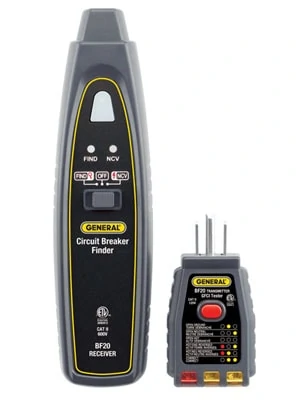 General BF20 Circuit Breaker Finder
General Tool's new BF20 Circuit Breaker Finder includes an NCV Detector and GFCI Outlet Checker. This tool makes it easy to identify the circuit breaker associated with any 110V AC outlet. Safely determine whether a line, cable or 110V outlet is "hot" (energized). Identify wiring faults on GFCI and non-GFCI receptacles, and verify the operation of GFCI circuits interrupting power. Start by plugging the transmitter unit into any 110V GFCI or non-GFCI receptacle. After check-ing the outlet for several common wiring errors, the transmitter sends an RF signal down the circuit's wires back to the breaker box. At the breaker box, begin scanning with the receiver unit. A green LED on the receiver will light, and the socket that the transmitter is plugged into will be identified.
An innovative circuit in the BF20 eliminates the "false positives" that weaker technologies like inductive coupling often produce. Visit www.generaltools.com.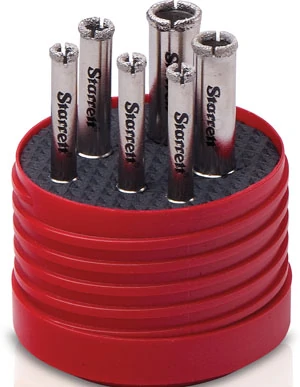 Starrett 7-Piece Diamond Tile Hole Saw Kit
L. S. Starrett's KD2000TD1 7-Piece Diamond Tile Hole Saw Kit is a great kit to have in any toolbox.
It will fit in a small corner of the tool box and provide six drill sizes (3/16″, 15/64″, 1/4″, 5/16″, 3/8″, and 1/2″) that fit standard drill chucks. Included in the kit is a knockout pin to clear slugs from the saw body. These saws are excellent tools for the craftsman requiring access points for special wiring, cable, conduit or other modern design requirements. The hole saws have a uniform coating of synthetic diamonds bound to a durable steel saw body. They provide exceptional performance at high cutting speeds and produce accurate clean cuts in glass, brick, ceramic tile and stone. The diamond-edge saws allow extended cutting time when used with water lubricant to cool the cutting surface. Visit www.starrett.com.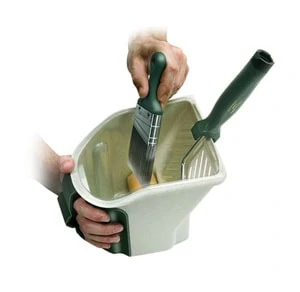 Wooster Pelican
Reduce trips up and down the ladder with the Wooster Pelican, a handheld pail that securely holds a brush and mini-roller so you can paint faster than ever before. A powerful magnet inside the bucket holds a brush at the ready. Molded underneath the plastic, the magnet won't rust or trap paint. The Pelican also has a built-in roller grid, 5-1/2" wide, with aggressive ribbing to make loading easy. Cut in with your brush and follow with the roller. The comfortable security strap allows the pail to rest easily in one hand, and elastomer side indentions provide better grip and control. Made of durable polypropylene, the Pelican pail cleans easily. Wooster also offers disposable Pelican liners. Rigid and form-fitting, the liners make color changes and cleanup a breeze. Visit www.woosterbrush.com.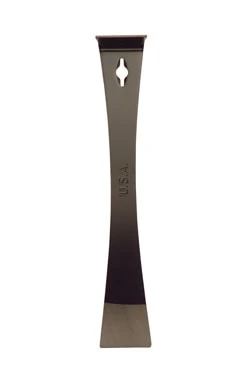 Hyde 9-1/2" Mini Bent Pry Bar, Dozens of Uses
Remove molding, open boxes, scrape paint and pull nails with this convenient mini-prybar from Hyde. You'll find dozens of uses, but removing molding or pulling nails without damaging a wall are some of its best. The Hyde Pry Bar #45600 is made of high-carbon steel, and has been hardened and tempered for strength. It is also electro-coated to resist rust for years of use. It has a nail slot for pulling nails and ground ends for scraping. Visit www.hydetools.com.

Wiss Flip Joint
The new Flip Joint Cable Cutter from Wiss is a 3-in-1 electrician's tool designed for a fast way to cut, slice and strip cable. This new, 8" tool allows professionals to cut with the cable cutter, slice with the sheath knife and strip vinyl-coated wires with the wire stripper. It provides a convenient way for professional tradespeople to minimize the number of tools needed for the job. First, in cable cutter mode, cut vinyl coated electrical wire such as Romex cable to length. Second, flip the handle to expose the specially-designed ultra-sharp cable sheath knife and slice through the sheathing to expose the wires. Finally, flip the handle back to strip the wires. Integrated notches in the blade strip wire easily and can also be used to cut smaller wires.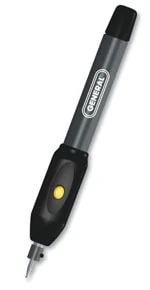 Cordless Precision Engraver
The enhanced Cordless Precision Engraver (505) from General Tools & Instruments features a 20,000-RPM motor that runs on just two AAA batteries. With its 3/32" diamond-tipped engraving bit, the tool is powerful enough to engrave glass, metal, ceramic, plastic and wood. The engraver's improved gearing boosts torque to facilitate smoother, more consistent scribing. Users can easily protect all types of valuables with identifying markings or even personalize items with delicate precision. Visit www.generaltools.com.

TG Tools Brad Point Bits
An innovative concept in brad-point design comes from TG Tools. The Kik brad-point bits are tipped with six cutting edges to provide 20-percent more cutting surface when compared to standard brad-points. This means the Kik bits bore faster, cleaner and last longer due to decreased wear. In fact, the tip cuts so aggressively that it necessitated an extraction ridge inside the flutes to remove material quickly and prevent heat buildup.

3-In-One Oil with Marksman Telescoping Spout
While the multi-purpose oil is still the same formula that's been used and trusted for years, WD-40 Company created a spout with an extra 6 inches of flexibility that provides precise control—even in hard-to-reach places. 3-In-One's new Telescoping Marksman Spout product includes the new ergonomically shaped bottle that easily fits in toolboxes and tool belts. A clear product-fill indicator makes it easy to see when it's time to buy a new bottle. 3-In-Oil lubricates, cleans and penetrates rust. Visit www.3inone.com.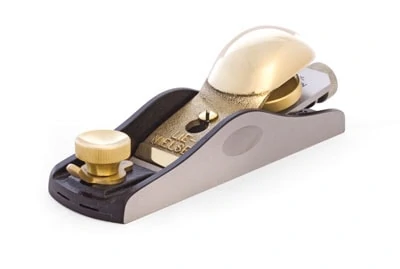 Lie-Nielsen Adjustable Mouth Block Plane
The Lie-Nielsen Adjustable Mouth Block Plane is useful for every sort of woodworking job and a pleasure to use. The moveable shoe in front of the blade allows you to easily and precisely adjust the mouth opening: fine mouth for finishing work and thin shavings, or ample opening for rank cuts.
The body is ground flat and square to a tolerance of .001" or better, and the blade is adjusted with a captive nut for precise control with minimal backlash. As with all Lie-Nielsen tools, this versatile block plane is made in the USA to the highest quality standards, and guaranteed to last a lifetime. Visit www.lie-nielsen.com.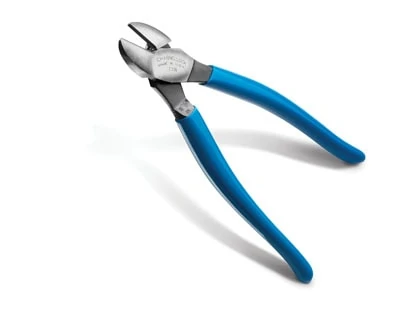 Channellock E Series Pliers
The Channellock E Series is a new line of combination, long-nose and diagonal cutting pliers with an entirely new, sleeker design than the manufacturer's traditional pliers. Each of the 18 new pliers in the E Series line is manufactured with Xtreme Leverage Technology (XLT). Exclusive to Channellock, XLT positions the plier rivet closer to the plier head so that considerably less force is required to make clean, accurate cuts. Additionally, each E Series plier features knife-and-anvil cutting edges to ensure proper cutting-edge alignment and clean cuts; cross-hatched jaws for improved grip; laser heat-treated cutting edges for extended durability; and a choice of Channellock Blue comfort grips or Code Blue grips for secure and comfortable gripping power. Visit www.channellock.com.

Swanson Speed Bevel
Swanson's Speed Bevel is the first tool that transforms instantly from a Speed Square into a slid-ing T-bevel—two of the most used tools by builders, remodelers and carpenters. Made from lightweight, high-impact ABS composite, it's actually five tools in one; a framing/rafter square, a try square, a miter square, an angle finder/ protractor and a T-bevel. You can easily transfer angles from an inside wall corner or an outside junction by loosening the thumb screw and adjusting the Speed Bevel so the blade and handle fit snugly against the two surfaces. Simply tighten the screw and you've got the precise angle you need. For an exact angle, place the Speed Bevel on a protractor, loosen the thumb screw and adjust it to any angle you want. Visit www.swansontoolco.com.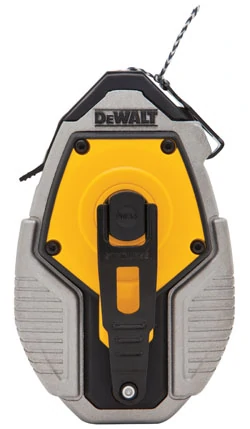 New DeWalt Chalk Reels
The DeWalt Premium Chalk Reel (DWHT47270 ) features a 6:1 gear ratio for smooth and rapid winding. A durable helical gear system, as opposed to the standard gears in many reels on the market, provides smooth, quiet action and is less prone to line jams and breaks. The gear system is sealed to help prevent debris from clogging the mechanism. The body is cast metal for durability, and interlocking hooks easily join lines for productivity. The Compact Chalk Reel Blue Kit (DWHT47257L) is ideal for a secondary reel or correction reel with 30-ft. braided line. The body is 50-percent smaller than the current DeWalt reel, and features a 3:1 gear ratio for quick line retraction. The gear mechanism features a clutch design for fast, easy unwinding. The Die-Cast Chalk Reel (DWHT47256) is a heavy-duty tool with an aluminum die-cast body and a stainless steel hook and crank arm. For sites where extra-long lines need to be snapped, the DeWalt Large Capacity Reel (DWHT47252) holds up to a pound of chalk, and its 150-ft. braided cotton line is long enough and durable enough for almost any job. The DeWalt DWHT47142 is the company's 100-ft. version. Visit www.dewalt.com.