By Matt Weber
What can be said about the importance of accurate measuring? Without it, our buildings sure would look funny. Here's a handful of some of the latest measuring devices to help keep your projects plumb, level, square and true.
Fluke 419D Laser Distance Meter
Fluke offers three professional-grade laser distance meters: models, 414D, 419D and 424D. The EHT staff tested the 419D, which can instantly measure distance at the push of a button. Our field testers were impressed with the range of the 419D, which utilizes a laser beam to measure a target up to 260 feet away—more than enough for most serious DIY and professional projects alike. With accuracy of +/- 1mm, it saves time and reduces errors and includes enhanced features such as a 3-line backlit display, plus memory storage for 20 complete measurement displays. When in tripod mode the mountable laser provides easy targeting for stable, long-distance measurements.
The 419D also performs quick calculations of area (square feet/meters) and volume, and includes an easy-to-use addition and subtraction function. Plus, the compact carrying pouch secures to a tool belt. Visit www.fluke.com.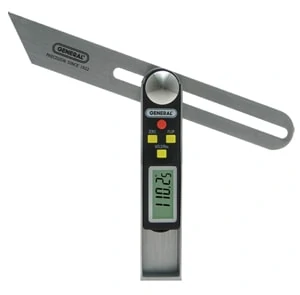 Digital Sliding T-Bevel
The new Digital Sliding T-Bevel (828) from General Tools & Instruments takes the guesswork out of angle measurement and duplication, and eliminates the confusion associated with interpreting analog readings and transferring manual measurements. According to the company, General's Digital Sliding T-Bevel is the first and only digital T-bevel on the market. It's perfect for measuring, storing and transferring inside and outside angles for carpentry, cabinet building, tile installation and more. It operates as both a digital T-bevel and a protractor, offering easy-to-read angle measurements via a large LCD and integrates an 8-in. stainless steel blade with a steel locking knob. The Digital T-Bevel can measure angles ranging from 0° to 360° in any plane to an accuracy of +/-0.3°. It also features function buttons for zero calibration, hold/reverse, flip viewing, auto shut-off and a two-year battery life.  Visit www.generaltools.com.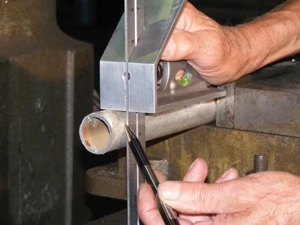 LaSquare
The combination square has long been a toolbox staple, but LaGesse Products has smartly redesigned the concept with a 2-in. wide base that can be used on oddly shaped materials such as round or square tubing, handrails, pipe, crown molding, cement blocks, wooden posts and many other materials. Made entirely in the U.S.A., the LaSquare's patented design makes jobs easier, reduces work time and eliminates the need for extra tools. The extra-wide aluminum base adds stability and offers true line accuracy on multiple contact points. Equipped with a built-in level and a stainless steel blade that is fully hardened and tempered, the LaSquare features a satin chrome finish with precisely etched graduation marks in standard measurements. Visit www.lagesseproducts.com.

Digital Fractional Caliper
Our groundbreaking Digital Fractional Caliper (147) brings you three universal systems of measurement, making it an equally practical choice for both professional and DIY metalworking, woodworking and mechanical engineering projects. The perfect device for measuring the distance between two opposite sides of an object, the high-contrast digital display easily switches between inches, milli-meters and fractions, with guaranteed accuracy to 0.001. The rugged stainless steel design delivers accurate readings of inside, outside, step and depth measurements. The unit also comes with a foam padded plastic case for safe storage. Visit www.generaltools.com.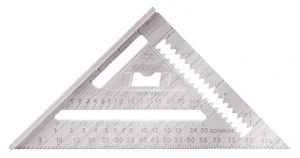 Johnny Square
A layout square is an incredibly handy tool for professionals and DIY'ers alike. What makes a layout square so useful is its simple and versatile design, serving as five tools in one; a Try Square, Miter Square, Protractor, Line Scriber and a Saw Guide. Johnson Level now offers their own version of the layout square, the Johnny Square, which offers the unique feature of continuous 1/8-in. pencil notches specially marked for scribing 2×4 and 2×6 rip cuts. Plus, the square has an integrated bottle opener, which turns out to be a welcome feature at the end of most EHT projects.  Visit www.johnsonlevel.com.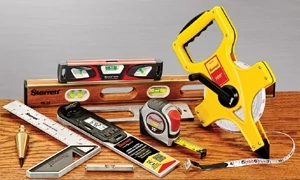 Starrett Measuring & Layout Tools
When it comes to measuring critical dimensions, generations of craftsmen and toolmakers have relied on Starrett tools, with proven quality and expert tech support. Invented by Laroy S. Starrett in the 1870s, the Starrett Combination Square consists of a hardened steel graduated rule with a movable combination head, precision ground with a 90˚square face and a 45˚miter face. It's an excellent tool for many measurement and inspection tasks, including checking ends and edges for squareness, drawing layout lines, checking miter angles, calibrating blades, setting cutting depths, measuring dadoes and much more. These days Starrett also offers a diverse selection of pocket tapes, levels, protractors, utility knives, hole saws, and blades for jigsaws and reciprocating saws. Visit www.starrett.com.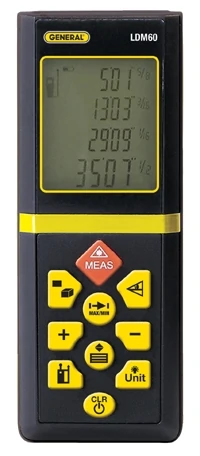 General Laser Distance Meter
The new Laser Distance Meter (LDM60) from General Tools & Instruments quickly and accurately measures length, width and height, and easily determines area and volume. With its superior accuracy (+/-0.06 in. / 1.5mm), the LDM60 eliminates errors and typically saves professionals enough time and labor to pay for itself after the first use. It turns a two-person job into a one-person job and prevents the hassle of rearranging rooms for measuring. The average measuring job can be completed in about one third the time needed to use a tape measure—and with much greater precision. Plus, the LDM60 is priced considerably below competitive products and features a measurement range up to 200 ft., with distance displays in feet or meters via a large backlit four line LCD. It offers a fast response time of 0.33 seconds. Operating modes include addition, subtraction, continuous measurement (tracking) and min./max. distance to a reference along with a 20-measurement memory. The LDM60 comes with a tool belt holster and a three-year warranty. Visit www.generaltools.com.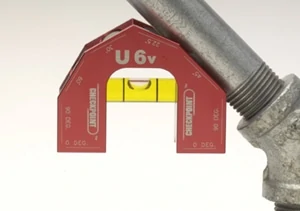 Checkpoint U6 Levels
Checkpoint's U6 Levels—both the standard Multi-Reading Level, and the U6 V-Groove—are made from solid aircraft-grade 6061-T6 aluminum billet that's CNC-machined into its unique shape to read at 0, 22.5, 30, 45, 60 and 90 degrees. A precision bubble vial is the heart of the U6, and eight rare-earth neodymium magnets are used to keep the U6 rock-solid on virtually any ferrous surface. A high-quality anodized finish and laser-etched graphics make the U6 Levels ready to go right out of the box. And for those who need extra versatility, the Checkpoint U6 V-Groove has a unique design that allows it to mount securely onto pipe and conduit, fencing and much more. Measuring just 2-1/2 by 1-3/4 by 3/4 inches, the U6's patented design is compact enough to work in the tightest job conditions–from ductwork and plumbing in confined space, to table layouts and on-site setups that demand close tolerances. Plus, the U6 is small enough to fit in your pocket. Visit www.checkpointlevels.com.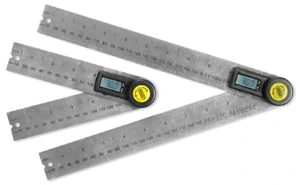 General Digital Angle Finders
The new 5- and 10-in. Digital Angle Finders (822 & 823) from General Tools are time-saving tools that easily and accurately measure inside, outside and reverse angles. Features include digital readout, twin rules graduated in inches and millimeters, reverse angle and hold buttons, and a locking knob. Both tools are ideal for framing, custom furniture-building, stair and patio construction, flooring, tiling—a wide range of woodworking, carpentry and contractor needs. Visit www.generaltools.com.