Not much work gets done if you can't see what you're doing. Whether working at night or within interior locations with low visibility, task lighting is an indispensable aspect of the job.
For many years, halogen work lamps were the go-to solution to splash a lot of light around a project site. Although they put the light where it was needed, they drank a lot of electricity and brought an often unwanted side effect—heat. Those old work lights were very hot, and whereas some folks might welcome some extra warmth in the winter, they could be wretched to work with in hotter climates and could cause painful burns if you bumped against them. These days, halogen work lamps are largely being supplanted by lamps with LED bulbs, which conserve electricity and generate light without all the unwanted heat… and that's what makes them cool.
TriLight from Striker Concepts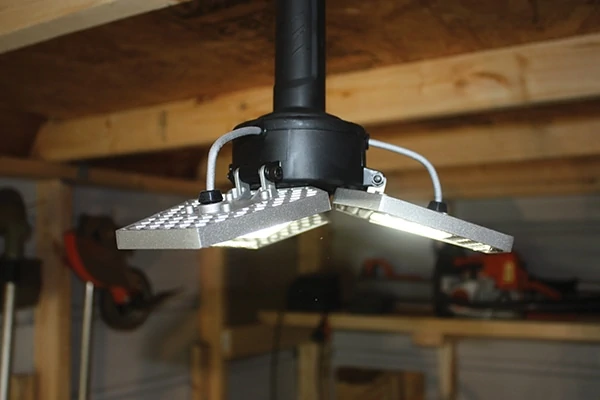 Striker Concepts offers a cool new shop light with the TriLight. This three-way LED task light comes in two versions, a corded light (with a hanging hook) or a bulb-replacement version that twists into an existing light receptacle just like a standard light bulb. This patent-pending product combines the features of a shop light with the benefits of a drop light for exceptional versatility and "blinding" light output. The three light panels tilt independently to let the user direct light right where it's needed. The TriLight quickly transforms from a 360 degree drop light, into an omni-directional shop light, and any light pattern in-between. This adaptability  offers more useful light arrays in comparison to traditional lighting, enabling the TriLight to be used  as a handheld inspection light, propped up on the LED heads  as a free-standing light, or hung for hands-free use.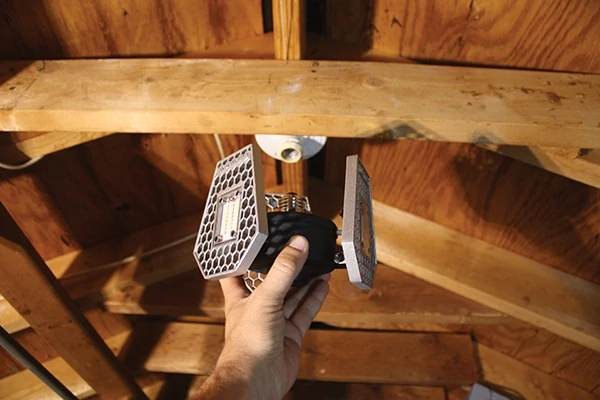 Producing 3000 true lumens of light, the three aluminum LED heads of the TriLight function as  a heat sink, ensuring the LEDs always operate at the lowest  temperature possible. Keeping LEDs cool allows them to achieve their highest performance level while simultaneously safeguarding the LEDs lifespan and adding less heat to the workspace.
Striker Concepts also offers the Rover mobile task light, which has one of the adjustable TriLight aluminum panels mounted atop a compact platform for easily portable task lighting on smaller jobs. The Rover's LED head tilts 180 degrees. Visit strikerconcepts.com.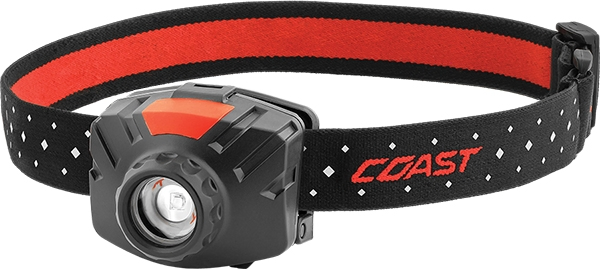 Coast FL60 Headlamp
The FL60 Headlamp is one of Coast Products' newest front-loaded headlamps. Equipped with our Wide Angle Flood Beam, this headlamp is perfect for illuminating large areas with its ultra-wide circular beam. A conveniently located button on the front of the headlamp makes it easy to change between high, medium, and low light outputs. The headlamp comes with an IPX4 weatherproof rating and reflective safety strap, perfect for any rugged environment where you may find yourself. The FL60 Headlamp is impact- and weather-resistant, and its LED is virtually unbreakable. The FL60 Headlamp is backed by Coast's lifetime warranty against defects in materials and workmanship. Visit www.coastportland.com.
FLEXiT Solar Light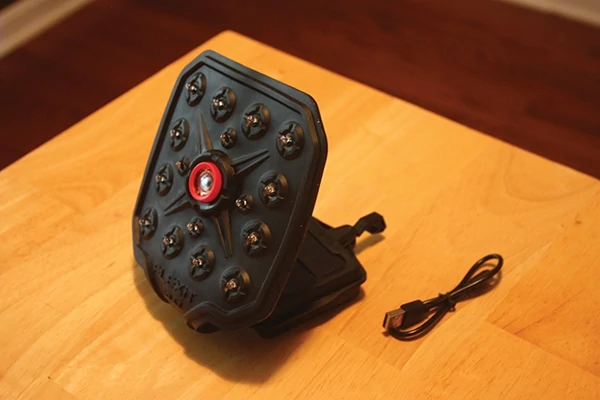 The FLEXiT Solar Light is a new addition to the FLEXiT family of hands-free, flexible LED flashlights from Striker Concepts. It features a built-in rechargeable lithium-ion battery, which charges via the sun or with a USB cable. The FLEXiT's ultra-thin, flexible body bends in virtually any direction for unlimited array of light projections. Create a focused spot light, a broad flood light, or a lantern with 360 degrees of light output. It also features a powerful CREE LED spot light, allowing the user to see further. The durable Shape-Loc frame holds the shape, making it easy to bend, fold, wrap, stick or hook the FLEXiT around objects to position and aim the light hands-free.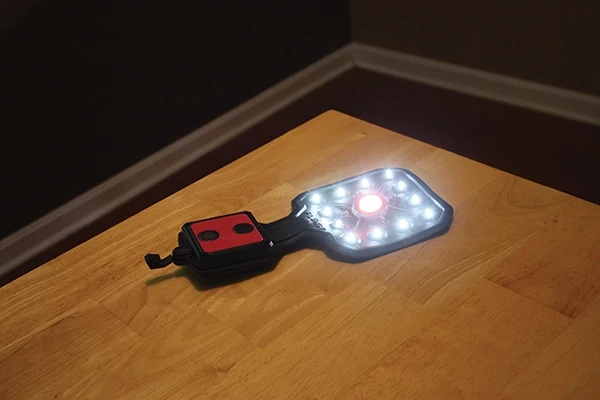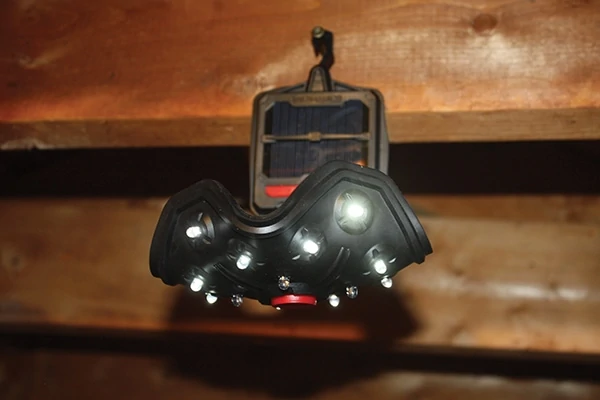 The FLEXiT features 5 light modes (high spot and flood, high flood, low flood, red night vision, strobe). Its durable base has two large neodymium magnets with a non-marring rubber pad, so it can stick to any steel surface, and an integrated hang-hook allows even more options for hands-free use. Visit strikerconcepts.com.
Ryobi 18V ONE+ Hybrid LED Color Range Work Light P795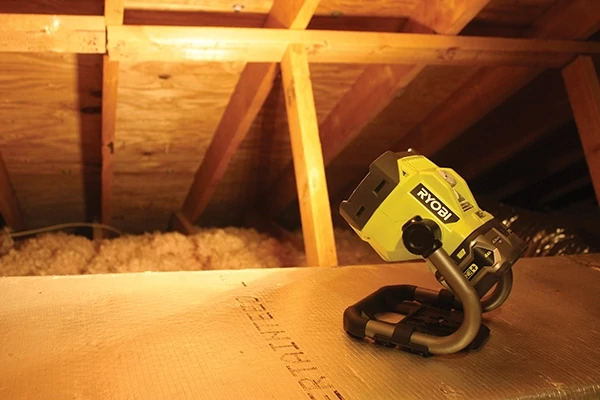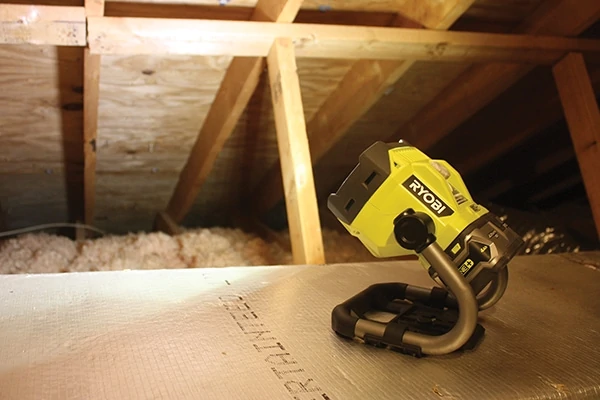 Ryobi introduces the new Hybrid LED Color Range Work Light. Variable color temperature adjusts from 2700 to 5000 Kelvin Degrees to give you the most accurate view of your workspace. The adjustable knob correlates light temperature for improved color perception. This light features 360-degree light head rotation for a variety of positions and Hybrid technology, that allows use of either a Ryobi ONE+ battery or AC extension cord (not included). The P790 is capable of exceeding 24 hours of runtime using a ONE+ High Capacity Lithium Ion Battery. It is compatible with all 1/4-in. x 20 tripod mounts and offers three light modes: High (lumen output 1200), Medium (lumen output 700), Low (lumen output 100).
Ryobi 18V ONE+ Hybrid LED Project Light P790 TL10, TL11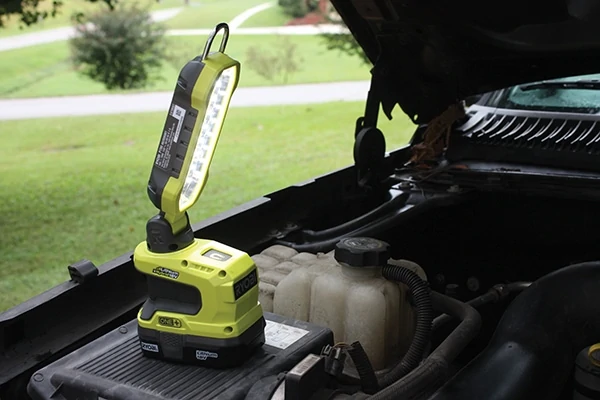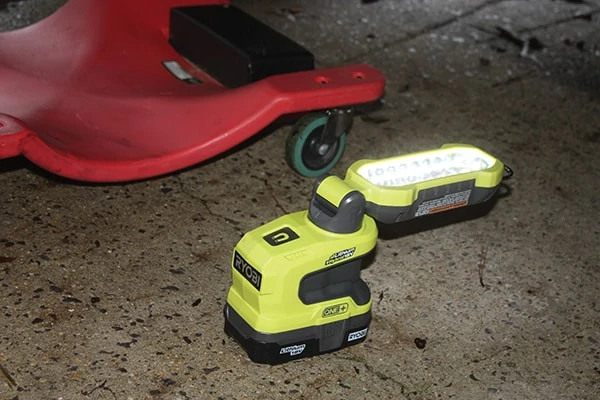 For a more focused project light, Ryobi's new 18-volt ONE+ Hybrid LED project light features a narrow head that delivers three modes of light output, and 180 degrees of light rotation. The multi-point light-head and the locking hook adjust to various applications, and the Hybrid technology means you can use it with any Ryobi ONE+ battery or extension cord. Set the light output for High (lumen output 900), Medium (lumen output 600), or Low (lumen output 100). The (790 also includes a magnetic MagTray for convenient fastener storage and the GripZone Over mold for hand comfort. Battery runtime is 35 Hours on Low Mode using a Ryobi ONE+ High Capacity Lithium+ batty. Visit ryobitools.om.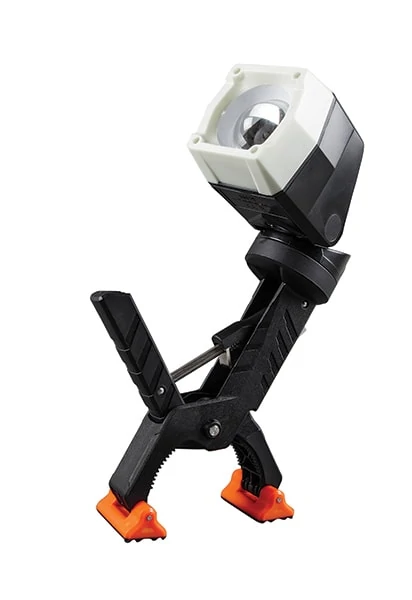 Klein Clamping Worklight
Klein Tools offers the Clamping Worklight for all day, hands-free illumination. Features include a 2-inch clamp, a 360-degree rotating LED head and pivoting feet to brighten any jobsite. This work light can be clamped where needed, stand on its own or handled easily, offering exceptional versa-tility. The head pivots up to 90 degrees to help illuminate dark work spaces, and the pivoting feet enable stand-alone, hands-free illumination. It can be hazardous if a worklight loses power before a job is completed, so Klein designed the Clamping Worklight with an 8-10 hour run time (depending on operation in High or Low power mode). Visit www.kleintools.com.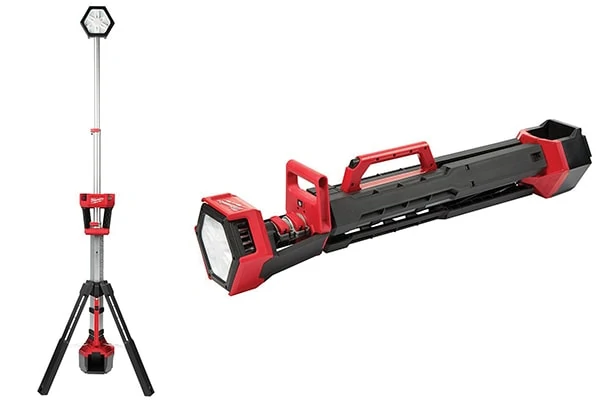 Milwaukee M18 Rocket Dual Power Tower Light
The M18 Rocket Dual Power Tower Light provides more light on the job with 2,500 lumens of TrueView High Definition Output, all while having Dual Power capability (powered by M18 lithium-ion batteries or an extension cord). The light head can be extended from 4 to 7 feet to light overhead work or minimize shadows when casting light downward. Capable of filling large areas with light, it provides 2,500 lumens in its high mode, 1,100 in medium and 700 in low, and it can run for up to 4, 8, or 12 hours with an M18 RedLithium XC 5.0 Battery Pack. It uses TrueView High Definition Output providing neutral white color and a high color rendering index paired with a Milwaukee-designed reflector to produce an even beam pattern. Its reinforced legs are impact-resistant, and its low center of gravity provides a stable base. The light head is protected by an impact-resistant lens and bezel, and it nests into a protective shroud for secure transport and storage. Its LEDs never need to be replaced and are backed by a limited lifetime warranty. Visit www.milwaukeetool.com.
Ryobi ONE+ 18V EverCharge Area Light Kit P784K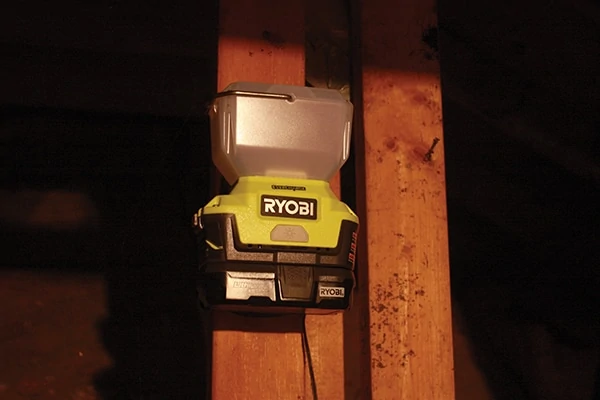 Ryobi's ONE+ 18-volt EverCharge Area Light Kit remains ready when you need it. This versatile light can illuminate work spaces with 360 degrees of light output, and with EverCharge technology, the battery charges and remains charged and ready to use when you are. When mounted to EverCharge adaptor, the innovative Auto-On feature keeps the light power on even in a power outage. Delivering up to 400 lumens of light output and over 24 hours of runtime on a Ryobi High Capacity Lithium+ Battery, this light won't leave you in the dark. A built-in 2 Amp USB charging port will also keep your phone charged on the job. The folding metal handle provides easy storage and portability and allows you to light up any workspace. Visit ryobitools.com.