We're finally in the season for fun in the sun, when homeowners can make the most of their outdoor environment. Chilling out with a cold drink, a cool breeze and a hot grill is what summer is all about. Here's a look at a few products for entertaining in the backyard and relaxing on the front porch.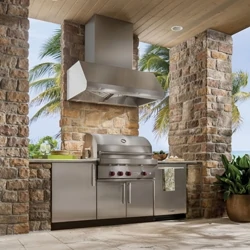 BEST Outdoor Range Hoods
BEST releases its newest outdoor range hoods, the CPD and WPD39M, to provide a combination of style and performance. The new hoods offer homeowners the opportunity to cook in a more pleasant, safe environment while providing the elegance that designers and builders have come to expect from BEST. Perfect for outdoor grilling, these specially designed range hoods are made of corrosion-resistant stainless steel to fit seamlessly into the surrounding environment, while the range hood creates a smoke-free, enjoyable atmosphere. The new range hoods offer extra-deep capture and halogen lighting, and are specially designed for the harsh environment of outdoor cooking; they are not just indoor models relabeled for outdoor use like some of our competition.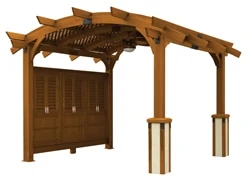 Sonoma 12 Pergola
The Sonoma 12 Pergola not only brings all your outdoor elements together, it bring families and friends together. Made from Douglas fir, the pergola features a 12-by-12-ft. design that comes as a precision-cut kit. It creates an attractive focal point on your deck or grounds to provide a decorative visual impact while adding permanent value to the home (backed by a 3-year warranty on the structure). The picture shows the Sonoma 12 with the optional lattice roof, wall panels and post-bases.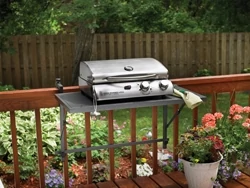 Deck Rail Folding Shelf
The Deck Rail Folding Shelf is an attractive, portable shelf that fits right on the railing of your outdoor patio space. It's a table that folds to allow room when needed and a storage/work area within a minute's notice. It's the perfect place to put your electric grill or to use as a food-prep surface. Conveniently designed for small outdoor spaces, the deck rail shelf fits almost any deck, patio or balcony railing and is the perfect space-saver for apartments and condos. The shelf has an antique bronze finish, assembles quickly and stores easily. Learn more at www.outdoorrooms.com.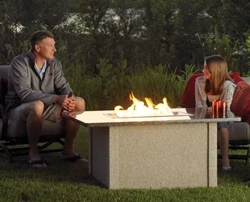 Grandstone Fire Pit Table
Light up the night and add warmth to your outdoor space with a beautiful fire pit, fire pit table, or tabletop model from the Outdoor GreatRoom Company. The warm and glowing fires will become the place to gather with family and friends for years to come. With several models to choose from, there's a warm, cozy fire for every space. The Grandstone Fire Pit Table (shown) comes with a beautiful granite top on a stucco base. It features heavy-duty construction but is light enough to move. The Grandstone is made in the USA, UL-listed and comes standard with a rectangular Crystal Fire burner. Learn more at www.outdoorrooms.com.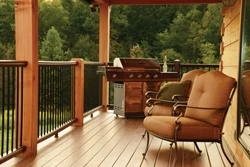 NyloDeck
Billed as the "'non-composite' composite", NyloDeck deck boards contain no wood or PVC, but instead are manufactured using recycled carpet fiber, making the material incredibly durable and eco-friendly. NyloDeck is impervious to moisture, rotting, termites, mold and mildew and possess excellent strength, durability and performance qualities. The deck boards are lightweight and UV-protected. Plus, a proprietary embossing process creates natural looking, unique wood-grain patterns on every board. According to the manufacturer, the material offers the best expansion and contraction rating of all composites, and the boards' strength and rigidity enable joist spans up to 24″ O.C. Visit www.nyloboard.com.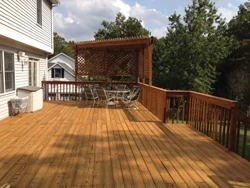 Armstrong-Clark Wood Stain
Protect your outdoor wood with Armstrong-Clark wood stains.
Used for years by the EHT staff, Armstrong-Clark offers coatings for all your wood, wood-shake restoration and water-repellant needs. The company specializes in oil-based coatings and non-toxic wood stains of all kinds. Unlike competitive products, the Armstrong-Clark stains can be applied in direct sunlight and the heat of the day. Drying oils, pigments and water repellents protect against water and UV damage and lock in the non-drying oils. For a look at the company's wide range of colors and products, check out the new website at www.armclark.com.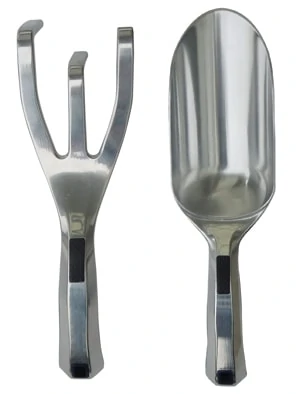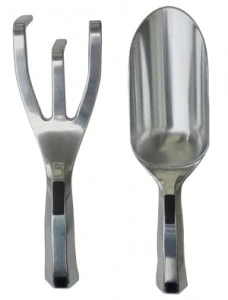 Alterra Aluminum Hand Tools
This collection of aluminum hand tools is perfect for the garden workhorse, including a hand trowel, transplanter with depth markers, cultivator, weeder with serrated edges, and an extra-deep scoop. Each tool's contoured, ergonomic grip allows you to garden all day without the painful hand fatigue caused by other tools. The tool is constructed from a single piece of lightweight aluminum that allows you to apply more force and gain extra leverage without worrying if it will snap or break. You'll slice easily through clay, dirt and pesky weeds with sharp and strong edges, and you'll never have to worry about your tools breaking on hard ground. The rust-proof material means you can forget the tools out in the garden, and when you do bring them indoors, the convenient hanging hooks allow you to store them easily.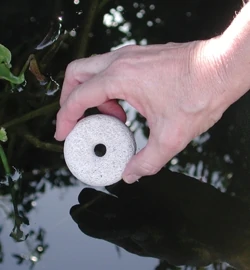 Mosquito Dunks
Homeowners looking for an effective way to control pesky, disease-spreading mosquitoes don't have to resort to harmful chemicals. Mosquito Dunks offer organic mosquito control, killing mosquitoes before they're old enough to bite. The active ingredient in Mosquito Dunks is BTI (Bacillus thuringiensis israelensis), a naturally occurring bacterium that's deadly to mosquito larvae but harmless to other living things. Mosquito Dunks, which look like small beige donuts, float on standing water and naturally kill mosquito larvae before they become adults. Just float the biodegradable Mosquito Dunks in ponds, birdbaths, fountains or wherever water collects. Mosquito Dunks are also approved for use in fish habitats and animal watering troughs. Each Mosquito Dunk will treat up to 100 square feet of surface water for about 30 days. Visit www.summitresponsiblesolutions.com.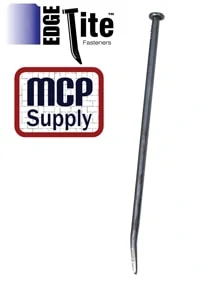 Edgetite Paver Edging Spike
The new Edgetite 10-in. Paver Edging Spike is billed as "the spike that works" for installation. When installing paver patios and walkways, the spike has many exceptional benefits, including a modified tip that forces an angular trajectory during installation.
Plus, they're easier to transport, weighing 45 percent less than a conventional 10-gauge spike. The design of the spike pinches paver edging at the paver's point of contact, which increases project strength, reduces shifting and also resists frost heaving.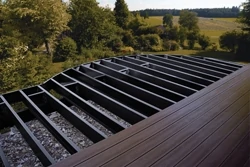 Trex Elevations Steel Deck Framing
Trex Elevations Steel Deck Framing System now offers a new galvanized steel post and joists in a greater range of lengths. Making it possible for contractors to construct a deck substructure made entirely of steel, the Trex Elevations Deck Support Post offers a preferable solution to pressure-treated lumber posts, which may warp, rot, twist, split or decay. Additionally, Trex Elevations joists are now available in one-foot length increments—ranging from 8 through 20 feet. These new options provide contractors with the ability to construct a deck to the nearest foot, which significantly reduces the number of jobsite cuts required and lowers the cost of labor for homeowners. Learn more at www.trex.com.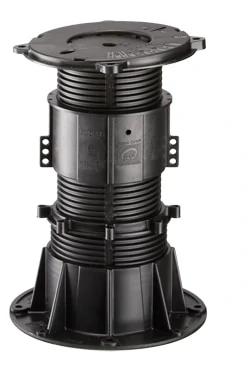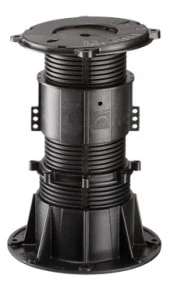 Buzon Pedestal
Buzon pedestals are used for the construction of roof terraces, pedestrian areas, walkways, roof gardens, pool decks, green roofs, and can be used with any type of decking material, such as natural stone, concrete slabs, wooden tiles or slates, and industrial gratings. To support all sorts of raised flooring applications, the Buzon pedestals are adjustable in height from 3/4 to 42 in. and can support 2,200 pounds. In addition, they're provided with a unique slope corrector that adjusts up to a 10-degree slope to create a level surface while the roof slopes below. The original brand of pedestal created 26 years ago, the Buzon product is made of high-strength recycled polypropylene to exact specifications that satisfy the precision requested by architects, specifiers and contractors. Learn more at www.buzon-world.com.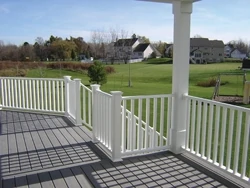 Yardcrafters Vinyl Railing System
For homeowners that are tired of rotting, cracking and warping wood railing systems, there is an alternative. Vinyl railing systems not only beautify your existing deck or patio, but also keep you and your family safe. Yardcrafters vinyl railing systems are easy to install with highly integrated precision-engineered components. Pre-routed rails and Tab-Lock balusters make Yardcrafters easier to install than wood railings. Install an entire Yardcrafters railing system in a single color or mix and match different colors and styles. Maintenance is also easy, especially when compared to wood systems. Homeowners can trade in their sanding equipment, paint brushes and hammers for simply a garden hose to wash down the vinyl railing.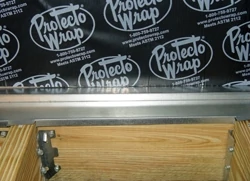 EverFlashing
Developed and patented by a carpenter with 28 years of experience, EverFlashing is a new type of ledger flashing. When attaching a deck to a house, building code requires house wrap as well as flashing a deck's ledger board. This is required to stop the rim joist from rotting and the deck pulling away from the structure. Everflashing has a siding flange to minimize water and dirt intrusion between the deck boards and the siding. The siding flange gives a clean, finished look to the decking where it meets the house. This also allows for the ledger board to be installed and the project sided long before the deck is built. Everflashing also has a 1/2-in. drip flange down the face of the ledger board to further ensure water protection. Everflashing comes in two sizes: 1-1/2-in. for standard ledger installations and 2-1/8-in. for deck-to-wall spacers. Available in 8- and 10-ft. lengths, the flashing is available in heavy gauge metals, stainless steel, G-185 galvanized and pre-painted aluminum.