The term "cladding" refers to a building or wall's outermost layer of material, often called "siding" when used for exterior applications. Cladding is also used indoors as a decorative design element. From the look of cedar shake to the charm of authentic brick, you'll find a vast range of styles and materials to achieve practically any look you can dream up. Here's a roundup of some of the latest options on the market.
Authintic Brick by Meridian Brick
Meridian Brick is a new company founded in 2016 through a joint venture of North America's most respected brickmaking organizations, Boral Bricks and Forterra Brick. At the 2018 International Builders' Show the company introduced Authintic Brick (shown at top), a genuine, classic, 100-percent fired clay brick, bringing all the traditional warmth and charm to any interior or exterior application. Authintic Brick is real, honest-to-goodness Meridian Brick—but just the brick face. A significantly lighter weight enables levels of design freedom not seen before in the brick industry, meaning simple installation with no more lost floor space. Weighing 70 percent less than traditional brick, Authintic Brick projects from the wall a mere 5/8 inch, offering a sleek profile a full 3 inches smaller than traditional brick. Available in a myriad of colors and profiles, it easily mixes with other façade or cladding materials. Authintic Brick is also manufactured from natural materials, so it's free of volatile compounds. With easy installation (via four simple methods), it can be used as a DIY project and applied almost anywhere in the home—ceiling, exterior gable, accent wall, fireplace surround, inside or outside. Visit meridianbrick.com.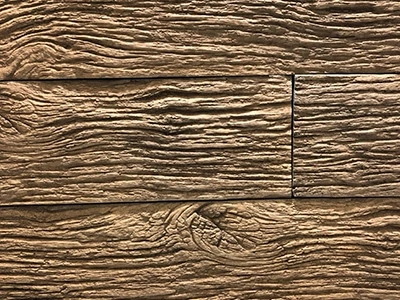 Barn Wood from Environmental StoneWorks
At the 2018 International Builder's Show, the EHT staff got to see and touch this product up close. Its authentic-looking detail is drool-worthy if you're looking for a rustic cladding with low-maintenance appeal. Brand-new from Environmental StoneWorks, Barn Wood combines the natural look of wood with the beauty, quality and easy installation of stone veneer. The convincing "weathered" texture and intricate color treatment make this new stone cladding look like it was rescued from a forgotten farmhouse, but it spares you the drawbacks of splinters and rot.
Another new option from Environmental StoneWorks is Clean Brick, which is precisely cut with a linear, modern look and is available in Slate Gray and Chalk Clean profiles. For more information, visit www.estoneworks.com.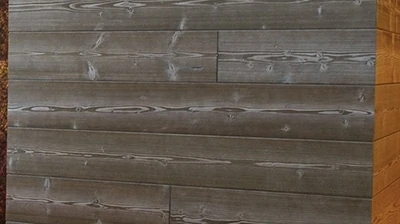 Thermory Drift Cladding and Decking
Drift is the latest innovation from Thermory USA—the world leader in thermally-modified exterior wood products since 1997. Created from thermally-modified spruce using a process of heat and steam that enhances the wood's stability and lessens its weight, Drift provides the increasingly-popular look and texture of reclaimed barn wood but with consistent quality, performance and supply. Available in both cladding and decking products, Drift has a Class 1 durability rating which equates to 25 years or more of rot resistance, far superior than any unmodified wood product. To learn more, visit www.ThermoryUSA.com.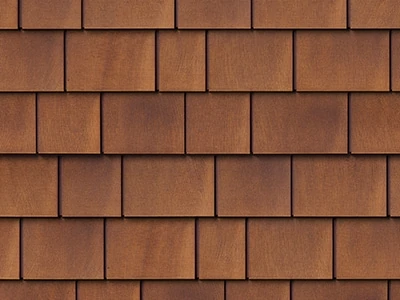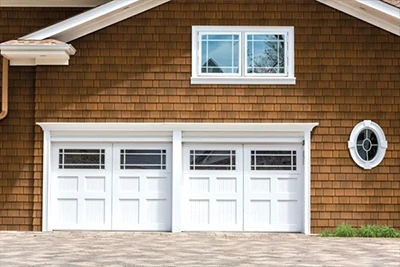 Beach House Shake by Tando
Derby Building Products exhibited Beach House Shake at IBS 2018. A low-maintenance exterior cladding option, Beach House Shake comes in three colors, Hatteras (mid-tone gray that emulates weathered white cedar), Pacifica (the look of new western red cedar), and Sandcastle (the look of fresh white cedar). All colors are indistinguishable from real cedar with natural, subtle variations, grains and saw-cuts. Whereas real cedar shakes will curl, crack, split and are subject to rot and decay from moisture, insects and the environment, Beach House Shake requires no upkeep and will not deteriorate. Featuring an authentic five-inch reveal, it is lightweight and available in one-course panels that can be installed by one person using regular woodworking tools and a nail gun. Impervious to moisture, Beach House Shake can be used at the roofline or ground level without issues, and it's backed by an industry leading 50-year "Performance Plus" warranty. Learn more at www.tandobp.com.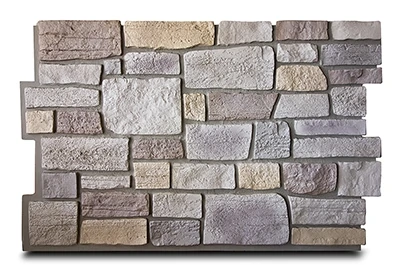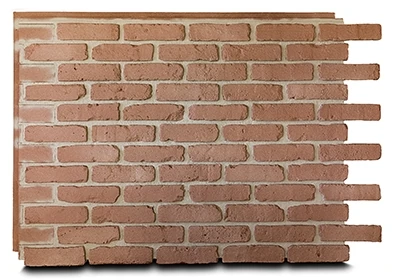 Brick and Stone Faux Masonry Panels from Nu-Wood
Nu-Wood, a leading synthetic millwork manufacturer, offers faux polyurethane brick and stone masonry panel options in eight different styles and 15 different hand-glazed and finished colors. A variety of profile molds are used for each panel design to eliminate repeat patterns, making the installation of multiple panels more realistic. The lightweight panels have interlocking joints for side-to-side installation ease along with overlapping top and bottom ledges. The durable faux masonry panels can be used for both interior and exterior applications on homes or commercial projects. Stone and brick styles available for the panels include: Castle Rock, Cobblestone, Fieldstone, Ledgestone, Stacked Stone, Weathered Brick, Classic Brick and Original Brick. Each panel size is between 33 and 37 inches high, with a length of about 48 inches, and since they're each individually hand-glazed and finished, no two panels are exactly the same. The slight color variations in each panel make them resemble natural stone and brick products. Made in America, the lightweight cladding is easy to install for both the professional and do-it-yourselfer. The interlocking panels are impact-resistant and molded from a resilient closed-cell structural polyurethane so they resist fading and will never rot, crack or attract insects. Learn more at www.nu-wood.com.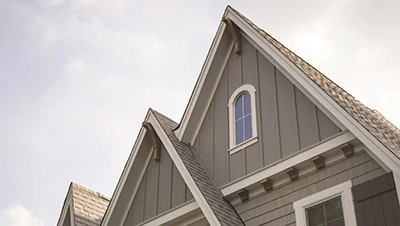 Two Additions to LP SmartSide
LP SmartSide is a durable siding product that offers the warmth and beauty of traditional wood with the durability of engineered wood. The new LP SmartSide Perfection Shingle features a fine sawn wood texture with no knots. With a 5-1/2- to 6-1/2-in. reveal, Perfection Shingle achieves a balance of cedar-like texture with the clean lines of shingles.
LP SmartSide has also added the new LP Cedar Texture Vertical Siding to its product line. The 16-ft. length allows for one-piece installation and eliminates horizontal joints. It can be used in combination with 16-ft. LP SmartSide Cedar Texture or Reversible Trim for a board-and-batten look. It can be used across the entire structure or used as accent panel on tall walls, vertical columns, gable ends and more.
Both new LP siding options are backed by a 50-year prorated limited warranty with a 5-year, 100-percent labor and material replacement warranty. Learn more at www.lpcorp.com.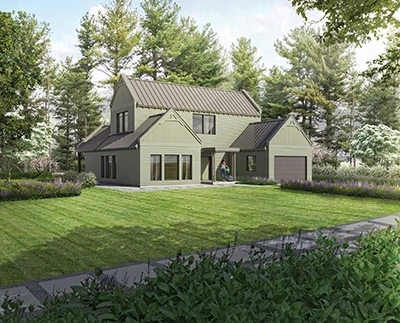 Aspyre Collection from James Hardie
The Aspyre collection is a new luxury siding option among the James Hardie fiber cement products. The collection combines two product lines that can be used individually or in combination for enhanced design possibilities. James Hardie paired the thick distinctive profiles of its Artisan siding with the smooth, geometric Reveal Panel System, allowing architects and builders to create designs that range from traditional to ultra-modern. The wide assortment of textures, profiles and products included in the new collection give designers the flexibility to create lasting, stand-out projects using the uncompromising performance and durability of fiber cement. Learn more at www.jameshardie.com.