By Matt Weber
Jigs and tool accessories provide a handy way to get more efficiency, more versatility or more accuracy from your powered equipment. Attach an auger to your drill/driver to plant a garden. Use an angle gauge to transfer a tricky crown molding angle to your miter saw. With the right accessories your tools can do more jobs, and do them better. Here's a handful of power-tool helpers that are currently on the market.
Power Planter Auger
Whether you're planting annuals, shrubs, bulbs, or are mixing paint or small batches of concrete, the Power Planter Auger will speed up your job dramatically compared to using a garden shovel or trowel. The #207 Power Planter Auger features a 3/8-in. non-slip hex drive that fits any 3/8-in. or larger corded or cordless drill. It's perfect for planting 4- and 6-pack annuals in containers or flower beds, as well as planting grass plugs. The 2-in. diameter by 7-in. long auger is constructed with a heavy-duty 5/8-in. steel shaft and durable 10-gauge flighting. The #207 Power Planters are hand-welded, hand-dipped in high quality gloss black enamel paint, and ship in a hangable box for pergboard storage. Power Planters are Made in the USA and come with an unconditional warranty on materials and workmanship, excluding normal wear and tear. Visit www.powerplanter.com.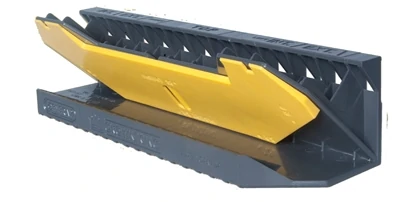 General's E-Z Pro Crown King
It's always a challenge to make accurate cuts in crown molding to create seamless joints at inside or outside corners. The new E-Z Pro Crown King (880) from General Tools & Instruments makes it a snap to cut crown molding accurately, eliminating trial and error and saving time and money.
Unlike other crown molding jigs on the market, the Crown King requires no assembly and is designed for the ultimate ease of use. It enables professional and DIY woodworkers to produce inside and outside corners with the three most common crown molding spring angles (38, 45 and 52 degrees). In combination with a miter saw, the Crown King can create precisely joining angles every time. Simply measure the corner angle, divide it by half, set your miter saw to that angle, cut and fit. No complicated compound miter angle calculations are necessary. Visit www.generaltools.com.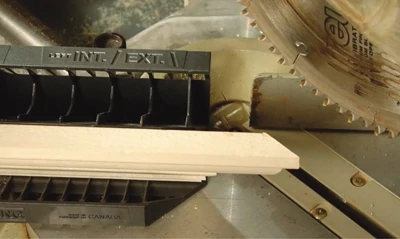 Spyder introduces the Skeleton Jig Saw Blades. These blades feature a number of unique design elements that produce a cleaner, straighter and cooler cut in hardwoods, softwoods, synthetics, plastics and engineered wood products. The rectangular channel section cut-outs dissipate frictional heat throughout the length of the blade so it stays cooler, resulting in less deflection and straighter cuts than a traditional jig saw blade. What makes the Skeleton Jig Saw Blade a cut above the competition is its rip-cut, gill-shaped teeth for highly clean and precise cuts. This design allows the blade to remove material on both the up and down strokes, and since the teeth maintain constant con-tact with the wood, the edges of the blade barely touch the sides of the cutting channel. Manufactured in Germany, the Skeleton Jig Saw Blades come in 10 TPI (Teeth Per Inch) and 12 TPI in both T-Shank and U-Shank configurations. Woodworking, multi-surface and combo packs are available. Visit www.spyderproducts.com.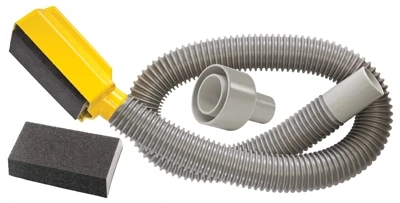 Hyde Dust-Free Sponge Sander
Convert your shop vacuum to a dustless sanding system with The Dust-Free Sponge Sander from Hyde Tools. This simple attachment cuts down on cleanup time by eliminating up to 95 percent of dust caused by sanding. It has a small profile, easy-to-grip sanding head for use on flat surfaces, edges and corners, and will fit any standard shop-type or industrial vacuum. It can be used to sand any wood, drywall or metal surface. In place of sandpaper, the Dust-Free Sponge Sander uses sanding sponges, which are both washable and replaceable. The kit includes a lightweight hand sander with two medium-grit sanding sponges and a vacuum hose. Visit www.hydetools.com.

Milescraft 1312 DrillBlock
The DrillBlock from Milescraft guides your drill bit for straight holes every time. The two V-grooves allow for drilling on corners and even cylindrical surfaces, too. The inserted solid metal guide offers the six common drill diameters: 1/8, 3/16, 1/4, 5/16, 3/8 and 1/2 inch. The metal guide is held at a tight tolerance and allows you to drill a hole 90 degrees to any surface, centered on a round item or even directly into the corner of your project. Centerlines ensure accurate alignment when drilling into various surfaces. The non-slip padding holds the DrillBlock in place when drilling. The ergonomic design of DrillBlock fits into the hands easily for comfortable usage. Visit www.milescraft.com.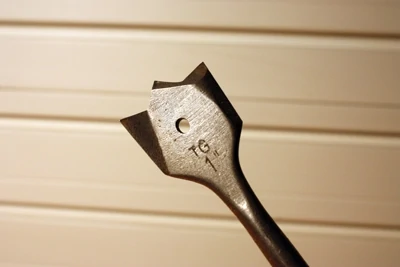 TG Tools Kik Spade Bits
For quick drilling of large holes, spade bits offer plenty of productivity with their paddle-like shape. The spade bits from TG Tools are engineered with 30 percent more cutting surface, resulting in faster boring and longer life. Plus, the Kik bits eliminate the spur commonly found on similar bits, which allows these spade bits to drill a curved hole. Great for plumbing and electrical installations, simply start the drilling as usual and you can angle a hand drill as you bore, altering the trajectory of the hole. The 7+1-pc KIK Spade Bit Combo includes 6 spade bits (plus a brad-point) and comes in a self-standing hinged case.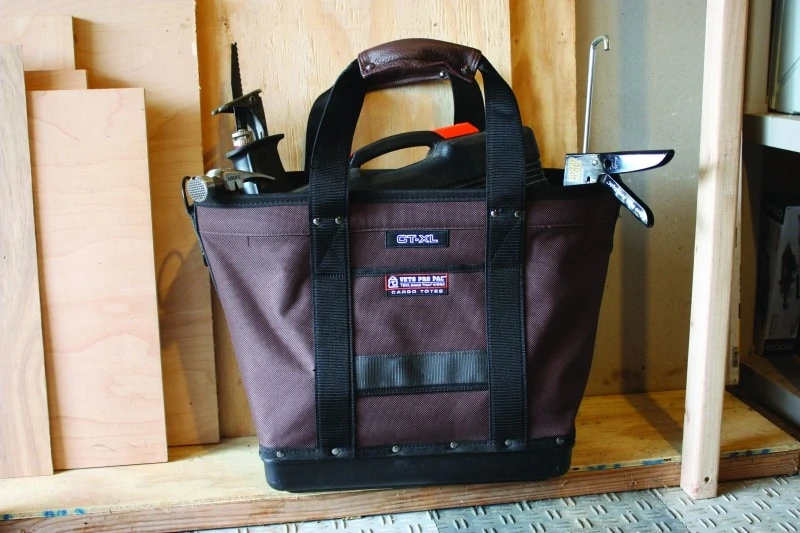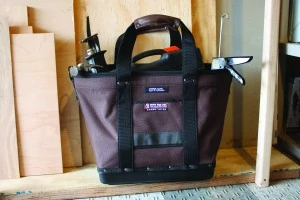 Veto Pro Pac Cargo Totes
Wouldn't it be nice to carry all your tools for a job in a single trip, without going back and forth to the truck or workshop? Veto Pro Pac has you covered. The new Cargo Totes are the first line of professional grade wide-mouth tote bags. "These rugged totes provide a versatile storage solution for a wide variety of job site situations," says Roger Brouard, founder of Veto Pro Pac. "They are perfect as a catch-all bag for raiding the van; a carry-all bag for end of day cleanup; and they provide a more efficient way to organize the back of the truck." Designed to stand up to the rigors of daily use, Cargo Totes feature 1800 Denier Body Fabric, leather handle grips and Veto's signature 3mm thick polypropylene waterproof base. The EHT staff has been hauling these Cargo Totes around every job since we got our hands on them because they add so much grab-and-go convenience for whatever mix of tools you need. Throw in your circ saw, recip, drill/driver and socket set. You'll be surprised how much can fit. Two sizes are available, both highly recommend. Visit www.vetopropac.com.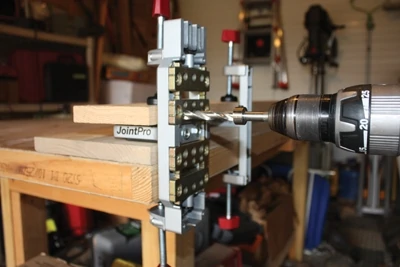 Milescraft JointPro
The 1311 JointPro jig from Milescraft makes it easy for even novice woodworkers to make professional-caliber doweled joints. The interchangeable hardened steel bushing blocks allow you to drill up to six matching holes per set-up quickly and accurately for edge, corner and surface joints. The self-clamping jig securely holds the work pieces in place and guides your drill for perfect hole placement. Two detachable clamps allow for horizontal or vertical positioning. The JointPro also includes non-slip pads that prevent the work-piece from slipping and marring. Visit www.milescraft.com.

Milescraft 8402 AngleFinder
AngleFinder is a reference for angle measurements for precise woodworking. Looking to divide your angle in half for miter saw set-up? The AngleFinder does all the work for you. The yellow angle divider divides any angle in half. It features an angle-measurement readout, allowing you to set your angle once determined. The locking lever lets you secure your angle in place while transferring it to your miter saw. Looking to find an angle in a tight spot? The retractable edge guides allow you to get into confined spaces and determine the angle. Visit www.milescraft.com.

Milescraft 1400 Universal SawGuide
The Milescraft 1400 Universal SawGuide serves as an edge guide for circular saws and both an edge and circle guide for jigsaws. The attachment works equally as well from the left or right hand side, and the exclusive trimming feature allows you to adjust length of cut by 1/8-in. increments without tools. Multiple holes in the guide head compensate for varying bar widths, ensuring precise alignment of the jig's blade when cutting circles. A tooth-gear design allows toolless exchange of the four different bars of varying widths to permit easy attachment to most circular and jigsaws. Visit www.milescraft.com.

Diablo Flush Cut Reciprocating Saw Blades
Freud America has introduced two new specialty flush cut blades for reciprocating saws. The new Diablo Flush Cut Blades are designed to handle nail-embedded wood and metal. These Bi-Metal Reciprocating Saw Blades come in 9- and 12-in. lengths (DS0194AFC and DS1214AFC) and feature the optimal flexibility to bend between or beneath boards for flush cutting. They have a unique tooth configuration for smoother cuts with less vibration and deliver up to four times longer cutting life than standard bi-metal blades. The new Flush Cut Blade features Perma-SHIELD non-stick coating that reduces heat, gumming and corrosion. Visit www.diablotools.com.