By Matt Weber
A Look at New Innovations in those Toolbox Staples.
From time to time the trusty old toolbox takes on a spacious quality, all sad, l lonely and in need of attention. Give it some overdue TLC by blessing it with some new hand tools. Surprise it with fresh pair of pliers, or maybe some unblemished wood chisels. Show that you're still interested. Your toolbox will love you for it.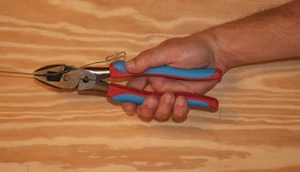 Channellock Lineman's Pliers
Channellock, granddaddy of the slip-joint pliers, offers two new upgrades to the company's selection of lineman's pliers for tackling any kind of rewiring or electrical work around the house. The company's 369 High-Leverage Lineman's Plier has a new design placing the rivet closer to the head, which gives the jaws greater leverage for cutting the thickest gauge wiring. The 369 has knife-and-anvil, laser-heat-treated cutting edges and the company's trademark Code Blue comfort grip handles.
Another take on the lineman's pliers from Channellock is the new fish-tape puller. When routing wires or cable through a wall, this specialty version of a lineman's plier has an innovative channel that runs from the tip of the jaws out the rear of the tool, providing clearance for the tape. The channel enables grabbing the end of a fish tape with the front of the pliers, rather than the side. This technique affords a better grip, more control when pulling, plus it doesn't bend the "hook" or kink the tape, which causes problems when trying to rout it through a wall. (www.channellock.com)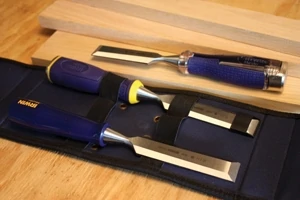 Irwin Marples Wood Chisels
A serious woodworker will guard their wood chisels like their children, lest some careless person abuse them as a prying or scraping tool. The new Irwin Marples wood chisels are exactly the type of pro-grade instrument you'll want to protect. Each chisel features a razor-sharp edge and high-quality hardened steel blade, but the latest line-up is designed for three distinct user groups.
For the precision woodworker who cuts dovetail joints, the new Woodworking Chisel features a 100 CRV blade, hardened to 58-61 HRC for improved sharpness and edge retention. Designed for manual operation or use with a wooden mallet, this bevel-edge chisel is structured with a slim handle for added control, precision and comfort (available in 10 sizes, from 1/8- to 2-in. wide).
The Construction Chisel has an all-purpose bevel edge with an upgraded hardened and tempered blade for jobs like mortising a door hinge or strike plate. With its ProTouch grip, the handle is comfortable to hold and its oversized steel strike cap can withstand repetitive hammer strikes (available in nine sizes).
The High-Impact Chisel features a fully-forged steel core for unbeatable durability while still providing the same quality cutting performance. The extra-large steel strike cap can withstand hammer pounding at multiple angles, and the split-proof acetate handle is reinforced for toughness (available in seven sizes). (www.irwin.com)

Bojo Composite Tools
Bojo Tools offers a broad line of composite-plastic hand tools for prying and scraping. The material is much more durable than the cheap plastic of disposable paint scrapers. The tools are designed to avoid damaging sensitive surfaces, unlike metal tools which are more abrasive.
Use composite pry bars to pull away automotive trim without damaging the paint job. Use a Bojo scraper to remove gasket material from an engine head without nicking the metal. The flat-bladed paint scrapers feature rounded corners, perfect for wallpaper removal without tearing the soft, chemically soaked paper face of the drywall. The composite tools offer endless applications when you need to avoid marking up or harming a work piece. Bojo even offers composite box-end wrenches, which are great for fastening battery terminals without discharging an electrical arc. (www.bojoinc.com)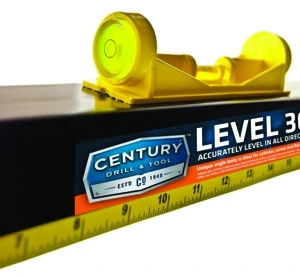 Level 360
The Level 360 from Century Drill & Tool has a patented design that places two bulls-eye levels on the frame, in addition to a linear bubble level. The bulls-eye vials allow the user to accurately assess full multi-directional leveling in horizontal applications with a single placement of the tool. The level's unique angled frame helps ensure positive contact with flat, angled or cylindrical surfaces. A great tool for framing, post installation, plumbing and conduit work, the Level 360 comes in three versions (12-, 24- and 36-in.) and is made of tough ABS resin to prevent warping or cracking in rugged jobsite conditions. (www.centurydrill.com)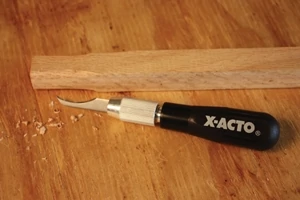 X-Acto Wood Carver
Excellent for shaping wood but also suited for cutting vinyl flooring, the new X-Acto wood-carving knife is a great tool with many uses. The knife works well with linoleum and plastic, and its concave blade allows the user to make custom niches and artistic cuts that would be very difficult to do with a straight edge. And because of the blade's shape, it can even be used to trim off excess shingles when you're putting a new roof on a shed or a house.

Bessey AV2
The natural expansion and contraction of flooring materials requires careful spacing between the floor and the wall. The new AV2 Flooring Spacer from Bessey Tools is designed to make floor installation easier for DIY'ers and pros alike. Setup is fast and simple. Just insert the AV2 between the wall and the first row of flooring and turn the red dial to adjust for wall irregularities. The spacer enables precise alignment with an integrated millimeter scale (5 to 20mm), and they're easy to remove—just rotate the dial to release. These compact spacers are roughly the size of a business card, and you can buy a set of four for less than $10.
Forrester Nailpuller
The Forrester Nailpuller is a handy deck and framing tool that uses leverage, rather than your back or elbow, to pull nails and screws—even without the heads.
A smart labor-saver on the jobsite, the Nailpuller features all steel construction, a durable handle with padded non-slip grip and replaceable nail-pulling teeth. It makes an excellent companion for Forrester's Duckbill Deck Wrecker pry bar for deck demolition. (www.deckwrecker.com)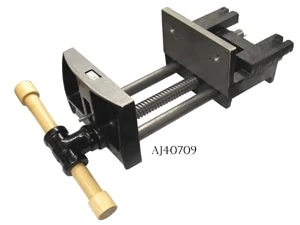 Jorgensen Vise
A good workbench deserves a quality vise, such as the Jorgenson Professional Woodworker's Vise from Woodworker's Hardware. This pro-grade vise includes a quick-release action that lets you bypass the screw for fast opening and closing. This feature is a definite time-saver when working with multiple work pieces. Built for speed and durability, the vise includes countersunk holes on the jaws allowing for optional wood facing. It will fit any bench up to 2-1/4-in. thick, offers a 9-in. jaw capacity and comes with a 1-in. diameter solid hardwood handle. (www.wwhardware.com)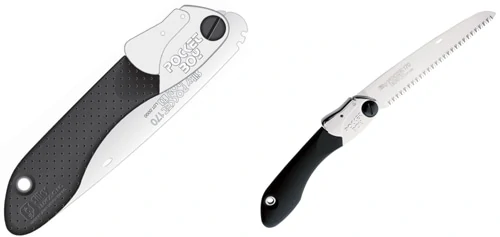 Silky Pocketboy Saw
The Silky Pocketboy Saw is a compact, lightweight folding saw with a 5-in. blade. It prunes branches up to 3-in. diameter and can also be used on wooden boards with superior finish quality. It features a rust-resistant, chrome-plated, taper-ground blade with a non-set tooth design for greater cutting efficiency. The
specially designed teeth are razor sharp to provide a fast, clean, smooth cutting action. The teeth are impulse-hardened to stay sharp longer and have a chrome finish to resist the effects of tree resin. The saw fits easily in your pocket, backpack or glovebox, and the blade is easily replaceable when it becomes dull or damaged. The blade locks securely in line with the handle or with the handle slightly elevated for flush cutting. The saw features a rubberized grip and comes in a plastic flip-lock carrying case with a belt clip. (www.packardwoodworks.com)