Circular saws are the go-to tools for making fast, accurate cuts in lumber, plywood, metal and more. Whether configured as a grab-and-go handheld, an angle-cutting miter saw, or a rip-ready table saw, these jobsite workhorses have been relied on for years for construction inside and outside the home.
These days, tool designers are tasked with making a good tool even better, and this article highlights some of the latest innovations in circ saws to hit the market.
Two from Evolution Power Tools
Evolution Power Tools, well known for its high-performance metal-cutting circular saws, recently let the EHT staff test a couple of their newest units with broader applications. This time we looked at the Evolution Disc Cutter as well as the Rage3 10-in. Multipurpose Sliding Miter Saw, and liked what we saw.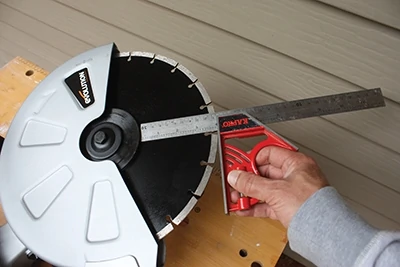 When you need to cut concrete, stone or brick, the new 12-in. Electric Disc Cutter is an ideal alternative to high-maintenance gas-power cutters. The saw comes equipped with a 12-in. diamond blade for all sorts of masonry and concrete work—and it will even cut reinforced concrete. The large-diameter blade enables a 4-in. depth of cut (although this should be performed with progressive cutting passes, rather than burying the blade all at once).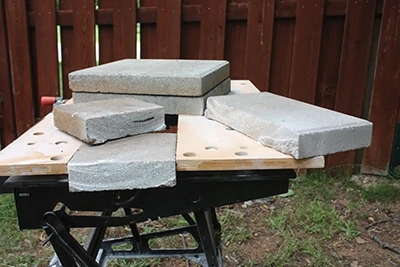 We had a stack of landscape pavers and a few clay bricks, all of which the Disc Cutter ate right through like they were tasty snacks. The saw is sturdily constructed for professional use with robust housing, ergonomic grip positions, and a 15-amp high-torque electric motor. Plus, since the Disc Cutter produces no emissions, it can be used inside enclosed areas. This saw has shot up the ranks as the EHT team's new go-to tool for building patios, sidewalks, retaining walls and more.
Next up is the RAGE3 10-in. TCT Multipurpose Sliding Miter Saw. This one saw cuts steel, aluminum and wood using the same blade. The saw is built with a high-torque motor that runs at a lower RPM than most other brands. The lower speed reduces motor stresses and is suited for the company's advanced TCT (tungsten-carbide tipped) blade technology, which gives the Evolution Multipurpose blade its optimum performance across a variety of materials. With steel, it leaves a clean cut with an instantly workable finish, producing no heat, no burr and virtually no sparks. We tested the cutting performance of the Rage saw on rebar, threaded steel rod, aluminum pipe and 4×4 lumber. It didn't so much as flinch.

This versatile cutting technology combined with a sliding miter saw setup affords a huge range of applications. The Rage3 Multipurpose Sliding Miter Saw includes a tilt and slide mechanism for long angled cuts, plus a laser guideline for greater accuracy. We were impressed with both tools and are anxious to see what Evolution comes up with next. Visit evolutionpowertools.com.
Festool HK/HKC Carpentry Saws
Festool has introduced the HK (corded) and HKC (18V cordless) Carpentry Saws with an integrated guide rail. Festool claims these new saws will revolutionize carpentry, framing and other construction applications, by allowing users to make exact and repeated cuts in dimensional lumber and sheet goods anywhere the material is located (versus taking the material to the tool or to a sawhorse setup).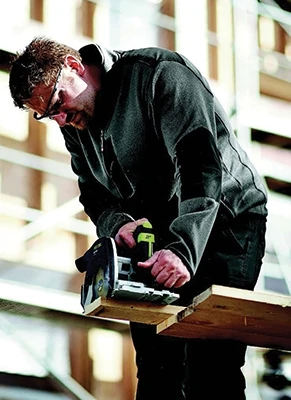 The HK/HKC saws are equipped with a plunge-cutting feature for cut-outs with easy depth control and release. Need to make a hole in plywood for a window or cut access for HVAC duct? Just position the saw over the cutline, and depress the plunge trigger to drop the blade without the need to tilt the footplate or approach from the edge of the workpiece. The integrated pendulum cover with riving knife automatically retracts when combined with FSK and FS rails for a fast return to cover position.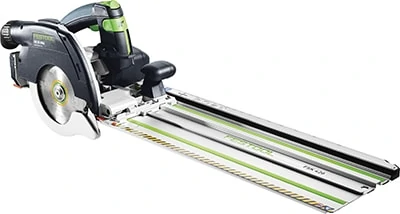 The FSK Guide Rails also have integrated angle stops for greater accuracy on repeated cuts.
"With the HK/HKC, we've taken our industry-leading tracksaw and plunge-cut technology and applied it to build a completely new kind of carpentry saw," says Leo Zirkler, Vice President of Marketing at Festool USA. "We have succeeded in building a carpentry saw with miter saw precision in the size of a sidewinder."
The EHT staff tested the HKC (cordless), which is part of Festool's 18V Power Select platform, which features interchangeable batteries and chargers across its entire line of cordless power tools. The HKC model eliminates the obstacle of the power cord while generating plenty of muscle for cutting 2x material. The plunge action works smoothly, and the gliding action of the saw slices right along the cutline with pinpoint accuracy. Festool makes impressive professional-quality tools, and the new HK saws are sure to win the company new fans. Visit www.festoolusa.com or www.festoolcanada.com.
DeWalt FlexVolt 60V MAX* Track Saw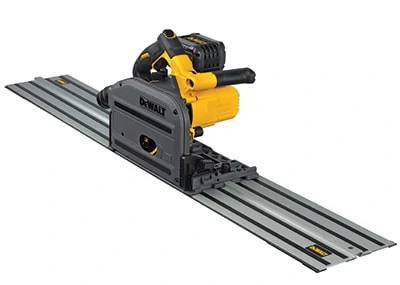 DeWalt takes a similar track with its new FlexVolt 60V MAX* 6-1/2-in. Track Saw (DCS520), combining the convenience of cordless with the precision, portability and versatility of a corded track saw. With an efficient brushless motor, specially designed transmission, and precision-ground woodworking blade, the FlexVolt track saw delivers a finished edge just like a table saw. It's capable of an on-track cutting depth of 2-1/8 in. at 90 degrees and 1-5/8 in. at 45. A depth scale indicates exact depth of cut down to 1/16 in., accounting for the thickness of the track. With straight plunge and a parallel-link plunge mechanism, the saw can be used in a variety of ergonomic orientations, and the dual-edge track allows for fast tool setup. Other features of the saw include an anti-kickback function with integrated shoe and a variable-speed motor. The anti-kickback function stops the saw from moving backwards along the rail or from climbing out of the workpiece when making plunge cuts. The variable speed motor allows the user to change the speed of cut that's best for the material type. Accessories sold separately for the Track Saw include 46-in. Track, 59-in. Track, 103-in. Track, and a Track Connector. Visit www.dewalt.com.
The Concrete-Cutting Medusaw from Skilsaw
The Medusaw is the first saw that delivers a complete concrete cutting system with Skilsaw's proven worm-drive power and durability. This saw was engineered with an integrated wet/dry dust management system to control dust, allowing for cleaner cuts, and GFCI protection. The Medusaw features a Cut-Ready adjustable plunge lock that facilitates quick, accurate and consistent plunge cuts. The saw also has an integrated rolling foot plate with rubber wheels to help it move smoothly across hard surfaces. Rust-resistant brackets and fasteners protect against corrosion. The tool also includes a retractable front pointer to accurately guide the saw along the cut line, and it retracts for tight spaces. The Medusaw comes equipped with an onboard multi-function wrench, making it easy for users to change the blade, oil, brushes, water-feed attachment and wheels.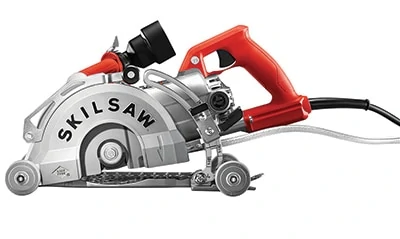 "With the Medusaw, we built features into the tool so you don't need a second person to hold a vacuum or water hose to collect the dust; or a third person to hold a board down onto the surface to make a straight cut," says Gregg Mangialardi, Skilsaw product manager. "Watch the Medusaw revolutionize the way workers cut concrete by combining all of the attachments of aftermarket products into a single, dedicated tool." Visit www.skilsaw.com.
Two from Milwaukee Tools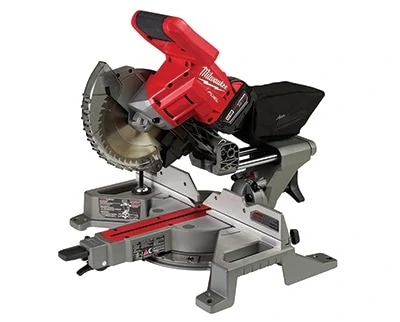 Claiming the title of "lightest weight miter saw in the industry," Milwaukee Tool's new M18 FUEL 7-1/4-in. Dual Bevel Sliding Miter Saw weighs only 28 lbs. with battery. Ideal for professionals who need easy transportation on, off, and around the jobsite, this compact and portable unit is the only 7-1/4-in. saw in its class that bevels left and right. It includes integrated side and top carry handles and delivers 5,000 RPM for smooth, fast cuts. A handy solution for trim installation, the saw can complete over 600 cuts in 3-1/4-in. baseboard or up to 300 cuts in 2×4 on a single battery charge.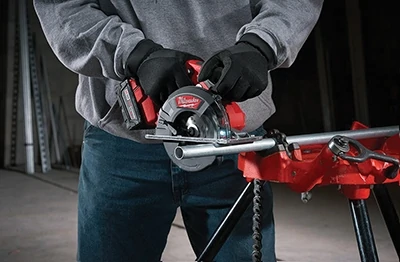 Also from Milwaukee Tool, the M18 FUEL Metal Cutting Circular Saw delivers up to 370 cuts in 3/4-in. EMT (electrical metal tubing) per charge, which is 1 cut per minute for over 6 hours straight. A PowerState Brushless Motor with 3,900 RPMs delivers the fastest cutting speeds and longest tool life on the market, according to the manufacturer. The new metal saw also features RedLink Plus Intelligence, an advanced system of cordless electronics, for maximum performance. Both models (5-3/8-in. or 5-7/8-in.) feature a compact, low-profile design for easy handling and increased control. And at only 5.9 lbs, this lightweight circular metal saw delivers easier overhead cuts and less user fatigue. Included is a 30T Carbide-Tipped Metal Saw Blade for cool, burr-free cuts through EMT, strut, threaded rod, sheet metal, angle iron and other ferrous materials. Visit milwaukeetool.com.
Worx 3-3/8" Cordless Compact Circular Saw
The new 20V 3-3/8-in. WorxSaw Compact Circular Saw weighs only 4.1 lbs. (including battery) for easy handling and portability. It features a slim, inline grip with integrated safety trigger, and its nylon-composite body provides comfortable, one-hand operation, especially when cutting overhead. A narrow base plate permits cutting in spaces that are too tight for standard, 7-1/4-in. circular saws to operate. The left-sided blade design allows unobstructed cut-line visibility.

The WorxSaw also features a 3-3/8 in. thin-kerf blade that is less than half the thickness of a standard 7-1/4-in. blade. This thinner blade reduces resistance and motor strain when cutting through materials. The mini saw's depth-of-cut is 1-11/16 in. for quick and precise cuts, including plunge cuts, in 1x lumber.
A depth-of-cut knob adjusts the blade in 1/8-in. increments. By changing blades, the saw also cuts flooring, plastics, ceramic tile, slate, aluminum and sheet metal. Powered by a compact, 20V MAX Lithium 1.5 Ah battery, the WorxSaw comes with a dust-extraction port and a parallel edge guide to set up accurate rip cuts. Visit www.worx.com.
Makita 18V X2 LXT (36V) Rear Handle 7-1/4" Circular Saw
The 18V X2 LXT (36V) Lithium-Ion Brushless Rear Handle 7-1/4-in. Circular Saw (XSR01PT) is powered by two 18V LXT Lithium-Ion batteries for maximum performance, and has an electronically-controlled BL Brushless motor that matches torque and RPM to the application. The 36V power means freedom from the cord, even for demanding applications like cutting sheet and dimensional lumber that traditionally call for a corded saw. Best of all, 18V X2 LXT means users can remain in one battery platform, using the same fast-charging 18V batteries with the XSR01PT as they use across the Makita 18V LXT cordless tool series.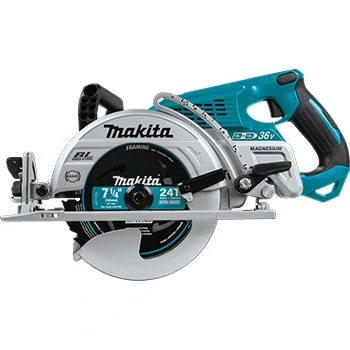 Users of leading corded saws will appreciate the blade-left, rear-handle design. The electronically-controlled brushless motor delivers a full 5,100 RPM for efficient cutting. In internal testing, the saw made up to 558 cross-cuts per charge in 2×4 SPF lumber using two fully-charged 5.0Ah batteries. Added features include a large 2-9/16-in. cutting capacity at 90 degrees that will cut 3x lumber in a single pass. Visit www.makitatools.com.