The National Hardware Show is where new tools and products are introduced to the world and eventually make their way to your local hardware store. Held this year in Las Vegas, Nevada, from May 4-6, attendees get to explore the products and connect face-to-face with the people behind the innovations. The show provides an excellent opportunity to discover new brands and money-saving deals through show specials and exhibitor discounts. Extreme How-To is proud to be a sponsor of the event, and we offer this preview of products to be exhibited on the convention floor.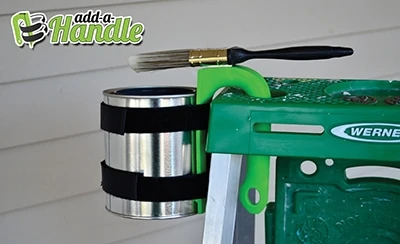 Add-a-Handle
Add-a-Handle is a new multi-use tool for carrying, pouring, holding or hanging anything up to 30 lbs. with comfort and ease. Originally designed for attaching to quart-size paint cans, its uses are practically limitless. Add-a-Handle is comprised of one strong lightweight plastic handle with two 18-in. Velcro buckle straps and a magnet placed on top for resting a paint brush. The straps are removable and adjustable with easy-pull tabs, making it handy for anyone to adjust them individually for size or height to fit any project. Add-a-Handle is simple, easy to use, and saves time on every project, be it carrying a ladder or a wine bottle. Add-a-Handle is made in the USA with genuine Velcro brand straps. See why it won the NRHA 2015 Retailer's Choice Award at Add-a-Handle.com or visit booth 4528.

Channellock Hand Tools
Throughout 2016, Channellock will introduce a number of new products and innovations from their plant in Meadville, Pennsylvania, USA. These products are being developed to meet the needs of professionals and serious DIY'ers with the same commitment to quality and purpose that Channellock is known for. A commitment to manufacturing quality products in the USA for 130 years has built Channellock, Inc.'s reputation as a leader in the hand tool industry. One of the hallmarks of their tools is dependability so when they change something, they make sure it's a needed change that will make the users' jobs easier.
"We invented the tongue-and-groove plier in 1933, and it has been an industry-best tool ever since," says Jon DeArment, President and COO of Channellock, Inc. "Unlike our competition, we don't waste time constantly trying to design the latest gizmo or gadget to add to pliers. Instead, when we change something, we make sure it's a needed change for tool users that will make their jobs easier and add more value to the product." Visit booth 7226 or channellock.com.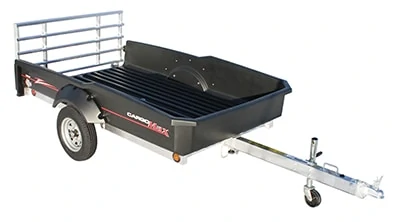 Cargo Max XRT
Putting "utility" in "utility trailers," the FLOE Cargo Max XRT 8-57 multifunctional trailer remains unrivaled in its construction and function, and could render the archetypal, antiquated steel-frame and wood-box trailer obsolete. The nearly indestructible polymer UltraBody and aluminum frame superstructure will never rust, rot or need paint. The Cargo Max is extremely rugged, yet lightweight and low-maintenance. The Cargo Max XRT weighs only 300 lbs. but has a load capacity of 1,800 lbs., and measures 97 inches long and 54 inches wide (between wheel wells).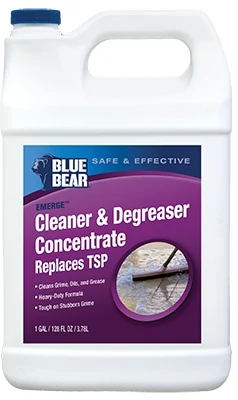 Blue Bear Strippers & Cleaners
Franmar will exhibit the Blue Bear product line at this year's National Hardware Show. Creating effective solutions that are safe for the user and the environment has driven Franmar for more than 30 years. Stripping paint can be a labor-intensive project, especially when there are multiple layers of coatings. Blue Bear Paint & Urethane Stripper simplifies the task, removing multiple layers of coatings with a single application. Remove paint from intricate millwork without sanding or dipping the project into hazardous chemicals. Just apply the Paint & Urethane Stripper and let it do the work for you. The Blue Bear line also extends beyond just paint removal, featuring products to clean and degrease a surface prior to recoating, mastic and adhesive removers, along with building cleaners, brush and spray gun cleaners, as well as saw blade and drill bit cleaners. Visit franmar.com or watch a demonstration at booth 4934.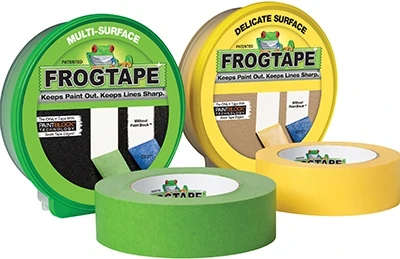 FrogTape Brand Painter's Tapes
FrogTape is no longer a new product; it's well on its way to becoming a staple in the DIY painting industry. FrogTape is the only painter's tape treated with patented PaintBlock Technology. PaintBlock reacts with the water in latex paint to form a micro-barrier against paint bleed giving you the cleanest, sharpest lines possible. FrogTape Multi-Surface has a medium adhesion that can be used on cured painted walls, wood trim, glass, metal and more.  FrogTape Delicate Surface has a lower adhesion to prevent damage on surfaces such as fresh paint (at least 24 hours old), wallpaper and faux finishes. No matter your painting project needs, FrogTape offers an easy taping solution. For more information, visit booth 5615 or frogtape.com.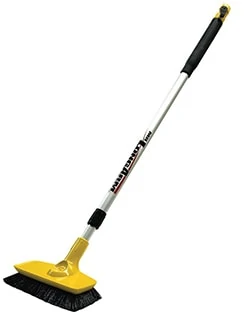 Mr. LongArm
The world's leading US manufacturer of quality extension poles and accessories since 1958, Mr. LongArm designs and manufactures the largest selection of painting and staining poles for both the professional and do-it-yourselfer. The product line includes window and solar panel cleaning equipment, flow-through cleaning brushes and accessories, bulb changers, letter changers, equine products and more. The products are distributed in more than 50 countries worldwide, and custom manufacturing is available for a variety of industries.
This year Mr. LongArm's NHS booth will feature an interactive virtual home, highlighting the company's solution-based products for home maintenance. The award-winning Woodmates stain applicator products will also be highlighted. Designed specifically for wood staining, they feature tear-resistant foam pads that hold and release more stain than other pads and remove easily via a hook-and-loop system. Visit www.mrlongarm.com or booth 5215.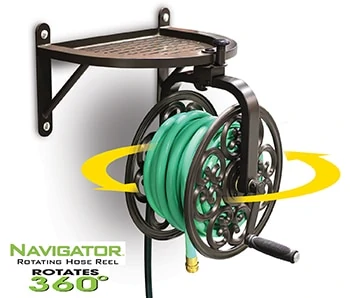 Liberty Garden Products
Since 1989, Liberty Garden Products has led the way in designing new and smarter ways to store and utilize garden hoses. Liberty Garden metal hose reel storage products have set the bar in quality and craftsmanship. With styles ranging from classic to contemporary, the company uses the finest materials to create beautiful and practical designs that add class to any home or garden. All Liberty Garden hose storage products are tough enough to handle the rigors of most outdoor elements. Using powder-coated steel, cast aluminum and all brass fittings, they stand the test of time unlike their plastic competitors. Visit www.libertygardenproducts.com or booth 11809.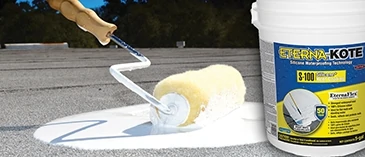 Eterna-Kote Silicone+ Roof Coating
Eterna-Kote Silicone+ Roof Coating provides the ultimate in waterproofing protection, delivering a seamless barrier that even stands up to ponding water challenges associated with flat roofs. The product provides excellent chemical, heat and weather resistance with long-term watertight security. The coating is also flexible, stretching to prevent cracking. In addition to waterproofing, Eterna-Kote includes eco-friendly features and application advantages, saving time, energy and money. Eterna-Kote is CRRC (Cool Roof Coatings Council) rated and low in VOCs, meeting all national air quality standards. Eterna-Kote's bright white finish keeps roofs cooler, resulting in potential energy savings and reduction of peak energy demands. Contractors will appreciate the application advantages of Eterna-Kote, too. This high solids formula is easy to apply and quick curing, so coating jobs finish faster. The product is also more accommodating to temperature ranges, allowing for application at both lower and higher temperatures. Visit Gardner-Gibson at NHS booth 5126 for hands-on experience or visit www.gardner-gibson.com.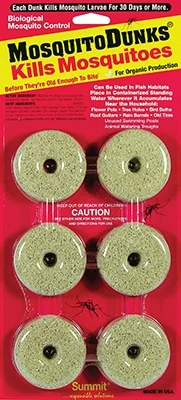 Mosquito Dunks
The key to preventing mosquito-borne diseases such as West Nile virus, Zika virus and Chikungunya is controlling mosquito breeding grounds. Mosquito Dunks are the top selling biological mosquito control because they kill mosquitoes before they're old enough to bite. The active ingredient in Mosquito Dunks is BTI, a natural bacterium that kills mosquito larvae but is harmless to people, pets, fish, plants and wildlife. When a donut-shaped Mosquito Dunk is placed in standing water, the BTI in the Dunk will kill mosquito larvae for up to 30 days. Just float biodegradable Mosquito Dunks in ponds, birdbaths, rainbarrels, fountains, and any standing water. They're approved for organic use as well as for use in animal water troughs and fish habitats. In places where small amounts of water collect, such as potted plant saucers and tree holes, use a granular form of BTI called Mosquito Bits. Mosquito Bits can also be used to kill mosquito larvae in swampy areas and larger areas where water cannot be drained. Mosquito Bits are also approved for fungus gnat control in potted plants. Visit booth 11110 or www.summitresponsiblesolutions.com.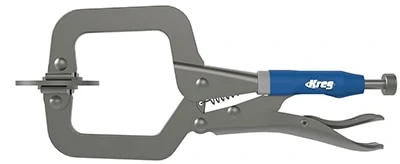 Kreg Classic 2″ Face Clamp
Kreg Tool Company's all-new Classic 2-in. Face Clamp (Item# KHC-MICRO) offers the features, versatility and durability of the company's current Face Clamp, but is sized smaller for use in tighter spaces and by people who prefer a smaller clamp. Plus, the Classic 2-in. Face Clamp is attractively priced below $15 (U.S.), making it an excellent value. The clamp is perfect for pocket-hole joinery, project assembly, general clamping, repairs and more. It features swiveling pads, locking jaws, adjustable clamping force, non-marring clamp face, as well as a 2-in. reach and 2-1/4-in. capacity. Visit kregtool.com or booth 4039.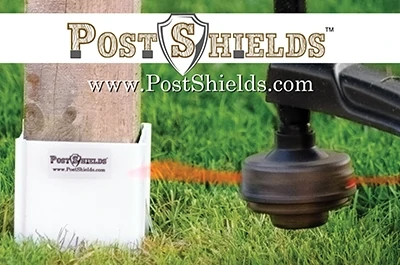 Post Shields
Post Shields are a simple low-cost solution to protect mailbox, deck, pergola and fence posts from unsightly damage caused by lawn equipment. Homeowners love the look of a natural wood post, but maintaining them is time-consuming and expensive. As soon as you finish painting or installing the post the lawn equipment starts tearing them up. Lawnmowers and grass trimmers damage the bottom of posts, and the exposed wood will deteriorate faster, look unsightly and attract insects. You can now affordably protect your posts and maintain the beauty of your property with Post Shields, which look great and are easy to install on new or existing posts with no tools necessary. If your posts have already taken a beating, use Post Shields to cover the damage and immediately stop further destruction. They are available in multiple colors, post and height sizes. Visit PostShields.com or NHS booth 10177 located in Lawn & Garden at the Made in USA Pavilion.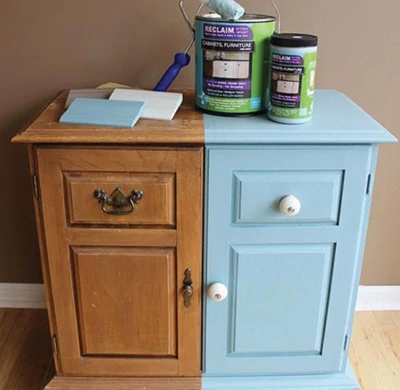 Reclaim
Reclaim is a revolutionary line of refinishing products and decorative paints that allows you to drastically improve your home in less time, with less effort, for less money. The kits ensure professional results without the hard labor, enormous time commitment and big price tag of competitive products. Whether you're looking to refinish your cabinets, furniture, counter-tops or add a little flare to a room, Reclaim does it all. Reclaim water-based paints are three products in on—primer, bonder and finisher—to save time, effort, money and mess. Available in 12 designer colors for Cabinets and four designer colors for Countertops, reclaim eliminates the need for stripping, sanding or priming. Just make sure the surface is clean and free of wax, oil and dirt. Reclaim is formulated to make virtually any surface paintable. When cured, the finish coat is durable, chip-resistant and washable with mild soap and water. Visit www.reclaimbeyondpaint.com or booth 5232.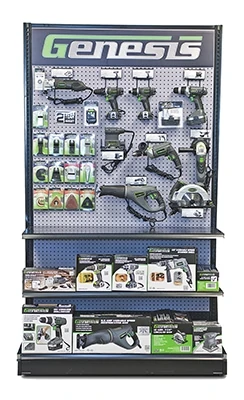 Richpower Tools
Richpower Industries is a manufacturer and importer that has been in business since 2002, providing full lines of high-quality, innovative products to the hardware, home center, farm and home, and industrial channels. The current major product lines are Genesis Power Tools, Powersmith LED Work Lights, and Powersmith Ash Vacuums. Richpower emphasizes product design, quality control, packaging, merchandising and after-sales service to help wholesalers, co-ops and independent retailers to compete against the big boxes. Visit booth 6648 or www.richpowerinc.com.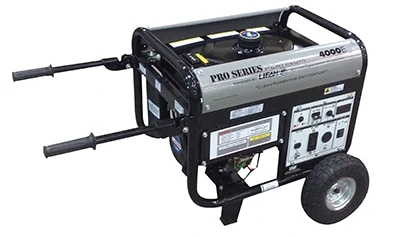 Lifan Power USA
Lifan Power USA offers the full line of Lifan Power Equipment, including quality generators, digital inverter generators, water pumps, pressure washers and engines at extraordinary value. The company's Platinum Series Portable Generators contain low THD (Total Harmonic Distortion) alternator technology, which produces "Clean Energy" with a Sine Wave Distortion of 5 percent or less. With this "Clean Energy," all of your sensitive tools and equipment can be powered safely, without the risk of damage. For maximum conductivity, the Platinum Series Portable Generators use 100-percent copper windings and welded magnetic plates to produce clean dependable energy. Visit www.lifanpowerusa.com or booth 7240.

TG Tools Brad Point Bits
An innovative concept in brad-point design comes from TG Tools. The Kik brad-point bits are tipped with six cutting edges to provide 20-percent more cutting surface when compared to standard brad-points. This means the Kik bits bore faster, cleaner and last longer due to decreased wear. In fact, the tip cuts so aggressively that it necessitated an extraction ridge inside the flutes to remove material quickly and prevent heat buildup. Visit www.mytgtools.com or booth 5044.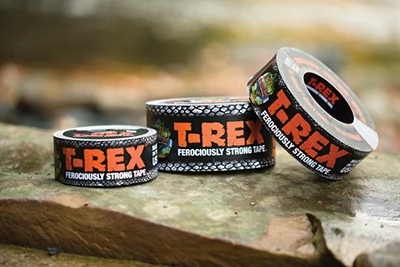 T-Rex Tape
T-Rex Tape from ShurTech Brands, LLC, is specially designed for all-weather protection to work longer and hold stronger than other utility tapes. Whether it's simple, around-the-house fixes, or extreme industrial repairs on a work site, there's no project too big or too small for this hard-hitting tape. The double-thick, super-aggressive adhesive allows the tape to offer superior hold on more surfaces than other ordinary tapes, including rougher and dirtier surfaces in a wide range of temperatures and humidity levels.
T-Rex Tape also is specifically designed with a thick sun-resistant skin that gives the tape its holding power, inside or outside. Visit NHS booth 5615 or trextape.com.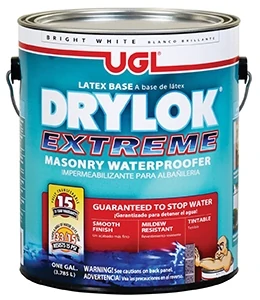 DryLok Masonry Waterproofer
Both the latex and Extreme versions of DryLok Masonry Waterproofer have been tested to ASTM D 7088 to determine the Pounds Per Square Inch (PSI), as well as ASTM D 6904-tested to withstand wind-driven rain. Both products can be applied on the positive or negative sides of masonry surfaces, above or below grade. DryLok Masonry Waterproofer is America's most versatile masonry waterproofing paint. It can be used on new or old concrete, basement walls, fish ponds, birdbaths, retaining walls, masonry building exteriors and as a foundation coating. Sprayed, brushed or rolled, DryLok is a proven solution to water seepage. Visit www.ugl.com and booth 5921.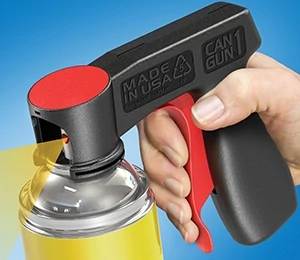 CanGun1
SafeWorld Int'l. offers the CanGun1 premium spray can tool that features the world's first FullGrip trigger with a 3:1 leverage advantage. The CanGun1 makes spraying the contents of virtually all standard spray cans of paint, lubricant, adhesives, etc. considerably easier, while providing professional results every time. The patented pistol-grip accessory easily snaps onto standard aerosol spray cans, transforming them into pro-style spray guns with unprecedented control for hours of effortless, pain-free spraying. The exclusive ergonomist-tested and arthritis-friendly design also makes it suitable for use while wearing gloves. The reusable CanGun1 is made in the USA with 80-percent recycled non-toxic plastic and recyclable packaging. Visit www.cangun1.com or booth 4909.

Gorilla Heavy Duty Construction Adhesive
Gorilla Heavy Duty Construction Adhesive is a tough, versatile, all-weather adhesive. Unlike other construction adhesives, its 100-percent adhesive formula provides a long-lasting, heavy-duty bond. The gap-filling, durable, waterproof formula is perfect for indoor and outdoor projects, holds in 30 seconds, and bonds virtually anything, including subfloor, mirrors, trim, drywall, landscaping, bath surrounds, foamboard, marble and more. Visit www.gorillatough.com or booth 4715.