Cor-A-Vent Sturdi-Spacer
Cor-A-Vent Inc. offers the new Sturdi-Spacer, a heavy-duty, breathable spacer strip for retrofitting new metal roofing over existing shingle roofs. Sturdi-Spacer installs in continuous rows, 2-feet on-center up the roof, just like wood batten strips. The difference, though, is the airflow; Sturdi-Spacer allows over 3 square inches of Net Free Vent Area to create a breathable batten system between the two roofs, allowing trapped moisture to drain away and fresh air to pass through. Create a minimum 1/8-in. air gap at the bottom of the roof behind the drip edge, and Sturdi-Spacer will provide an extra boost of intake ventilation from the eave to the ridge, enhancing the performance of ridge/exhaust ventilation at the top of the newly-installed metal roof. Sturdi-Spacer is made from 5/16-in. (8mm) thick single-ply polypropylene plastic and comes in strips that are 2-inches wide by 4-feet long. They are power-nailable and power-screwable, and will not compress like other commercial spacer products on the market. Metal panels or hidden clip systems can be applied directly to the Sturdi-Spacer for easy installation. Visit www.cor-a-vent.com.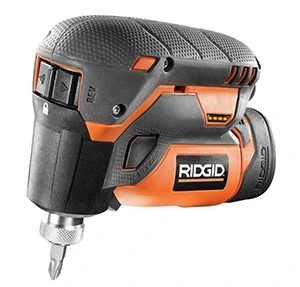 Ridgid 12V Palm Driver Kit R8224K
Ridgid introduces the 12V Palm Driver Kit with Push-To-Drive Technology. This new technology has a pressure-sensitive variable speed switch that controls the speed by pushing down on the tool, which eliminates the need for a trigger and allows you to hold the tool in any orientation. This innovative new technology along with a compact profile allows you to get into the tightest spaces. Features include a Battery Fuel Gauge to easily monitor battery charge level, a Grip Light that engages an LED, a One Handed Quick-Load Collet for easy bit changes, and a Micro Texture-Grip for maximum user comfort. Visit www.ridgid.com.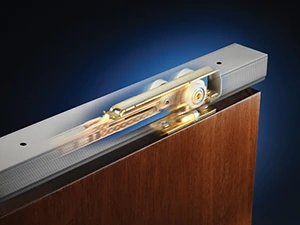 New Soft Close Sliding Door Hardware
Add a touch of luxury to your home with Johnson's innovative soft close sliding door hardware. Created due to popular customer demand, the soft close hardware works like a cabinet door closer with pocket, sliding and wall-mounted doors. This enables doors to open effortlessly, and close quietly and securely. There are many benefits, especially for homes with children or older adults. Soft close sliding door hardware prevents door slamming and significantly reduces noise, which makes it perfect for bedrooms with light sleepers and infants. The smooth, soft closing action helps prevent pinched fingers between the door and the jamb, as well as provides privacy. As an added bonus, it also reduces wear and tear on your door and jamb. Soft close sliding door hardware is easy to install and will take a handyman less than an hour. It is designed for use in new or retrofitted installations with Johnson Hardware pocket door, sliding and wall mount door systems. Visit www.johnsonhardware.com.