Ridgid R4090 Tile Saw, "The Beast"
The EHT staff has relied on Ridgid wet saws for years, and we recently had the opportunity to test "The Beast"—Ridgid's new "best-in-class" 10-in. tile saw (Model R4090). We decided that "The Beast" is an appropriate nickname for this monster saw that should offer tile professionals everything they could want in a high-capacity cutting machine. It features a variable-speed motor to adjust cutting speed for the material, such as glass and porcelain. It offers the largest cut capacity of any tile saw currently on the market (34-in. rip; 24-in. diagonal; 3-3/4-in. depth). The multi-position cutting head tracks left and right along a guide arm, expanding cut capacity and ensuring the best position for the table to support the tile. The sliding table expands along two guide bars to support the largest of tiles. The cutting head can be adjusted to any angle between 0 and 45 degrees. A removable table extension provides work support for straight cuts in tiles up to 34 in. (in front position) and diagonal cuts for tiles up to 24 in. (in rear position). The whole system rests on Ridgid's Wet Saw Utility Vehicle (WS-UV), which is an integrated mobile work stand that collapses with single-point release for easy portability on 8-in. semi-pneumatic wheels, and then sets up in seconds as a sturdy working platform. Not only did The Beast slice through tile after tile without a hitch, but we used it to cut natural stone up to 3 in. thick. With its remarkable work capacity, multiple features and exceptional quality of cut, and the EHT staff looks forward to using "The Beast" on many tile projects to come. Visit www.ridgid.com/thebeast.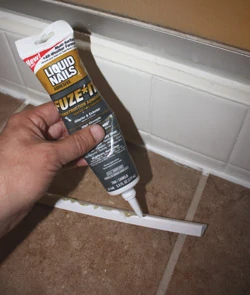 Liquid Nails Fuze-It Adhesive
The new Fuze-It product from Liquid Nails is a resealable, multi-surface, all-weather adhesive that comes in a compact squeeze tube, which means you can keep it in your toolbox without having to lug around a caulk-gun for those on-the-fly glue applications. Compatible surfaces include wood, paneling, drywall, ceramic tile, fiberglass, marble, granite and more. The adhesive cures regardless of surface porosity or condition, will not harden or shrink and is VOC compliant. The high-strength solution is waterproof and can withstand a temperature range from -60° to 300° F. Fuze-It comes in a pocket-sized, 5.5-oz. tube that can cover up to 17 linear feet. Visit www.liquidnails.com.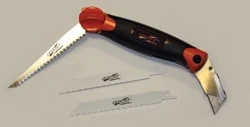 Savage Jab Saw/Utility Knife
The Savage Folding Jab Saw/Utility Knife from Swanson Tools simplifies life on the job site. Built with the accuracy and durability, this combination tool comes with three saw blades (for cutting drywall, PVC, metal and wood), one razor blade and soft carrying pouch that clips to a belt. It features two cutting positions and works with any reciprocating saw blade.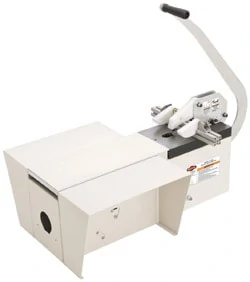 W1833 Pocket Hole Machine
For the serious woodworker who makes a lot of pocket holes, Woodstock International offers a new woodworking machine that allows you to make face frames, casework, drawers and more without stopping between operations. This high-production machine features a 1⁄2-HP, 120V, universal motor that drives 6-in. long bits at 2,500 RPM. The patented "No Adjust" hold-down clamp saves time by eliminating the need to adjust for workpiece thickness. Simply insert any workpiece from 1⁄2- to 1-1⁄2-in. thick and pull the handle to drill a pocket hole. Covered by a 2-year warranty, the Model W1833 Pocket Hole Machine features HDPE hold-down and swing stops, and a two-piece extruded aluminum fence. Visit www.woodstockinternational.com.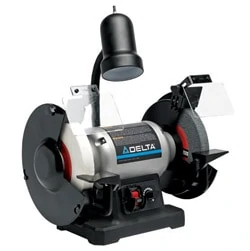 Delta Bench Grinders
Delta Power Equipment Corporation's two new bench grinders, an 8-in. Model 23-199, and a 6-in., Model 23-198, make quick work of all grinding, sharpening, polishing and buffing operations. Both Delta bench grinders feature a patented new tool-less, quick-change nut and tool-less wheel cover that make changing wheels fast and easy. They also feature variable speeds with an upfront speed dial allowing for easy control of speeds from 2,000 RPM to 3,400 RPM, which offers an excellent level of control no matter what material the user is working with. Both models feature a cast iron base for durability and reduced vibration and come with four rubber feet to help prevent movement. The full-size clear safety shields have thumb screws for easy adjustment. Visit www.DeltaMachinery.com.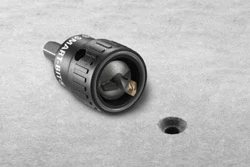 Smart-Bit for Fiber Cement Board
Starborn Industries has introduced the new Smart-Bit for Fiber Cement Board. This tungsten-carbide tipped predrilling and countersinking tool is designed to create a perfect hole and fit for matching fasteners, while ensuring consistently superior finishes. Fiber cement board products are used in a wide variety of construction applications. The Smart-Bit for Fiber Cement is the first tool that makes it possible to pre-drill and countersink in one step at a consistent depth, without damaging the work surface. The Smart-Bit features a free-spinning stop collar, which controls the depth of the drill and countersink. The stop collar is fitted with a rubber O-ring to prevent surface damage or marking. Once the stop collar stops spinning, the hole is complete. Additionally, the tool keeps debris away from the stop collar with its built-in debris cavity, which allows for the tool to maintain a perfect and consistent depth compared to conventional flush-mounted countersinks. The Smart-Bit for Fiber Cement Board is designed for use with #10 gauge flat-head screws, and comes packaged with two different length drill bits for use with either 5/16- or 5/8-in. thick compressed fiber cement boards. Visit www.starbornindustries.com.

"The Original" Professional Cast Aluminum Level with Case
Sands Level & Tool Co., Inc. originated the aluminum type level to offer a lightweight quality level for the market back in 1895. Sands continues that tradition of quality with its durable cast aluminum level. This level is precision-milled for an accurate work surface and has solidly set "Cat's Eye" yellow double-bent vials for accuracy. This level will not warp or rust and can handle any work environment. The level also includes a durable high-impact styrene level case with a hinged lid. Visit www.KraftTool.com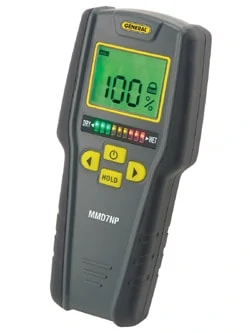 Non-Penetrating LCD Moisture Meter from General
The new Non-Penetrating LCD Moisture Meter with Tricolor Bar Graph (MMD7NP) from General Tools & Instruments offers professionals, DIY'ers and hobbyists a powerful instrument at a best-in-class value. When compared with similar moisture meters on the market, the MMD7NP is far more affordable than nearly all of its competitors and, unlike its closest price competitor, the unit features a backlit display and delivers a wider measurement range, deeper measurement depth and finer material definition. The MMD7NP is ideal for measuring the moisture content of wood, and even differentiates between hardwood and softwood. This is helpful for selecting dry timber at the lumberyard as well as checking the moisture level of wood in the workshop or in the field. The MMD7NP can also be used for measuring the moisture content of drywall, masonry or concrete; detecting moisture below the surface of carpets and subflooring; and locating water leaks above ceilings, below floors or behind walls. It has a maximum sensing depth of 3/4-in. As a pinless model, the instrument acquires readings via a non-invasive method, which means it will not mar wood or other materials. Visit www.generaltools.com.