California Air Tools' 1P1060S Portable Air Compressor
The new 1P1060S Portable Air Compressor from California Air Tools is designed to be one of the quietest air compressors in the industry, generating only 56 decibels of sound. The new "IP" ultra-quiet and oil-free motor has a large, single piston-pump design engineered for high performance and durability. The 0.6-hp motor operates at only 1,680 RPM, creating less noise and less wear. It is designed to have a life cycle before wear of 3,000-plus hours compared to other comparable air compressors with life cycles of 250 hours or less. The oil-free pump allows for use in a variety of different temperatures (cold) and uneven terrains, and the 1.0-gal. steel air tank is a lightweight 29.5 lbs., making it very easy to transport. The 1P1060S compressor produces 1.2 CFM at 90 PSI, allowing you to use staple guns, brad nail guns, finish nail guns, nail guns, airbrushes and blow guns. It's great for the garage and perfect for cleaning and inflating tires, beds, toys and sport balls, and is ideal for working inside where noise is a major issue.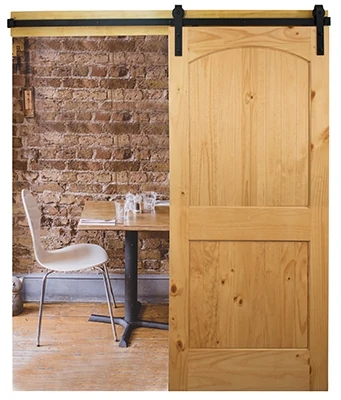 Stone Harbor Barn Door Hardware
Sliding "barn" doors are growing in popularity, and Stone Harbor Hardware has introduced new, DIY-friendly sliding door hardware sets with three different strap styles: barn, horseshoe and wagon wheel. The sets include two decorative straps, a track length, end stops, floor guides, mounting hardware and installation instructions. Each style is available with either a 6-ft. track length or an 8-ft. track length, allowing customers to use them with doors as wide as 48 inches. The horseshoe and wagon wheel styles are available in oil-rubbed bronze, and the barn strap style is available in both oil-rubbed bronze and stainless steel. These premium finishes coordinate with the rest of Stone Harbor's extensive hardware line, which includes hinges, builder's hardware, door locks, cabinet hardware and bath hardware. The oil-rubbed bronze sets feature solid steel construction for long life and durability, and the stainless steel barn set is manufactured from solid 304 stainless steel, making it ideal for use in many different environments within the home. Learn more at www.stoneharborhardware.com.

TYTAN Fill All Foam Sealant
Selena USA's TYTAN Fill All Insulating Foam Sealant effectively fills small and large gaps without having to use a gap-specific product. TYTAN Fill All will fill small gaps from 1/4 inch to large gaps of 3 inches without losing adhesion or effectiveness, saving users time and money by not needing to have two products on hand to handle different size gaps. Fill All can be used in all general gap filling applications and even around windows and doors. Plus, it offers 15 to 25 percent more yield than the competition, a feature Pro and DIY users will appreciate. TYTAN Fill All shrinks less than the leading competition, and will not over-expand. It comes in an easy-to-use 12-ounce can with straw applicator. It may be cut after 60 minutes, cures in six hours, and is fully cured in 24 hours. Cured foam can be cut, sanded or painted.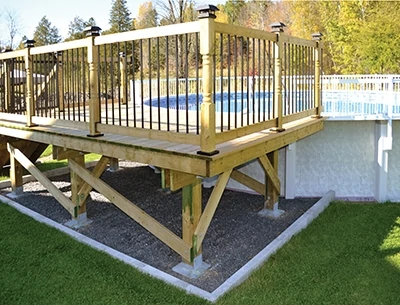 Titan Deck Foot Anchor
You may have always thought that the IRC insists that all decks must be supported by footings that extend below the frost depth. But that is not so if you are building a deck below a certain size area and it is not connected to a ledger. The Titan Deck Foot Anchor is a no-digging, no-cement, no-sweat solution for supporting freestanding structures like decks, shed platforms, walkways and ramps. It installs quickly with a corded electric 1/2-in. drive impact wrench (350 ft.-lbs. torque for best results). Just remove an 18-in. square portion of sod and any loose soil or organic material until you are on undisturbed soil. Lay down 3 inches of stone dust or 1/2 inch crushed gravel and compact it. Drive down the 24-in. auger until the large load plate contacts the soil, then compress the plate against the gravel by tightening the nut above it. Screw on a 4×4 or 6×6 post bracket and you're done. A 36-in. auger is available for sandy soil where more uplift resistance is desired or for use on a slope. The footing has been load tested to support a minimum of 19,000 lbs. Because of the post saddle design, you can set beams as low as 2 inches above grade and hang joists from the beam face for very low level decks. You can also build safely up to 6 feet if you brace posts to beams. This makes for a solid structure and is an effective solution for above-ground pool decks where as many as thirty or more footings can easily be required. Learn more at www.titanbuildingproducts.com.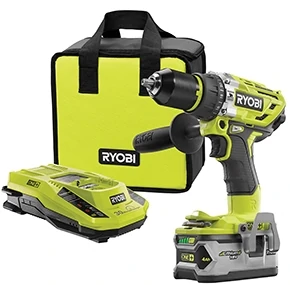 Ryobi Brushless 18V ONE+ Brushless Hammer Drill/Driver Kit
Ryobi introduces the first brushless power tool in their lineup with the 18-Volt ONE+ Brushless Hammer Drill/Driver Kit. With up to 750 in.-lbs. of torque, you can power through tough drilling and driving applications with ease. The included High Capacity 4Ah Lithium+ battery will not only get the most performance out of your tool, it is also compatible with all other Ryobi 18V ONE+ tools. The brushless motor provides 50 percent longer runtime and extended tool life when compared to brushed motors. The drill is 25 percent more compact than the previous model for work in tight spaces. An LED Light illuminates the work area and remains on for a time after the trigger is released. A belt clip mounts to both sides of the drill for convenience, and the MagTray magnetic holder stores screws and bits. Visit ryobitools.com.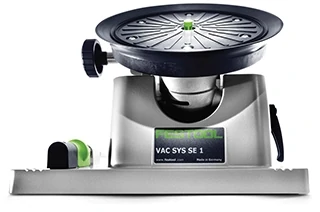 Festool VAC SYS 57000003
Work more efficiently with the new VAC SYS System. With proven vacuum-based suction clamping, the VAC SYS provides a highly effective and ergonomic work platform for nearly any project. Effectively clamp material or a workpiece for effortless machining and finishing while protecting delicate surfaces from clamp damage. Each Clamping Module (available separately or with the VAC PMP), is equipped with a suction base that adheres to non-porous surfaces with a quick release valve, and can adapt to many surface sizes based on interchangeable Vacuum Pods (available separately). Visit www.festoolusa.com.