Accesories to Make Your Shop Safer
As you plan your projects, why not plan to work safely and efficiently with a new line of tablesaw and router table safety accessories from Milescraft®.  Provide consistent repeatable tension on your stock and reduce kick-back with a feather board kit, keep your hands away from a spinning bit or blade with a push stick, and avoid damage to your blade while changing it with a saw blade removal aid. Each product is packed with features and available for an affordable price.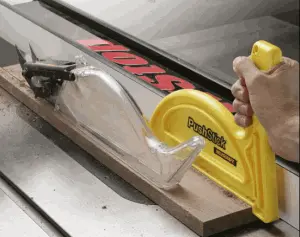 Pushsticks keep fingers away from cutting blades.
Feather Boards
No matter what your application, Milescraft's FeatherBoard kits comes ready-to-use in any common miter slot or fence on any router table or table saw, ferrous or non-ferrous, without any return trips to the store. The standard FeatherBoard includes a 5/8" and 3/4" split rail metal miter bar and two 1/4" T-track bolts. For an even better value, consider the Dual/Tandem FeatherBoard kit which includes two FeatherBoards, two 5/8" and 3/4" miter bars, four 1/4" T-track bolts, and a sturdy full size spacer; everything you need for dual or tandem applications, including cutting tall stock on a band saw.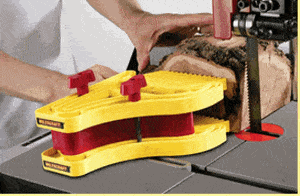 Feather Boards keep work pieces against fences.
Push Sticks
Among the most important accessories found near any router table or table saw is a push stick and a depth gauge. The PushStick from Milescraft® provides both along with a magnetic docking station to keep these and other important accessories close at hand. The push stick features a tall tilted handle to keep your hands away from the cutter and a soft surface base/rear foot combination to provide maximum control without damaging the stock. Accurately measure blade and bit offsets and heights with the easy to use depth gauge. Keep the push stick, depth gauge, marking pencils and more in place on your table top with the magnetic docking station.
Saw Blade Changer
To stop the motion of a saw blade when tightening or loosening the arbor nut most wedge scrap lumber between the blade and saw, often leading to warped saw blades or damaged teeth. Avoid this damage to expensive saw blades by using a BladeChanger instead. The universal step design accommodates most 7 1/4", 8" Dado, and 10" saw blades and allows a full view of the blade. An oversize handle provides a firm grip while keeping your knuckles away from the blade and wrench.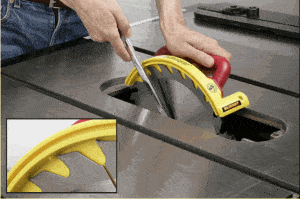 Milescraft's Blade Changer keeps fingers away from sharp blades and also protects expensive blades during blade changes.
Each of these products are engineered and manufactured to meet strict quality standards. Constructed with high visibility yellow ABS plastic, these safety accessories are easily located and act as a visible reminder to work safely in any shop. Available at affordable prices, it has never been harder to make excuses for not using the right safety accessory for the job. For More information on these and other fine accessories, check out http://www.milescraft.com