By Matt Weber
A ladder is a must-have tool for professionals and serious DIY'ers alike. They're also heavy, bulky and difficult to store, making a ladder purchase a decision worth war-gaming with an eye the jobs you'll likely face and the space you have available for storage. For some houses, an extension ladder is a must-have. Other houses don't have room for something so big. And for many workers, different ladders are necessary for a variety of different jobs. Here's a look at what's new at the hardware store.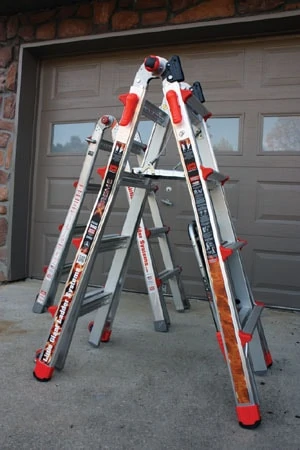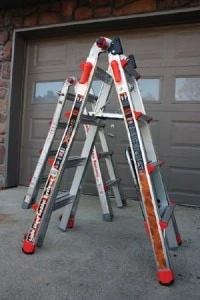 Little Giant Xtreme
The original Little Giant multi-position ladder has made an impact for decades as the most envied ladder on the work truck, inspiring a wide array of similar multi-ladders from a variety of manufacturers. By articulating like an A-frame and also extending and collapsing like an extension ladder, a multipurpose ladder can serve as an A-frame ladder, an extension ladder, scaffolding or a 90-degree ladder (for getting close to walls). By adjusting the length of each side independently when in the A-frame mode, a multipurpose ladder can also provide access over uneven ground such as a staircase.
Little Giant Ladders has enhanced the design of its flagship Type 1A multi-ladder with the introduction of the Little Giant Xtreme, a feature-rich package that takes the original concept to new levels of usability. The redesigned Rock Lock pin system makes adjusting the ladder quick and easy with the simple push and tap of a couple of levers. The rungs of the ladder are 50-percent wider for better foot support. Additionally, the new MAG4 hinge of the ladder locks four pins into place, instead of the former two, for unprecedented strength.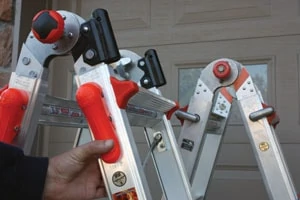 The new Little Giant Xtreme was designed with exceptional operator stability in mind. It comes with a built-in comfort step, which tilts downward from a couple of steel ropes for safer standing at any height. Additionally, the new AirDeck accessory functions as a support bar—plus, it unfolds into a work surface with a magnetic tray for holding tools and fasteners. When the AirDeck is not in use, it folds flat for storage on the ladder.
Another new accessory, the Revolution Ladder Brackets, make the Xtreme capable of serving as two ladders at once. By completely removing the two independent legs of the unit, which slide right off the core ladder, the two separate legs can be joined at the apex with the brackets to form a second ladder. The two ladders can then be used in conjunction to support a board of scaffolding for a sturdy, horizontal walking surface.
By making a good thing even better, the new Little Giant Xtreme is sure to gain more fans for the company as the favorite ladder of painters, framers, roofers and more.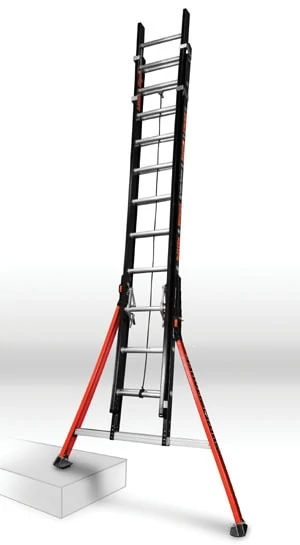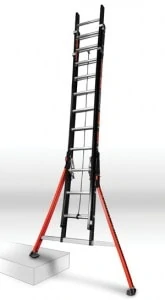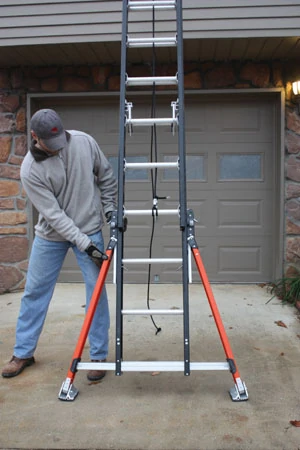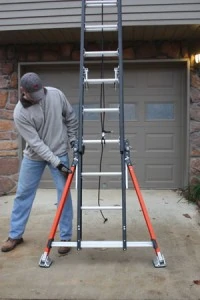 Little Giant Sumo Stance
Little Giant's new Sumo Stance line of extension ladders earn the honor of "safest extension ladder in the world" with its inventive use of outriggers, two supplemental support legs similar to what is used on many cranes and boom lifts. With the flip of a lever, the outriggers extend to either side of the ladder to create a stance three times as wide as the base. Plus, the outriggers feature a leveling system that gives the user a full 9 inches of height adjustment for each outrigger, which means you can adjust the outriggers independently to accommodate work on slopes or uneven surfaces. Traditionally, workers have had to level their ladder by either digging out the ground to lower one side of the ladder, or dangerously building up the elevation beneath the lower side. The Sumo Stance safely eliminates the need for those extra tasks.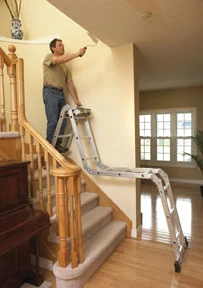 Lite Ladders Articulating Models
For over 47 years, Lite Products Inc. has been building safe and dependable climbing products in Canada, offering a wide range of styles and sizes. Lite Ladders' articulating ladders are available in 8-, 12- and 16-ft. heights, and constructed of heavy-duty aluminum or fiberglass. They're suitable for construction, electrical work, as well as DIY projects and home maintenance. Articulating ladders are quick and simple to set up and they fold up accordion-style for easy transport in a car trunk or storage in a closet. They can adjust to at least 10 different positions including stepladder, straight ladder and several stairwell ladder positions. They can also be used as a workbench or a scaffold—versatility that makes an articulating ladder a practical choice for all sorts of hard-to-reach projects.
A telescopic planking system is an available accessory designed to convert your articulating ladder into a convenient work platform. Visit www.liteladders.com.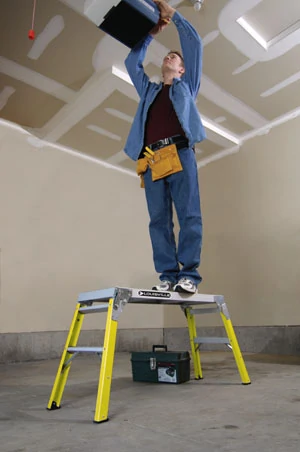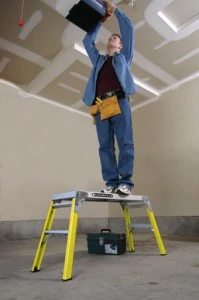 Louisville Ladder Work Platform
Sometimes a conventional ladder doesn't offer the lateral movement necessary for the job. The Louisville Ladder L-3041 mini working platform is all you need to quickly and safely reach low and medium heights with room to move from side to side. Perfect for overhead projects or any painting job around the house, the Louisville Ladder mini working platform is very light to carry— weighing only 13 pounds—and it folds easily and compactly for safe and convenient storage. It features durable non-conductive full-channel fiberglass side rails, making it ideal to work near electrical circuits. The platform features a 300-lb. weight capacity, 12-in. standing surface and slip-resistant rubber feet. Visit louisvilleladder.com.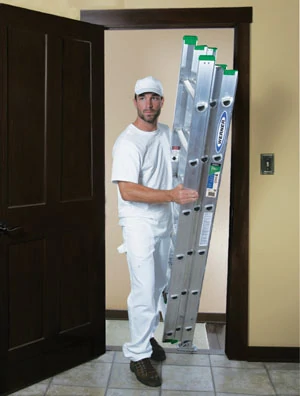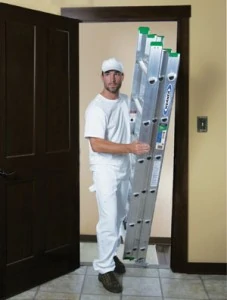 Werner 3-Piece Compact Extension Ladder
The new Werner 3-piece Aluminum Extension Ladder allows 16-ft. extension ladders to go around corners, through doors, in elevators, and through narrow stairwells. Its 6-ft. travel size presents an ideal solution for transporting ladders and storing them in tight spaces, providing the same reach as a standard extension ladder, but in a compact design. In the closed position, the 3-piece design and convenient handle make the Compact Ladder 20 to 25 percent shorter. In the extended position, more overlapping rung locations provide a more comfortable working platform. Visit www.wernerladder.com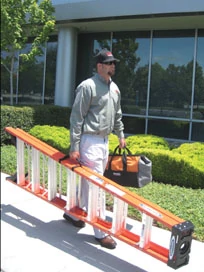 Strap-n-Go Ladder Handle
The Strap-n-Go Ladder Handle provides a safe and ergonomic way to lift and transport step ladders and extension ladders from one location to another. The basis for the system is the heavy-duty stainless steel support rail designed to evenly distribute the weight of a ladder. The textured rubber-grip handle maintains comfort and control for the user while the wrap-over extension strap fastens both sections of the ladder together to ensure a safe and secure transport. The attached D-rings allow users to carry the weight of the ladder on one's shoulder using the optional hands-free shoulder strap. The Ladder Handle meets OSHA requirements and has undergone rigorous tests for maximum safety. Two models are available, the Universal Ladder Handle (for fiberglass, wood and aluminum ladders) and the Ladder Handle-EX (for all extension ladders). Visit www.strapngo.com.