WORX 20V 6-1/2 IN. CIRCULARSAW WITH EXACTTRACK
The new Worx cordless circular saw has an innovative feature that's not available on any other saw in the marketplace. The 20V 6-1/2 in. Circular Saw with ExacTrack takes the guesswork out of straight-line cutting by incorporating a tracking guide that enables accurate rip cuts. Making accurate rip cuts in dimensional lumber, such as a 4×8 sheet of plywood can be challenging with conventional saws. Most circular saws come with an edge guide, but more and more saw owners are shifting to the use of track saw guide accessories to ensure accurate rip cuts. What makes WORX ExacTrack different is that it's the only circular saw with a built-in track guide. To rip a sheet of plywood with ExacTrack, simply clamp 1x material to the desired width and mark the cut line. The 1x stock also functions like a fence on a table saw. Begin the cut with ExacTrack gliding right on top of the 1x stock for the duration of the cut. This makes long rip cuts easy for all skill levels. When not set for ripping, ExacTrack is returned to its standard position for cross-cuts and other cutting operations. Learn more at www.worx.com.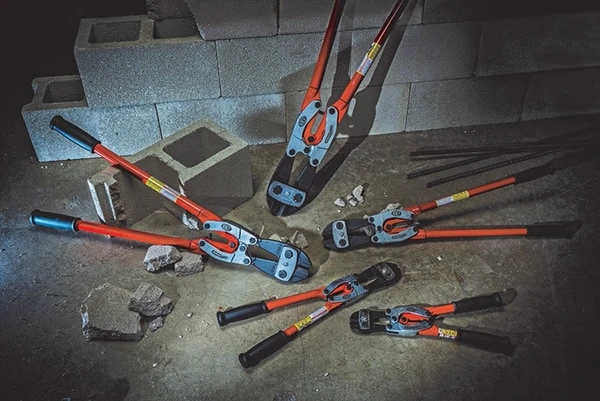 CRESCENT POWERPIVOT BOLT CUTTERS
Featuring a compound action design, PowerPivot Bolt Cutters from Crescent/H.K. Porter provide more cutting power but require 30 percent less force to cut than traditionally designed bolt cutters. PowerPivot Bolt Cutters utilize a double compound action design to achieve a higher level of cutting efficiency, delivering superior cutting capability when cutting 7/16-in. HRC-31, 3/8-in. HRC-42, and 5/16-in. HRC-48. Blades are precisely ground then induction hardened for extended edge life and added ability to cut hard materials. Handles are made of tubular steel for extra strength and have durable rubber grips for added comfort and control. PowerPivot Bolt Cutters are available in five sizes with handle lengths of 14 to 36 inches. All have been designed for high performance cutting capacity, both in diameter and hardness of materials. For example, when cutting HRC-48, the 18-inch model will cut up to 9/32-in. diameter, while the 24-inch model will cut up to 5/16-in. diameter. Visit www.crescenttool.com.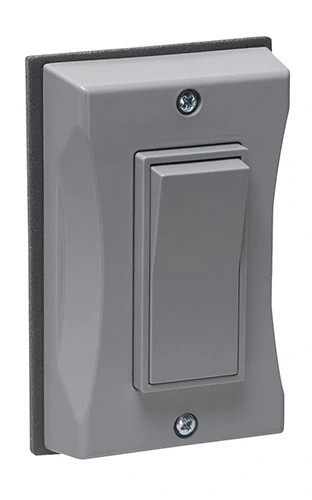 BELL OUTDOOR DECORATOR SWITCH COVER
Bell has introduced a series of weatherproof decorator style switch covers. These are the first products of their kind on the market, offering convenience and weatherproof safety for outdoor lifestyles. The new Bell Weatherproof Decorator Cover line provides convenient on/off rocker functions just like indoor Decorator style switches. An internal elastomer membrane provides weatherproof protection. These models are compatible with single pole or 3-way decorator switches. The new covers are available in single-gang, 2-gang or 3-gang models. Single-gang colors include gray, white or bronze. Also available is a kit with a gray single-gang cover and a 15A single-pole Decorator device. Applications include exterior wall-mounted patio and deck lighting, BBQ islands, pool and spa controls and more. Visit www.hubbell.com.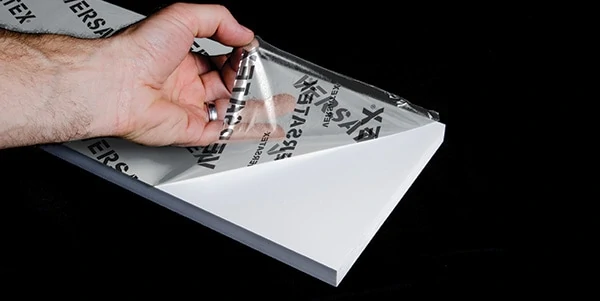 VERSATEX PEEL 'N NEAT PVC TRIMBOARD
Versatex Building Products, LLC, offers a new packaging option designed to keep PVC trimboards clean during transport, storage and installation. Called Peel 'n Neat, it's a tough, clear film that can be factory-applied to 5/8-, 1, and 1-1/4-in. boards, 4 through 16 inches wide, in 18-ft. lengths. The removable protective layer augments standard slipsheets, corner protectors, wrapping and banding at a small additional charge. The film strips away easily, leaves no residue behind, and can be ordered for both S4S and Timber Ridge Versatex boards. Learn more at www.versatex.com.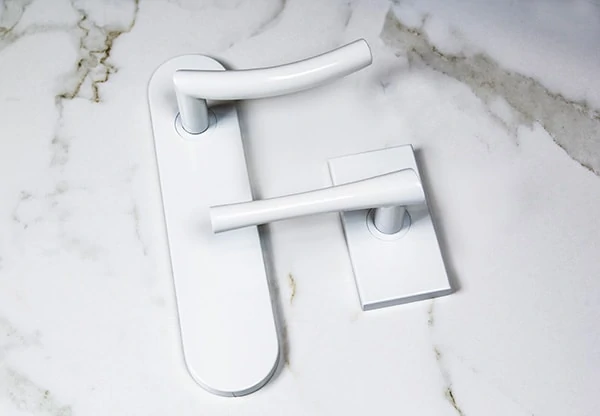 CERAMAX CERAMIC-COATED DOOR HARDWARE
INOX debuts CeraMax, a line of ceramic-coated door hardware for designers, architects and homeowners looking for a finish option that prevents deterioration due to harsh environments, including salt spray, oxidation, humidity and ultraviolet light. INOX is the first and only door hardware manufacturer to offer this finish option. CeraMax is resistant to most solvents and chemicals, providing a high level of hardness and adhesion while also offering a beautiful finish to enhance décor. It withstands the ASTM B117 Salt Spray Corrosion test 85 times longer than stainless steel, and can face extreme exposure to high humidity and ultraviolet light for up to 5,750 hours with no yellowing or loss of luster. Each piece of hardware is finished by hand, and the process includes sand blasting, ultrasonic and high-pressure air cleaning, and baking in a finishing chamber—all performed under clean-room conditions. The CeraMax line is available in Glacier White, Graphite Black and Flat Black. Visit inoxproducts.com.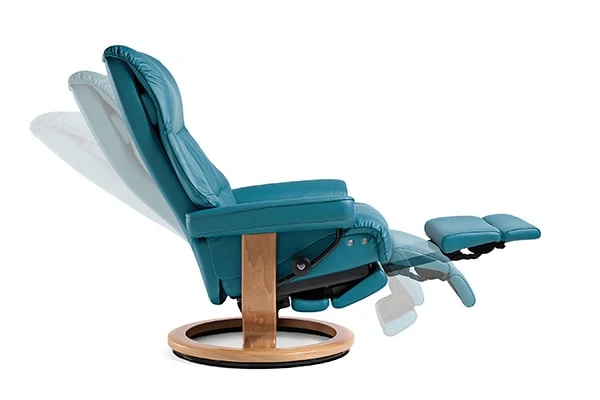 STRESSLESS FURNITURE
Stressless furniture combines innovative functionality with natural materials, such as full-grain leathers and laminated woods. The LegComfort-system is the newest Stressless recliner feature, releasing a hidden footrest with a gentle push to provide optimal and adjustable leg support. The Stressless Plus-system simultaneously aligns the lower back support with the headrest in Stressless recliners and sofas. The BalanceAdapt-system means the sitting angle automatically adjusts to the body's movement—without levers or handles. ErgoAdapt is a built-in tilting mechanism available on select Stressless sofas that adjusts the sofa to the body's sitting angle or sleeping position. Learn more at stressless.com.
THE DOOR-STUD
Hanging doors was a time-consuming, tedious and a potentially costly process—until The Door-Stud. Home Innovation Holdings' newest innovation, The Door-Stud, cuts typical installation labor time in half. The Door-Stud touts a steel constructed design with a single action clamp and soft-grip handles. This durable tool simplifies the installation of 1-3/8-in. and 1-3/4-in. pre-hung or slab doors. With The Door-Stud, the installer handles a door once. The Door-Stud is vertically adjustable; holding the door upright and leveling the door in three directions for preparation of installation. The Door-Stud enables the installer to conduct a single-person, hands-free installation by mobilizing the door and preventing it from resting against the interior walls of the home; thus preventing damage to the wall or door itself. Once the door installation is complete, The Door-Stud is removed from the bottom edge of the door, ready to be used on the next job. Visit www.thedoorstud.com to learn more or purchase.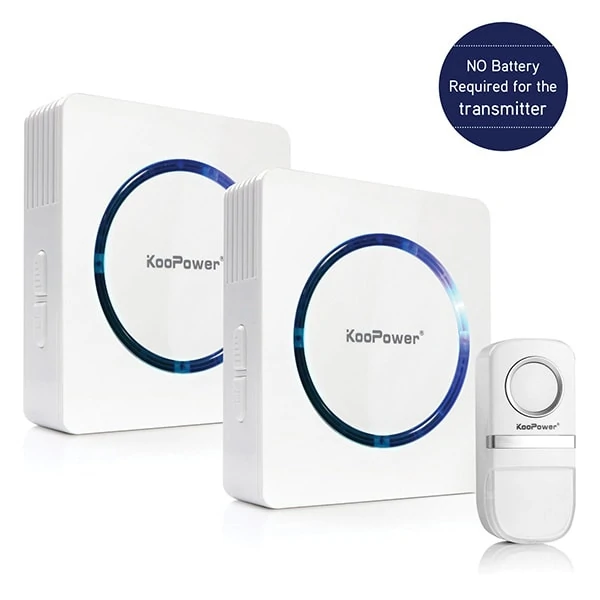 KOOPOWER BATTERY-FREE WIRELESS DOORBELL KIT
The 21st Century has yielded thousands of clever household gadgets but almost all of them suffer from one shared problem—the batteries. Now KooPower offers a Wireless Doorbell Kit that needs no battery for the transmitter. The KooPower Wireless Doorbell utilizes a tiny piezoelectric generator—similar to a push-button barbecue lighter—that creates the electricity and sends a signal to the receivers. The waterproof transmitter is easily mounted outside without wires while the receivers are plugged into any available power outlet. Each receiver features 25 different ringtones along with a flashing LED light for visual indication. With a 500-ft. (150 meters) range, the receivers work great any place around the home or office. Each receiver will work as a repeater which transfers the signal an extra 500-ft. range. Visit www.koopower.com.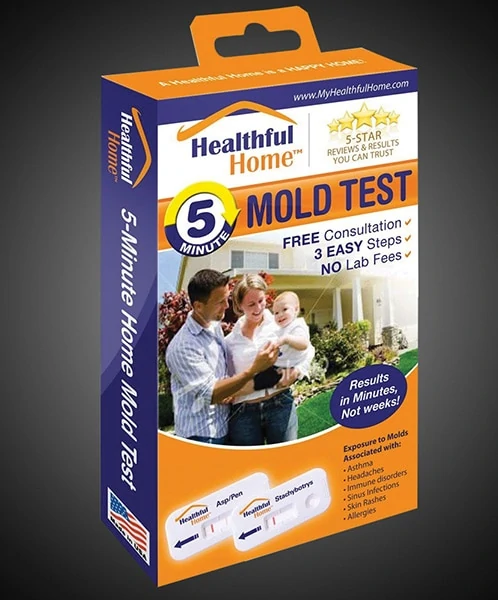 HEALTHFUL HOME AT NHS 2018
Alexeter Technologies develops and manufactures rapid DIY testing and remediation products for better indoor air-quality. The company's Healthful Home 5-Minute Mold Test is the most accurate and sensitive rapid mold test available. This do-it-yourself kit for households is the only mold kit on the market that gives full immediate results to the consumer. Results reveal both indoor air-quality issues and unhealthy mold problems, while avoiding the high cost of hiring mold inspectors and laboratory testing. The Healthful Home Mold & Bacteria disinfectant and cleaner is a safe and effective way to eliminate unhealthy mold and bacteria contamination without the use of harsh chemicals. A specially formulated state-of-the-art combination of natural ingredients is designed to provide a superior treatment alternative to chemicals and provides a long-lasting residual disinfection. Stop by booth 3510 at the National Hardware Show 2018 or visit www.fiveminutemoldtest.com.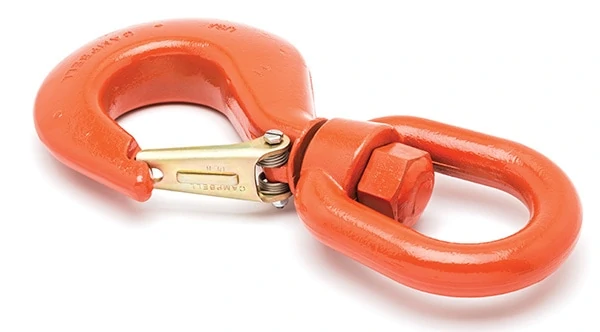 CAMPBELL SWIVEL HOIST HOOKS
The new Swivel Hoist Hooks from Campbell feature a heavy-duty latch and spring assembly and other improvements. The heavy-gauge, high-strength steel latch with reinforcing rib provides ultimate rigidity and bending resistance, and has a yellow chromate finish for corrosion resistance. The double-strength spring ensures the latch is held against the hook to securely retain slings and other components. For added durability, the hooks are designed with dual forged support bosses, providing lateral support for precise latch/hook alignment and engagement. With a 5:1 design factor, the new Swivel Hoist Hooks meet or exceed the requirements of ASME B30.10. The working load limit ranges from 3/4 ton to 22 tons, with hooks available in carbon steel (blue) or alloy steel (orange). Visit www.campbellchainandfittings.com.