Kameleon Composite Deck Screw
GRK Fasteners presents a new Trex Select approved product, the Kameleon Composite Deck Screw, which is the only Trex-approved product that also is building code-approved and approved for use with treated lumber as stated by the International Code Council report ESR-3201. Kameleon screws blend perfectly with Trex Select composite deck boards, and the GRK Climatek coating ensures superior corrosion resistance in treated wood. They've been approved by Trex Company, Inc., for use in the most popular colors of Trex Select decking, including Woodland Brown, Saddle, Pebble Grey and Madeira. Kameleon Screws have a unique design featuring fiber-trapping rings that keep material from splintering and eliminate any mushrooming effect. Kameleon screws are available in #9 gauge diameters in lengths of 2-1/2 and 3 inches, and are also sold in colors that match today's most popular composite decking, including Redwood, Brown, Grey, Sand and Tan. Visit www.grkfasteners.com.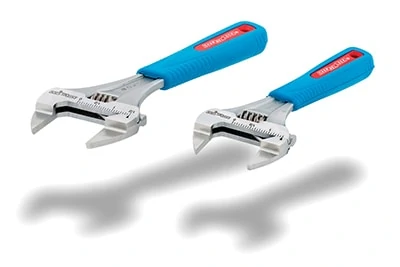 Channellock Xtra Slim Jaw Wrenches
Channellock Inc. introduces a brand new line of Xtra Slim Jaw adjustable wrenches in two different wrench sizes with a variety of features to help the professional or serious DIY'er get the job done. The line includes 6- and 8-in. wrench sizes, and the Xtra Slim 3/16-in. Jaws are 40 percent thinner than a regular wrench of the same size for extra reach and maximum accessibility. The four-thread knurl and non-protruding jaws offer up to 20 percent greater jaw capacity for larger nuts and bolts. Signature CODE BLUE, grips are designed for durability and comfort. The wrench is properly balanced to avoid weak points in the tool, and the jaws are imprinted with standard and metric measurement scales. Visit channellock.com.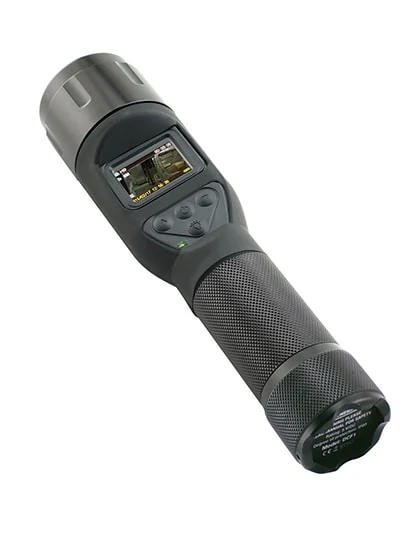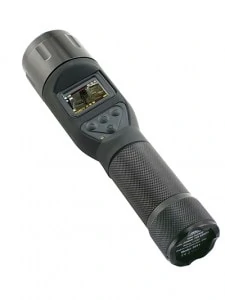 TorchScope Video Recording Flashlight
The new TorchScope Video Recording Flashlight (DCF1) from General Tools & Instruments is ideal for construction, renovation, security, maintenance projects and tasks involving line-of-sight inspections. The instrument combines a powerful LED flashlight with a camera that can record and store high-definition video and photos. These media files can be date- and time-stamped to document or create a timeline of projects or events. Audio is captured simultaneously with video clips, allowing the user to record ambient sound, comments and explanations. The TorchScope is ruggedly constructed with anodized military-grade aerospace aluminum and features a non-slip knurled grip. The entire unit is 1m drop-resistant and IP68 waterproof, making it operable under water up to 10m (33 ft.) deep. Four buttons on the handle control menu access, brightness and illumination-mode, photo and video capture, and zoom (up to 4X). The flashlight can be used independently or in conjunction with the integral camera. The brightness and illumination-mode selections include 50-, 75-, 100-percent, fast strobe and S-O-S Morse Code transmission. At 100-percent (1,000 lumens), the illumination distance is 328 ft. (100m). Visit www.generaltools.com.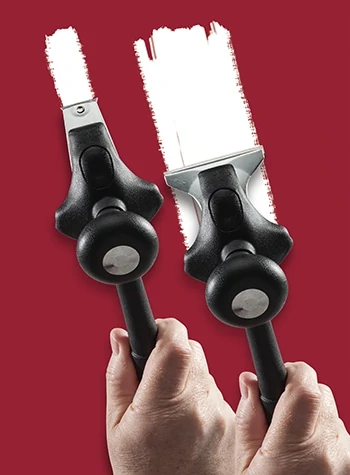 Hyde x2 Dual-blade Carbide Scraper
Hyde Tools' new paint scraper features two tungsten carbide scraping edges in one tool, designed to give users a single, multi-functional tool that avoids the need to search out and carry secondary scrapers or other tools. This heavy-duty scraper has a reversible head that lets you switch quickly and easily from a 2-1/2-in. blade to a triangular 7/8-in. blade when scraping channels or other areas where the wider blade won't fit. The carbide blades last 10 times as long as carbon steel blades. The x2 Dual-Blade Scraper also has a knob that's used as a handhold for exerting pressure with two-handed scraping. A Hammer Head end on the knob allows you to reset popped nails as you go, and the knob is removable for tight-access spaces. Additionally, the new scraper has a lightweight, angled handle that keeps your knuckles safely away from the scraping surface. It is Acme-threaded on the end and can be attached to poles for added reach. Visit www.hydteools.com.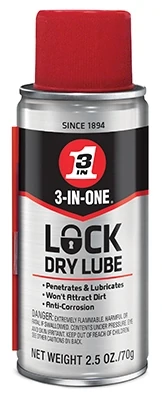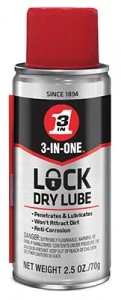 3-In-One Lock Dry Lube
The new 3-In-One Lock Dry Lube from WD-40 helps to loosen and lubricate stuck locks and protect them from corrosion without attracting the dirt and debris that often plague lock lubricants. Some lock lubricants, like graphite formulas, leave a dirty, hard-to-clean mess on locks, doors and equipment, but 3-In-One Lock Dry Lube's clear formula dries within minutes so it won't attract dirt, which can gunk up lock mechanisms. The attachable straw easily delivers the formula into narrow lock mechanisms to penetrate stuck locks quickly and deeply. Lock Dry Lube can also be used without the straw for a wider spray pattern to refurbish and protect the entire lock. The quick-drying formula is safe to use on metal, wood and most plastic surfaces. It comes in a 2.5-ounce size so it easily fits in small spaces like toolboxes and glove compartments. Visit www.WD40Company.com.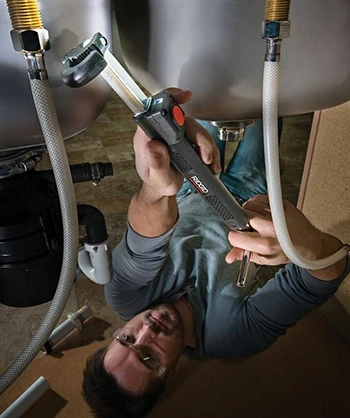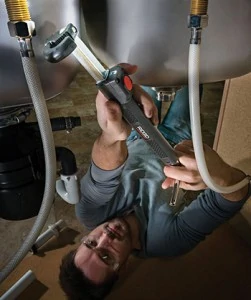 Ridgid Basin Wrench
The new Ridgid Basin Wrench is the latest example of how listening to customers leads to a better tool. The new features of this sink-installation tool include a light that illuminates dark work spaces and automatically shuts off after five minutes of inactivity to preserve battery life. A removable T-handle pivots 180 degrees to provide easier access to tight under-sink spaces during repair or installation. The removable T-handle also provides the option to use a standard 3/8-in. ratchet or breaker bar for additional leverage. The Basin Wrench has an ergonomic handle and an improved easy-to-use telescoping design, extending its reach up to 17 inches. The jaw has been upgraded with a heavy-duty, rust-resistant spring and travel limiter to provide a tighter grip and longer lifetime. Visit www.ridgid.com.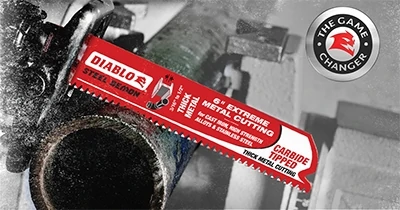 Diablo Steel Demon
Diablo Tools introduces the first carbide-tipped recip blade designed for metal—the Diablo Steel Demon. This innovative 8-tpi (teeth per inch) blade offers 20× the performance of standard bi-metal recip blades. Whether you're cutting mild steels or extreme metal alloys, the Diablo Steel Demon delivers unmatched speed, cut after cut. It makes quick work of everything from black iron pipe to plate steel. Not only that, it can slice through the toughest metals out there: high-strength steel alloys, grade 8 bolts, stainless steel, and cast iron. Those metals will immediately destroy a traditional bi-metal blade. The carbide-tipped Steel Demon blade delivers 20 times longer cutting life than standard bi-metal blades in extreme, thick metal-cutting applications between 3/16 to 1/2 inch. Visit www.diablotools.com.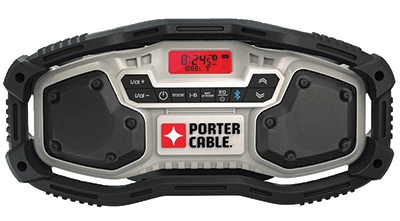 Porter-Cable PCC771B Bluetooth Radio
The Porter-Cable PCC771B Bluetooth Radio features two high-quality speakers that provide stereo performance sound and clear reception. You can also enhance the sound with the equalizer feature. The Bluetooth compatibility allows users to wirelessly stream music from any smart device. Twelve AM/FM/AUX presets allow users to select and save favorite stations, and the AUX mode plays MP3 audio from a media device. This radio is a durable and compact unit that withstands jobsite elements and is easy to store or move around. It operates on Porter-Cable's 20V Max Lithium ion batteries plus an alternate power source with an AC adaptor. Visit www.portercable.com.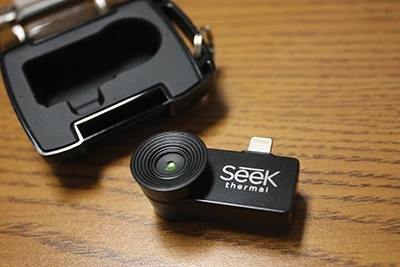 Seek Thermal Camera
The Seek Thermal Camera is a tiny infrared camera that attaches to your Android or iOS device and uses a downloadable app that shows what the camera captures. Selling for less than $250, the Seek camera attachment is compact, simple to use, and offers the same infrared technology that was formerly only available in cameras that cost more than a thousand dollars. It quickly detects the temperatures of anything around you. DIY'ers and pros alike can easily conduct their own home energy audit. Use it to detect water damage, missing insulation, or air leaks around windows and doors. Use it to check for loose wiring or search for missing pets at night. It can take photos and video, and it comes with a hard-shell carrying case. The Seek Thermal app lets you choose from a range of color palettes and aspect ratios of 4:3 or 16:9. The camera is not only versatile and useful around the home, but it's a lot of fun to use. Visit www.thermal.com.

Coast LK375 Light Knife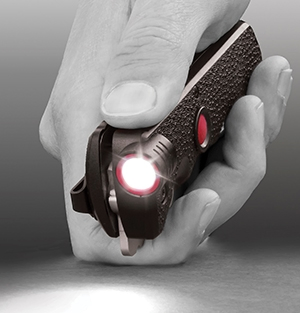 The LK375 uses Coast's latest LED technology to offer a high-powered flashlight built right into the handle of a knife. The flashlight meets all of Coast's specifications for a professional flashlight: 110 lumens, 173 foot beam distance, IPX7 waterproof rated. The folding knife uses top grade 7Cr17 stainless steel, a one-handed blade opening operation, a spear-point tip for puncturing, a fine edge for scraping and fine cutting, and a serrated edge for ripping and cutting through plastic, PVC and nylon. It's also backed by Coast's lifetime warranty against defects in materials and workmanship. Visit www.coastportland.com.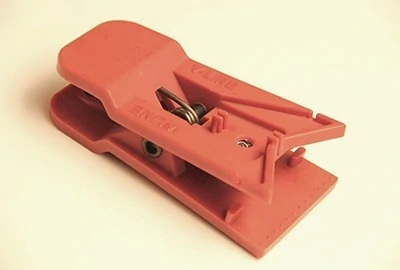 V-Line Clamp
The V-Line Clamp is a patented multifunctional tool that might look like a traditional clamp, but it has features that increase accuracy and make using a chalk line simpler in any setting. Simply attach your chalk line to the V-Line Clamp and create straight or angled—but most importantly, super accurate—layout lines. The V-Line Clamp also holds your measuring tape. Marking chalk lines onto plywood and cement board has never been easier. Boasting the Gold Award of Excellence at the INPEX Invention Convention, this tool is a must-have for any tool belt, from novice DIY'er to seasoned professional. Visit VLineClamp.com.

Klein NCVT-3 Non-Contact Voltage Tester with Flashlight
Klein Tools expands its "Tough Meter" Test & Measurement product line with the durable NCVT-3 Non-Contact Voltage Tester with Flashlight. It identifies AC voltage in cables, cords, circuit breakers, outlets, wires, doorbells, thermostats, low-voltage lighting systems, irrigation systems, etc. The rugged NCVT-3 non-contact voltage tester detects the full range of 12-1,000V AC to accommodate both low and standard voltage environments. The visual voltage indicator utilizes five vibrant LEDs, and an audible voltage indicator beeps at a greater frequency the higher the voltage or the closer it gets to the voltage source. An integrated flashlight works independent of the tester and is practical enough to use as a standalone tool. By incorporating Klein's "tough meter" standards of dustproof, waterproof, CAT IV 1000V safety rating and drop protection of up to 6.6 ft. (2m), this tool is suitable for any jobsite. Visit www.kleintools.com.

Stanley Fatmax Box Beam Levels
Stanley Fatmax introduces its new line of seven durable Premium Box Beam Levels from 24 to 96 inches with a range of new features that make leveling easy and accurate. With a push-button release, the Removable End Cap detaches so the square edge of the level fits flush in the corner of a room. This allows for an accurate mark from one wall to be transferred onto the next wall to continue a level line around a room. Because levels are lightweight they tend to get knocked around on a jobsite, and there never seems to be a good place to store a level. The new 24-, 32-, and 48-in. levels include an integrated rafter hook so they conveniently hang on door frames, offering a convenient on-site storage solution. With the MaxEdge Bridged Center Vial, the rail on one side of the level has been removed around the vial to enhance visibility. On the other side of the level is a solid rail for continuous marking and durability. The new Premium Box Beam Levels feature Block Plumb Vials calibrated for accuracy of 0.0005"/in. All the levels also feature a magnified center block vial for easy readability. Visit www.stanleytools.com.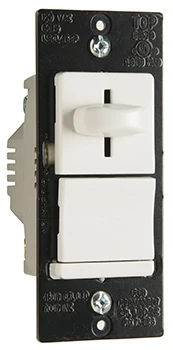 LeGrand CFL/LED Dimmers
Legrand offers new Pass & Seymour LS Series CFL/LED/Incandescent dimmers and Wide Slide dimmers. The new LS Series CFL/LED dimmer is available in both preset and non-preset models as well as CFL/LED single pole and 3-way configurations. The dimmers offer wattage ratings of 450W for CFL/LED and 700W for incandescent. The product expansion also includes an LS Series Fan Speed Control and CFL/LED dimmer available in a preset single pole and 3-way configuration, with wattage ratings of 150W for CFL/LED and 300W for incandescent.
The Wide Slide CFL/LED dimmer adds CFL/LED single pole and 3-way preset versions.
The new dimmer line features wattage ratings of 450W for CFL/LED lamps and 700W for incandescent loads. The dimmers are available in three interchangeable face colors. Visit www.legrand.com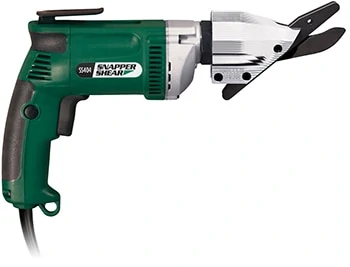 Snapper Shear
Snapper Shear brings you powerful, dust-free cutting of fiber-cement products. Whether you're cutting siding, paneling or backerboard, Snapper Shear sets the standard with the budget-minded 200 series, the premier 400 series, and new cordless 500 series. The durable shear blades cut up to 20,000 running feet—enough for 15 average homes. Snapper Shear SS404 Fiber-Cement Siding Shear effortlessly powers through fiber-cement siding up to 5/16-in. thick for fast, clean cuts with no airborne dust. The Snapper Shear SS424 Backerboard Shear is the perfect solution for indoor cutting of 1/4- and 1/2-in. Hardibacker, plus it beats score-and-snap methods hands-down. Both tools feature a heavy-duty 1/2-in. spindle and powerful 6.5-amp motor. Visit www.pactool.us.