Sakrete U.S. Cold Patch
Sakrete U.S. Cold Patch is a high-performance permanent pothole repair product that can be used in wet or dry conditions. Easy to use right out of the package, just place the Cold Patch and tamp or drive over the repair with no tracking. Unlike cutback asphalt, this new product cures through compaction rather than evaporation, so it hardens with each passing car tire. Think of it as "hot mix in a bag". U.S. Cold Patch is environmentally friendly, made with over 95 percent recycled materials and low VOC content, so it requires no special equipment or safety clothing to install. The product causes no oily mess, it's odorless and cleans up with soap and water. Visit www.sakrete.com.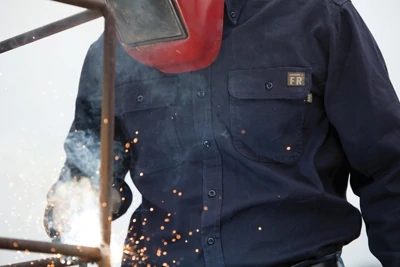 Wolverine Flame Resistant Clothing
Wolverine has introduced two new styles of Flame Resistant shirts in versatile Twill and Ripstop materials. Both garments are flame resistant and are constructed with flame-resistant fabric, meeting requirements specified in ASTM-F2302-8 for labeling protective clothing as flame resistant. Often worn by electricians who may be exposed to momentary electric arcs, flame-resistant clothing must meet ASTM F1506, the standard performance specification for flame resistant and arc-rated textile materials for wearing apparel exposed to momentary electric arc and related thermal hazards. Wolverine's Flame Resistant clothing meets this standard. The new shirts are available in Grey, Khaki, Blue and Navy (Ripstop shirt also available in Brown). Visit www.wolverine.com.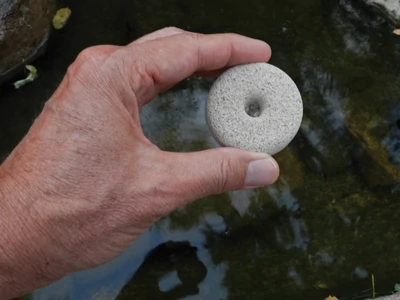 Mosquito Dunks
Homeowners looking for an effective way to control pesky, disease-spreading mosquitoes don't have to resort to harmful chemicals. Mosquito Dunks kill mosquitoes before they're old enough to bite. The active ingredient in Mosquito Dunks is BTI (Bacillus thuringiensis israelensis), a naturally occurring bacterium that's deadly to mosquito larvae but harmless to other living things. Mosquito Dunks, which look like small beige donuts, float on standing water and naturally kill mosquito larvae before they become adults. Each Mosquito Dunk will treat up to 100 square feet of surface water for about 30 days. Learn more at www.summitresponsiblesolutions.com.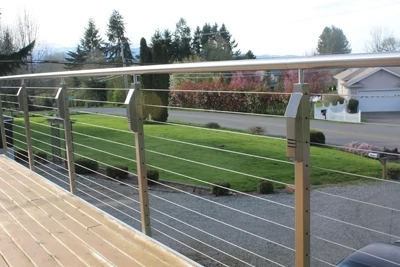 Starlight Solar-Powered LED Accent Lights
Starlight Solar-Powered LED Accent Lights from AGS Stainless offer an easy-to-install, energy-saving lighting option for any deck or outdoor living space. Starlight is the first solar-powered light designed specifically for cable railing systems. Housed in a stylish yet sturdy marine-grade stainless steel shell, this new exterior lighting accessory nicely complements the full-line of AGS' stainless steel decking/stairway cable rail systems offering sleek, long-lasting elegance at an affordable price. Created as a lighting accessory for a wide-array of exterior settings, the display possibilities for Starlight are nearly endless: mounted upon stainless steel decking posts within outdoor living spaces, illuminate second-story railings to create depth, front walkway pillars to create a welcoming visual affect, attached to any building's exterior to accentuate focal points. Starlight is the first lighting accessory to the Clearview line of stainless steel railing systems. The Clearview design and ordering process is straightforward and simple: sketches and approximate dimensions are submitted to AGS Stainless where CAD drawing and all details of your system are created by a member of the design team. Visit www.AGSStainless.com.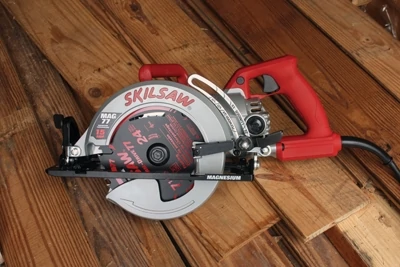 New Family of Worm-Drive Skilsaws
When it comes to the high-torque power of worm-drive saws, Skil Power Tools is the team to beat. As the originator of the worm-drive saw, the company's new 7-1/4 In. Magnesium Worm Drive Skilsaw family continues to build on this hard-earned reputation. The lineup includes three saws: the Skilsaw SHD77-02, the Skilsaw SHD77M-02 and the Skilsaw MAG77LT. Each is designed to achieve different cutting applications. The main feature of the new saws is their reduced weight. Each saw is lighter than its predecessor. The new saws also feature a multi-function wrench that stores on the saw foot for convenience, a new depth-of-cut system for quick and easy adjustment, and a 24-tooth carbide blade. Perfect for heavy-duty framing, concrete forming and masons, the 7-1/4 in. Aluminum Worm Drive Skilsaw is one of the most versatile saws on the market, making it a rugged workhorse on the jobsite. The powerful 15-amp motor and durable worm-drive gears are engineered for pro performance and long life. Visit www.skiltools.com.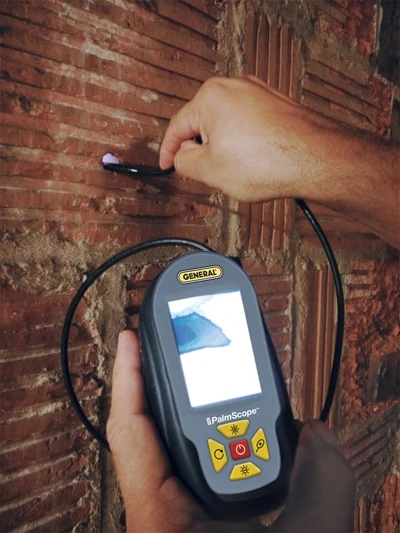 PalmScope
The new PalmScope (DCS950) from General Tools & Instruments is the world's smallest full-featured video inspection system. It fits in a pocket or clips to a belt, and the specs rival far more expensive units. It's also a rugged device that's built to survive harsh environments and rigorous tasks. The instrument's clamshell design allows the camera-tipped probe to be coiled safely and conveniently inside the device for storage. Plus, it can be operated with one hand, leaving the other hand free to use tools and making it ideal for busy craftsmen, contractors and DIY'ers. Retailing for less than $150, the PalmScope sets a new affordability standard while providing a cost-effective way to visually inspect inaccessible or hazardous areas to assess and diagnose problems, or read hidden part and serial numbers. The video zoom button allows the user to zoom up to 4X, increasing the odds of spotting elusive problems. The 180-degree video flip function makes it easier to read upside-down labels and serial numbers by instantly turning them right-side up. Visit www.generaltools.com.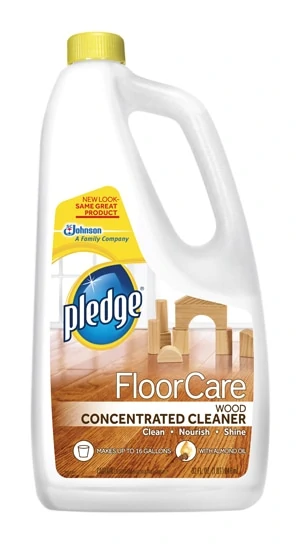 Pledge FloorCare Wood Family Products
Wood floors can help transform a house into a home, adding warmth and beauty to any interior, whether traditional, contemporary or rustic. There's nothing quite like the appearance of clean wood floors, but daily traffic can leave them dull, dirty and scuffed.
The new Pledge FloorCare Wood family of products is designed specifically for wood flooring. Pledge FloorCare for Wood comes in four distinct product options: Pledge FloorCare Wood Concentrated Cleaner; FloorCare Wood Squirt & Mop; FloorCare Wood Trigger; and FloorCare Wood Finish. The products clean, shine, restore and protect precious wood floors, helping to sustain the beauty of your floors for years to come. Visit www.pledge.com.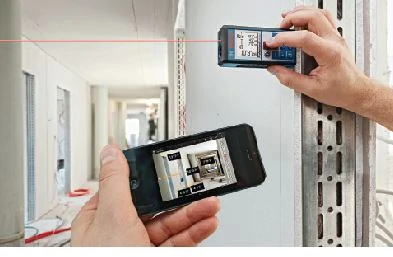 Bosch GLM 100 C Laser Measure with Bluetooth Technology
Using Bluetooth Wireless Technology, the new Bosch GLM 100 C Laser Measure instantly transfers measurements to smart phones and tablets with a free mobile application. Featuring an extended measuring distance (330 ft.), best-in-class memory storage and angle measurement in two axes, this laser-based range finder allows users to make accurate measurements that are instantly transferred to their smart devices. With the help of the app, professionals can easily store and manage measurements without relying on pen and paper, making it fast and easy to calculate material needs and estimate labor costs on-site. Measurements also can be superimposed on jobsite photos, allowing users to quickly create and share detailed quotes containing pictures and comments. Boasting first-in-its-class remote control functionality, professionals can control the GLM 100 C from smart phones or tablets to make steady measurements along long range, short range targetless measurements, or in hard-to-reach spots.  The GLM 100 C is accurate up to 1/16 inch. Visit www.boschtools.com.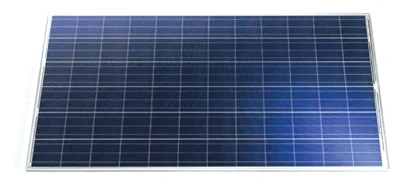 ET Solar 300W Polycrystalline Solar Panels
Backwoods Solar offers great prices for off-grid and grid-tied projects. For years the company has been working closely with manufacturers to secure cosmetically blemished modules, and the mission is to find companies that continue to offer a warranty on the product, which protects the end user. By purchasing "B" grade modules, customers save money and still get a quality product. The slight cosmetic imperfections will not affect their performance. ET Solar guarantees excellent performance of the modules, even under limited light environments. The full 25-year power warranty is in effect on these modules, however, the 10-year "workmanship warranty" is waived (meaning that ET Solar will not replace the modules for cosmetic reasons). The ET Solar P672 series 300-watt panels provide excellent output with German manufacturing techniques using high-quality materials. Visit backwoodssolar.com