Deckorators Fasteners
Deckorators offers The Stowaway Hidden Fastener and the Cortex Hidden Fastening System. The Stowaway Hidden Fastener discreetly secures deck boards to joists with a single stainless steel, color-matched screw—resulting in a beautiful, smooth and virtually fastener-free deck surface. The Stowaway screw comes preloaded, making the installation process faster. Deck boards are automatically spaced at proper intervals, and the needs for predrilling and countersinking are eliminated. The Cortex system hides deck screws on stairs, perimeter boards or when replacing a board. All Deckorators decking colors are available for the Cortex system. Visit deckorators.com.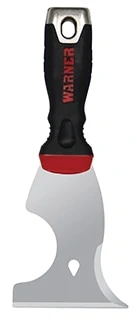 Warner 8-in-1 Painter's Tool
Warner Tools' 8-in-1 Painter's Tool (90173) from the ProGrip 3 line of products is a must-have for any tool kit. Made of heavy-duty high strength steel with chisel-ground edges, it incorporates Warner's patented ergonomic handle for improved comfort and tool control. With the 8-in1 Painter's Tool, switching tasks doesn't mean you have to switch tools. The tool incorporates a number of features, such as edges for scraping both flat and radial surfaces. It can clean cracks, open lids, pull nails, set nails, clean rollers and serves as a utility cutter. Plus the ergonomic handle design reduces fatigue during extended use. These are features the pros asked for in a professional-grade tool. Warner Tools are proudly Made in the USA. Visit Warnertool.com.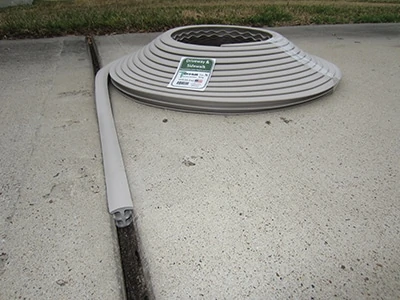 Trim-A-Slab
Are open expansion joints in your driveway growing weeds, or even getting dangerous?  Are you tired of spraying chemicals, or find that liquid sealers are too messy and they just don't look nice? Trim-A-Slab is a flexible, rubber-like material that is easily pressed into concrete expansion joints. Trim-A-Slab will make your driveway, sidewalks or patio look great, and a whole lot easier to keep clean. It seals out weeds, water and dirt, and makes your property safer by eliminating those open spaces which can cause trips and falls. It also helps maintain the integrity of your slab by preventing the soil beneath from being washed out by weather or pressure washing. To install, just start at one end of an expansion joint, press it in by hand, and cut to length when you reach the other side. Trim-A-Slab can be trimmed with a PVC cutter, or even pruning shears. Trim-A-Slab is also removable and replaceable, so it can be taken out every year and used to cover up extension cords for holiday decorations, or wiring for outdoor lighting. Sizes correspond to typical expansion joint spaces; 1/2, 3/4, 1 and 1-3/8 inch. Each size will still fit even if each slab has moved up to 1/8 inch. That means Trim-A-Slab will fit tapered joints, and will even form a ramp in the case when one of the slabs has moved up or down. Trim-A-Slab is a patented product proudly Made in the USA. Visit Trim-a-slab.com.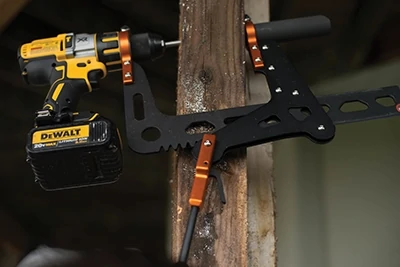 Rapidrill
The Rapidrill is a safety attachment compatible with most corded and cordless drills that converts a standard drill into a powerful drill press. Rapidrills' well-crafted design gives you powerful leverage when drilling through the toughest of materials. The unique gear ratio and versatile clamp enables you to apply even pressure at a perfect right angle, giving your drill bit a longer life and giving your hand drill an amazingly fast drill time. The lightweight design makes it easy to use overhead, upside own, sideways, and in hard-to-reach locations. Rapidrill is as safe as it is tough, and with its specifically designed hand distribution, it will not only increase your leverage, but greatly reduce the amount of rebound that occurs when a drill bit binds. Use on stainless steel, thick and thin steel, plastics, masonry, wood and more. Rapidrill is used by fabricators, steel erectors, trailer manufacturers, custom mechanics and many others. Visit www.rapidrill.com.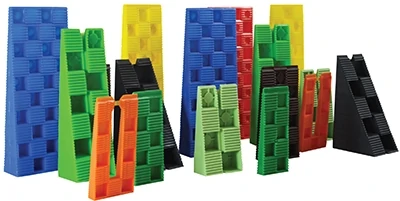 SmartWedge Products from Calculated Industries
Calculated Industries is now the exclusive North American Master Distributor for SmartWedge plastic shims, the innovative, practically indestructible, 100-percent plastic shims that can be used for installing doors and windows, framing, deck building and more. Reliable and easy to use, these shims have been popular in European housing construction for over 40 years. SmartWedge shims are made from durable polyethylene plastic, so they are immune to moisture and, unlike wood shims, they won't swell, compress or decay. Plus, they will not split, even when they are fastened by nails or screws. SmartWedge Shims come in several styles, shapes and sizes for different applications, including the original 8-in. SmartWedge (that can be snapped apart and used as two 1/4-in. shims), plus Flat Shims, Balance Shims, SmartBlocks, as well as the CombiMax system of different shapes and sizes that can be used for blocking up floors and decking. Visit www.calculated.com/smartwedge.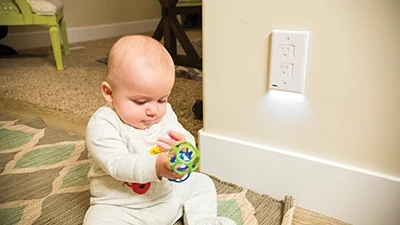 SafeLight from SnapPower
The easy-to-install SnapPower SafeLight safely transforms your outlet into a child-friendly nightlight. Equipped with sliding outlet covers, it helps prevent children from electrical shocks and hazards. The sleek and energy-efficient design replaces the outlet's cover plate, requiring no wires or batteries, and leaves all outlets free for use. Visit www.snappower.com.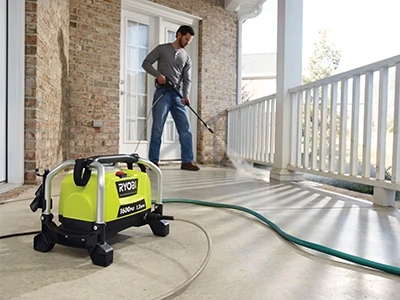 Ryobi 1600 PSI Pressure Washer
The Ryobi 1600 PSI Pressure Washer is compact and lightweight, making it easy to move to various locations around the house and job site. Equipped with a powerful 13-amp electric motor, this unit delivers 1,600 PSI of force for quick cleaning of driveways, decks, windows and patio furniture. This pressure washer features a durable and compact rugged roll-cage frame design making it easy to transport and also protects the motor housing and keeps the unit upright. The on-board detergent tank allows for easy soap application and offers hassle-free cleaning by eliminating the need to drag a bucket and hose behind you. This pressure washer also has on-board accessory storage for added convenience, a professional metal spray wand with Quick Connect coupler for easy nozzle changes, and a bonus Turbo Nozzle for up to 50 percent more cleaning power. It's backed by the Ryobi 3-year limited warranty and is guaranteed to deliver results for years to come. Visit ryobitools.com.