Veto Pro Pac Model XL
The Veto Pro Pac Model XL is a rugged tool bag designed to address the many problems associated with traditional tool bags. Its design makes for superior tool organization and access. The vertically tiered pockets, attached to the patented center panel design, allow for immediate visual inventory and access to all your hand tools. The Model XL can store 100 hand tools with ease and has 67 pockets. All bags have a strong, durable and ergonomic construction. It is the perfect bag for any kind of technician with vertical tool pockets (48 inside and 3 outside), flat zippered pockets (4 inside and 2 outside), 9 D-rings, an electrical tape loop and a stainless steel tape-measure clip. With a waterproof base and body fabric, The Vetp Pro Pac Model XL is ruggedly constructed and comes with a 5-year warranty. Visit www.vetopropac.com.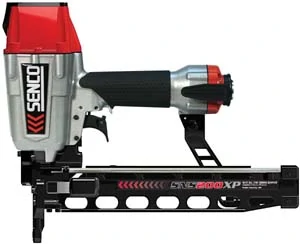 Senco Pneumatic Construction Stapler
The new Senco pneumatic construction stapler Model SNS200XP drives 16- and 17-gauge, 7/16-in. crown, 1- to 2-in. staples. The new stapler offers greater durability and power for use in a variety of applications, including sheathing, furniture framing, roof decking, sub-flooring, crate and box assembly, pallets, cedar shingles, furring, metal tie-down straps, fascia and soffits, and ridge beam assembly. It weighs just 5.3 pounds, yet according to Senco it is 15 percent more powerful than other professional construction staplers in its class because of its high-speed motor design. Operating at 70 to 120 psi, the SNS200XP is equipped with a high-capacity, all-metal magazine that holds 160 staples. The magazine's innovative removal mechanism provides a clean, narrow site line for precise staple placement into all substrates. In addition, a precision-machined drive track prevents jamming. A dual-action trigger allows continuous "bounce" firing along a work surface at a rate of more than 10 staples per second for high-volume production. Visit www.senco.com.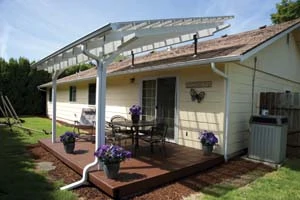 SkyLift Roof Riser Hardware
The SkyLift Roof Riser Hardware is an innovative and elegant solution to the problems caused by low-pitch flat patio covers. The hardware is designed to elevate a patio roof above an existing structure's roof. Engineered to hold the weight of standard beam construction, the brackets are cut through the existing roof, bolted to a structure's exterior weight-bearing walls, and sealed with a standard pipe jack waterproof flashing to form the roof support system. The elevated roof increases pitch that helps water flow and discourages debris accumulation, solving most of the leakage and rot problems of low-pitch flat covers. The higher roof also provides the patio with an airier feel and opens up the view. The brackets create a gap between the two roofs, allowing natural light to spill in and releasing trapped heat. Weather protection is not compromised because the roofs overlap. Visit www.skylifthardware.com.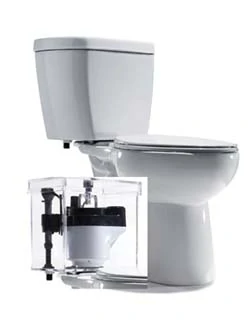 Niagara Stealth Toilet
The Stealth toilet from Niagara Conservation is an ultra-high-efficiency unit that not only saves water but is remarkably easy to install. The Stealth offers a powerful bowl-cleansing flush with the simple push of a button but only uses 0.8 GPF (gallons per flush), saving natural resources and energy costs. The EHT staff installed a Niagara Stealth in a recent bathroom upgrade, and the unit came with everything needed to complete the job: a wax ring, flange bolts, tank-to-bowl gasket, a fully pre-installed flush valve inside the tank, and even a toilet seat. Veteran installers will recognize that these components don't usually come with the toilet, requiring an extra trip to the hardware store. The ready-to-go Niagara Stealth toilet installs quickly and easily, and operates with impressive performance. Visit www.niagaraconservation.com.