1 TOOL + 10 CONFIGURATIONS + 1,100 lbs. BENDING FORCE = The Hardwood Wrench™ is the "Original" patented self-locking deck board straightening tool.
Used to hold deck boards straight while hidden deck fasteners are installed, its cam locks into place, transferring a pushing force of around 1,100 lbs. A true "one-man, one-handed installation!"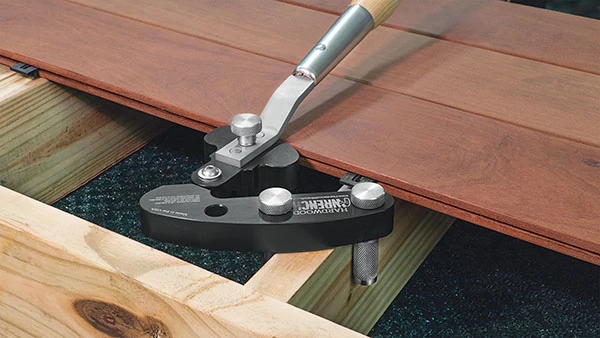 The patented Made in the USA Hardwood Wrench™ is the possibly the most advanced deck board straightening tool ever created. Give your crew the freedom of installing hidden deck fasteners (Such as Ipe Clip®) easily with up to 8X more board bending force than other decking straightener wrenches.
Expandable
The wrench works with single joists or up to double joists measuring 3.5″ wide. Specially designed for exotic hardwoods, it fits all types of wood decking, including pre-grooved or standard wood lumber, composite decking, and PVC material.
Reversible
The reversible solid wood handle accommodates multi-directional on-site use for tight areas and narrow spaces. The Hardwood Wrench™ by DeckWise® is ready for any deck building project right out of the box. No extra tools are required – this was built to work as hard as you do.
Versatile
The recent changes we've made to the Hardwood Wrench™ gives anyone the ability to straighten the most dense and bowed deck boards from any angle on the job with ease. The wrenches' handle and the stainless steel joist pins can now be reversed, flipped, and expanded, allowing for straightening any board a breeze. Flip the wrench upside down and the knurled knob tightening screws can now grip furring for hardwood siding applications. It's amazing!
Use from all directions
To straighten a deck board on the outside of a deck frame, DeckWise® has re-designed the handle, flange and joist pins to be realigned allowing the capability to straighten any decking board from either left or right handed directions.
Get more information on the remarkable Hardwood Wrench™ by contacting DeckWise online or call  directly to 941-896-9851.