Innovation can take many forms. For serious DIY'ers, innovation may mean a new project or a new way to solve a problem. For those who make the tools that are used for those projects, innovation could be a new type of tool, or the process in which they are manufactured. Innovation could also mean finding ways to manufacture products in the USA.
CHANNELLOCK® has long been synonymous with innovation. Throughout their 130-year history, they have had a laser focus on quality, which means that research and development have become an important aspect for every tool they make—whether that's a new tool or an existing one that they can improve. Manufacturing has always been the enabler of innovation and a wellspring for new ideas.
"To be able to say that our world-famous pliers are still made in Meadville, Pennsylvania, USA is a source of pride to everyone at Channellock," says Chairman and CEO Bill DeArment. "Our company was founded in 1886 in northwest Pennsylvania on the principle of making the highest-quality tools, and nothing has changed."
With new technological advances, Channellock, Inc. has made many improvements in their manufacturing practices. Process enhancements include site specific laser-heat treating operations for more durable products and the implementation of robotics in the forging, polishing and machining arenas.
The dies used to forge each tool are machined using high-speed precision CNC (Computer Numerical Control) machining centers. This technology ensures consistent and precise milling of the die geometry so each tool forged can be held to strict quality standards for both forged tool strength and critical product dimensions. More consistent forge tooling also facilitates faster changeovers, minimizing downtime and maximizing productivity.
Another innovation that Channellock, Inc. employs is the use laser hardening that makes it possible to achieve the unmatched performance and durability of the pliers. The laser hardening allows the plier cutting edges and teeth to be incredibly durable, while maintaining the metallurgical structure in the handles and body of the tool to maintain the superior strength of the high carbon forged steel.
In recent years, the introduction of 3D printing has allowed Channellock, Inc. to develop prototypes for new tools and potential improvements to existing products. "It has been a welcome addition to our tool design process because it allows us to see how an idea would actually function before advancing too far along the process," said Jon DeArment, President and COO of Channellock, Inc.
A commitment to manufacturing quality products in the USA for 130 years has built Channellock, Inc.'s reputation as a leader in the hand tool industry. In a business that has seen its share of companies explore alternative manufacturing options that result in a loss of quality control, DeArment says that they stand committed to their history of American-made products.
"Quality is all about the manufacturing process," notes Bill DeArment. "Our customers choose CHANNELLOCK® tools over the competition because we're deeply rooted in innovation, dependability, and performance."
Knowledgeable tradesmen and do-it-yourselfers know that a quality tool goes a long way toward getting a job done quickly and efficiently. They rely on them to hold up under a variety of grueling conditions and applications.
"We invented the tongue-and-groove plier in 1933, and it has been an industry-best tool ever since," said Jon DeArment. "Unlike our competition, we don't waste time constantly trying to design the latest gizmo or gadget to add to pliers. Instead, when we change something, we make sure it's a needed change for tool users that will make their jobs easier and add more value to the product."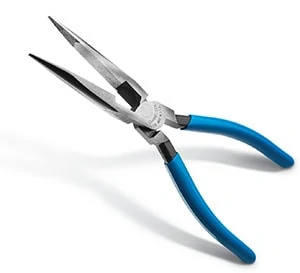 DeArment said that CHANNELLOCK® tools are designed to fit both the job and the user. The CHANNELLOCK® E Series™ line of pliers features several sizes of cutting, long nose and combination (linemen's) pliers. What sets the E Series™ apart, DeArment says, is that they're designed to be sleeker and more lightweight, and the slim design allows users to reach into tighter spaces. They are also equipped with what they call Xtreme Leverage Technology, or XLT™. The improved high-leverage design means it takes 40 percent less force to make clean, accurate cuts compared to other companies' high-leverage pliers.
Innovations like these have resulted in tools today that are generally better in design. They help the user access hard-to-reach areas while being more comfortable to use and more progressive in their appearance. This is what the end-user demands, and committed manufacturers are listening.
"Our pliers haven't changed drastically over the years," Jon DeArment said, "but each innovation we achieve is a measurable one that keeps Channellock Inc. positioned as an industry leader."