New Tools & Accessories
Impact Drivers are a relatively new power-tool category that's taken the construction world by storm. Unlike conventional powered screwdrivers, an impact driver uses an internal anvil to deliver much higher rotational torque than conventional drill/drivers. When the power needed to drive the fastener exceeds the torque of the tool's rotational force, a drive gear with two matching lugs strikes the anvil to nudge the bit along. The tool produces its signature tapping sound when the striking engages.
The impact action drives fasteners very quickly, and little pressure is needed from the user—just enough to keep it in the slots of the screw-head. This grants greater control and helps prevent the bit from jerking out of the fastener. Impact drivers are excellent tools where speed and user fatigue are an issue. These tools are measured by impacts per minute (IPM), and some 18-volt units can deliver more than 1,600 lbs. of torque.
The design of the tools have already evolved in recent years with multi-speed adjustability, powerful compact models, right-angle configurations, brushless motor technology and tool-specific accessory lines. Here's a look at some recent developments.
Brushless Motor Technology
A power tool's electronic brushes often require replacement after the tool sees a lot of wear. However, major tool manufacturers are moving toward brushless motors that not only eliminate the maintenance headache of brushes but also offer performance advantages over the older motors.
Instead of wearable brushes, tool manufacturers engineer more steel and copper into the brushless motors for longer life as a result of reduced friction, less heat buildup and higher efficiency. Brushless motors can deliver significantly more power and run time.
Expect brushless motors to show up in new professional-grade drills, drill/drivers, impact drivers and hammer-drills, but don't expect the technology to make an across-the-board takeover of conventional brushed motors.
Brushless technology is expensive, so weekend warriors may not want to shell out the big bucks for the advanced weaponry.
Milwaukee Electric, Makita, DeWalt, Bosch and Hitachi Power Tools all offer contractor-grade brushless impact drivers.
Bosch Socket-Ready IDH182
Boasting a whopping 1,650 in-lbs. of maximum torque, Bosch Power Tools' new IDH182 brushless 18V impact driver features a Socket Ready all-in-one tool holder. This innovative tool holder combines a 1/4-in. hex and 1/2-in. drive into one unit, eliminating the need for users to own an impact driver and impact wrench (and also eliminates the need for fragile socket adapters). The IDH182 features a compact head and weighs just 3.2 lbs. when paired with a 2.0 Ah lithium-ion battery. The Bosch Performance Control System allows users to adjust tool speed and torque with a push of a button to match the tool's performance to the application. This helps eliminate screw cam-out in screwdriver mode, reduce screw shearing in the self-tapping screw mode, while generating max output in general-purpose mode. (www.boschtools.com).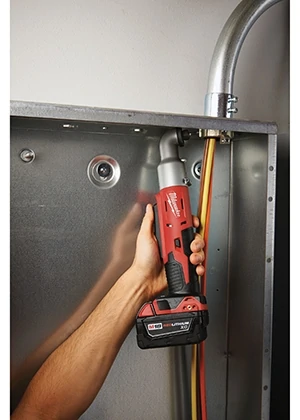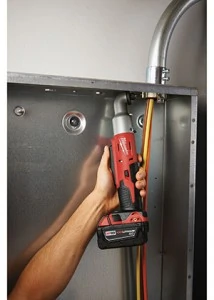 Milwaukee M18 1/4-n. Right Angle Impact Driver
Milwaukee Tool's new M18 1/4-in. Hex Right Angle Impact Driver (2667) brings speed and control in hard-to-reach fastening applications. The 2667 features a 1.7-in. head profile to deliver access to areas where a pistol-grip impact can't reach, and it's the only tool in the category to offer multiple speed/torque modes through a proprietary 2-Mode Drive Control. The 1/4-in. hex drive has 1-in. bit acceptance for tighter access and a wider range of useable accessories. The extended paddle-switch design allows operation of the tool from multiple grip points, and an eight-point rotating head provides access from multiple angles. The new impact includes Milwaukee's RedLink Intelligence advanced electronics for overload protection and temperature management (www.milwaukeetool.com).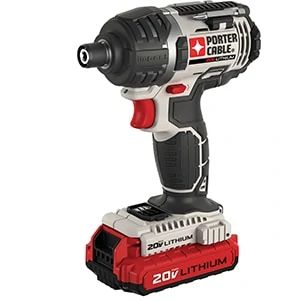 Porter-Cable 20V PCCK640LB Impact Driver
Fast and powerful but priced for the DIY'er, the 20V Porter Cable PCCK640LB Impact Driver boasts a high-torque output of 1,450 in-lbs. The extra torque comes in handy when boring big holes in tough materials.
The new driver also comes with some handy pro-grade features like an over-molded grip, LED work light, battery fuel gauge, a "one handed" easy-load chuck, two magnetic bit holders and spring-loaded lithium-ion batteries with 40-min. charge time (www.portercable.com).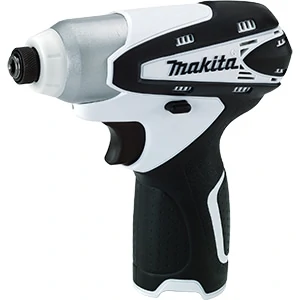 Makita's DT01ZW 12V Max Compact Impact Driver
For plenty of power in small places, Makita's DT01ZW 12V max lithium-ion cordless impact driver delivers 800 in-lbs. of maximum torque in an ultra-compact size (6 inches long). Backed by a 3-year warranty, the driver offers variable speed (0-2,400 RPM and 0-3,000 IPM) and weighs only
2 lbs. with the battery. A built-in LED illuminates the work area, and the soft rubberized grip makes it comfortable for all-day use (www.makitatools.com).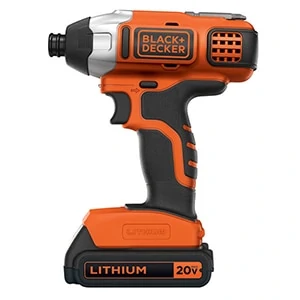 Black & Decker BDCI20C 20V Impact Driver
Selling for only $99 at the Home Depot with batteries and charger included, Black & Decker's 20V lithium-ion impact driver (BDCI20C) is a solid choice for a DIY builder on a budget. The BDCI20C cordless impact is designed with a high-performance transmission that delivers an ample 1,375 in.-lbs. of max torque. This tool is compact, lightweight and backed by Black & Decker's 2-year limited warranty (www.blackanddecker.com).
Impact Bits
Although impact drivers are excellent tools for fastening applications, the striking action of the tools can be tough on bits. Most hex-shank screw-driving bits are compatible with impact drivers, but tool manufacturers are now engineering bits specifically for maximum durability with impact drivers by using more ductile steel, shock-absorbing geometry, and bits that are forged rather than milled, so they fit fasteners more precisely. The tighter fit reduces stripping and increases the life of the bit itself.
Notably, however, the new impact bits are generally designed to absorb extra shock during maximum-torque applications, such as metal-to-metal fastening. When fastening in pressure-treated wood, however, the drivers don't require that much torque, thus the extra ductility in the impact bits isn't necessary, in which case the less expensive standard hex bits will suffice.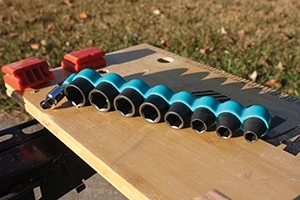 Makita Impact Gold Socket Set & Adapter
Makita's new 3/8-in. square-drive socket set can equip your impact driver to function like an impact wrench. The sockets are machined from heat-treated alloy steel for heavy-duty torque and have a black oxide finish for longer socket life. The 9-piece set includes an Impact Gold 3/8-in. socket adapter, which is machined from high-quality steel engineered for use with impact drivers, and tilts up to 15 degrees for work in tight areas. Whereas contractors usually rely on two-piece U-Joint sets, the Impact Gold offers a single adapter for sockets that delivers a solution for fastening metal frames, automotive components and more (www.makitatools.com).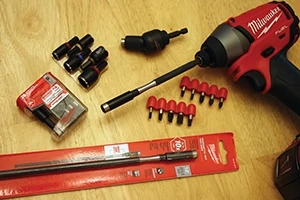 Milwaukee's Shockwave Expand Accessories
Milwaukee Electric Tool grows its Shockwave family of impact driver accessories with the Expand line of products. The goal of Expand is to reduce the sheer amount of accessories users often need to carry with them to complete a job. By pairing the new extended length magnetic bit-holders and insert nut-drivers with the existing 30-deg. Knuckle pivoting bit holder and 21 insert bits, users can do more and carry less. To match the breadth of the Expand lineup, users would typically need to carry more than 130 unique accessories. (www.milwaukeetool.com).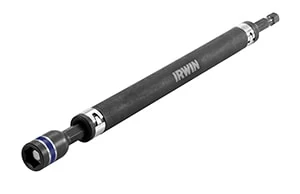 Irwin Impact Performance Series Accessories
The new Irwin Performance Series accessories are engineered specifically for use in impact tools. From the right length bit, to the most used diameters, tip types, bolt, socket and drive sizes, the expansive product range ensures the right impact accessory for drilling, driving and extraction applications.
The Irwin Impact Performance Series Tapcon Installation System combines a drill bit and drill/drive sleeve to make Tapcon installation faster and easier. The bits have a built-in hex collar stop feature for drilling the perfect hole depth for Tapcon screws, as well as other concrete screws. Designed with three different lengths across two different diameters, the carbide-tipped bits match up with all standard Tapcon screw diameters and lengths for drilling the most common hole depths for masonry fastening applications.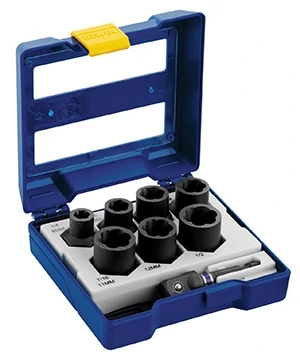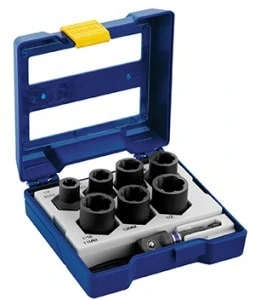 Wrestling with a stripped screw? Irwin's Screw-Grip Impact Performance Series Extractors feature DoubleLok Technology ensuring that both ends lock into impact drivers and quick-change chucks. A single bit drills and extracts to easily remove stripped or damaged screws and small bolts in three steps: drill, flip the bit, then extract. The tip of the drill end is designed to start fast, with minimal walking, and the tip of the extractor end is serrated for increased torque to easily remove even the toughest screws.
Irwin's Bolt-Grip Impact Performance Series Extractors feature reverse spiral flutes engineered to provide maximum gripping power to easily remove the most stubborn of broken, damaged or rusted nuts, bolts and screws. They're manufactured with high-carbon steel, and the universal lobular design fits all types of fasteners.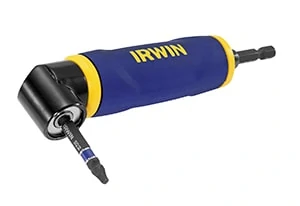 Irwin also offers a right-angle drill/drive accessory for impact drivers. The low-profile attachment accesses tight spots, and the chuck accepts all standard
1/4-in. hex shank accessories including insert bits. The accessory is constructed with steel gears and ball-bearing drive for smooth drilling and long life with a molded handle for secure and comfortable grip (www.irwin.com).