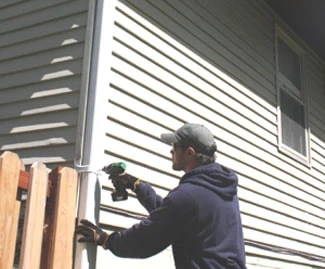 (guest post by Century Home Improvements)
Top Five Ways NOT to Clean Your Downspouts
Keeping up with your rain gutters is a must to home maintenance. They may be out of sight and out of mind for most homeowners, but neglecting them can lead to buildup of debris from local vegetation. You may not have trees in your yard, but you'd be surprised how far the wind can carry leaves, pine needles, feathers, and more.
When it comes to taking care of these pesky clogs in your downspouts, keep these five tips in mind. Mistreating your gutters and downspouts can be much more expensive in the long run, ranging from replacement costs to hospital bills.
Do not use your hands or the hands of your children to wrestle the clog out of your downspout. Never use your bare hands—or anyone else's for that matter—to clear any debris from your downspout. You may scrape your hands or arms on the rough metal outer edge of your spouting. If you decide to scoop any debris stuck at the bottom of the spout, always be sure to wear gloves.
Do not use rods or poles to clear the clogs in your downspout. While downspouts can be a little tricky to keep clean from debris like leaves and grass, forcing a narrow object into the downspout may actually reinforce and firm up the clog by compacting it, rather than forcing it free, and damaging your spouting.
Do not use household cleaners. The labeling on your drain cleaner may promise to clear out any clogs you have, but it won't work on your rain gutters and downspouts. You don't want those chemicals going into your yard or groundwater, either!
Do not use a leaf blower to unclog your downspout. Never stick a leaf blower extension into your downspout. It's pretty common to see leaf blower extensions used for accessing rain gutters, and these extensions can be quite handy when it comes to removing dry, loose debris. But the force of the air won't blow a heavy, sopping wet clog out of your downspout. It just may force you right off your ladder and into the ER instead.
Do not drop rocks or balls into your downspout as a way of forcing your clog to move. Dropping anything into your downspout, especially if you're trying to clear a clog, is a terrible idea. The force of dropping or throwing objects—especially rocks or balls—won't dislodge the clog. It will just add to the mess you already have, and it may even damage your downspout.
Neglecting your rain gutters and down spouting can eventually lead to major problems. They are designed to channel rainfall and melting snow away from your house. However, if they are clogged or filled with twigs and leaves, water cannot pass through properly.
Water pooling around your house can mean damage to your property. It can leak into your basement, creating ideal breeding grounds for mold and mildew, putting you and your loved ones at risk for health problems. Pools of water can even pull soil away from your home as the water drains back into the ground, increasing your home's risk for damage to the foundation and potential cave-in.
If debris is not removed, water can also overflow the gutters onto the roof and leak down the walls of your house, causing water stains inside and outside your home. Additionally, the weight of last year's maple leaves, twigs, and other debris may pull your rain gutters away from your home, causing additional damage like wood rot and exposing your roof seams to the elements. 
If you don't feel comfortable tackling your gutters alone, contact Century Home Improvements for gutter inspections and alternatives such as installing a Gutter Helmet.