Pac Trim Wall Treatments
The clean lines, the versatility, the hand-crafted feel and the flexibility… Shiplap wall treatments add dimension and character to many different design styles. The horizontal, vertical or angled application of shiplap to a wall, or entire room, can create a unique focal point. The Pac Trim product line includes more than 500 moulding profiles of base, casing and crown, as well as MDF boards, shiplap and nickel-gap T&G wall boards for interior use. Take your shiplap and moulding applications to another level with the addition of the PacFit accessory line—a new line of miterless corners for shiplap and nickel-gap that includes both square and radius corners. PacFit also manufactures corner pieces for bases and crowns, eliminating the need for mitering. Manufactured in the United States and Canada, Pac Trim wall boards are a pre-primed MDF product with consistent quality. Visit www.pactrim.com.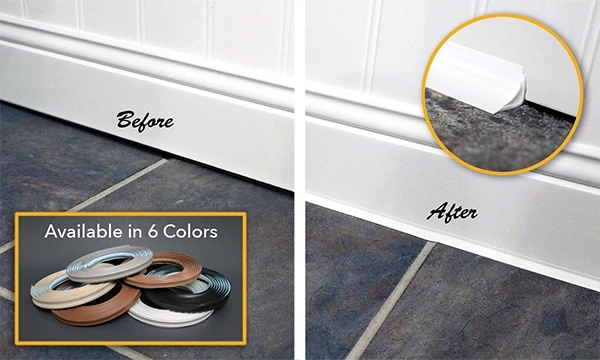 InstaTrim 
The EHT staff had the opportunity to test the new InstaTrim product, and it makes a neat alternative to light-duty caulking jobs. Rather than a tube of sticky caulk, InstaTrim comes as a roll of plastic-backed trim tape. You simply cut it to the desired length, remove the backing, then press the adhesive strip into place. As long as the area to be "caulked" has been thoroughly cleaned of grease and dirt, the InstaTrim will make a strong bond with the surface. It acts as a barrier against air, moisture and dust, covers sloppy painted or cracked wall corners, and can also be used as an accent décor trim for any area of the home. Although the product is currently limited to a single 1/2-in. bead size, six different colors are available, and application is quick, easy and—best of all—not messy. The biggest downfall of traditional caulk application is the sticky, messy nature of the product, the need to tool the bead into shape and then dispose of the excess goop. InstaTrim completely eliminates the mess and can complete the job in a fraction of the time it takes to apply with a caulk gun. Made in the USA, the product is odorless, non-toxic, waterproof, mold- and mildew-resistant, and no cure time is needed. Visit instatrim.com.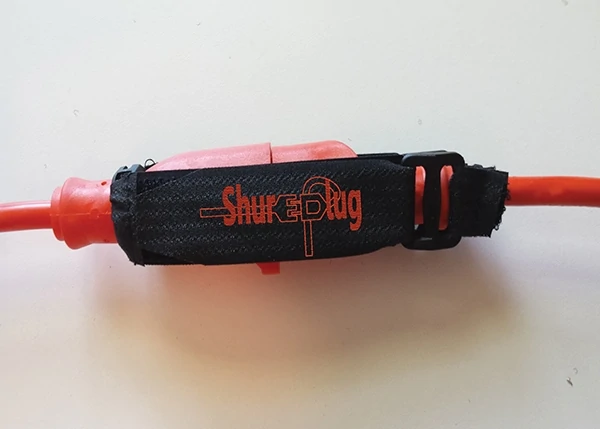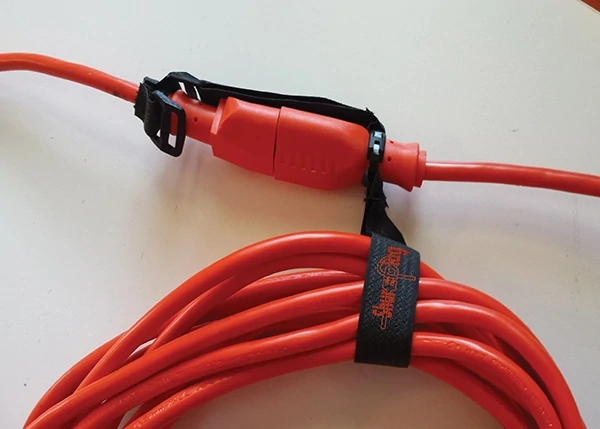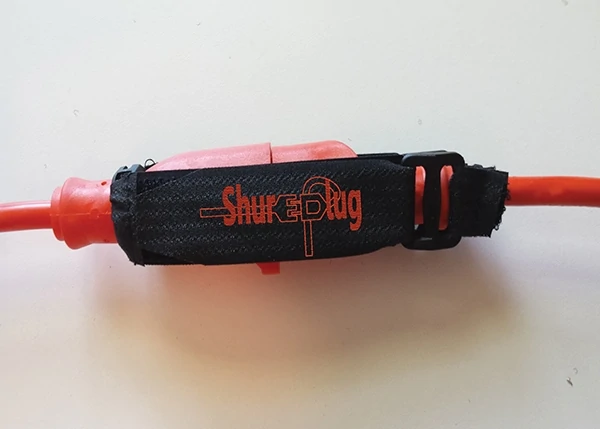 ShurePlug 
Most DIY'ers and pro tradespeople have experienced the frustration of cords coming unplugged, knotted or snagged, resulting in damage to tools and power cords, electrical shock, downtime on the job and more. ShurePlug is an affordable and viable solution to that age-old problem of knotted and unplugged cords, saving you time and money. Using an innovative design and hook-and-loop straps, it easily keeps tools connected to extension cords and protects cord ends. ShurePlug is universal and interchangeable with all tool and extension cords. Its sleek low-profile design easily maneuvers around obstacles. It is UV-protected from sunlight damage and will absorb up to 50 lbs. of pressure.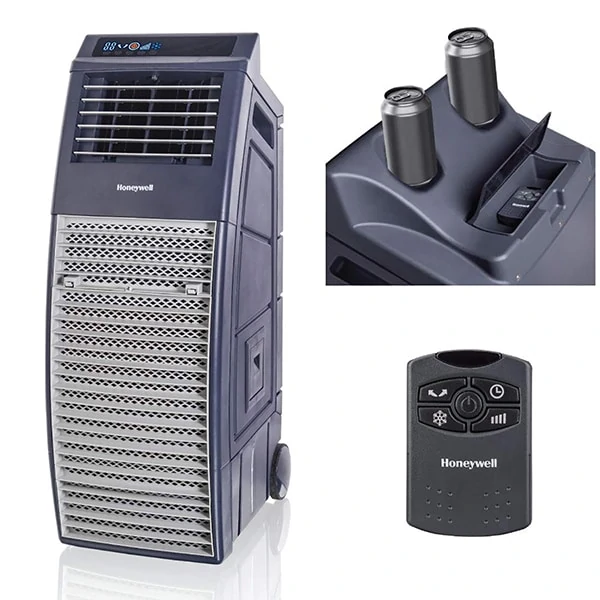 Honeywell Outdoor Portable Evaporative Cooler
The new Honeywell Outdoor Evaporative Cooler or "Swamp Cooler" is ideal for long open rooms, patio/BBQ areas, garage, deck or backyard. Not just a fan, this unit reduces air temperature through water evaporation. The moist, cool breeze cools you down without spraying the floor and furniture with water. It performs best in hot/dry climates where humidity levels are less than 60 percent like the southwestern United States. A high-pressure blower produces vigorous airflow (830 cfm) for long spaces. It offers low power consumption, copper continuous water supply connection, and Jumbo Honeywell Honeycomb Cooling Pads for optimal evaporative cooling all day long. The cooler measures 17×22.4×44.5 inches and comes with durable wheels for mobility. Features include a low-water alarm, automatic off timer and remote control for easy maintenance. Beverage holder and small storage compartment included. The EHT staff gave this powerful unit a try on a barbecue patio. It works great, but the kids keep wheeling it over to the driveway to cool off their basketball games. Visit https://www.honeywellpluggedin.com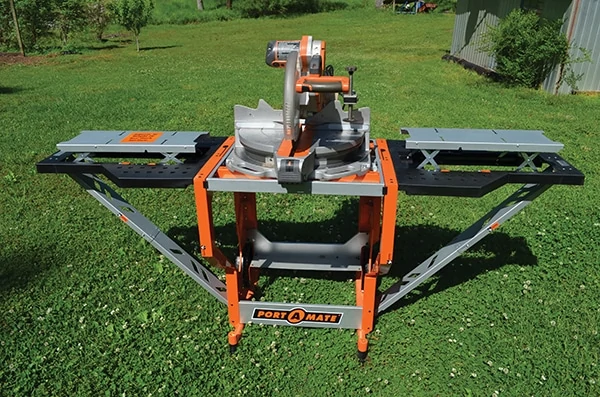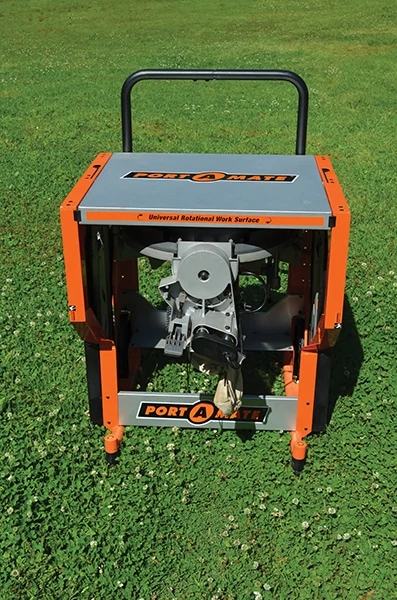 PM-8000 Portamate STR Workstation 
The Portamate PM-8000 from Bora Tools offers a combination of portable workstation, flat work surface and compact storage (31"W x 29"D x 34"H). Miter saws or other table-top tools up to 26.5" wide can be mounted to the rotating top. From the working position the miter saw or other tool can be rotated 180 degrees to an underneath storage position. While in the storage position the rotating top provides a flat metal work surface. The PM-8000 includes two retractable wings which provide a total of 7 linear feet of work surface. Work-support table inserts within each wing may be raised from 2 to 4.5 inches to match the work surface height of most miter saws. A retractable "hand truck" style handle and 10-in. wheels make for easy portability on most hard surfaces. Visit BORA at boratool.com.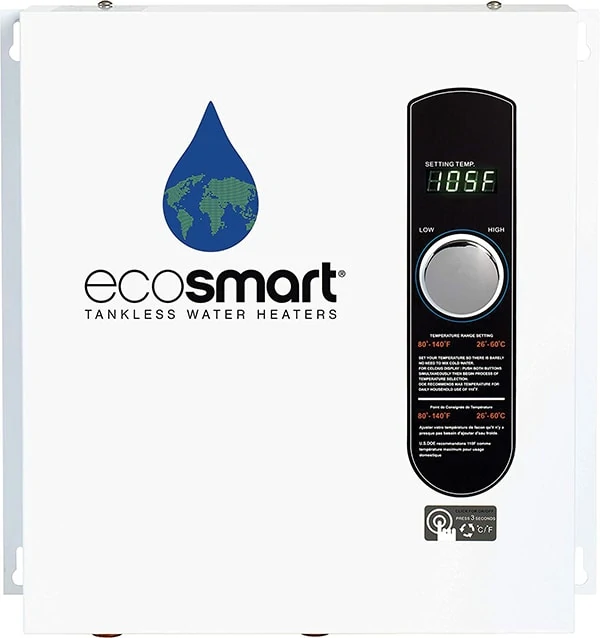 EcoSmart Electric Tankless Water Heaters 
The demand for smart homes continues to expand with 80 percent of homebuyers expressing keen interest in smart technology. The energy-efficient, space-saving EcoSmart tankless water heaters provide instant hot water on-demand and have self-modulating technology—meaning they will adjust how much energy input is needed based on how much hot water is demanded. This allows homeowners to save up to 50 percent on water-heating costs compared to a regular water storage tank. With a sleek, wall-mounted design and state-of-the-art, patented technology, EcoSmart's electric tankless water heaters offer endless hot water that is efficient and economical. From the ECO 8 8kW unit ideal for point-of-use or low-flow applications to the ECO 36 unit ideal for a large single-family home with multiple applications running simultaneously, EcoSmart electric tankless water heaters provide digital temperature settings in increments of 1 degree—just set it and forget it. Visit www.ecosmartus.com.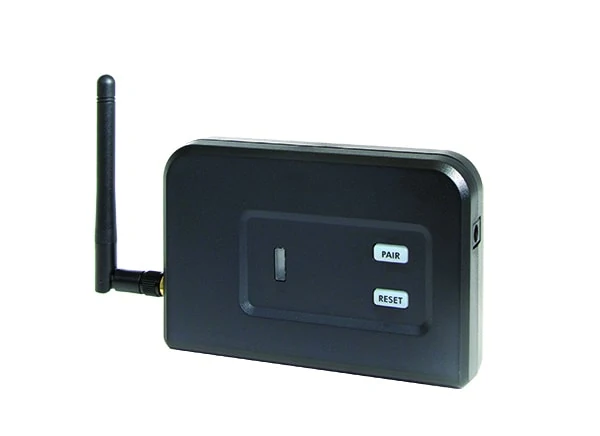 Mighty Mule Wireless Smart Gate Operators
The new Mighty Mule smart gate operators enable gates installed up to 1/2 mile from the home to be controlled from anywhere via smart phone. Nortek Security & Control LLC (NSC) introduced the next generation of wireless smart gate operators for single and dual gate operation, ideal for people who own large tracts of land where the gate will be outside of typical wireless distance from the house. The new Mighty Mule smart gate operators empower consumers to monitor their gates from anywhere with the use of the Mighty Mule smart-phone app and the Mighty Mule MMS 100 Wireless Connectivity System that is sold separately. The new product lineup provides fast and easy installation and comes with all of the standard installation hardware, manuals and how-to videos. The lineup consists of single and dual swing automatic gate operators that offer exceptional value and performance. Visit www.mightymule.com.