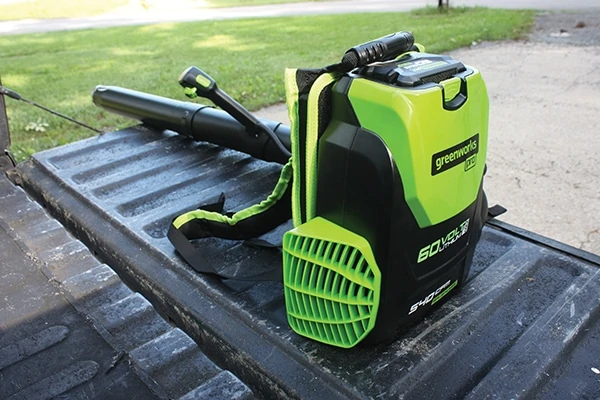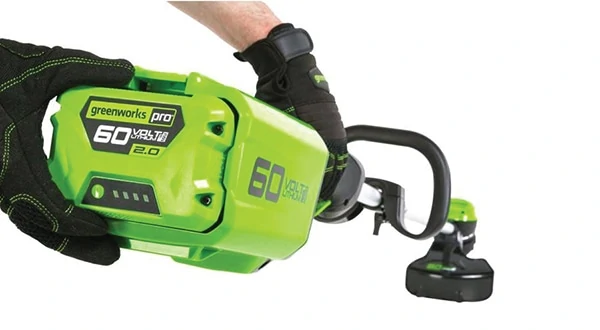 Greenworks Pro 60V Brushless String Trimmer & Backpack Blower
Battery technology is making huge strides in cordless tool peformance, as seen with the new Greenworks Pro family of lithium-ion lawn tools. When batteries hit the 60-volt range, you're dealing with gas-equivalent power but without the hassle and mess of liquid fuel or engine oil. The Greenworks Pro line delivers all the benefits of going cordless but without the noise of a gas-fired motor.
The EHT staff got our hands on a couple of test units, and we found the 60V Greenworks Pro String Trimmer to have an astonishing amount of slicing power for an electric tool. Its 16-inch cutting width cleans broad swaths through thick weeds and undergrowth, making quick work of around-the-yard chores.
The 60V Backpack Blower is compact, lightweight, and sweeps away leaves and debris with ease. It offers quiet, on-demand power with a variable-speed trigger. Expect up to 80 minutes of run time with a fully charged 5Ah battery.
Made with medium/heavy duty-construction and materials, both tools feature high-efficiency brushless motors for long-lasting, low-maintenance reliability. And as long as you keep a battery charged, they're at the ready for grab-and-go con-venience. The Greenworks Pro tools met and exceeded our expectations for cordless lawn tools, and you can pick them up online at www.greenworkstools.com or at your local Lowes' Home Improvement Center.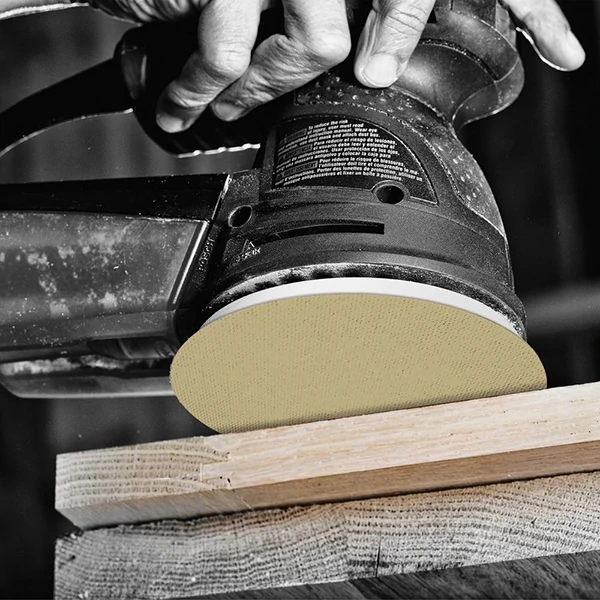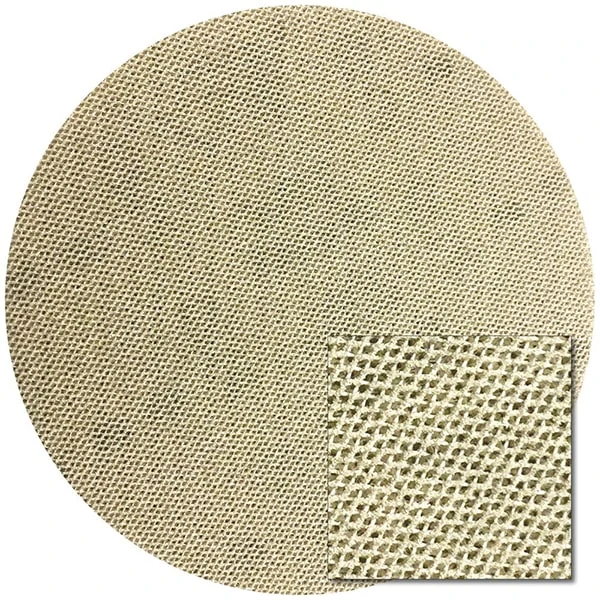 DIABLO SANDNET SANDING DISCS 
For a sanding disc that lasts ten times longer than standard sandpaper, give the SandNet Sanding Discs a spin. Available from Diablo tools, the SandNet sanding discs for Orbital and Dual-Action (DA) sanders feature the advanced technology of a free-flow net design, which offers longer life and a significant reduction of disc changes to save time and money. Diablo SandNet discs are coated in a premium ceramic blend grit for fast material removal while reducing material buildup. Unlike other sanding discs, SandNet discs excel when used on wood, metal and  plastics. And, because of the net design, the discs are  easy to clean and reuse multiple times by simply shaking, vacuuming or rinsing the disc. SandNet discs fit all 5- and 8-hole orbital and DA sanders for fast alignment. They're available in 10 and 40-packs of 60-grit, 80-grit, 120-grit, 180-grit, 220-grit, 320-grit and 400-grit. Each 10 and 40-pack includes a free application pad for easy attachment to the sander. Visit www.diablotools.com.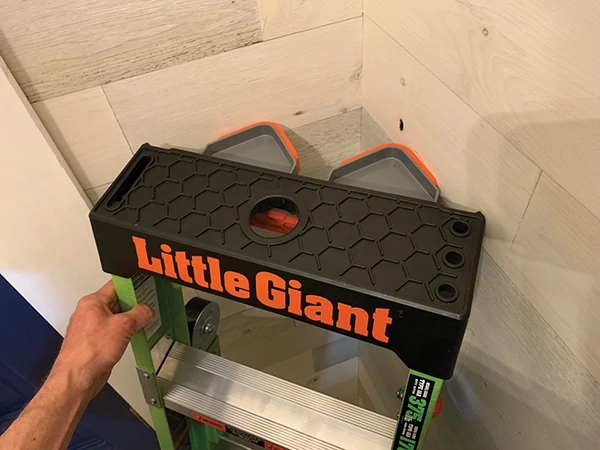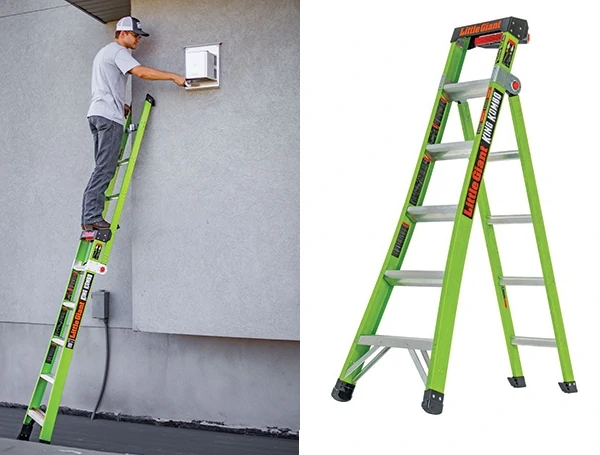 Little Giant King Kombo 
Little Giant has reinvented the ladder again, this time setting sights on the trusty stepladder. The new version is the King Kombo 3-in-1 All-Access Ladder, so named because it converts from storage to step-ladder to extension in seconds. When folded flat for storage, the King Kombo also acts as a leaning ladder for tasks like painting, running wire, or accessing a hard-to-reach corner. As a leaning ladder, its rotating wall pad accessory works in four positions; stud, corner out, corner in, and wall pad. This lightweight Type 1A-rated ladder is made of nonconductive, high-strength, lightweight fiberglass ideal for professional applications. The Hi-Viz green fiberglass rails makes the ladder more noticeable to prevent accidents, and the wide-flared side offers superior side-tip stability. Learn more at www.littlegiantladder.com.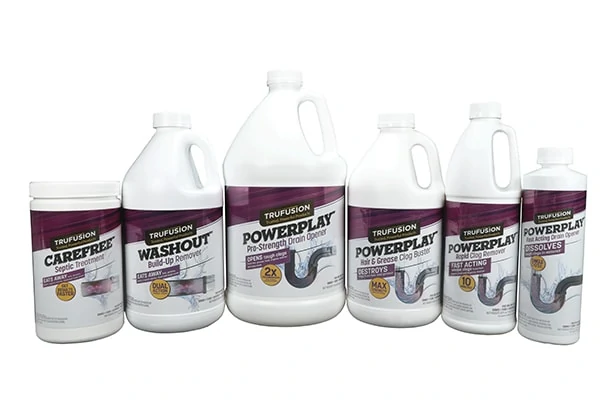 TruFusion Drain Care Products from Danco 
Developed by industry experts, the TruFusion portfolio offers two plumbing maintenance products and four PowerPlay formulations that tackle specific drain problems. PowerPlay Pro-Strength Drain Opener offers twice the concentrate as leading bleach products and has been formulated to eliminate tough clogs. PowerPlay Hair & Grease Clog Buster is designed specifically for bathrooms and kitchens where clogs caused by the buildup of hair, soap scum and grease are most common. The PowerPlay Rapid Clog Remover breaks down clogs in any room quickly and easily, guaranteed to start working in ten minutes or less. For people who don't want to store chemicals or have limited storage space, the PowerPlay Fast Acting Drain Opener is a smaller, one-time use solution for clogged drains. TruFusion also offers a line of maintenance products such as the WashOut Build-Up Remover, which helps restore drains suffering from years of build-up from hair, grease, paper, organic matter, food and soap scum. A safer alternative to harsh chemicals, this main line cleaner is engineered as a precautionary to be used monthly. CareFree Septic Treatment is a worry-free way to maintain septic systems, most effective when used in drains, toilets and garbage disposals. TruFusion products are available exclusively on Amazon. Visit TrustedPowerfulProducts.com.