Cat Footwear ExcavatorXL
The ExcavatorXL is Cat Footwear's ultimate work boot for heavy industrial jobs. Ten years ago, Cat introduced its proprietary SuperDuty iTechnology: "where welted durability meets athletic comfort." With the ExcavatorXL boot, that technology has evolved to include a new EaseHD (heavy duty) footbed, iTechnology construction, and an extended last for even more room and comfort for your feet. The comfort features are matched by the protective safety technology that the ExcavatorXL offers, including a lightweight yet highly protective composite toe and electrical hazard features.  If your work takes you outside, you won't  have to worry about the wet or cold weather conditions, as the ExcavatorXL is waterproof and insulated with 200 grams of Thinsulate. The T1410 outsole is engineered for extreme slip resistance and includes the exclusive SRX outsole compound which exceeds industry standards at reducing the risk of slips and falls in the workplace. This work boot is also powered by ERGO Technology which combines biomechanics, hardened durability and trademark grit to create a shoe that will remain comfortable all day long. And, it's all backed up with a 60-day comfort guarantee. Visit www.reddevil.com.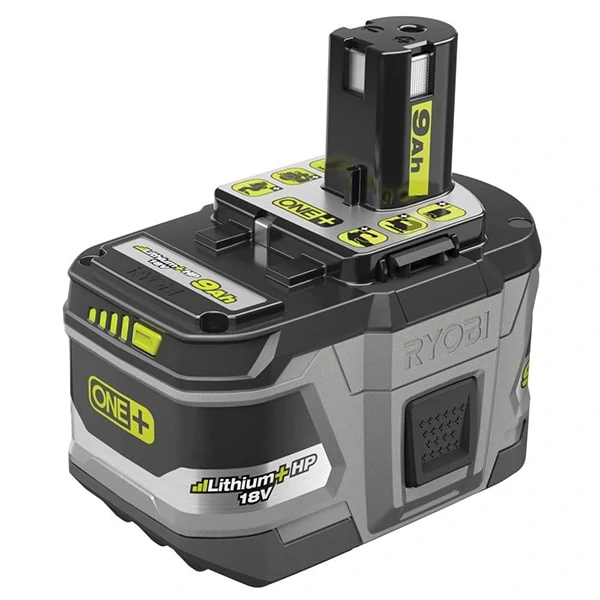 Ryobi P194 ONE+ 18V Lithium+HP 9.0Ah High Capacity Battery
Ryobi's new P194 One+ 18V 9.0Ah High Capacity Battery features advanced electronics that allow you to maximize tool performance with added capacity to all 18V Lithium One+ tools. With superior runtime, power and performance, this battery can take on more demanding applications than ever before with the introduction of HP technology. HP communication technology paired with brushless tools maximizes performance in all applications, allowing users to make faster cuts, drive larger screws, use bigger drill bits, etc. It has a durably constructed frame for impact protection and has a built-in, four-bar illuminated charge indicator. These batteries can be paired with over 125 tools from Ryobi's 18-Volt One+ lineup. Visit ryobitools.com.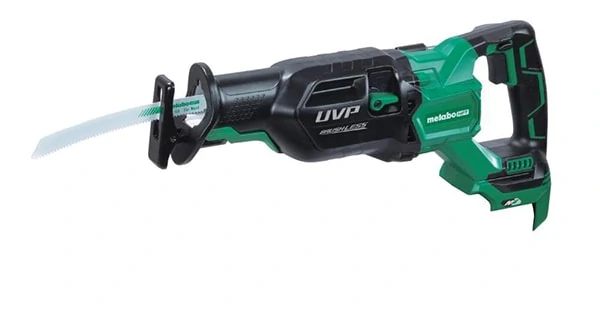 Metabo HPT CR36DAQ4 36V Brushless MultiVolt Recip Saw
Metabo HPT introduces a new cordless-corded power tool solution with the Multivolt platform, a line of power tools that can accept a 36V battery or plug into an outlet with the AC Adapter. The CR36DAQ4 36V MultiVolt Reciprocating Saw features brushless motor technology for more runtime, increased power and extended durability with essentially no maintenance. The saw delivers a 1-1/4-in stroke length for convenience and speed. Included is a large rafter hook, on-tool LED light to illuminate dimly lit work areas, and a slim body makes the tool easier to grip for enhancing operating efficiency. Orbital action produces faster cutting through wood, and the tool body is equipped with UVP (User Vibration Protection) to significantly decrease vibration by incorporating a dual counterweight system. Control the cutting with a four-stage speed selector ranging from 1,700 SPM to 3,000 SPM to satisfy various applications. Visit www.metabo-hpt.com.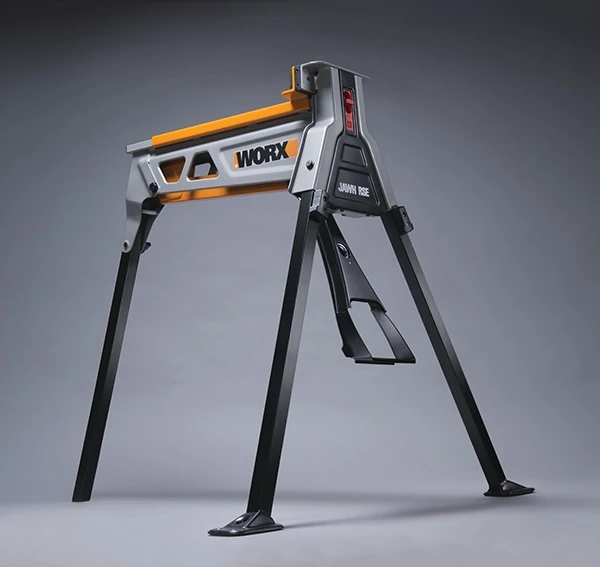 New WORX JawHorse
The new Worx JawHorse provides do-it-yourselfers with a folding workstation that's easy to transport wherever needed, then sets up in seconds to minimize downtime. This portable workhorse features a patented, foot-pedal-operated, clamping system that serves as an extra set of hands for a wide range of DIY projects. Although the JawHorse weighs only 35 lbs., it's constructed of heavy-duty powder-coated steel. Its three-legged, wide-stance tripod design provides solid footing even on uneven surfaces. The front legs have locking/unlocking tabs, and the rear leg has a locking knob. A locking/unlocking switch on the face frame secures and releases work pieces. What sets the JawHorse apart is its exclusive, foot-pedal, clamping system. By pumping the foot pedal, the non-marring clamping jaw travels 1 in. with each stroke and compresses against the work piece until the desired tightness is achieved. The foot pedal is equipped with a metal stirrup to prevent slippage. The JawHorse's clamping jaw opens to 34-1/2 in. and has one ton (2,200 lbs.) of clamping force. That's nearly three times the width and 10 times the clamping power of ordinary bench vises. The versatile, clamping workstation supports loads up to 440 lbs. Yet, its non-marring jaws secure work pieces without damaging their surfaces. Visit www.worx.com.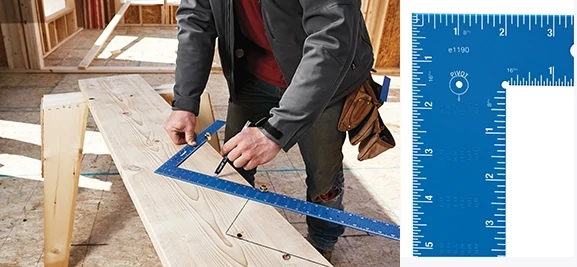 True Blue Hi-Vis Laser Etched Framing Square
From Empire Levels, the next generation Laser Etched Framing Square features Arc-Scribe, a new-to-world feature that provides common radiuses for marking window and door arches. The square is also designed with permanent laser etched markings for superior readability in any light condition, graduation marks at 1/8, 1/10, 1/12, and 1/16 in., and convenient conversion tables for common rafter and brace cuts. In addition, the square is made of lightweight anodized aluminum which will not rust. Visit empirelevel.com.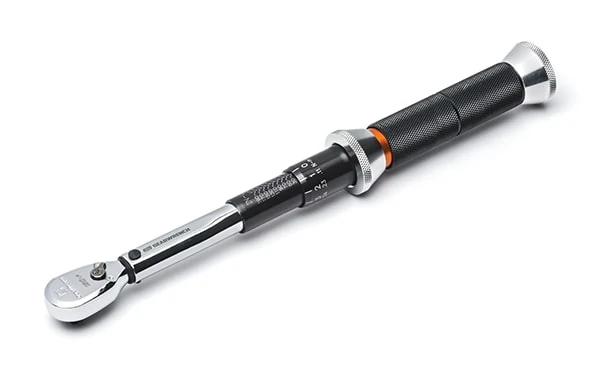 GearWrench 120XP Micrometer Torque Wrench
When there's almost no room to maneuver, a single degree can make all the difference to getting the job done. That's the thinking behind the new GearWrench 120XP Micrometer Torque Wrenches, which provide an industry-leading, three-degree swing arc to access fasteners in the tightest of spaces. The 120XP Micrometer Torque Wrenches deliver 120 positions in 360 degrees. Available in 1/4-, 3/8-, and 1/2-in. drive sizes with accuracy of ±3 percent, their flattened low-clearance beam allows users to tighten fasteners other ratcheting torque wrenches can't. A midpoint-marked knurled aluminum grip with flared ends puts your hand in perfect position for precise control. The low-profile teardrop head and flush-mounted on/off switch further improve accessibility in tight spaces. High-definition scale markings are displayed in white over black for outstanding legibility. Visit www.gearwrench.com.