ONE SHOT SHOVELS
Root Assassin Garden Tool Co. are known for their patented Root Assassin Shovel & Saw ( 48- and 32-in. D-Handle), popular with anyone needing to slice through roots "like butta!" when transplanting trees and bushes, clearing overgrown areas, trimming tree branches, irrigation trenching and more. Root Assassin's new One Shot Shovel follows the same innovative style, incorporating patented "wings" on the sides of the shovel blade. The One Shot shovels look like a standard steel spade, but they're enhanced with steel sides and a large steel foot step on the back of the blade. The One Shot Shovel ensures that whatever is lifted, whether dirt, rocks, mulch, etc., stays on the shovel. No spilling off the sides to ruin your grass or patio, requiring a rake or broom cleanup. Additionally, the extra-large back-end foot step spreads the pressure over the wider foot area for greater leverage and more comfortable operation. The One Shot Shovels are available in 43-in. D-Handle and 60-in. straight long handles. The poles are rugged fiberglass and the blades are quality industrial steel. Both sizes weight approximately 4 lbs. each and they're backed by a Lifetime Replacement Warranty. Visit www.RootAssassinShovel.com.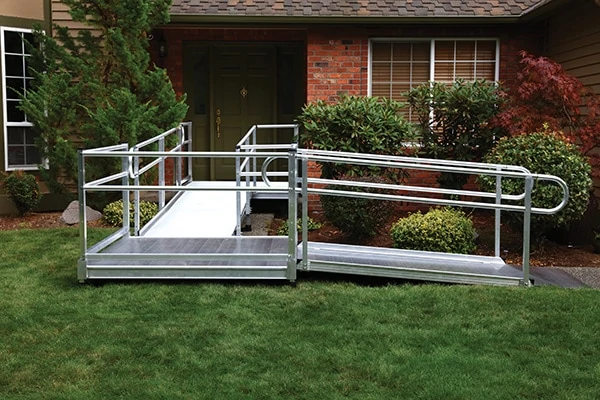 PATHWAY 3G MODULAR ACCESS SYSTEM
If you or someone you love is considering home modifications in order to live independently and provide accessibility, the options can be overwhelming. To find a fast, simple, yet customized solution to suit your needs, EZ-Access offers the Pathway 3G Modular Access System, an excellent choice when your residential access requirements extend beyond the scope of a portable ramp. This American-made aluminum ramp system will increase security for you and your loved ones by eliminating potential hazards and providing a smooth, inclined path. By combining ramps, platforms and stairs, all of which may be configured in a variety of ways, you can create the most ideal system that provides the freedom to enter and exit the home. A variety of surface options and handrail styles are also available to best suit your environment and preference. The Pathway 3G will not deteriorate in the outdoor elements, and all surface options feature superior slip-resistance to maintain traction in any weather. Sides are finished and flush with no hazardous nuts or bolts protruding into the usable ramp area. All handrail styles feature a smooth finish and continuous top rail. Protected by a lifetime warranty and made from aircraft-grade aluminum, the Pathway 3G requires minimal tools and relies on few components and hardware for assembly. With no construction or poured footers, installation is simple, and the ramp system can continually be added upon, reconfigured, or moved to fit changing needs. Typically, no permits are required since the system is not altering or adding to the structure of the residence, which means little or no long-term impact to the yard or home, as well as no effect on the home's property value. Visit www.ezaccess.com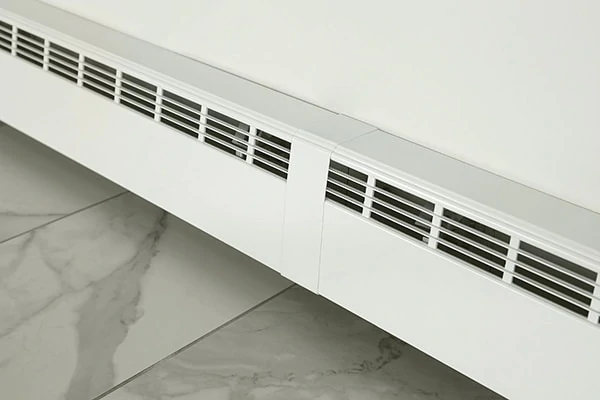 REVITAL/LINE BASEBOARD REPLACEMENT COVER
Slant/Fin is America's largest manufacturer of baseboard heating equipment, and the company's new line of baseboard replacement covers are designed for convenient, long lasting and cost effective installation. It's called the Revital/Line, an Extruded Aluminum Baseboard Replacement Cover, and the first product on the market designed by an established heating company. It offers an easy way to upgrade worn or damaged covers on virtually any residential standard baseboard. Revital/Line covers are supplied in standard sizes up to 8 ft. long to fit standard residential baseboard. Simply remove the front panel and damper and slip it into place over the existing back panel. There's no need to drain the boiler or cut the pipe, and virtually no tools are required for most installations. The filler sleeves, end plates and other accessories allow for a neat finished look in a fraction of the time it would take to replace the full baseboard. The baseboard covers are fabricated from recycled aluminum and lab-tested to allow for maximum heat output (up to 40 percent more than other brands), while at the same time are aesthetically pleasing. The powder-coated finish is durable, long lasting, is offered in eight decorator colors, and stocked in Brite White. Visit slantfin.com.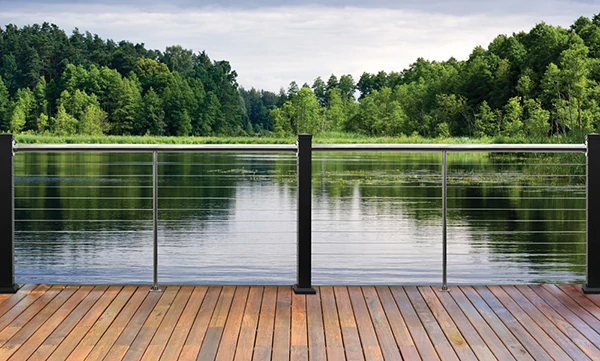 NOVA NAUTILUS CABLE RAILING
Atlantis Rail's Nautilus Railing System is nothing new, having been a customer favorite for years, but the company has now teamed the Nautilus System up with the new NOVA II aluminum post kits to create the NOVA Nautilus System. It looks stunning, and is affordable and easy to install. The NOVA Nautilus System utilizes predrilled aluminum posts with a 2-in. stainless steel top and optional bottom rail. It features multiple color options of black, white or bronze to complement any application. The rails are structural strength stainless steel, so the system can be configured with a top rail only or a bottom rail can be added. Cable spacing at 2-3/4in. allows the posts to be spaced up to 6 ft. apart when using a cable stabilizer in the middle, which further reduces cost and expedites installation. A proprietary side-mount fitting with an insulating gasket is used to mount the rails to the post, eliminating concern about potential issues in combining dissimilar metals. HandiSwage components hide the cable connections inside the post, and the easy-to-use swage tool and cover nut sets ensure easy installation and a finished look. Visit www.atlantisrail.com.+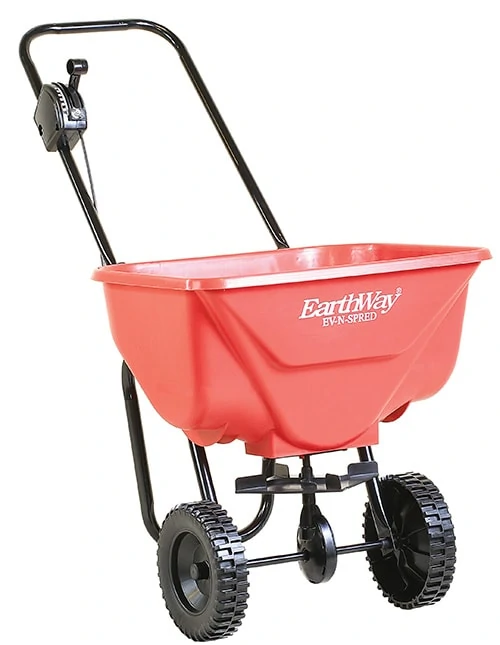 EARTHWAY PRODUCTS MODEL 2030 HOMEOWNER BROADCAST SPREADER
The 2030 Broadcast Spreader offers the homeowner a large capacity spreader with features typically found on commercial models. The 2030 is equipped with 8-in./20 cm. deep lug poly wheels that roll easily over rough surfaces. The rust-proof poly hopper holds 65 lb./30 kg. of material, and the exclusive EV-N-SPRED 3-hole drop shutoff system ensures even distribution of all granular materials. Fully assembled in the box, this unit comes ready to go. Visit earthway.com.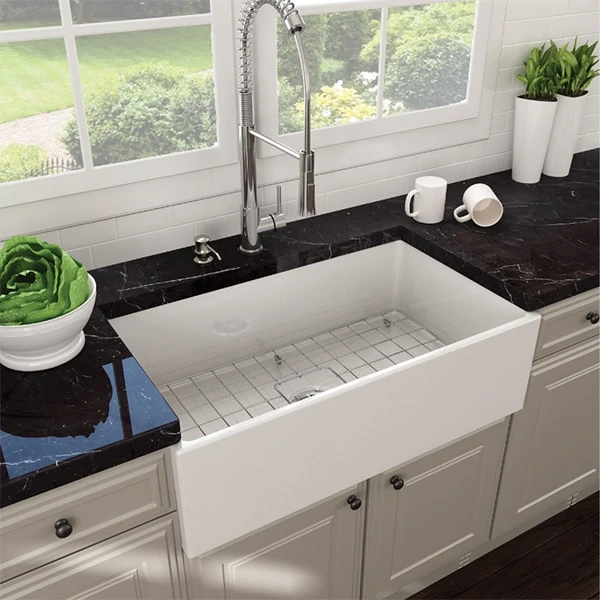 CONTEMPO APRON-FRONT FARMHOUSE SINKS
Bocchi USA's newly-launched farmhouse-inspired line of fireclay kitchen centerpieces includes the Contempo Apron-Front Farmhouse Sinks. The new sinks feature an exclusive high-pressure organic fireclay construction, which is 100-percent non-porous with Super Smooth Surface technology that has been developed to minimize lime stains, undesirable dirt and bacteria on ceramic surfaces. Fireclay is a 100-percnt natural and recyclable material that was used by craftsmen for centuries. Every Bocchi sink incorporates Clean Plus+ Technology to create a hydrophobic effect to prevent lime and dirt from accumulating. Available in a wide range of measurements to fit any countertop, each sink includes a removable protective bottom grid and strainer. Two standard colors (white and biscuit) and seven premium colors are available. Visit www.bocchiusa.com.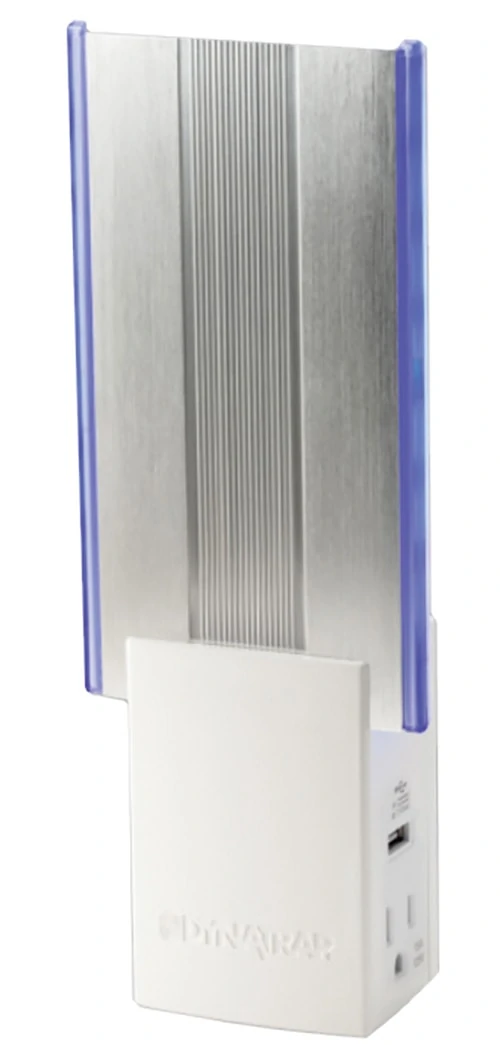 DYNATRAP FLYLIGHT
DynaTrap is the creator of technology-driven, indoor/outdoor insect and mosquito traps that are chemical-, pesticide-, and hassle-free. The company now introduced the Flylight Insect Trap, which delivers up to 600 square feet of superior protection against disease-carrying flies, mosquitoes and other flying insects. It utilizes DynaTrap's proprietary AtraktaGlo Technology to produce a warm UV light at a specifically targeted wavelength, which is irresistibly attractive to insects. The non-toxic StickyTech Glue Card then traps the bugs and conceals them behind a sleek, decorative aluminum panel. "Just plug it in, let it run, and enjoy a bug-free home," says Juan Rocha, DynaTrap President. "And while many other bug zappers and eliminators are noisy and obtrusive, Flylight is completely silent and packaged in a low-profile, tasteful, and easy-to-install aluminum unit." Flylight comes in three different models, as well as two different color options — black and white. The deluxe model comes with two AC outlets and two USB ports to maximize outlet utility. Each Flylight comes with a replaceable UV Bulb (rated for approximately 3000 hours), three StickyTech Glue Card replacements (that last approximately 30 days each), and a one-year warranty on the device. Visit www.dynatrap.com.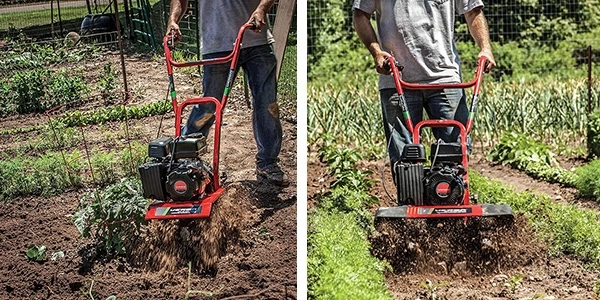 EARTHQUAKE VERSA ROTOTILLER/CULTIVATOR
A 21-inch front tine tiller, VERSA quickly turns into an 11-inch cultivator with simple, tool-less removal of its outer tines and shields. As a tiller, VERSA delivers the power to break new ground and prepare garden beds in the spring. The poly Tufflex side shields and outer tines are easily removed without tools, converting the unit from a full-size tiller into a narrow 11-inch-wide cultivator for controlling weeds, aerating soil between growing plants, and maintaining planting beds and crop rows in summer. In addition to quick and simple removal of side shields and adjustment of tine width from 21 to 16 or 11 inches, four unique features of the VERSA provide important advantages over other tillers: First, its right-sized, energy-efficient Viper 99cc engine gives VERSA plenty of power while saving gas and reducing operating costs. Second, with the profile of its engine, combined with a bronze gear drive transmission arranged horizontally instead of vertically, the VERSA offers the lowest center-of-gravity of any front-tine tiller for ground-hugging stability and control. Third, for optimal maneuverability, the VERSA has a tighter footprint than other tillers, allowing it to pivot and change direction within its own footprint. Fourth, the Tufflex poly side shields are an industry first in front tine tilling—not only easy to remove but tough and durable. They can take a beating from thrown rocks, sticks and other hard objects without getting dented or bent like metal shields, and they're shaped to direct churned soil downward. Visit www.getearthquake.com.