Home / Mobile Security Cameras
While there has been a surge of recent security cameras that tap into your Wi-Fi and allow you to keep an eye on things, but what do you do when there's no access to Wi-Fi but still need eyes on the area? VOSKER Mobile 4G or LTE surveillance cameras don't require Wi-Fi or any wired connection to transmit surveillance right to your phone. Set them up in less than five minutes and let them get to work. The VOSKER V200 is an outdoor security camera ideal for just about any outdoor environment where security is important, including construction sites, country homes, or even on a boat dock. Its high-definition AI image recognition and LTE connectivity helps capt ure and record every detail in its surroundings. The built-in solar panel keeps the waterproof camera powered day and night, making it perfect for remote locations. The VOSKER V100 utilizes a 4G connection and includes automatic motion detection.  Cameras are a natural deterrent to those who want to take advantage when you're not there, and with the ease of VOSKER cameras, you now have a security solution no matter where you are. Visit vosker.com.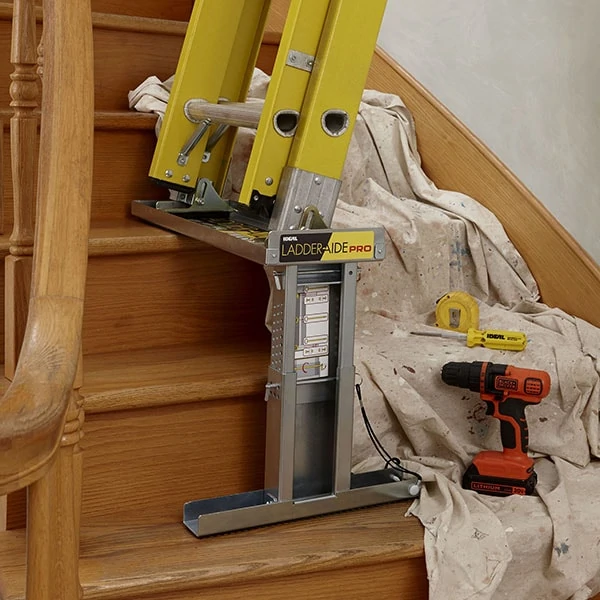 Ladder-Aide Pro 
Made for professionals and perfect for the everyday handyman, the Ladder-Aide Pro is the quickest, easiest, and safest way to use your extension and combination ladders on stairs. It is a compact and portable unit that doesn't require permanent installation on your ladder, can easily be moved from stair to stair, and can be used with a variety of ladders. The original Ladder-Aide is designed to meet the size and weight standards of Type III and Type II aluminum ladders, good for most homeowners and painting contractors. The Ladder-Aide Pro handles most Type I, IA, and IAA fibreglass ladders, accommodating feet up to 7.5" wide and base widths up to 22". It meets ANSI's highest weight standards for ladders, supporting up to 1500 lbs. With an anti-skid surface and micro-adjustable height (to within 1/8 inch), the Ladder-Aide creates a stable, level base for use on any staircase built to code. Its rugged construction of steel and heavy-duty design mean it's built to last. Scaffolding takes time to set up and space to transport. Articulating ladders are expensive and heavy. Leg extenders require permanent installation on each ladder. Makeshift equipment is, most of the time, not safe enough. The Ladder-Aide is a cost-effective, easy to set up, and small enough to be a permanent and indispensable addition to your toolkit. Visit idealinc.com.