We made a list and we checked it twice. Our annual list of gift ideas for the home improvement enthusiast includes tools and gadgets galore to help with projects big and small. Did we compile this list to help guide your holiday shopping, or for you to pass along to your family as a wish list? Maybe a little bit of both.
From our staff to you and your household, have a wonderful holiday season.
Scepter™ SmartControl™ Fuel Containers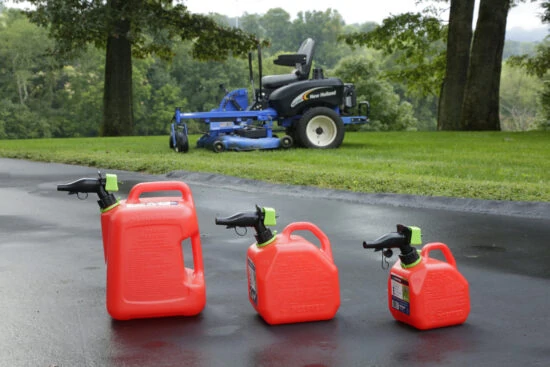 It's big, red and self-wrapped. Stick a bow on it, pop it under the tree and you're finished with your Christmas shopping! Scepter™ SmartControl™ fuel containers are the right fit for everyone on your shopping list.
"Men want practical, usable gifts," says Daniel Marshall, with ScepterTM. "The one-, two- and five-gallon SmartControl containers are ideal for fast fills without spills. They're essential for re-fueling lawn and sports equipment like chain saws, mowers, snow blowers and snow mobiles."
The SmartControl spout provides a clean, fast, and hassle-free pour and helps save gas for where it's needed by eliminating messy spills. The user-controlled flow valve, with its flame mitigation device (FMD), makes it easy and safe to direct the amount of fuel being dispensed. And, because the container stores with the spout on, hands always stay clean.
With a single motion, the user simply presses the lever up to unlock the child safety feature with the palm of the hand, and then squeezes the large button. The first squeeze vents the container. Then, place the nozzle over the tank and simply squeeze again to pour just the right amount of fuel.
Constructed in the U.S.A. of durable and safe high-density polyethylene, SmartControl containers can be found in The Home Depot®, Walmart®, Lowe's®, AutoZone®, Pep Boys and Northern® Tool + Equipment stores. Visit www.scepter.com for more information.
Hardcore Survivalist Hatchet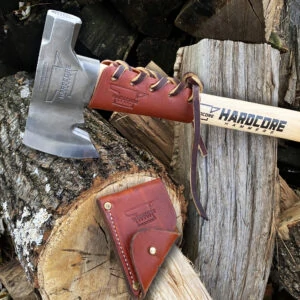 The Hardcore Survivalist Hatchet from Hardcore Hammers is the ultimate hatchet!  It features a 19oz head made of investment cast 4140 American steel on an 18″ Grade A American hickory curved handle and includes a custom made leather sheath.  The head also features a nail/tent stake puller and the hammer end (of course) has a patented recessed striking face.
The Survivalist is perfectly balanced for any job, whether it's pounding nails, chopping and splitting firewood, or fending off the impending zombie apocalypse.  This premium hatchet cuts like a full size axe yet is small enough to fit in a backpack.
Pairing the Survivalist Hatchet with the custom Leather Hatchet/Hammer Collar will protect from overstrikes in the event of an errant swing.  The Leather Hatchet/Hammer Collar is made of top grain leather and is custom fit for Hardcore Hammers hatchets and hammers.
Made in the USA.  All Hardcore Hammers products are proudly made in the USA using steel, hickory and leather all sourced in America. Available at hardcorehammers.com
Dremel Home Solutions™ Electric Screwdriver and Flashlight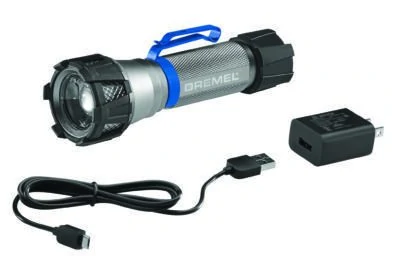 The Home Solutions Flashlight combines the power of larger C and D size flashlights without the size and bulk with features that include a removable, two-way belt clip; and a tri-level button for easy one-handed operation. Its durable, aluminum housing with rubber front and back bumpers absorb shocks when dropped and its IP67 waterproof certification means you will never worry about getting it wet. Available at Home Depot.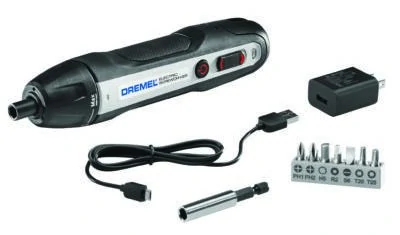 The Electric Screwdriver is ideal for everyday home projects and features a 4V MAX rechargeable lithium-ion battery and USB port for convenient charging. Seven inches long, the Electric Screwdriver's compact size and slim design allow users to work in tight spaces, awkward angles and provides additional reach with the inclusion of a bit extender. At 4 volts, it is surprisingly strong and packed with power to drive screws two times faster* than similar competitive products in the market. Available at Home Depot.
Milwaukee® M18 FUEL™ SAWZALL® Reciprocating Saw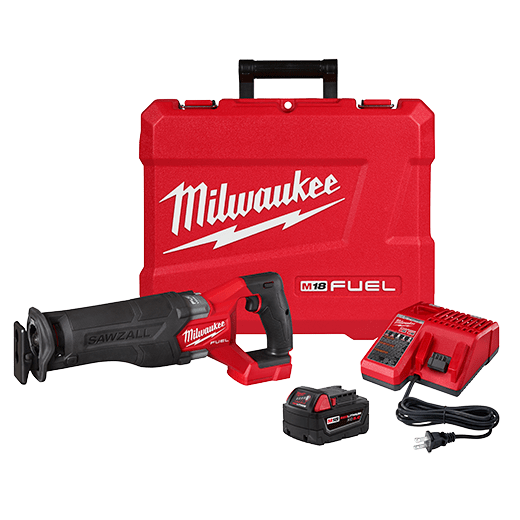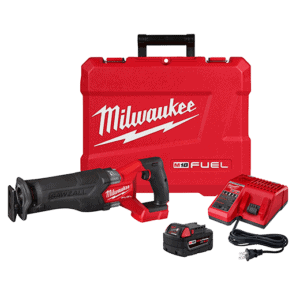 Milwaukee Tool unveils the next generation of legendary performance and durability with their newest M18 FUEL™ SAWZALL® Reciprocating Saw. Designed for the toughest applications on the jobsite, this is the fastest cutting reciprocating saw in its class and the most durable SAWZALL® reciprocating saw yet. Also available is a version with One-Key™ which allows users to customize performance for unrivaled productivity, as well as track and manage the tool through the One-Key™ app.
True to all M18 FUEL™ solutions, the new M18 FUEL™ SAWZALL® Recip Saw combines three exclusive innovations – the POWERSTATE™ brushless motor, REDLITHIUM™ battery pack, and REDLINK PLUS™ intelligence.
The POWERSTATE™ Brushless Motor provides 3,000 SPM and a 1-1/4" stroke length for faster material removal, allowing this tool to make the fastest cuts in common jobsite materials such as wood with nails, black pipe, and conduit. REDLINK PLUS™ Intelligence ensures maximum performance under load as well as protection from overloading.
For more info go to: milwaukeetool.com
Greenworks 60 volt 300 Watt Power Inverter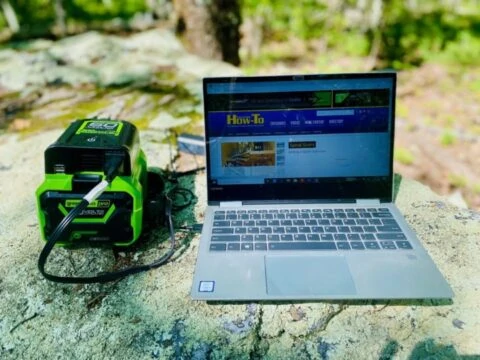 Greenworks 60 Volt Power inverter provides 300 watts of continuous power whenever and wherever it's needed. With a 120V power outlet and two USB outlets, this portable workhorse powers televisions, lights, fans, speakers, coffee makers, small appliances, laptops, tablets, cell phones, headphones, and more. Featuring a compact design and convenient carrying handle, it's simple to transport anywhere you need portable, reliable power – making it ideal for remote worksites, traveling, camping, tailgating, and more. It works with all Greenworks 60V lithium-ion batteries for convenient, on-the-go power, and it's easy to use; just pop in a 60-volt battery, and it's ready to go. www.greenworkstools.com
Stanley 210 Piece Mechanics Tool Set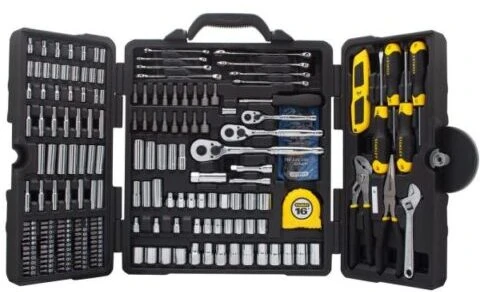 This must-have 210 Mixed Tool Set has the tools you need to tackle a variety of tasks around the house. Whether you're doing automotive repairs or hanging pictures, this tool kit will equip you with the high-quality Stanley essentials required to complete many DIY projects. Backed by a Stanley Full Lifetime Warranty for added peace of mind. Available at Home Depot.
WiseBond Epoxy Systems

WiseBond™ Epoxy Systems are the perfect gift for the creative DIYer, hobbyist woodworkers and professional furniture makers. As resin art and epoxy river tables continue to climb in popularity, WiseBond™ stands out as an industry leader with high clarity, non-yellowing UV stability, and a variety of available products for every need.
WiseBond™ offers three epoxy formulas: Bar & Table Top kits for flood coats, Deep Pour™ epoxy kits for 2" single river table pouring, and Quick Set live edge epoxy for a fast cure to coat and crack filling projects. Other offerings are epoxy colorants ranging from mica powders, to transparent alcohol inks, to opaque pigments, to amazing color shifting powders.
WiseBond™ offers easy online ordering on their website with quick UPS shipping, Dealer set up and pricing, bulk ordering for heavy epoxy users, and multi-gallon kit bundles. www.WiseBond.com
Work Sharp Knife & Tool Sharpener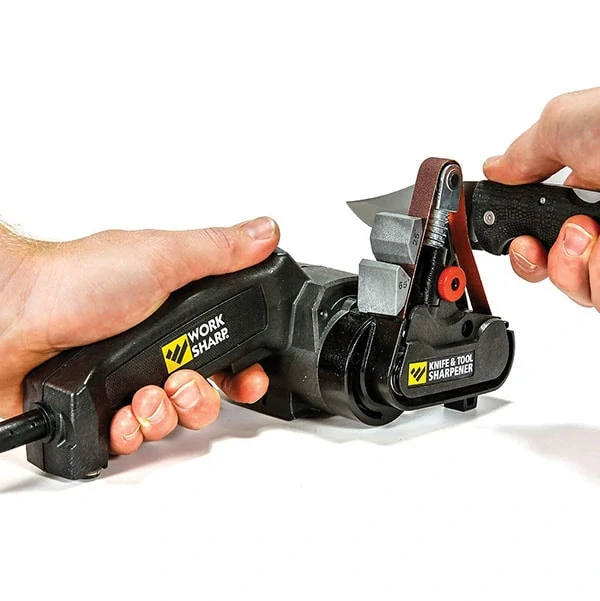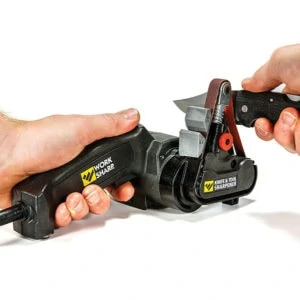 Using flexible abrasive belts, the Work Sharp electric sharpener is able to sharpen not just straight bladed knives, but also curved knives, tanto blades, filet knives, serrated knives, gut hooks and virtually any other shape of knife blade. The Work Sharp Knife & Tool Sharpener is also able to sharpen other common cutting tools including scissors, axes and hatchets, mower blades, garden shears, shovels, and most any tool with a blade. Premium abrasive belts meet all your sharpening needs: coarse, medium, and fine. The coarse belt is used to repair damaged blades and sharpen cutting tools. The medium belt is used for general knife sharpening. The fine belt is used to hone knives, sharpen serrations, and for quick touch-ups on blades that were recently sharpened. Visit www.worksharptools.com
Rover Mobile Task Lighting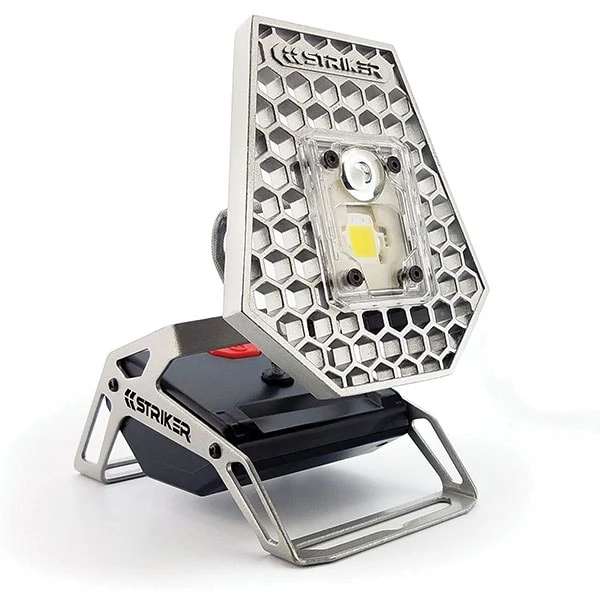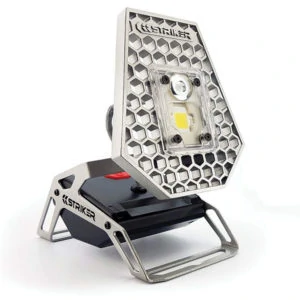 Professionals and DIY'ers will want to have a Rover Mobile Task Light on hand, as it is small enough to fit into tight areas and aim a powerful beam of light where it is needed most. You'll find hundreds of uses for the Rover; use it when working on an engine, changing a tire, wiring a home theater, switching on a breaker, crawling around under a counter or sink. It's also great to have on camping trips. Choose from Focused Flood Light or Ultra Wide Beam. The Rover comes on a tripod mount with an adjust-able aluminum head, hanging hooks, a USB recharging port, and four modes of function: high/medium/low/strobe. Visit strikerconcepts.com.
Premium Leather Salve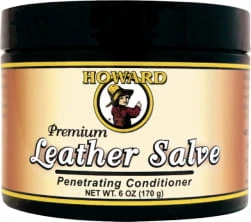 Howard Premium Leather Salve is a deep conditioning treatment that keeps leather soft and supple by using only the finest natural waxes and refined oils, including purified Lanolin, Neatsfoot, and Coconut Oil.
Howard Premium Leather Salve restores the lost suppleness to dehydrated leather, reduces scratches, and helps to preserve leather from future decay. No artificial dyes or chemicals. Safe to use on all types and colors of smooth leather. Howard Premium Leather Salve goes above and beyond other leather conditioners on the market by using the finest natural waxes and refined oils available, combined with Orange Oil to rejuvenate, restore, and revive all smooth leather.
For a list of all retailers, visit our website at HowardProducts.com
MAX300S Storage Case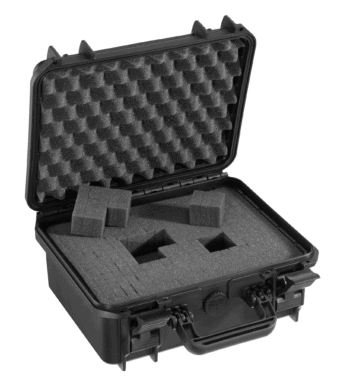 IP67, ATA300 and Military certificated, the MAX300S is the perfect storage and transport solution for your equipment, even for your most fragile items.
100% Made in Italy, this case offers the ultimate protection thanks to its thick PP body and the easily customizable cubed foam inlay inside. All this while keeping an extremely light weight.
Watertight, dust and shockproof, equipped with an automatic pressure release valve, MAX300S can face even the hardest tasks!
Internal dimensions: 11.81 x 8.86 x 5.20 inches
Purchase online at: https://mycasebuilder.com
ColorReader EZ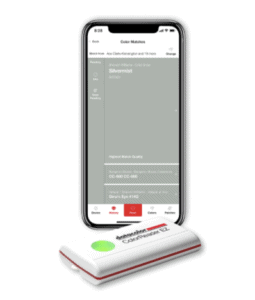 Smaller than a deck of cards, ColorReader EZ is an ultra-portable, Bluetooth® connected color selection device that works in conjunction with the ColorReader EZ mobile app to precisely identify colors across multiple paint brands, including Behr®, Benjamin Moore®, Farrow & Ball®, PPG®, Sherwin Williams®, Valspar® .
By taking the guesswork out of color-matching, users can make color choices with more confidence, saving time and money on reworks for color errors. Whether it's quickly finding a paint color to match a dresser or child's toy or planning a color scheme for a wedding, the ColorReader EZ is a must-have tool for every project that includes color decisions.
DEWALT® Jobsite Bluetooth® Radio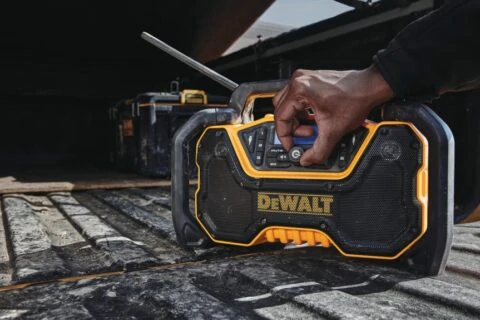 This AM/FM Radio is portable and lightweight with 6-FM memory presets as well as a 3.5mm auxiliary input for a direct mobile device connection. In addition, this radio offers Bluetooth® wireless streaming with a maximum range of up to 100 feet. An included USB port charges a user's mobile device at 2 amps when the radio is plugged into the wall and powered via the included AC cord or when running off a compatible DEWALT battery (sold separately). The radio offers a premium quad speaker design with dual 3.5-inch woofers, dual 1-inch tweeters and a bass reflex port. Users can also adjust their sound experience of the radio through controllable EQ settings for bass and treble. The 12V/20V MAX* Jobsite Bluetooth® Radio offers a roll cage that helps to protect the unit from drops and bumps and incorporates an antenna slot that allows the antenna to fit within the top handle, helping to protect it from damage. DeWalt.com
Crescent APEX Fan and Light Installation Kit with eSHOK GUARD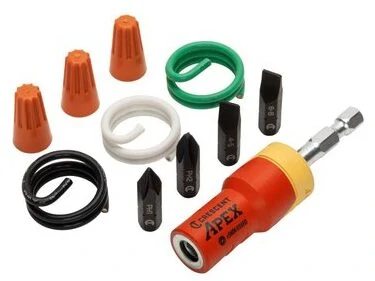 85% of professionals are experiencing shocks on construction job sites. Protect yourself from electric shock with Crescent APEX's new patented isolated technology, eSHOK-GUARD, providing insulation of up to 1,000 volts. Combining safety and convenience for a revolutionary experience when working around potential live wire applications, eSHOK-GUARD is protecting you – for life. Available at Lowe's
DeckWise Hardwood Finishes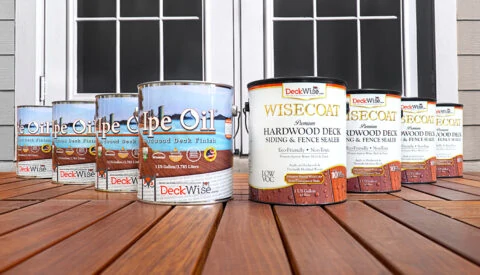 DeckWise® Hardwood Finishes are the perfect means to refresh and restore your deck or siding to its glory days. Ipe Oil® semi-transparent hardwood finish will bring out and restore the natural wood color of any hardwood, add protection harmful UV rays, and can add years to your hardwood lifespan with annual upkeep. While most wood finishes form a film on the surface of the wood, the low VOC Ipe Oil® penetrates into the hardwood grain and is not a surface film that will bubble, crack, or peel.
Looking for a water-based hardwood finish? Check out the DeckWise® WiseCoat® Premium Hardwood Deck, Siding & Fence Sealer which is also a semi-transparent wood finish. This unique formula absorbs deep into the wood at a molecular level, and protects hardwoods from premature aging and decay. Guaranteed to prevent excessive water accumulation below the wood surface for up to six (6) years on horizontal surfaces and up to ten (10) years on vertical surfaces.
To learn more about either of these two hardwood finishes, or any product offered by DeckWise®, head to www.DeckWise.com for product information and to find a dealer near you.
A.O. Smith 35000-Grain Water Softener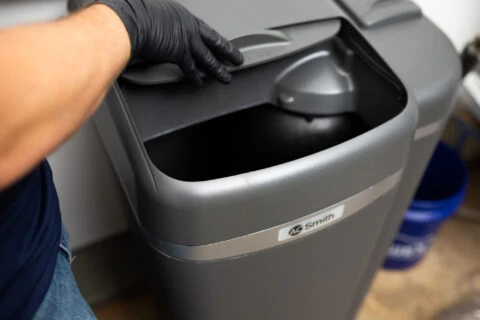 Give the gift of soft water this year. A. O. Smith's Water Softeners are designed, engineered, and built to last while providing you with soft water. Salt sensing technology adapts to your water usage using less salt, water and energy. Self-cleaning pre-filters mean you'll never change a filter – ever. Quick and quiet regeneration, and power loss protection to save your settings. Reduce scale buildup, water stains and spots, improve skin and hair softness, extend the life of your appliances, and preserve your favorite clothing. When you have hard water, we've got you covered. Available at Lowes
Crescent Tools New Pocket Knives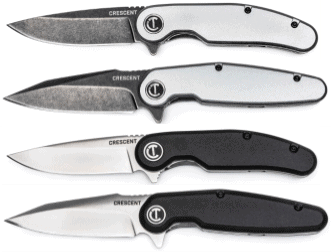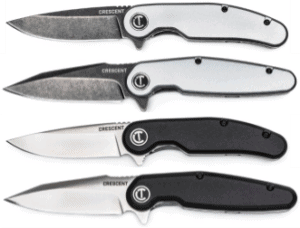 Crescent Tools' new pocket knives are ergonomically designed to optimize hand and finger contact points for enhanced fit and superior control. Precision ball-bearing flipper action provides smooth blade deployment, while a full metal core and liner lock design assures secure locking of the blade in the open position and easy closing. A deep pocket carry clip keeps the knives well concealed, yet always accessible. An everyday carry that you're going to want to find an excuse to use.
QuikLid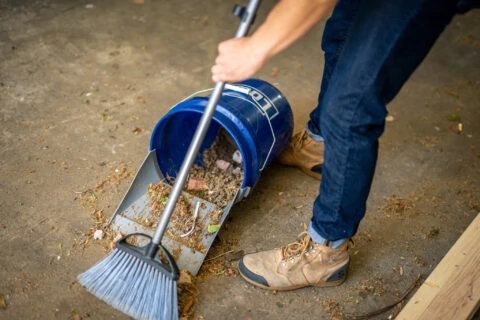 Put your bucket to work! QUIKLID is a new and innovative dustpan that attaches to your 5-gallon bucket in seconds, transforming your bucket into a clean-up tool. Just clip onto your bucket rim, tip on its side, and you are ready to use! Your bucket is now a 5-gallon dustpan for heavy-duty messes. QUIKLID is also perfect at scooping standing water or construction debris. QUIKLID's heavy duty construction is intended for use by PRO's around the jobsite, warehouse or any place of business. Great for indoor and outdoor use whether around the house, yard or garage. Clip, Tip, Sweep…. It's that simple! lowes.com
General Tool 833 Contour Gauge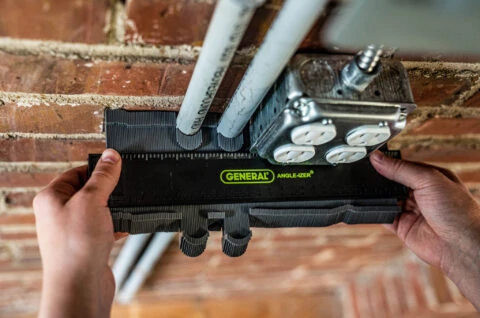 The 833 ANGLE-IZER® 10 in. Contour Gauge, can duplicate any shape instantly. This profile gauge creates an instant template for curved and odd shaped profiles simply and easily. Never transfer profiles to paper or cardboard again. The contour gauge makes measuring and cutting easy. The gauge eliminates the guessing of dimensions of irregular shapes. A perfect gift for the carpenter, or DIYer in your life. generaltools.com
Kentwool Socks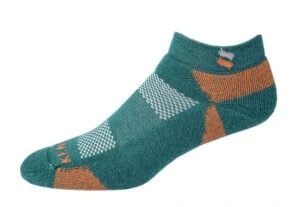 Kentwool socks make the perfect gift to give and receive for the holidays! All Kentwool products are crafted with a superfine Merino wool blend and designed with extra cushion with your comfort in mind. The natural temperature-regulating properties of wool allow you to stay warm in the winter and cool in the summer so that you can rock these socks all year long. Give and get the gift of comfort this holiday season with Kentwool! kentwool.com
VECTOR 1200 Amp Jump Starter/Portable Power Station with Inverter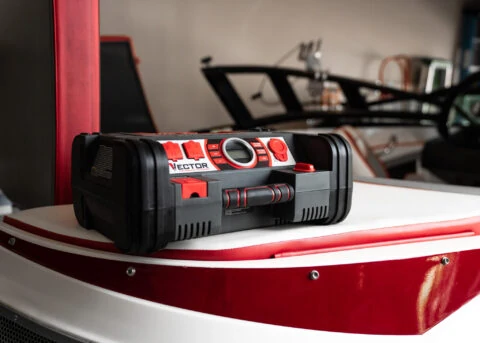 Get professional-grade power and a 1200 Amp jump starter with the Vector PPRH5V Power Station. Featuring integrated powder-coated clamps and heavy-duty cables, it's ready to jump start practically any vehicle on the road up to and including V8-powered cars, trucks and SUVs. Complete with 500-Watt and 120 psi digital auto stop compressor combines to make the perfect gift for the holiday traveler. Available at Home Depot
Serta 10-in Queen Hybrid Mattresses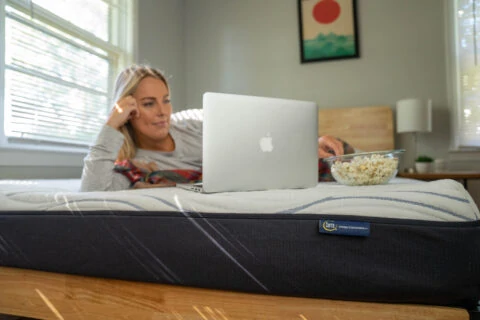 Sleep comfortably and deeply with the Serta Hybrid mattress, now sold at Lowe's. The blend of gel memory foam and Serta coils provides perfectly balanced comfort and full body support for revitalizing sleep. Assembled in the USA with superior components, Serta's coil technology and breathable foam provide the perfect blend of cooling comfort. The comfort you expect from Serta is now conveniently packaged in a box and shipped to your home – ready to use in minutes. No need to schedule delivery or have delivery personnel in your home – just unpack, unroll and unwind on your new mattress for a great night's sleep. Available at Lowes
Wax-It-All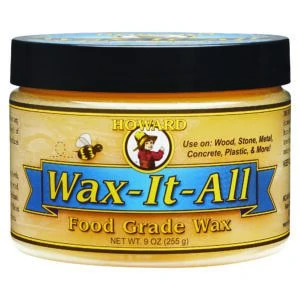 Howard Wax-It-All is a food-grade paste wax that is safe for any surface where food contact may occur. This thick, smooth blend of beeswax, carnauba wax, and food-grade mineral oil revives faded surfaces and helps protect wood from drying out and cracking.
Howard Products has been manufacturing quality wood care products for over 50 years. First starting with Restor-A-Finish and then branching out into protective waxes, polishes, cleaners, etc. Now they bring you Wax-It-All food-grade wax. This product is the first food-grade paste wax designed not only for wood, but for a multitude of surfaces including stone, metal, cement, paint, plastics, and more! Wax-It-All revives and protects surfaces to make them look better and last longer.
Howard Wax-It-All can be used to shine and protect wood countertop surfaces, concrete, stainless steel, granite, marble, soapstone, slate, and laminate. This innovative product revives faded wood, metal, and plastic furniture, polishes wood and painted cabinets, and helps to prevent tarnishing on metal surfaces. Best of all, Wax-It-All is made with Beeswax, Carnauba wax, and Food-grade mineral oi.
For a list of all retailers, visit our website at HowardProducts.com
Coast A9R Rechargeable Inspection Penlight


With a sleek design and recharging capability, the A9R Flashlight is the go-to penlight for serious technicians. It has our Inspection Beam that throws out a perfectly circular beam without any dark spots that make up close inspections immediately easier. It recharges by placing a charging cap over the head of the light and works with any USB port.
With Coast's commitment to quality, the A9R Flashlight is impact resistant, weather resistant and its LED is virtually unbreakable. Coastportland.com