This holiday season, give a gift that keeps on giving—one that can be used on many home projects yet to come. Stuff your stockings with paint brushes, pliers and orbital sanders. Don't disappoint your handy husband with another piano key necktie, when he'd rather have new Forstner bits. Don't give your DIY wife a new frying pan unless you're wearing a helmet. She'd rather have a Powerfile. The EHT staff offers a handful of gift ideas for the do-it-yourselfer in your life. From clamps and cargo racks to socket sets and shop vacs, you're sure to find a good fit.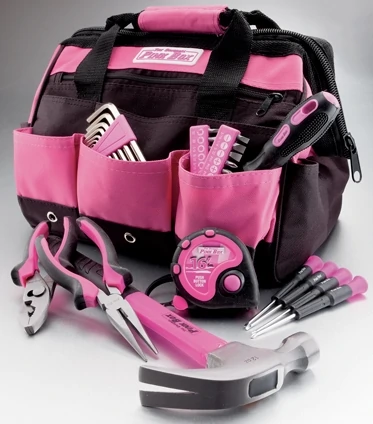 The Original Pink Box
This 30-piece tool set with tool bag from The Original Pink Box comes with a 12-ounce hammer, 16-ft. tape measure, 6-in. needle nose pliers, 6-in. slip joint pliers, 8-piece hex key wrench set with holder, bit driver with comfort grip handle, 19 piece 1-in. bits set, 1-in., extension bar, and 4 precision screwdrivers (including Phillips number 0 and number 1, and slotted 2.4- and 3-mm). The tools are constructed from chrome vanadium for strength and durability and feature comfort grips. The 12-in. canvas bag features 24 inside and outside pockets, one zippered pouch, wraparound side handles, a shoulder strap for easy carrying, and heavy-duty metal zippers. The unique pink color of this tool set and bag makes projects around the house fun, and you'll always know which tools are yours—no more anonymous "borrowing!" Plus, The Original Pink Box backs this product with a limited lifetime warranty, so you know you'll be able to rely on it for years to come. Visit www.vipertoolstorage.com.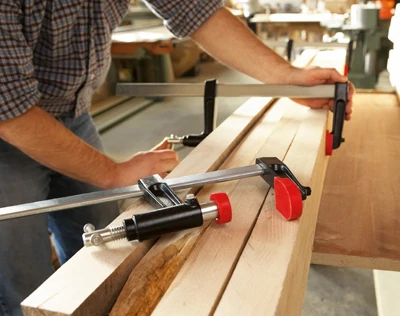 Bessey Rapid Action Clamps
The Rapid Action clamp from Bessey offers strength and speed to help you get your project done faster. Rapid Action clamps offer very quick setup times, parallel "no-twist" clamping, robust contact surfaces and a heavy-duty rail. The double spindle mechanism means that the clamping bolt will move twice as far per handle turn as a normal ACME threaded spindle. The clamping bolt and the pressure plate are manufactured from a single piece with no seams for debris to enter. The clamping bolt is guided firmly in the barrel for direct "no-twist" clamping to prevent parts from shifting. As greater force is applied when clamping, the more the set-screw engages with serrations on the rail to avoiding clamp slippage. Six sizes are currently available with 12- to 36-in. clamping capacity.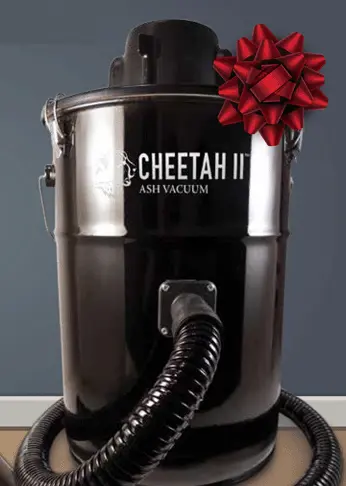 Cheetah II AshVac
The Cheetah II AshVac is the safe, convenient way to keep your stove or fireplace clean. Unlike ordinary home vacuums, the Cheetah II was engineered specifically to capture warm to cold ash, keeping dust at bay and your family safe. Enjoy dust-free and mess-free cleaning. The unit offers lasting suction and performance with a fire-resistant design. Buy for the holidays and get a free Mini AshVac Tool Kit with your purchase. Visit www.lovelessash.com/holiday.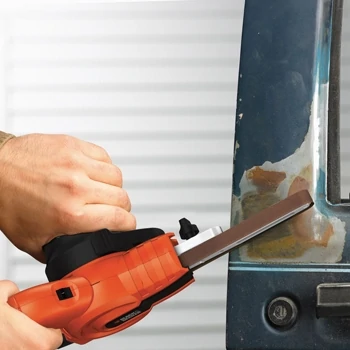 Black & Decker Powerfile
Black & Decker's new 1/2-in. Powerfile PF260 precision belt sander features a narrow belt design that allows sanding in tight spaces, ideal for sanding ceramic tile for detailed cuts. Use it to remove rust or paint or to sharpen blades. It includes a 2.6-amp motor and integrated dust collection for use in wood applications. Visit www.blackanddecker.com.

Wooster Chinex FTP Shortcut Brush
Paint and reuse, paint and reuse, paint and reuse … The Wooster Chinex FTP Shortcut brush will feel right at home in Dad's toolbox. Chinex is known as one of the most durable and easy-to-clean paintbrush filaments, lasting seven times longer than natural bristle. It pushes paint farther on the surface for better coverage, and the soft tips effortlessly create a smooth, professional finish. Wooster's Shortcut style pairs a full-size brush head with
a compact Shergrip handle that makes painting easier on the wall-to-ceiling line, window frames, moldings, furniture and more. Shergrip is a soft elastomeric material with a rubber-like feel. It conforms to the touch, offering increased comfort and control. Because of this, Shortcut brushes are a favorite of painters who suffer from arthritis or carpel tunnel syndrome. Versatility and professional finish quality make the Wooster Chinex FTP Shortcut the perfect all-in-one paintbrush for Dad this holiday season. Visit www.woosterbrush.com.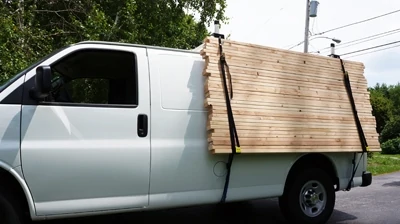 SideJob Cargo Rack
For the construction pro in your life, the SideJob rack is an innovative way to haul building materials on the side of a work vehicle, without taking up valuable interior space. Installation is fast and easy and requires no tools. The user places the SideJob Rack over their ladder rack posts, hooks the cam strap (provided) to a secure location under the vehicle, and tightens it down. The rack is then ready to load with materials and secures with ratchet straps. The vehicle side becomes a functional workspace that carries up to 8 sheets of 1/2-in. drywall, 9 sheets of 1/2-in. plywood or 32 2×4's (per rack).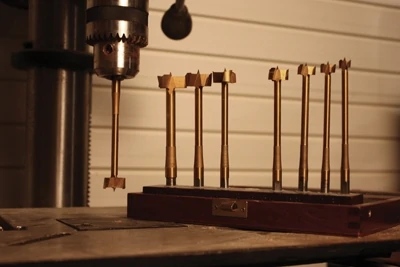 TG Tools Kik Forstner Bits
Forstner bits are the best choice for drilling precise, flat-bottomed holes in wood. The radial cutting edges shear wood fibers at the edge and bottom of the hole, creating a smooth bore with an exact diameter. The Kik Forstner bits from TG Tools actually have nine cutting edges, which permit cutting curved paths, channels, routing and milling in wood and plastics. They can cut on the edge of a block of wood to create channels, and can also be used to create overlapping holes. The Kik bits also come in a nice, dovetailed wooden box to protect the cutting edges.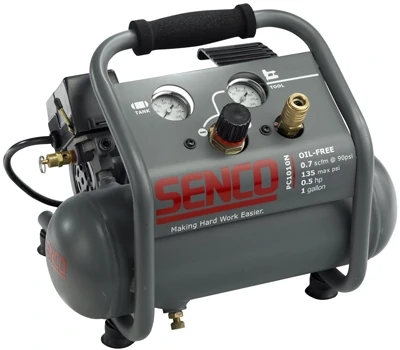 Senco PC1010N Compressor
Senco has made the latest version of its PC1010 trim compressor more powerful and easier to use, without sacrificing its ultra-quiet operation and lightweight, compact design. Upgrades to the unit include an increased operating pressure of 135 max PSI, (compared to the original unit's 125 max PSI), and the addition of an integrated control panel and roll cage to protect vital operating components. Measuring 14 in. long, 12-1/4-in. high, and weighing just 21 lbs., the PC1010N is easy to transport and store. At 68 dBA, it is extremely quiet, making it ideal for renovation and home-improvement projects, hobbies and crafts. The 0.5-horsepower running induction motor produces 0.7 SCFM at 90 PSI, providing ample air power to run finish nailers, staplers and micro pinners without the motor and pump constantly kicking on to refill the tank. With highly visible gauges, easier coupler access, non-skid rubber feet and a comfortable grip handle, the PC1010N is an excellent gift for the hobby woodworker or professional carpenter. Visit www.senco.com.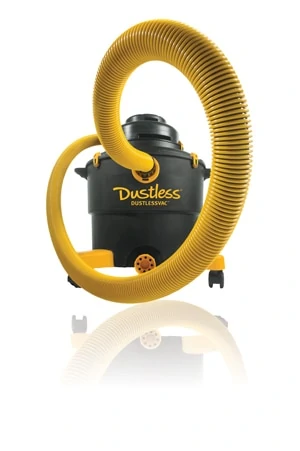 Wet+Dry DustlessVac
This Christmas, get Dad the only wet/dry vac that allows you to go from wet to dry without switching filters. The Wet+Dry DustlessVac is a great way to clean up DIY projects and to keep the job free of dust clouds and mess. The patented filter system provides three layers of filtration designed to capture extra fine dust. The powerful 23,000-RPM, 11.5-amp electric motor operates quietly and delivers 126.39-CFM performance with a 16-gallon capacity. Save $50 off MSRP + free shipping through December 31st at homedepot.com. Visit www.dustlesstools.com/wetdry.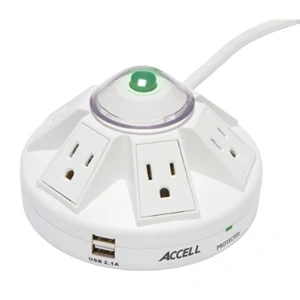 Powramid Power Center and Surge Protector
Typical surge protectors con-tinue to supply power even after they no longer are provid-ing surge protection, exposing connected devices to potential damage from a power surge. With its Power Stop technology, the Powramid automatically stops conducting power once the absorption has reached capacity. The Powramid provides advanced 1080 Joules of surge protection and features patented X3 MOV technology for maximum safety to all connected devices. Its six adapter-friendly outlets are positioned to allow unobstructed use of even large transformer power plugs. The Powramid Surge Protector is available in black or white and features a 4-ft. grounded power cord. Visit www.accellcables.com.

Rhino Pack-n-Stack Firewood Brackets
Chopping wood for the winter? The Rhino Pack-n-Stack Firewood Rack Brackets are easy to assemble and include four brackets and all hardware. Just add any length of 2×4 lumber to construct a sturdy, beautiful firewood rack. Available from Charmaster, the racks are easy to stack, cover and clean. They feature heavy-duty steel construction with brackets that weigh 30 lbs. and come with a 20-year warranty. The Pack-n-Stack Brackets work great with 15- to 30-in. long firewood.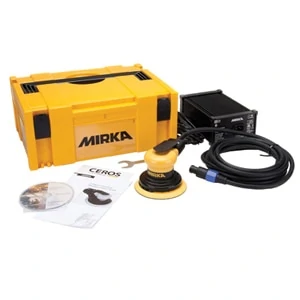 Mirka Ceros Orbital Sander
Here's a great gift idea for serious woodworkers. The Mirka Ceros electric orbital sander is a robust tool that has an excellent power-to-weight ratio with a low-profile design for enhanced control. The seven variable speeds range from 4,000 to 10,000 RPM. Available from Woodworker's Hardware, this system designed for 5-in. discs comes with everything you need for years of efficient, quiet and user-friendly sanding. Visit www.wwhardware.com.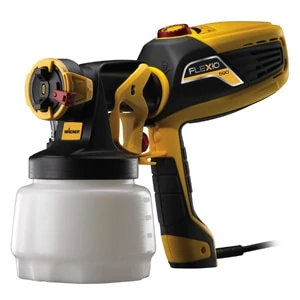 Wagner Introduces the FLEXiO 590 Sprayer
The FLEXiO 590 Sprayer is an indoor/outdoor hand-held sprayer for all projects. It combines the iSpray nozzle, detail finish nozzle and the X-Boost turbine to provide the most flexible and powerful painting solution offered. The X-Boost turbine delivers 3X more power (at 65,000 RPM's) to spray most coatings with maximum control, full coverage and low overspray. Not only is it more powerful, it is also 50 percent quieter and 20 percent lighter than traditional airless sprayers. The iSpray nozzle sprays un-thinned residential paints for broad surfaces both indoors and out. The detail finish nozzle is ideal for small projects and fine finishing. The FLEXiO 590 Sprayer produces a slightly stippled, roller-like finish, perfect for interior walls. Edges, corners and broad interior surfaces can now be sprayed faster for better coverage, and with some basic masking, you're spared the tedious efforts of a brush, saving time for other projects. Learn more at www.wagnerflexio.com.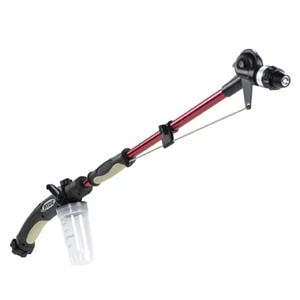 PivotJet Pro
Virtually every home has a hose, and millions more have pressure washers for heavy-duty cleaning. But for dozens of cleanup jobs around the house, something in-between would be a much better choice. That's where the Hyde PivotJet Pro comes in. The PivotJet Pro is an innovative spray wand that attaches directly to your garden hose to handle virtually any type of outdoor cleaning job. Not only does it add extra reach and an adjustable spray pattern, it also features a patented nozzle that pivots up to 135 degrees and a built-in soap reservoir. Visit www.hydetools.com.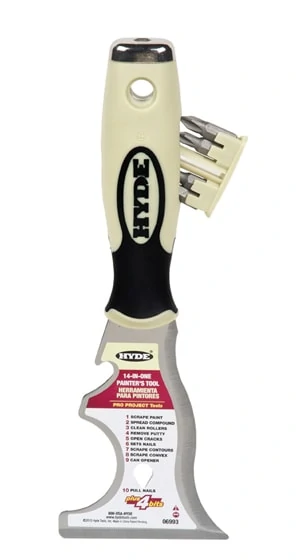 Hyde 14-in-1 Mutli-Tool
The 14-in-1 Multi-Tool from Hyde is the ultimate junk drawer tool. It scrapes paint, spreads compound, cleans rollers, removes putty, opens cracks, sets nails, scrapes contours, scrapes convex surfaces, opens cans and bottles and pullsnails. It also includes four different screw-driver bits that are securely stored in a pull-out drawer in the handle, and inserts into the handle end for quick, easy use. Complete with 3-in. stiff scraping blade, this is a very versatile tool for a holiday gift. Visit www.hydetools.com.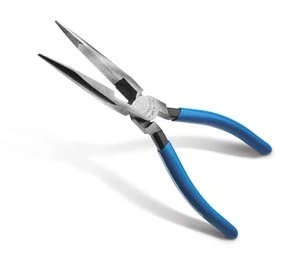 Channellock E Series Pliers
The Channellock E Series is a new line of combination, long-nose and diagonal cutting pliers with an entirely new, sleeker design than the manufacturer's traditional pliers. Each of the 18 new pliers in the E Series line is manufactured with Xtreme Leverage Technology (XLT). Exclusive to Channellock, XLT positions the plier rivet closer to the plier head so that considerably less force is required to make clean, accurate cuts. Additionally, each E Series plier features knife-and-anvil cutting edges to ensure proper cutting edge alignment and clean cuts; cross-hatched jaws for improved grip; laser heat-treated cutting edges for extend-ed durability; and a choice of Channellock Blue comfort grips or Code Blue grips for secure and comfortable gripping power. Visit www.channellock.com.

Makita Impact Gold Socket Set & Adapter
Makita's new 3/8-in. square-drive socket set can equip your impact driver to function like an impact wrench. The sockets are machined from heat-treated alloy steel for heavy-duty torque, including fastening applications by contractors and automotive technicians, with a black oxide finish for longer socket life. The 9-piece set includes an Impact Gold 3/8-in. socket adapter, which is machined from high-quality steel engineered for use with impact drivers, and tilts up to 15 degrees for work in tight areas. Whereas contractors usually rely on two-piece U-Joint sets, the Impact Gold offers a single adapter for sockets that delivers a solution for fastening metal frames, automotive components and more. Visit www.makitatools.com.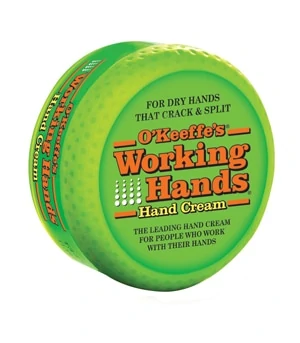 O'Keeffe's Working Hands Hand Cream
Cold weather can be tough on skin, particularly hands. A decrease in humidity paired with harsh temperatures can make skin dry and cracked. These conditions may not make you feel like celebrating. We all know someone who suffers from the painful skin conditions that cold weather can bring, but there's a solution that really works and it makes a great stocking stuffer. O'Keeffe's Working Hands Hand Cream is an odorless, non-greasy, hypoallergenic formula guaranteed to relieve cracks and splits. The formula contains a high concentration of glycerin, which draws moisture into skin and allows it to restore itself. Users will see the results in days. Give the gift of O'Keeffe's and you'll be giving the gift of relief. Visit www.okeeffescompany.com.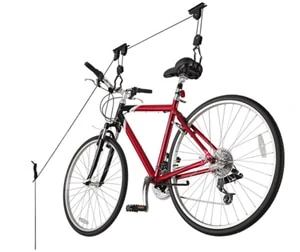 Racor Bike Lift
The Racor Bike Lift, Model PBH-1R, is the perfect way to store a bicycle overhead and free up extra garage space. The Bike Lift uses a rope and pulley system that is mounted to the ceiling. Raise and lower a 50-pound bike up to 12 feet by simply latching the hooks to the seat and handlebars and pulling the rope. When you're ready to ride, unlock the rope and lower the bike, no ladders needed. The Bike Lift pulleys do most of the work, making a 50-pound bike feel like it's only about 12 pounds: a 4:1 mechanical advantage. A unique locking mechanism holds the rope securely in place to prevent accidental release. Some assembly is required; it installs into ceiling joists. Suggested retail price is $25. Visit www.racorstoragesolutions.com.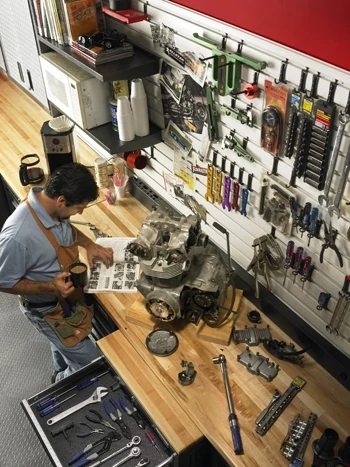 Gladiator Bamboo Workbench
Every home deserves a respectable workspace. The Gladiator bamboo top adjustable-height workbench makes a stylish statement while providing a durable, flexible work surface for woodworking, gardening or everyday use. Besides being one of nature's hardest materials, bamboo also is a sustainable, fast-growing resource. It makes for a solid and elegant design with a bamboo surface that's smooth and easy to clean. (For the less "extreme" dad, it's also available with a maple top.) Fifteen adjustable heights make for a dramatically versatile and flexible work surface. Available in 4-, 6- and 8-ft. widths with weight capacities up to 3,000 lbs., the workbench can handle almost any project. Find it at Lowe's, Sears and www.GladiatorGarageworks.com for $499-$599.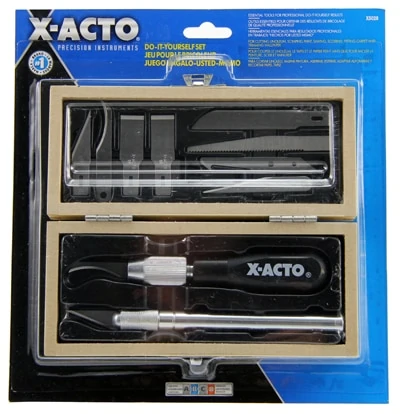 X-ACTO's DIY Knife Set
A great gift idea for hobbyists and do-it-yourselfers. The X-ACTO DIY set includes several of the tools that are needed for most do-it-yourself projects around the home. Stored in a handsome hardwood chest, the DIY tool kit includes: #2 knife with #2 blade; floor covering knife with blade; utility saw blade; wallpaper blades; large scraping blades; acrylic blade and #26 blade. Visit www.xacto.com.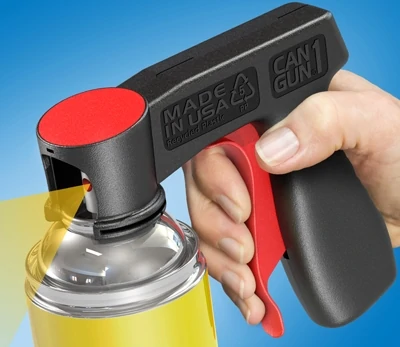 CanGun1
SafeWorld Int'l. offers the CanGun1 premium spray can tool that features the world's first FullGrip trigger with a 2.5:1 leverage advantage. The CanGun1 makes spraying the contents of virtually all standard spray cans of paint, lubricant, adhesives, etc. considerably easier, while providing professional results every time. The patented pistol-grip accessory easily snaps onto standard aerosol spray cans, transforming them into professional-style spray guns with unprecedented control for hours of effortless, pain-free spraying. CanGun1's exclusive ergonomist-tested and arthritis-friendly design also makes it suitable for use while wearing gloves. The reusable CanGun1 is made in the USA with 80-percent recycled non-toxic plastic and zero-waste, space-optimized, recyclable packaging. Visit www.cangun1.com.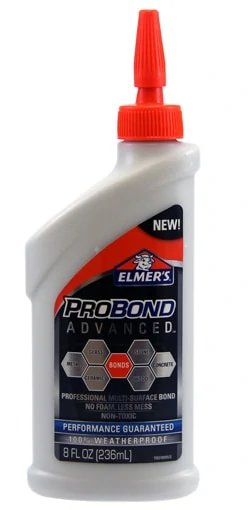 Elmer's ProBond Advanced
Elmer's new ProBond Advanced is Elmer's strongest and safest multi-surface glue yet. There is none of the foamy mess asso-ciated with polyurethane glues, and it cleans easily with water. ProBond Advaned is 100-percent weatherproof for indoor and outdoor applications. It works on multiple substrates, including wood, concrete, metal, glass, ceramics and more. The glue is non-toxic, won't stain hands and has a longer shelf life than polyurethane glue. Visit www.elmers.com.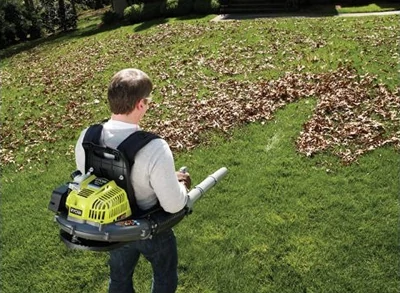 Ryobi RY08420 2-cycle Backpack Blower
This 2-cycle Backpack Blower is Ryobi's most powerful blower ever. With an extra-large 42 cc engine, it is designed to handle the toughest cleaning jobs. The unique engine mounting is engineered to deliver maximum air flow at all times, and the adjust-able, contoured harness provides ultimate comfort. The blower tube construction includes a variable speed trigger and cruise control for easy command, and the angled nozzle points naturally downward—reducing effort and maximizing clearing power. This backpack blower is sturdy, but light, at just 18 lbs. Ryobi backs its products with a three-year warranty.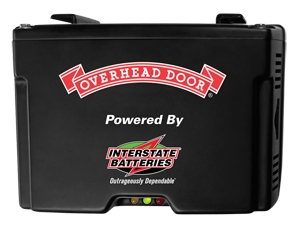 Overhead Door Emergency Battery Back-up
Overhead Door Corporation is adding assurance and reliability with the Battery Back-up, a product that provides home-owners with reliable garage door operation during severe weather, thunderstorms and blackouts. Overhead Door's Battery Back-up, powered by Interstate Batteries, provides reliable garage door operation in the event of electricity outages. It is compatible with Overhead Door's next generation of garage door openers, the Destiny and Odyssey. The Battery Back-up accessory enables an opener to operate the garage door at 3.5 inches per second, and, in the event of an extended loss of electricity, the unit will run up to 50 cycles in a 24-hour period after initial power outage. With several mounting options available, this accessory is designed to be unobtrusive. It's charged and powered via a connector cable running between the opener and the unit, which means there is no need for it to be plugged into an outlet. The Battery Back-up can be easily installed by the homeowner. The unit is equipped with an 8-amp, sealed lead-acid Interstate battery (SLA) that reaches full charge within 48 hours. Front-facing LEDs indicate charge status.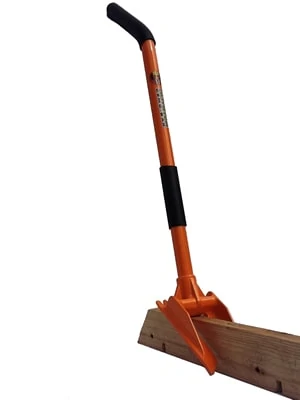 The Gutster
Give your favorite home enthusiast the power of destruction. The Gutster demolition bar has been redesigned with an improved round steel handle and a solid cast head with extended neck, providing greater lifting and breaking power. More than a wrecking bar, the Gutster Demo-Bar is a complete demolition solution. The innovative Gutster design starts at the uniquely designed prying head. Split forks provide greater stability for heavier loads. The spacing straddles joints and studs for maximum leverage. Sharp points pierce the toughest materials effortlessly. Angled lift plates help ease the bar under materials to allow for faster prying. Conveniently built into the back of the head is a multi-nail puller. The angled bar is engineered to provide the most prying power with the least amount of stress and strain. Choose from three sizes with 40-, 48-, and 60-in. handles. Visit www.thegutster.com.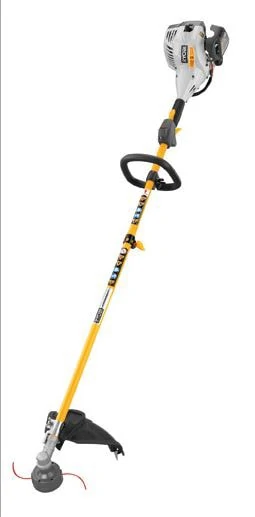 Ryobi Straight Shaft 2-Cycle Trimmer
This 18-in., 26-cc Gas Straight-Shaft Trimmer features a 60-in. straight shaft for extended reach. Because of its attachment capability, the Ryobi gas trimmer can be converted to more than eight tools (attachments sold separately). It offers the ReelEasy bump-feed string head for fast and easy reloading and a dual-spool fixed line insert. The 26-cc gas engine is CARB compliant. It comes with a reliable 2-cycle engine with a Zipstart carburetor for easy starting, and offers 18-in. cutting width with a .095-in. dual line. The ExpandIt power head is universally compatible with outdoor tool attachments across mulitple brands. Visit www.ryobi.com.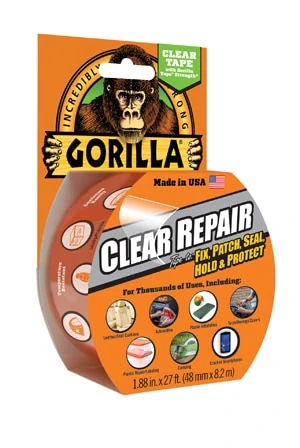 Gorilla Clear Repair Tape
Family gatherings and holiday festivities often lead to tricky repairs around the house. Avoid the stress that the season can bring and give Gorilla Clear Repair Tape, the ideal gift for almost any repair. Featuring the strength of Gorilla Tape in a weatherproof, airtight, crystal clear tape, Gorilla Clear Repair Tape is the perfect stocking-sized gift. Fix, patch, seal, hold and protect almost any surface, with a crystal clear appearance for a perfect fix every time. Gorilla Clear Repair Tape is versatile for projects both indoors and out, and won't yellow outdoors. From hanging holiday lights to fixing decorations, Gorilla has you covered. No other tape offers the clarity, strength and durability of Gorilla Clear Repair Tape. Visit www.gorillatough.com.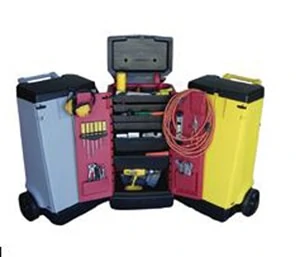 Tool Kaddies
The rolling Kaddies toolboxes are manufactured in the USA with durable double-wall polyethylene construction that will never rust, flake, peel, chip or corrode like metal boxes. Tool Kaddies can be loaded with job-specific tools, parts or supplies, and rolled right to the job, thus eliminating unnecessary trips back to the garage, truck or tool crib. Available completely assembled in a variety of colors, each Kaddie is lockable for security and very water-resistant. They're also easy to modify for the user's needs. Visit www.kaddies.com.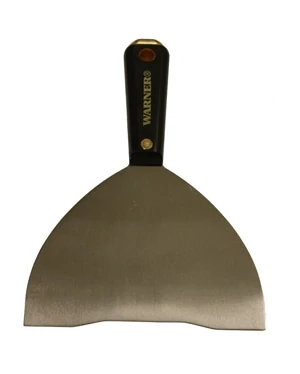 The Perfect Pass Trowel
The Perfect Pass Trowel, developed by Epiphany Laboratories and marketed through Warner Tool Products, is a new tool that promises to eliminate the mess and guesswork in drywall finishing. Jay Meyerl, the inventor of the Perfect Pass Trowel, created the patented design as a solution to one of his own long-time woes as a building contractor. The innovative, notched design of the trowel makes it simple for anyone, from amateur to expert, to get perfect and consistent drywall finishing results in 3 simple steps. Finally, drywall finishing is as easy as 1-2-3, and without the need for sanding or the accompanying mess. The tool is available at over 2000 retail locations in the US, including Lowes locations throughout North America. Visit www.warnertool.com.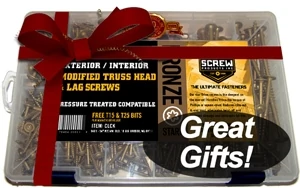 Star Drive Wood Screw Assortment Kits
Perfect for woodworkers, contractors and weekend warriors, these economical and compact assortment kits from Screw Products, Inc. are the perfect accessory for your home, garage or workshop (they also make wonderful gifts!). Fully loaded, these take-anywhere kits are easy to carry, slim enough to fit just about any place, and are available in several varieties for different purposes. The kits feature an assortment of Star Drive Screws in a specially priced package and include an adjustable organizer, quick-release magnetic bit holder, and "free" drive bits. Fasteners are available in Composite Deck Screw, Trim & Finish Head, Bronze Star Exterior, Construction Lag/Cabinet Screw, Gold Star Interior, Cabinet / Finish, Stainless Steel and Trim Head versions. Order online at screwsolutions.com and enter coupon code ehtbits for a free Bit Set & Holder.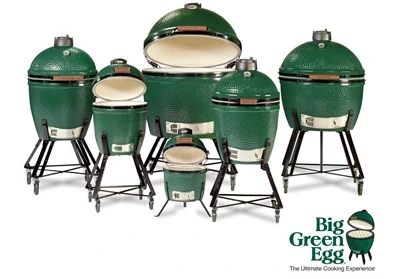 Big Green Egg
The Big Green Egg is one of the most versatile outdoor cooking products on the market. No smoker performs more efficiently than a Big Green Egg. Add sumptuous flavors with aromatic chips and wood chunks. For grilling, it sears steaks, burgers and seafood with a flavor-packed crust unmatched by other grills. High temperature "steak house" grilling is quick and delicious. For "low and slow" cooking the insulating ceramics of the Egg allow for precise temperature control even at low heat. The Egg will bake bread, casseroles, pizzas and pies better than your kitchen oven. When roasting, the Egg retains heat and moisture so that foods don't dry out. Poultry, beef and vegetables are naturally tastier because the juices and flavors stay locked inside. Visit www.biggreenegg.com.