By  Matt Weber
Holding Power with Pliers & Wrenches.
Power tools are nice, but even in these days of high-tech innovation, I doubt they'll ever fully replace the basics, like pliers and wrenches. From plumbing and furniture assembly to electrical and automotive work, every DIY'er needs a trusty collection of hand tools. When gearing up for your next tool purchase, consider these new advancements in design for tools that bite and twist.
New Design for Ratcheting Wrenches
Although ratcheting wrenches can no longer be considered "new," Channellock, Inc. has recently launched an innovative spin on what has become a hot product for handy homeowners. Whereas many ratcheting wrenches operate by tightening the nut or bolt in one direction, and then flipping the tool over to loosen the fastener, Channellock offers a different approach. Made in the USA, the company's new 4-in-1 Ratcheting Wrench Set includes two wrenches with four different sizes built into each—meaning eight settings in two tools. This is accomplished through a small trigger at the end of each wrench head that reverses the ratcheting motion. Since there's no need to flip over the tool to reverse the ratcheting direction, the other side of the tool can be manufactured to fit a different size fastener.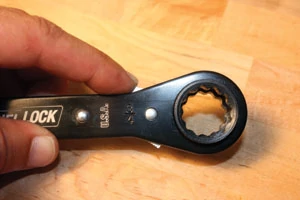 The new two-piece set does the work of eight combo wrenches or sockets, from 5/16 to 3/4 inch, and more sizes will be introduced in the future. Like all Channellock's pliers, the wrenches are heat-treated for excellent durability and have an electronic coating to help prevent rust. The set is also available in metric measurements.
Nail Jack Nail Extractors
Pulling nails is a dull and aggravating but often necessary chore in home improvement.
The design of the Nail Jack pliers provides the needed leverage and gripping power for making the task easier, and even offers the ability to dig a nail out of the wood. The digging action is aided by the thin cutting blades that slip beneath the nail heads. Furthermore, the 11-inch model features the patent-pending "Hammer Tap"—a flat area behind the cutters that allow you to use a hammer to drive the points of the Nail Jack into the wood for easier extraction. The Nail Jack nail puller even pulls brads from the back of material with little effort. Unlike the claw of a hammer or cat's paw, the scissoring action of the Nail Jack can grab fasteners with small heads such as finish nails and brads. This saves time, as well as usable lumber.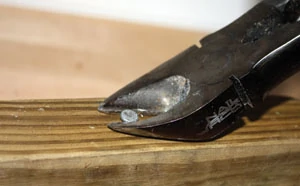 Currently, four models are available. The 11-inch model includes the handy "Hammer Tap" feature. The new, larger, drop-forged Nail Jack Pro is designed to withstand the daily abuse of a construction site. The 8-1/2-inch Nail Hunter is compact in size and great for extracting brads and staples. Newest to the lineup is the Staple Jack, designed for simple removal of staples, but also works well as a craft tool for jewelry making and similar applications.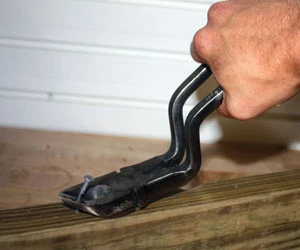 Voltage-Sensing Wire Strippers
Gardner Bender's new GST-55M Circuit Alert Voltage-Sensing Wire Strippers offers the convenience of two tools in one. The tool can strip and loop cable, crimp terminals and even cut and rethread small bolts. The GST-55M features stainless steel nick-resistant blades and a knurled nose at the end of the jaws for extra grip. The jaws also have two holes to function as wire-looping "stations," and the handle has a comfortable dual-grip position.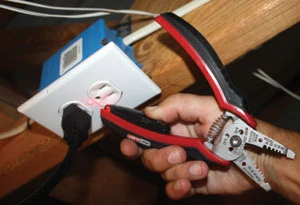 What is unique about this tool is its ability to positively detect live voltage without ever having to physically come in contact with outlets or wires. The interchangeable Circuit Alert Sensor is integrated into the handle of the tool. The sensor produces an audible beep and visible red flash to alert the instant that voltage is detected. Just snap it in place, and you're ready to work around electrical installations more safely. In addition to three sizes of wire strippers, Gardner Bender also offers the Circuit Alert sensor in pliers, screwdrivers, flashlights and utility knives.
Large Capacity Compact Wrench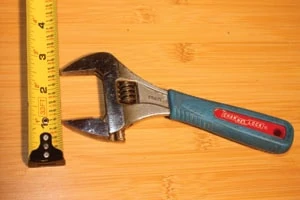 In recent years Channellock has introduced its Code Blue line of adjustable wrenches that include some pretty handy features, including measurement scales that line the jaws, which are handy for sizing pipe diameter, nuts and bolts. The Code Blue lineup earns its name from the light blue rubberized grips that provide each tool handle plenty of comfort for regular usage. Each of the six wrenches in the product line is built with the highest quality, but one of my favorites is the 6WCB model. At only 6 inches long, it offers the same jaw capacity as a 10-inch wrench (1.34 inches). Whereas this might sacrifice a little leverage, the shorter handle gets into cramped spaces much easier than a longer wrench but can tackle the same large diameters.
Expanding Line of GrooveLock Pliers
"Groovy." I've always liked that word, even if it fell out of fashion decades ago. Still, for a variety of reasons it applies perfectly to Irwin Tools' line of GrooveLock pliers. As an alternative to traditional slip-joint pliers, Irwin's GrooveLock variety uses a simple press-and-slide button to unlock and adjust the lower jaw, which is faster than disengaging, sliding and then reengaging the channels of standard slip-joint pliers. Furthermore, the multi-groove ratcheting system has twice the groove positions as standard slip-joints, affording a more precise grip to a wide variety of work surfaces.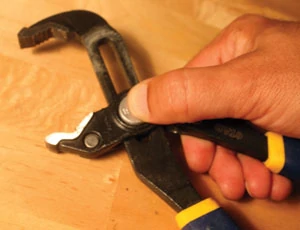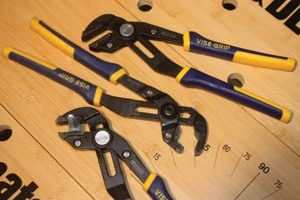 Irwin's flagship model in the GrooveLock features V-shaped jaws and right-angle teeth for an excellent bite. Recently, the company has expanded its line to include straight jaws, as well as straight, toothless jaws for work in a wide range of applications. Each set of pliers features a comfortable rubber grip and is backed by a lifetime guarantee.
The Gadget Multi-tool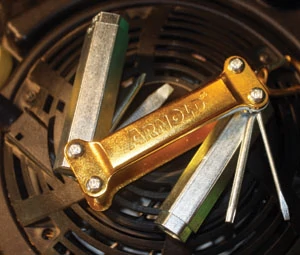 The new 11-in-1 Multi-tool from Arnold is dubbed The Gadget, designed to help everyone from homeowners to landscape professionals perform on-the-fly power equipment maintenance. Configured like a folding knife—specifically a Swiss Army Knife, given all the different tools—the Gadget provides several tools in one to eliminate large investments in multiple tools. As a wrench, the Gadget includes the four socket sizes most commonly used in lawn equipment, including 1/2, 5/8, 3/4 and 13/16 inch. Additionally, it contains a large Phillips screwdriver, small and large standard screwdrivers, a T27 Torx driver, a tapered spark-plug gap gauge, a chainsaw file holder and even a bottle opener.
Redesigned Linemen's Pliers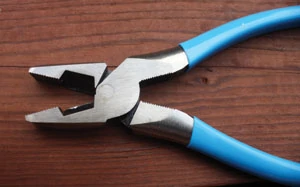 Channellock has recreated its original linemen's plier by positioning the rivet closer to the head, which provides more power to the laser heat-treated edges for applications such as cutting through fish tape with less effort. The improved 9-1/2-inch 369 high-leverage linemen's plier also has a better balance in the hand, and requires only 87 pounds per square inch (psi) of pressure to cut through 252,000 psi tensile strength fish tape, which is a drastic decrease in force when compared to the competition, according to IMR Test Labs, an independent testing agency. It features drop-forged, high-carbon C1080 steel and the signature Channellock Blue comfort grips.
Fast Release Vise Grips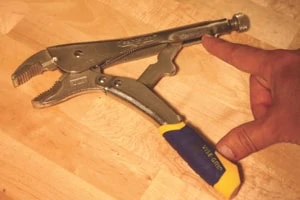 Irwin Tools is the proud owner of the Vise-Grip brand name that's been associated with locking pliers since 1924. When you need a grip that won't let go, you need some Vise-Grips, and over the years Irwin has introduced several technological advancements to this traditional tool. The Vise-Grip Fast Release locking pliers feature a one-handed, triggerless release, so they open easily with the flick of a finger. The Fast Release version also features non-slip comfort grips and a patented curved jaw for any job that requires maximum torque. The pivoting "self-energized" lower jaw aligns on the work piece without slipping and grips tighter as more torque is applied to the tool. It also features a hex-key adjustment screw to gradually draw material together, or to provide a slow and controlled release. Currently five tools round out the Fast Release Vise-Grip lineup, including long-nose pliers and C-Clamps.